Packaging Testing Market Snapshot
According to Future Market Insights (FMI), the packaging testing market will register growth with the overall valuation forecast to surpass US$ 12.6 Bn in 2021. Overall worth of the market will increase at a stellar CAGR of 12% between 2021 and 2031.
The market also registered a prolific year-on-year growth at 12.30% CAGR in 2021 owing to introduction of new standards & regulations to increase sale of packaging testing equipment.
FMI has identified SGS SA, Bureau Veritas SA, Eurofins Scientific SE, Intertek Group PLC, and TÜV SÜD Aktiengesellschaft as top players in packaging testing market. They collectively account for more than 10 % of global market share in 2021.
Key Points Covered in Packaging testing Market Study
Market estimates and forecast 2021 – 2031
Key drivers and restrains impacting market growth
Segment-wise, Country-wise, and Region-wise Analysis
Competitive Mapping and Benchmarking
Brand share and Market Share Analysis
Key Product Innovations and Regulatory Climate
COVID-19 Impact On Packaging Testing Market
Recommendation on Key Winning Strategies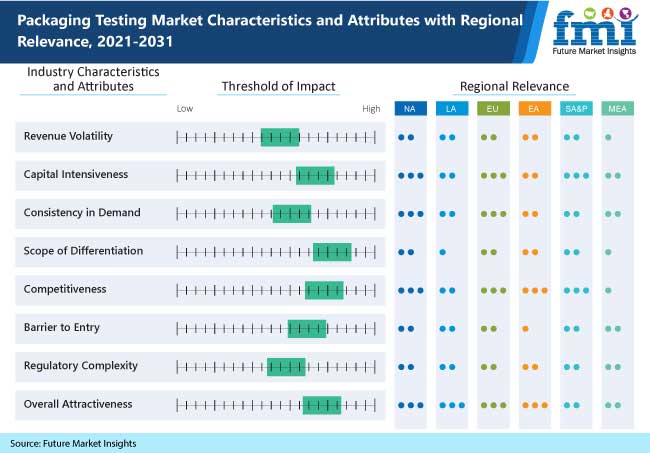 2016 – 2020 Packaging testing Market Outlook in Comparison to 2021 – 2031 Forecasts
FMI reported that packaging testing market experienced a healthy growth of 9.7% CAGR from 2016 to 2020. Growth can be attributed to increasing demand for consumer electronics and personal care products among millennials.
Plastic material is extensively used in global packaging industry due to its high performance, low cost and ease of customization as per requirements. Plastic packaging also is lightweight, resistant to chemicals and heat, and acts as an excellent barrier to water, oxygen, and carbon dioxide. Increasing use of plastic materials in packaging will boost the demand for plastic packaging testing solution during the assessment period.
In India, 2 out of 5 food items gets spoiled and perishes before reaching the market. Thus food and beverage producers are looking to incorporate flexible plastic packaging as packing material as it has high product-to-package ratio, material efficiency, and offers longer shelf life. This will create huge opportunity for packaging manufacturers to design and develop novel plastic packaging testing process.
Globally more than 420,000 people lose their lives every year due to consumption of adulterated and contaminated food, says World Health Organization (WHO) in its report. With growing emphasis on food safety, the demand for packing testing will skyrocket through 2031.
Rise in chronic diseases across the globe will drive the sales of packaged pharmaceutical medicines which in turn will boost the market growth. Microbial testing identifies the packaging material's resistance towards fungi and bacteria. This test promotes the adoption of plastic material in the cosmetics and food packaging industries. The global packaging testing market will grow at a CAGR of 12% throughout the forecast period.
How will Rising Popularity of E-Commerce Shape the Packaging Testing Market?
E-commerce companies and online retailers are looking to find ways to limit product damage and strengthen the packaging weakness, as sloppy packaging makes a negative impact on company's reputation. They are emphasizing on designing packaging that is fit-for-purpose and can handle harsh shipping environments.
Shipping damage of food and other items generates huge wastage and contributes towards pollution. To tackle these issues, market players are developing food and beverage packaging testing solutions that will provide proper shipment packaging for non-perishable food.
Packaging testing makes sure the product remains safe from degradation during the transportation and distribution process. It also helps in reducing packaging costs and also reduces the amount of packaging material required for packaging. Hence, rapid adoption of packaging testing in online retail at various applications is propelling the market revenue.
Changing consumer preference from ordering products from brick and mortar store towards e-commerce is expected to increase the scope for packaging testing and boost the packaging testing market demand over the forecast period.
What Is The Impact Of COVID-19 Pandemic On Packaging Testing Market?
COVID-19 pandemic stunned the global economic growth and distorted the production and supply chain in every industry. Lockdown and other strict regulations led to closure of manufacturing facilities. Since manufacturing has a closed relation with packaging, the industry experienced a major slump in revenue in 2021.
Regarding packaging testing, market experienced little to no shortcomings since the pandemic's onset. This is because of high demand for pharmaceutical, medical devices, and healthcare products have boosted the demand for robust packaging solution throughout the past few quarters.
Increased demand for packaged foods which have longer shelf life also made a positive impact on the demand for packaging solution during pandemic. With opening of manufacturing facilities and industrial production returning to pre-covid levels, upswing in the demand for packaging testing can be expected in upcoming years
Country-wise Analysis
Will U.S. Remain The Largest Market For Packaging Testing?
According to FMI's analysis, U.S. has exhibited prolific growth in the packaging testing market due to establishment of strict regulatory policies issued by U.S. Food and Drug Administration and rise in demand for packaged foods and increased consumer spending on pharmaceutical drugs and medicines in the country.
The Organization for Economic Co-operation and Development (OECD) in its 2019 report stated that total pharmaceutical spending per capita in U.S. was US$ 1376.27 which is the highest in the world.
Rise in geriatric population along with increasing number of people suffering from chronic ailments will drive the demand for pharmaceutical drugs in the country. This will boost the growth of pharmaceutical packaging testing in the future.
According to the Census Bureau of the Department of Commerce, in May 2021, U.S. retail e-commerce sales reached US$ 215 billion; while total retail sales was more than US$ 1500 billion. Booming e-commerce industry and online retails will boost demand for proper packaging testing equipments in upcoming years.
Rise in e-commerce activities is driving the demand for suitable packaging materials in order to deliver the product safely and no damage. It has been reported than around 1 out of 5 customers receive damaged product, when bought through online sales channel. Market players are working towards developing safe and secure packaging solutions to reduce such numbers. These factors will drive the packaging testing market growth in U.S.
Why Is The Demand For Packaging Testing Solutions Increasing In Germany?
Rise in consumption of ready-to-eat food and rapid growth in e-commerce during pandemic will boost the demand for packaging testing solutions in Germany. Growing consumer preference towards long shelf life products and heightened consumer awareness regarding toxic effects of contaminants on the food quality will create a conducive environment for market growth in the country.
According to the Federal Statistical Office of Germany, the healthcare spending in Germany increased by 4% in 2018. Country's healthcare expenditure was more than 11% of GDP in 2018. Increasing demand for plastic packaging testing to detect the presence of any toxic or damaging contaminant in the product along with increasing consumer spending on healthcare will boost the healthcare packaging testing market in the country.
Increasing investment towards developing advanced packaging methods to replace traditional methods coupled with technology-driven healthcare industry will positively influence the market growth in upcoming years.
Will China's Packaging Testing Market Outperform Market in Developed Countries?
China is to spearhead the packaging testing market growth in East Asia region. Demand uptick can be attributed to spike in demand for packaged pharmaceutical drugs for various chronic ailments and increase in consumption of ready-to-eat and drink food & beverages in the country.
The World Health Organization reports that more than 10% of Chinese population is suffering from diabetes, while 270 million people have hypertension. Rise in number of patients have fueled the demand for packaged medicines thus boosting the demand for pharmaceutical packaging testing solutions in the country.
Market players are focusing on devising novel packaging testing solutions to protect the medicines from shock, temperature fluctuations, puncture, and bursting. They are innovating with various packaging materials that can withstand the impact of shipping, sterilization, transportation, and usage.
Imposition of stringent regulatory policies for packaging of food, beverage, and medical products along with research and development towards exploring child resistant packaging will positively influence the market growth in China.
How Is Growing Packaging Industry Influencing Packaging Testing Market In India?
Indian government is making consistent efforts towards expanding its pharmaceutical manufacturing capacity and amplifies its domestic drug protection. Thriving pharmaceutical industry along with rise in population suffering from chronic ailments will drive the demand for effective packaging testing solutions.
India Brand Equity Foundation (IBEF) in its 2021 report stated that, India satisfies around 50% of the global demand for various vaccines, 40% of the generic demand in the U.S., and over 25% of total medicines in the U.K. Rapid growth of pharmaceutical industry is attracting leading market players to establish their operation plants in India.
According to Packaging Industry Association of India (PIAI), Indian packaging market is projected to reach market valuation of US$ 204.81 billion in next five years. Booming online retail industry, rising consumer spending on high quality packaging along with increasing demand for microbe and weather resistant packaging to protect medicines from contamination will boost the market growth in the country.
Category-wise Insights
Which Material Type Is Showcasing Maximum Growth In Packaging Testing Market?
Introduction of sustainable and biodegradable plastic packaging along with rising using of multiple grades of plastic in various end use industries will increase the packaging testing for products packed in plastic materials.
Since plastic packaging provides wide range of benefits which includes protecting the packaged product from damage by weathering, microbes, insects and light especially during transportation. Contaminants still cross the protection barrier and spoil the products which could be lethal in case of pharmaceutical drugs. Thus, testing for plastic packaged materials is increasing in medical field.
Why Is Microbiological Testing Gaining Popularity?
Microbiological testing is used frequently in pharmaceutical industry as it detects the presence of disease causing pathogens and microorganisms across broad spectrum of important packaged products. This will assist the microbiological testing in dominating the global packaging testing market over the forecast period.
Drug formulation needs extra protection against humidity, light, temperature fluctuations and oxygen. Exposure to these factors create favorable environment for rapid of pathogens in the formulation. These pathogens might react with the existing formulations and render them highly toxic for consumption.
Microbiological testing helps in determining the probability of exposure of drugs to external contaminants and pathogens. Governments are mandating the microbiological packaging testing to ensure high quality of packaging for pharmaceutical drugs. End-users are employing safe packaging testing equipment to provide the superior quality and robust packaged products to their consumers.
These factors will boost the market growth for the microbiological testing segment in the future.
What Is Driving The Demand For Packaging Testing In Food And Beverage Industry?
The scope for food & beverage packaging testing is expected to grow significantly post pandemic. Introduction of modern packaging methods like intelligent packaging, active and smart packaging, and modified atmosphere packaging to address the growing need for effective testing of packaged foods and ready-to-drink beverages will boost the market growth of this segment.
Amid the COVID-19 pandemic, consumers have become extremely particular about buying contaminant free products to protect themselves from infection and food poisoning. This trend will continue even in the aftermath of the pandemic crisis. Rising urbanization and increasing demand for ready-to-eat packaged foods will further contribute towards market growth in this segment.
Competitive Landscape
According to the market research analysis, SGS SA, Bureau Veritas SA, Eurofins Scientific SE, Intertek Group PLC, and TÜV SÜD Aktiengesellschaft are identified as key players in the packaging testing market. FMI estimates that these companies account for more than 10% of global market in 2021.
Emerging packaging manufacturers are finding it difficult to do product testing as per international standards due to less availability of common testing laboratories and fluctuations in packaging testing regulations. Market players are also focusing on providing third party lab solutions like impact and shock testing, and large load tests to the companies operating in food, personal care, and cosmetic industries.
In 2021, Smurfit Kappa inaugurated its new e-commerce packaging laboratory in the U.K. This will expand its existing network of testing labs and will act as a sales hub for retailers and producers looking to develop modern packaging solution.
Similarly, SGS S.A. started a new hybrid commercial onsite geochemistry laboratory in Kazakhstan in 2020. The company is looking to enter chemical packaging segment by expanding its laboratory testing services portfolio.
Top players are looking to explore opportunities offered by vegan food industry by expanding their product portfolio for packaged food and personal care industry. For instance, in 2020, Intertek Group Plc in collaboration with Roquette initiated a joint food audit program to create a robust and safe food supply chain through best packaging audit practices.
Packaging testing Market – Report Scope
| | |
| --- | --- |
| Attribute | Details |
| Forecast Period | 2021 – 2031 |
| Historical Data Available for | 2020 – 2030 |
| Market Analysis | US$ Mn for Value & Units for Volume |
| Key Regions Covered | North America, Latin America, Europe, East Asia, South Asia, Oceania, and Middle East & Africa |
| Key Countries Covered | U.S., Canada, Brazil, Mexico, Argentina, Rest of Latin America, EU-5, BENELUX (Belgium, Netherlands, Luxembourg), NORDIC (Denmark, Finland, Iceland, Norway, Sweden), Poland, Russia, Rest of Europe, China, India, Japan, GCC Countries, South Africa, Israel, Turkey, Iran, Rest of Middle East & Africa, Australia, New Zealand, South Korea, the Philippines, Malaysia, and Thailand |
| Key Segments Covered | By Material Type, By Testing Type, By Packaging Application, and By Region |
| Key Companies Profiled | SGS SA, Intertek Group Plc, Bureau Veritas SA, Eurofins Scientific SE, ALS Limited, TUV SUD AG, Mérieux NutriSciences Corporation, Microbac Laboratories Inc., National Technical Systems Inc., EMSL Analytical Inc., Institut fur Produktqualitat GmbH, and Campden BRI. |
| Report Coverage | Market Overview, Market Background, Market Forecast, Segmental Analysis, Regional Profiling and Competition Analysis |
| Customization & Pricing | Available upon Request |
Key Questions Answered in the Report
What is the current valuation of packaging testing market?

The packaging testing market is expected to surpass a valuation of US$ 12.6 Bn by 2021 end.

At what rate did the packaging testing market expand in the last five years?

Between 2016 and 2020, the packaging testing sales grew at 9.7% CAGR.

What are the key trends shaping the packaging testing market?

Introduction of new standards and regulations to increase sale of packaging testing equipment is the key trends shaping the packaging testing market.

What is the Demand Outlook for the packaging testing Market?

Straw market will continue to exhibit stupendous growth post COVID-19 pandemic owing to increasing demand for processed and packaged food among consumers. As per FMI, the market will register a CAGR of 12% between 2021 and 2031.

What is the North America packaging testing market outlook?

Demand registered in North America will continue rising, backed by production and sales in the U.S., the North America market is anticipated to expand at 10% CAGR during the forecast period.

Who are the leading companies in packaging testing market?

SGS SA, Bureau Veritas SA, Eurofins Scientific SE, Intertek Group PLC and, TÜV SÜD Aktiengesellschaft are the top companies operating in the market.

What is the cumulative share of top companies in packaging testing market?

Top players account for nearly 10 to 15% of the packaging testing market in 2021.

At what rate will packaging testing sales increase in Europe?

Packaging testing sales will increase at 11.2% CAGR in Europe, backed by rising demand in the U.K., Germany, and other countries.

Which are the top five countries driving packaging testing market demand?

Leading countries driving demand in the packaging testing market are U.S., Japan, China, Germany, and U.K.

What are the key statistics for packaging testing market in Japan and South Korea?

Currently in 2021, Japan and South Korea holds around 26% and 14% share respectively in the East Asia packaging testing market.
Key Segments Covered in Packaging testing Market Study:
Testing Type:
Physical
Chemical
Microbiological
Material Type:
Plastic
Metal
Paper and Paperboard
Glass
Wood and Others
Packaging Application:
Food and Beverages
Healthcare
Pharmaceuticals
Medical Devices
Chemical and Fertilizers
Personal Care and Cosmetics
Electrical and Electronics
Automotive
Industrial
Region:
North America (U.S & Canada)
Latin America (Brazil, Mexico, Argentina & Rest of Latin America)
Europe (Germany, Italy, France, U.K., Spain, BENELUX, Nordics, Russia, Poland & Rest of Europe)
Middle East & Africa (GCC, Turkey, Northern Africa, South Africa & Rest of MEA)
East Asia (China, Japan & South Korea)
South Asia (India, Thailand, Malaysia, Indonesia & Rest of South Asia)
Oceania (Australia & New Zealand)
Need specific information?