About the Report
The market for packaging tubes witnessed massive slowdown in its progress as a result of the spread of Covid-19 pandemic across the globe. The level of demand declined to the extreme level due to lockdown creating hurdles for the key players operating in this market. However, as recovery commences in 2021, major players are recuperating their positions through production expansion, capacity utilizations and online selling in 2021 keeping in view the covid-19 norms.
Recognized companies such as Albea Group, Huhtamaki OYJ, Constantia Flexible, Sonoco Product Company, VisiPak ltd, Essel Propack Ltd, Montebello Packaging, and Unette Corporation are focusing on the incorporation of tactics including partnership agreements, sales contracts, strategic alliances, diversifications, innovative launches, mergers & acquisitions, research and developments, technological upliftments, product line extensions, hiring technical expertise, joint ventures, collaborations, product approvals etc for gaining a competitive edge over others in the market.
For instance, Albea Group, one of the key players in the packaging tubes market, has successfully passed the two standard tests set by the US based Association of Plastic Recyclers to assess recycling readiness. The Greenleaf tube and HDPE bottles recycling streams are highly compatible with each other and offer very minimal environmental impact as it is an eco-designed Plastic Barrier Laminate tube. They can be used for oral care, personal care and various pharma brands too. In addition to this, Essel Propack ltd., launched Platina, world's first fully recyclable packaging tube, after going through rigorous tests and qualification process for more than 3 months. Platina is an eco friendly tube produced with less than 5% barrier resin and is recognised by APR.
North Africa is predicted to pick up pace in the global market for packaging tubes through 2030 owing to increasing income levels. Presence of leading manufacturing companies and new domestic players entering the market that produce and distribute superior class packaging tubes globally contributes to make APEJ a leading region with the fastest growing CAGR rate. Further, the rising innovations are creating immense opportunities for the key players to extend their presence throughout the world.
Introduction
Tubes, which are most prominently used in packaging of pharmaceuticals, cosmetics, and oral care products, account for a multimillion dollar market worldwide. The global sales of packaging tubes is estimated to be valued at over US$ 2.5 Bn by this year's end, which may possibly reach US$ 4.5 Bn by the end of 2028.
As suggested by research, the global packaging tubes market is expected to expand at a promising CAGR of 5.4%, during the 10-year forecast period – 2018-2028.
Tubes can be made up of aluminum, monolayer plastic, or multilayer combination of materials. The multilayer tubes are also known as laminated tubes, and one of the layers of these tubes is composed of a barrier material.
The revenue from packaging tubes is anticipated to witness 1.8x growth over the projection period. Growing adoption of packaging tubes by food, home and personal care, commercial, and a few other end-use industries is presumed to play an important part in increasing the demand for packaging tubes in near future.
Declining revenues in aluminum tubes
Aluminum tubes are highly preferred for packaging of pharmaceutical ointments with fez caps due to high barrier properties and bio-degradable nature. Aluminum tube sales are estimated to account for a sizeable share in terms of value as well as volume, during the forecast period.
Although superior barrier properties, bio-degradable nature, and easy availability will continue to enable aluminum tubes to remain the largest selling tube type, high price point, high weight per unit, and poor quality aesthetics are identified to be the longstanding challenges, causing the decline in their sales.
Packaging tubes market is poised to register healthy growth on account of demand from a multitude of industries, ranging from consumer goods to pharmaceuticals. The sales revenue of packaging tubes market is presumed to be heavily influenced by proliferation of the online retail sector.
On the back of rapid internet permeation, customers in the packaging tubes market are shifting toward online channels to explore a wide-range of options available. Additional benefits of fast shipping, low shipping costs, and attractive offers available are identified to play a significant role in growth of online retail sector in the packaging tubes market.
Additionally, packaging tubes market is envisioned to have strong gains, on the back of swift high demand in manufacture of personal care products, packaged dairy products, and oral care products.
Burgeoning demand for multi-layered laminated packaging tubes is also identified as one of the preeminent aspects, encouraging manufacturers in the packaging tubes market to diversify their production lines. This demand for multi-layered packaging tubes can be attributed to the proclivity toward effective packaging formats to stave off possibilities of contamination.
Rising demand for sustainable formats with excellent barrier properties has been identified as one of the overarching trends in the packaging tubes market. Packaging tubes bode well with the concept of sustainable packaging, with attributes such as low energy consumption and minimal emission rates.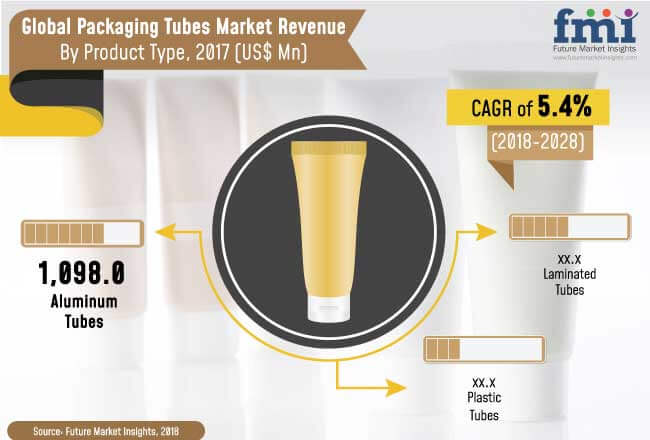 Whereas, plastic tubes are the top preference for packaging of cosmetic products, with flip-top caps due to large possibilities of decoration and ease of use. Low manufacturing costs, lightweight end product, and endless possibilities of aesthetic decoration will remain the key factors compelling tube manufacturers to continue using (monolayer) plastic.
However, with growing concerns about non-biodegradability of plastic, the tubes market is likely to witness a fall in the sales of plastic tubes in near future. Though bio-based plastics have been in use over the past decade, their limited availability and the associated legislative framework will collectively restrict their widespread adoption among tube manufacturers.
Shift from plastic and aluminum tubes underway
Laminated tubes are considered ideal for oral care products with stand-up cap due to light weight and high barrier protection. A prominent factor uplifting the prospects for laminated tubes is their excellent barrier capacity due to the presence of a barrier layer made up of high barrier plastic such as EVOH or polyamide, or aluminum.
These tubes are foreseen to emerge superior, in terms of adoption and growth rate throughout the forecast period. This has been attributed predominantly to the performance of laminated tubes with respect to cost, barrier properties, and weight.
These tubes are lightweight, economic in terms of price, and have high barrier properties, which enable them to attract a growing consumer base, exhibiting higher rate of growth than both plastic and aluminum tubes segments.
Key Segments Covered
By Product Type
Laminated Tubes

Plastic Barrier
Aluminum Barrier

Aluminum Tubes
Plastic Tubes
By Capacity
Up to 50ml
50 to 100ml
100 to 150ml
Above 150ml
By Closure
Stand-up Cap
Nozzle Cap
Fez Cap
Flip-top Cap
Others
By End-Use
Cosmetics

Hair Care
Skin Care
Others

Oral care
Commercial

Sealants & Adhesives
Lubricants
Others

Pharmaceuticals
Home & other personal care
Food
Others
By Region
North America
Latin America

Brazil
Mexico
Rest of Latin America

Western Europe

Germany
Italy
France
UK
Spain
Benelux
Nordic
Rest of Western Europe

Eastern Europe

Russia
Poland
Rest of Eastern Europe

Middle East & Africa (MEA)

GCC Countries
South Africa
North Africa
Rest of MEA

Asia Pacific excluding Japan (APEJ)

China
India
ASEAN
Australia & New Zealand
Rest of APEJ

Japan
Need specific information?