Paraffin Wax Market to Exhibit Upward Trend through 2029, Aromatherapy Continues to Ratchet up Demand
Global paraffin wax market is projected to undergo promising growth at approximately 4.8% CAGR through the course of projection period (2019-2029). Demand for paraffin wax is on rise, particularly in home ambiance and aromatherapy. Furthermore, paraffin wax sale is boosted by end-use applications such as skin care products. Having surpassed revenues of approximately US$ 5.7 Bn in 2018, the market will witness positive growth through 2029.
Paraffin wax will continue to achieve widespread adoption in manufacturing candles as well. Most of the spas and hotels utilize candles for aromatherapy. Moreover, consumers prefer paraffin wax as it offers excellent barrier against gas and odour transmission. In addition, other end-use areas such as hot melts, rubber, board sizing, and packaging utilize paraffin wax thereby augmenting the demand.
The market growth will however be hampered by volatile petroleum prices and availability of eco-friendly alternatives such as polyethylene wax and beeswax. Therefore, paraffin wax manufacturers must enhance the sustainability aspect of their business for sustained competitive advantage.
Demand for Flexible Packaging to Remain Major Growth Cynosure of Paraffin Wax Market
The global paraffin wax market will receive steady demand from packaging industry over the forecast period. Role of paraffin wax in manufacturing flexible packaging for food & beverage, pharmaceutical, and personal care industries is driving adoption. The developed countries in particular such as Germany, UK, and Russia generate profuse demand for packaged food.
Leading global producers prefer paraffin wax for packaging on account of its aesthetic appeal and thermal insulation material properties. Other key attributes include grease and odour barrier, gloss, and water vapour resistance. However, natural waxes are gaining traction in packaging industry as well. Natural wax mitigates the risk of packaging wax migrating into the food.
Asia Pacific Holds Prodigious Market Share, North America Presses Forward
On account of burgeoning end-use industries such as pharmaceuticals, rubber, packaging, and personal care in South Korea, India, and China, Asia Pacific paraffin wax market will witness an upward growth trajectory through 2029. Moreover, the demand for hotmelt adhesives in areas such as woodworking is augmenting the growth of regional paraffin wax market.
Massive investments and proliferation of industry leaders in countries such as India and China is fuelling the regional demand for paraffin wax. On the other hand, North America will constitute noteworthy market share through the duration of forecast period. The United States in particular will record double-digit CAGR through 2029. The region is projected to grow on the back of prolific demand for fragrance candles, food packaging and cosmetics.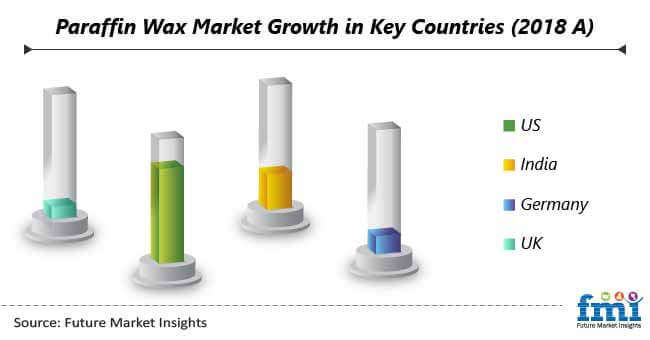 Expansion Activities to Stimulate Growth of Market Incumbents through 2029
The key players in paraffin wax market include, CNPC (Sinopec), Royal Dutch Shell Plc, Sasol Wax, Venezuela National Oil Company, Petrobras, Petro Canada Lubricants, Marathon Oil Corporation, Cepsa Company, Big West Oil LLC, Naftowax, and, Nippon Siero Co. Major players continue to bank on expanding their wax production capacity to maintain prominence.
For instance, companies such as PetroChina, Sinopec, and ExxonMobil are focusing their efforts towards expanding their base oil plants. Moreover, they will continue to innovate new wax production technologies through 2029. Deoiling wax production technology in particular is a significant area of research. In addition, industry leaders will accelerate oil exploration and production activities through the duration of forecast period.
Paraffin Wax Market Segmentation
The global paraffin wax market is segmented in detail to cover every aspect of the market and present a complete market intelligence approach to readers.
Type
Fully-refined Wax
Semi-refined Wax
Application
Candles
Packaging
Cosmetics
Hot Melts
Board Sizing
Rubber
Region
North America
Europe
Asia Pacific (APAC)
Central & South America
Middle East & Africa (MEA)
Need specific information?