About the Report
High prevalence of Pneumonia and pneumococcal disease attributes the demand of pneumococcal vaccine. According to National Centre for Immunization and Respiratory diseases, US witnesses approximately 250,000 people suffering from pneumonia which leads to about 50,000 deaths, infants or adults combined. Increased government guidelines and regulations for generating awareness regarding the disease is the major factor for growth of vaccine in developing countries. Focussing on more and more development of vaccine in developing as well as developed countries remains the key concern for the manufacturers. Development in emerging economies is underway. For instance,
Serum Institute of India in December 2020 announced the launch of India's first developed pneumococcal vaccine, Pneumosil. The vaccine is developed in collaboration with PATH and the Bill and Melinda Gates Foundation. The developments aims to provide vaccine to low and middle income countries at affordable rates. The vaccine will provide children with long lasting and effective protection against pneumonia.
Shinogi and HanaVax in September 2020 have entered into a license agreement for manufacturing, distribution, commercialization and research and development, of Streptococcus pneumoniae developed by HanaVax. The vaccine developed will avoid the pain of injections required to treat pneumonia or pneumococcal related diseases in Japan. As Pneumonia is the fifth leading cause of death in Japan, the vaccine developed in the country aims to decline the death rate among infants and geriatric population.
Merck announced the results from 2 phase 3 studies on its Pneumococcal conjugate vaccine. In September 2020, results for V114, Merck's 15-valent pneumococcal conjugate vaccine demonstrated its robust immune response to all 15 serotypes. V114 vaccine consists of pneumococcal polysaccharides from 15 serotypes conjugated to a CRM197 carrier protein and also includes serotypes 22F and 33F commonly associated with invasive pneumococcal disease worldwide. In the test, vaccine was generally tolerated with a safety profile as compared to PCV13.
Introduction
Pneumococcal disease is an infection caused by streptococcus pneumonia. Pneumococcal infection can result in pneumonia, bacteremic pneumonia, bacteremia, meningitis, bloodstream infection and middle ear infection. There are two main types of pneumococcal diseases, namely non-invasive and invasive pneumococcal diseases. Invasive pneumococcal diseases, such as bacteremia (sepsis), meningitis and bacteremic pneumonia, tend to be more serious compared to non-invasive. Serotypes 1, 4, 5, 7F, 8, 12F, 14, 18C, and 19A are more likely to cause invasive pneumococcal diseases.
According to the World Health Organization, pneumonia accounted for 16% deaths of children aged under 5 year in 2015. Pneumococcal vaccines are used against streptococcus pneumonia. There are 2 types of pneumococcal vaccines available—conjugate vaccines and polysaccharide vaccines. The WHO has recommended pneumococcal conjugate vaccines in the routine immunization for children. In this report, the pneumococcal vaccines market is further categorized into product type and distribution channel.
The report provides market size and forecast for pneumococcal vaccines against streptococcus pneumonia, inclusive of both types of vaccines. The report analyses the demand for pneumococcal vaccines form pharmacies, public health agencies, community clinics and other distribution channels.
Market Value and Forecast
In terms of revenue, the global pneumococcal vaccines market is projected to expand at 9.1% CAGR over the forecast period of 2018–2028. The pneumococcal vaccines revenue share is expected to be valued at US$ 18,456.5 Mn by 2028 end. The addition of pneumococcal vaccine national immunization programs and development of new pneumococcal vaccines are expected to boost the growth of the global pneumococcal vaccines over the forecast period. According to the World Health Organization, pneumococcal vaccines were added in the national immunization programs of 138 countries till 2017.
Market Dynamics
The global demand for pneumococcal vaccines is growing as a result of increasing initiatives by government and private organizations to provide vaccination in developing countries. Public–private partnerships to provide low-cost pneumococcal vaccines in middle-income countries are also expected to propel the sales of the pneumococcal vaccines. Pneumococcal vaccines are introduced in more than 57 Gavi-supported countries under the advance market commitment. Development of pneumococcal vaccines for all age groups is expected to create favourable growth opportunities for the pneumococcal vaccines.
Likewise, increasing awareness among parents regarding vaccination, catch up champignons to reduce IPD risk and partnerships & funding for development of new vaccines are expected to boost the sales of global pneumococcal vaccines. However, low immunization coverage for new pneumococcal vaccines, slow introduction of vaccines in middle-income countries, low awareness among older population regarding pneumococcal vaccination are some of the factors expected to hamper the growth of the pneumococcal vaccines.
Key Regions
Geographically, the global pneumococcal vaccines market is segmented into seven major regions viz. North America, Latin America, Western Europe, Eastern Europe, Asia Pacific (Asia-Pacific excluding Japan), Japan and the Middle East & Africa (MEA). In terms of value, North America was the leading player for pneumococcal vaccines in 2017 and is expected to expand at high CAGR of 10.2% over the forecast period of 2018–2028. Asia Pacific is expected to contribute significant revenue share due to increasing government funding and the addition of pneumococcal vaccines in national immunization programs in the region.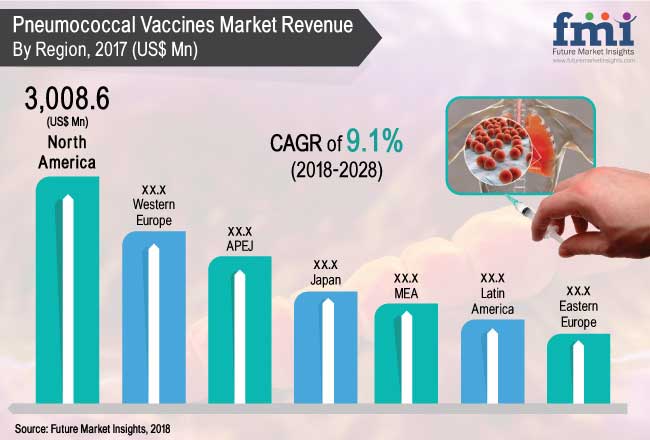 Key Segments
The subsequent section of the report provides analysis of the market on the basis of regions and presents forecast in terms of value for the next 10 years. The regions covered in the report include:
North America
Latin America

Brazil
Mexico
Rest of Latin America

Western Europe

Germany
France
U.K.
Spain
Italy
Benelux
Nordic
Rest of Western Europe

Eastern Europe

Russia
Poland
Rest of Eastern Europe

APEJ

China
India
Australia & New Zealand
ASEAN
Rest of APAC

Japan
MEA

GCC Countries
Turkey
South Africa
North Africa
Rest of MEA
The next section classifies the product type and presents the forecast in terms of value (US$ Mn) for the next 10 years. The product types covered in the report include:
Pneumococcal Polysaccharide Vaccines
Pneumococcal Conjugate Vaccines
The next section classifies the distribution channel and presents forecast in terms of value (US$ Mn) for the next 10 years. The distribution channels covered in the report include:
Pharmacies
Community Clinics
Public Health Agencies
Others
Need specific information?