KEY FACTORS SHAPING COMPANION ANIMAL VACCINES MARKET
Rising Prevalence of Zoonotic Diseases to Increase Demand for Companion Animal Vaccines
Rising incidence of zoonotic diseases has increased concerns for pet safety. Owners are more inclined towards proper care of their pets through effective vaccinations. As per the estimates of CDC, in 2017, more than 6 out of 10 infectious diseases in humans are spread by animals, and 3 out of every 4 new or emerging diseases in human are spread from animals.
According to WHO, in 2019, at least 55,000 deaths were caused due to rabies in Asia and Africa, and costs identified with the aversion and control of this disease was evaluated at US$ 590 million every year in these two continents.
Growing Pet Insurance to Offer Lucrative Growth Opportunities
Increasing pet insurance coverage in the U.S and other developed countries is expected to act as a value driver to the global companion animal vaccines market growth. As per the Department of Clinical Veterinary Science and the Pet Food Institute, 30.0% of pets in Sweden and 23.0% of pets in the United Kingdom are insured by pet insurance policies.
Just 0.7% of pets in the United States are covered under pet insurance, though over 20.0% of pets are safeguarded in few European markets. Insurance policies related to dogs dominate industry policy volumes and income. According to the North American Pet Health Insurance Association (NAPHIA), in 2014, canines represented 83.0% of protection premiums while felines represented 17.0%.
Shift towards Preventive Companion Healthcare Medications
Preventive companion healthcare is the utilization of screening to identify irregularities or diseases prior to development of symptoms. The vet industry is witnessing a shift from treatment medication to preventive medication.
Preventive medicinal services incorporate at least one complete physically assessment of routine well care, fundamental immunizations, and certain diagnostics for example, heart worm test and internal parasite control. In 2011, AAHA and American Veterinary Medical Association (AVMA) together published canine preventive veterinary healthcare guidelines.
The objectives were to improve health of companion animals and to place a higher accentuation on prevention and early diseases detection.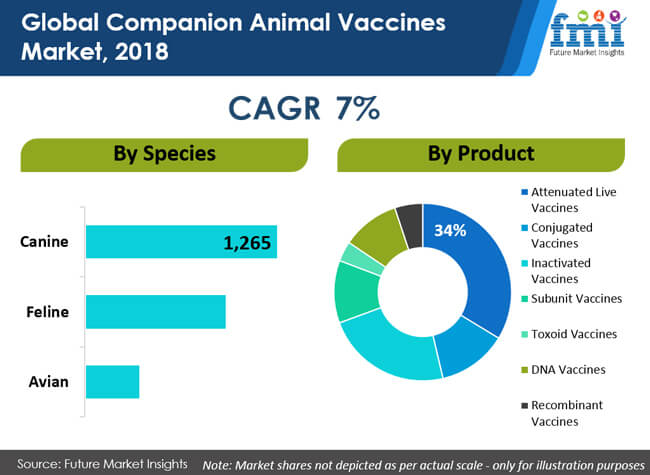 COMPANION ANIMAL VACCINES COMPETITION ANALYSIS
External partnerships and strategic collaborations between companies and academic institutions are expected to drive revenue growth of the companion animal vaccines market. For instance, in May 2016, Bayer and BioNTech AG entered into an agreement, to develop novel, first-in-class mRNA vaccines for both companion animals and production animals.
Prominent players of the companion animal vaccines market focus on inorganic strategies, such as new product approvals and launches. For instance, in Oct 2019, Boehringer Ingelheim obtained EMA authorization for Reprocyc ParvoFLEX, a new porcine parvovirus vaccine.
The companion animal vaccines market has been relatively moderate in size and is expected to remain dynamic, growing in steady pace during the forecast period.
Attenuated Live and Inactivated Vaccines Collectively Account for over 50% Share
While sales foreseen to reach around US$ 1.8 Bn by 2029 end, attenuated live vaccines will register a share of over 30% in the overall sales of companion animal vaccines. This is majorly attributed to their ability in delivering prolonged immunity with lesser doses.
However, as attenuated live vaccines are not recommended for animals with weak immune systems, they continue to see fluctuating demand growth throughout the forecast period. On the other hand, inactivated vaccines represent rapid demand growth owing to their easy storage and will witness a sudden hike in revenues in 2021.
US Market Set to Cross US$ 1 Bn by 2029
The companion animal vaccines markets in North America and Europe continue to reflect significant opportunistic potential, primarily attributing to increasing veterinary healthcare expenditure as well as favorable pet reimbursements. The US represents the most lucrative market and will cross US$ 1 Bn towards the end of the projection period.
On the other hand, the market in Germany would showcase a double-digit growth rate. Furthermore, stakeholders are viewing East Asia from target market perspective owing to significant portion of non-vaccinated companion animals in developing countries.
Manufacturers to Fill in Existing Knowledge Loopholes
The growth of companion animal vaccines market is hindered by the improper understanding of antigen/immunogenic structures due to variations in disease patterns for endemic countries. This leads to pitfalls in the logical representation of the epidemiology of disease transmission and its associated processes. Manufacturers should fill the knowledge gap by consistently collaborating with veterinary research institutes to take a deep-dive into host immune response, protective immunity, and immunogenetics.
How Growth will Unfold
Veterinary clinics and hospitals will remain key revenue generators for market players, where sales of companion animal vaccines will surpass US$ 2 Bn in 2019, collectively. In developed countries, manufacturers are reaping maximum profits through veterinary clinics and hospitals.
However, introduction of certain regulations has disallowed vets to sell companion animal vaccines, as such, pet owners are moving to retailers. This has influenced market players to shift their focus towards retails pharmacies, where sales of companion animal vaccines would grow at a rapid CAGR of 8.5% through 2029.
COMPANION ANIMAL VACCINES MARKET TAXONOMY
The global companion animal vaccines is segmented in detail to cover every aspect of the market and present a complete market intelligence approach to the reader.
Product
Attenuated Live Vaccines
Conjugate Vaccines
Inactivated Vaccines
Subunit Vaccines
Toxoid Vaccines
DNA Vaccines
Recombinant Vaccines
Species
Distribution Channel
Veterinary Clinics
Veterinary Hospitals
Veterinary Research Institutes
Retail Pharmacies
Region
North America
Latin America
Western Europe
Eastern Europe
Asia Pacific excluding Japan
Japan
Middle East & Africa
Need specific information?
Talk Show:
The Rise of Intelligent Packaging
Personalized, Connected and Sustainable
November 18, 2021
11:00-11:45 AM PST (USA & Canada)
This is a LIVE session