Animal Feed Additives Market Outlook
The animal feed additives market is witnessing a moderate pace of growth and is anticipated to maintain the same during the forecast period. One of the crucial market restrainers includes the increasing use of antibiotics in animal feeds.
As there is an increased demand for the consumption of animal products such as eggs, milk, meat, and more, the use of antibiotics as feed for animals has an evident impact on human beings. Given this influence, the European Union has put a ban on antibiotics as growth promoters. As a result, manufacturers operating in the animal feed additives market are sourcing products from micro-organisms, animals, and plants.
Livestock farmers are realising that monogastric animals find it difficult to synthesise Vitamin B in their bodies. As a result, they are looking at animal feed additives to provide the right nutrition to their animals and improve their yield. Besides this, the outbreak of several diseases found among cattle is also leading to an increased consciousness among farmers to acknowledge and act upon the benefits that animal feed additives provide.
Having witnessed an increased demand from farmers, key companies operating in the animal feed additives market are approaching the development in unique ways. The players in the animal feed additives market are engaged in the research and development activities for offering efficient feed additives. Besides this, the focus has been on the development and expansion of product lines and making a mark at a global level. For instance, in March 2019, BASF SE announced that it has launched phytase Natuphos E, an enzyme that is added to the normal feed for improving the animal health, in Indonesia.
On the back of the COVID-19 crisis, the animal feed additives market has witnessed a slump in its growth. This is due to the disruption in the supply chain as well as a reduction in demand for animal products.
Rising Demand for Environmental Friendly Animal Production
Livestock animals are often struck with diseases such as bird flu, swine flu, mouth and foot infections which has raised the concerns related to safety and the quality of meat products. This has led to the utilization of specialty additives. However, increasing demand of grains such as barley, maize and wheat from other commercial foods is anticipated to hinder the growth of the market.
Rise in advanced technologies coupled with consistent enhancements in in the final production on the basis of type of feed and fluctuating regulatory trends are boosting the market.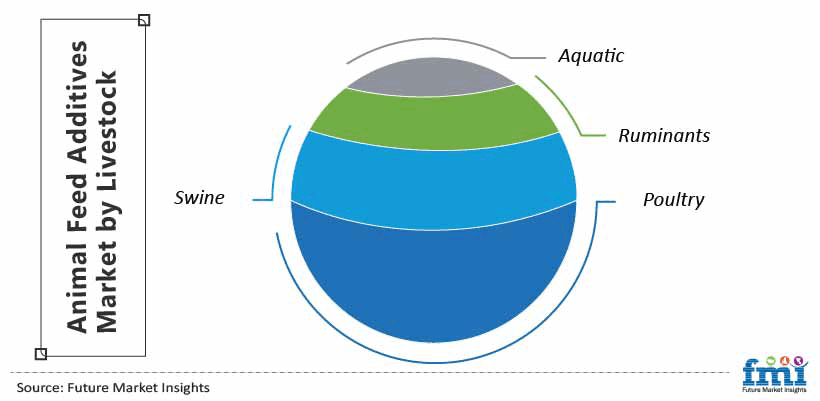 Increase in Consumption of Meat Products Fuels Demand in North America
Due to high meat consumption, North America exhibits a considerably high demand for quality meat. Thus, in order to derive high quality meat, add-on nutrition feed additives are fed to animals so that they have good digestion to build on more muscle and weight. This is important to increase the yield and productivity of animals. This subsequently boosts the market for animal feed additives.
A key point to consider here is that beef consumption in the US has exhibited a steady rise since 1970 to 2018. Currently, meat and poultry consumption in the US is more than 100 Billion pound every year. The nation therefore has emerged as one of the key consumers of animal feed additives. In addition to this, the rising meat consumption has bolstered the use of animal feed additives across various livestock segments such as poultry, ruminants, aquatic and swine.
Consciousness for Diets Paving Way for Growth
For improving growth, maintenance, and milk production of livestock, vitamins and minerals are considered crucial in the diets of cattle, goats and sheep. The naturally grazed food of these animals does not always contain a vital balance of these nutrients. Seemingly, the deficiency of certain vitamins can lower the life expectancy of animals and their productivity due to issues such as bone deformities.
In poultry, vitamin animal feed additives can help to provide proper nutrition needed to counter the stress of being raised in demanding condition. Making right kind of vitamins available according to species and their nutritional requirements can lead to improved meat or egg quality, extended shelf life and translate to better availability of essential nutrients for human consumption.
How Growth will Unfold
The growing population worldwide, particularly in the Asia-Pacific, will create tremendous demand for animal food and bring with it significant challenges to sustain food quality and production over the coming decades. Constant rise in the consumption of packaged meat and the emergence of key trends like ready-to-eat meals will pertinently lead to the implementation of stringent quality control measure
Growth in consumption of milk and meat products across the globe to gain proteins and various nutrients is anticipated to boost the market. Food additives are consistent component of the increasing meat production industry across the globe. These food additives are known to be the catalysts that assist in various activities such as improving the rate of weight gain in animals, the intake of vitamins, prevention of disease, conservation and digestion which result in improved quality of meat production. Due to such factors, the demand for animal feed additives market is anticipated to considerably rise. The demand for feed additives sourced from plant is likely to remain exceptionally high through the forecast period.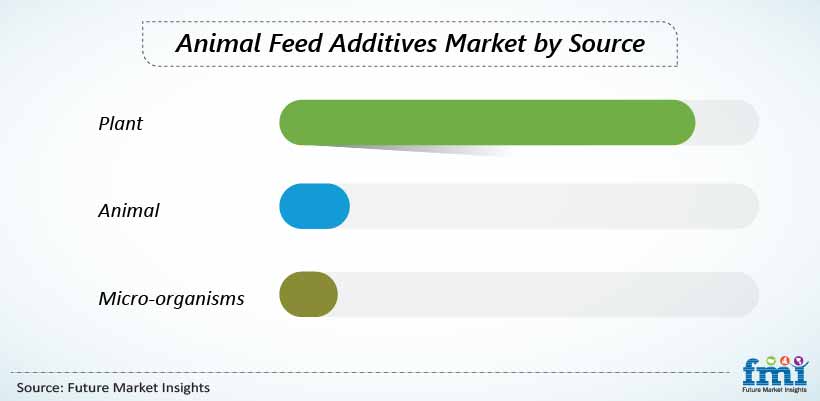 Animal Feed Additives Market Report Scope
Attribute

Details

Forecast Period

2014-2018

Historical Data Available for

2019-2029

Market Analysis

US$ for Value and Metric Tons for Volume

Key Regions Covered

North America, Europe, Latin America, East Asia, South Asia, Oceania, and Middle East & Africa (MEA)

Key Countries Covered

U.S, Canada, Mexico, Brazil, Peru, Chile, Poland, Germany, Italy, Spain, United Kingdom, Nordic Region, Benelux, Rest of Europe, China, India, Japan, Korea, Indonesia, Malaysia, Singapore, Taiwan, Thailand, Rest of South Asia, Australia, New Zealand, GCC, Turkey, South Africa, and Rest of MEA

Key Segments Covered

Source, Livestock, Additive Type, Region

Key Companies Profiled

Ajinomoto Co., Inc.
Akzo Nobel N.V.
Alltech Inc.
Archer Daniels Midland Company
BASF SE
Biomin GmbH
Cargill Inc.
Chr.Harsen Holding A/S
CP Group
E. I. du Pont de Nemours and Company
Evonik Industries AG
Invivo Group
Koninklijke DSM N.V.
Kemin Industries
Lallemand Inc.
Norel S.A.
Novozymes A/S
Nutreco
Phibro Animal Health Corporation
Novus International Inc.
Tyson Foods, Inc.
Solvay Group

Report Coverage

Market Overview, Key Market Trends, Key Success Factors, Demand Analysis, Market Background, COVID-19 Analysis, Segmental Analysis, Regional Profiling, Market Structure & Competition Analysis

Customization & Pricing
ANIMAL FEED ADDITIVES MARKET TAXONOMY
The report segments the global animal feed additives market in detail to present an executive-level blueprint to the reader
Additive Type
Antibiotics
Vitamins
Antioxidants
Amino Acids
Feed Enzymes
Feed Additives
Minerals
Livestock
Ruminants
Poultry
Swine
Aquatic
Source
Plant
Animal
Micro-organisms
Region
North America
Latin America
Europe
Asia Pacific Excluding Japan
Japan
Oceania
MEA
Need specific information?