Animal Nutrition Chemicals to Remain in High Demand Backed by Expanding Market for Animal Protein Products
The increasing demand for livestock products across the globe is driving the market. Also, it is expected to gain from the increasing incidence of diseases in animals. However, the use of in feed enzymes and stringent regulations on products such as these are limiting the growth of this market.
Animal nutrition chemicals are supplements given to animals to correct deficiencies in feed .In addition to this, animal nutrition chemicals improve animal immunity, pregnancy outcome, fertility, new born survival and growth, meat quality, and feed efficiency. The increasing demand for pets and their health insurance will create growth opportunities for this market.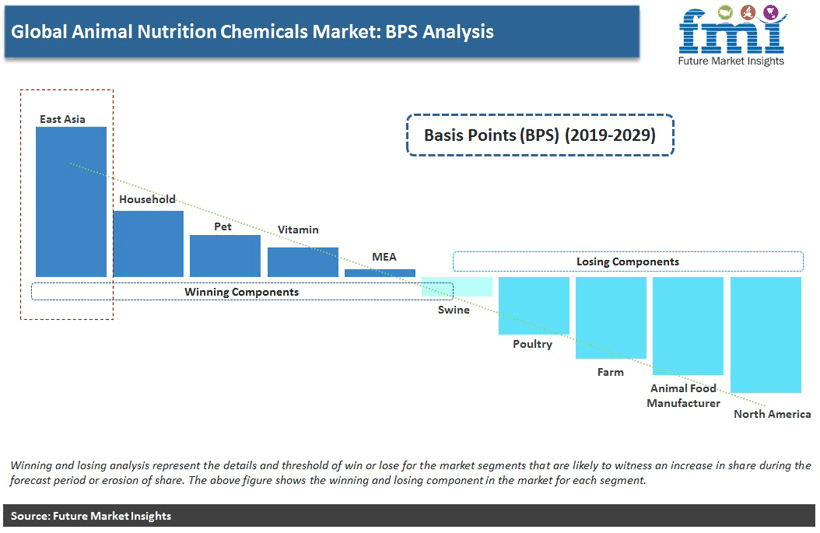 Economic Expansion to Offer Major Growth Opportunities in Developing Nations
Regionally, the global Animal nutrition chemicals market covers North America, Latin America, Europe, East Asia, South Asia, Oceania and the Middle East and Asia. Among these regions North America accounted for a substantial share in the market. The growth of the market is largely supplemented by the growing population of pets. The U.S. will be a major contributor owing to the high consumer spending on their pets, which is leading to growing demand for nutritional products.
Countries in Asia Pacific and Europe also offer substantial growth opportunities to the market. Impressive growth in adoption of companion animals' witnessed in the last couple of years will boost the market. On the flip side, the increasing prices of raw materials required for the manufacturing these chemicals are hampering the growth of the market. Worsening situation is supply chain disruptions caused due to the recent COVID-19 impact.
With manufacturers facing difficulties in procuring raw materials and fewer labourers available, the production of animal nutrition chemicals may get hampered. Limited transport due to lockdown imposed across various nations is also restricting the market's growth. Nonetheless, the growing popularity of bio-based animal nutrition chemicals is poised to unfold new growth opportunities for the market.
Rising Awareness among Consumers will Stoke Growth Opportunities
The rising awareness among consumers will drive animal nutrition chemicals market. In addition to this, the market will benefit from their increasing disposable incomes and consequent willingness to spend on animal nutrition. In developed markets, sales are likely to remain high, aided by the presence of high awareness among consumers. Also, their purchasing power is comparatively high, which will support the growth of the market.
How Growth will Unfold
Rising consumer awareness regarding proper pet nutrition is anticipated to encourage consumers to pay premium amounts for healthy and nutritious pet food over the forecast period. Meat consumption has increased over the past few years on account of the rising population particularly in the emerging economies.
Rapid meat and poultry market developments, coupled with growing competition, have stimulated the urgency for improving and maintaining product quality amongst the key market players. Also, to woo consumers post coronavirus impact, manufacturers need to increasingly focus on product quality.
Economic developments along with increasing disposable income have made consumers more attentive towards pet care and nutrition. These aforementioned factors are presumed to drive the animal nutrition chemicals market in the upcoming years.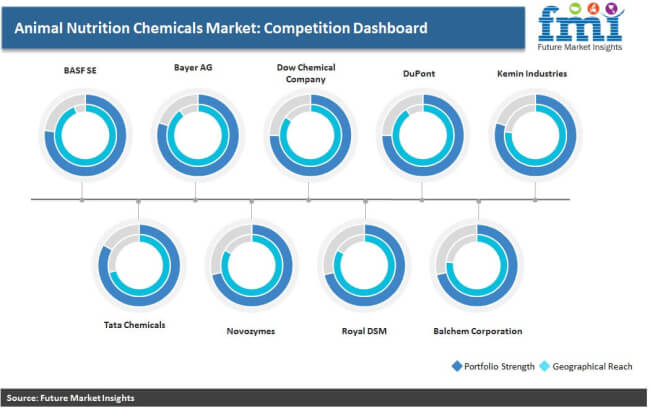 ANIMAL NUTRITION CHEMICALS MARKET TAXONOMY
The Animal Nutrition Chemicals market is segmented in detail to cover every aspect of the market and present complete market intelligence to readers.
Product Type
Amino Acid
Vitamin
Mineral
Enzyme
Fish Oil & Lipid
Carotenoid
Eubiotics
Others (Vacuum Salts and Organic Food)
Application
Animal Food Manufacturer
Farm
Household
Veterinarian
Others (Domestic Animal Feed and Aquaculture)
Region
North America
Latin America
Europe
East Asia
South Asia
Oceania
MEA
By Species
Poultry
Swine
Ruminant
Pet
Others (Aquaculture and Euqines)
Need specific information?