Rising Demand for Nutritive Animal Feed Boosts Opportunities for Growth
Animal feed ingredients are essential for proper feeding of animals. Feed ingredients also have a function to build and restore muscles and other body tissues. They consist of amino acids that promote enzyme and hormone secretion necessary for normal body function. Deficiency of any amino acid can lead to animal health issues, declining efficiency and output as a result. Animals cannot produce their own amino acid and thus need to be supplied in the form of their food. These factors will promote overall demand for animal feed ingredients.
Rising demand for proper feed in poultry, swine, cattle, and aquaculture segments along with strategic partnerships and manufacturing alliances are key growth drivers. However, the consumption pattern across nations have changed in a short time since coronavirus engulfed the world.
Consumers are nowadays are more likely to stay indoors. Hence their food preferences include a multitude of healthy and plant-based snacks. Aversion to meat consumption has a negative impact on the overall animal feed ingredients market. Furthermore, production across companies is disrupted on account of lockdown enforced by various governments. Culmination of these factors may restrain the market's growth to an extent.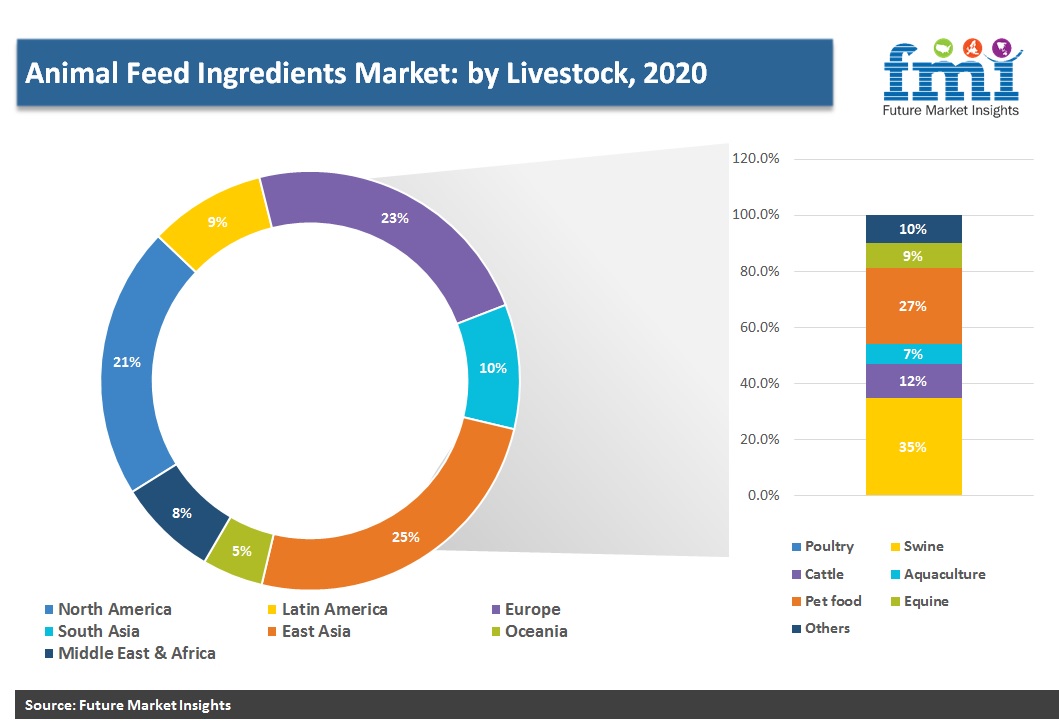 Developing Nations to Exhibit Higher Demand for Animal Feed Ingredients
The market for animal feed ingredients is expected to expand in Asia Pacific due to the increase in demand for value-added goods and the expansion of distribution channels. Population in North America exhibits a strong preference for animal-based protein supplements. Latin America exports a significant proportion of protein-rich animal feed, which will enable growth in the region.
In the Middle East, the market will gain from increasing imports of animal-based proteins. In Europe, there is a change in consumer preference from animal-based ingredients to plant-based ingredients, in a bid to protect the environment and minimize animal farming, which may lead to a relatively slower growth in the.
High Nutritional Value in Animal Feed Ingredients Spurring their Demand
Protein is an important nutrient in ruminant diets because it provides ammonia required for microbial growth. Protein deficiency includes depressed reproductive success, poor development, weight loss, decreased appetite and decreased milk production. For animal productivity and ranch profitability it is important to provide adequate protein in cattle diets. Increasing milk requirements due to its high nutritional value would foster demand for cattle feed while stimulating market growth in animal feed ingredients.
How Growth will Unfold
The evident growth for the animal feed ingredients market is evaluated by the meat industry, as a large proportion of the animal-based proteins are obtained from the slaughterhouse industry animal by-products. Also contributing to the growth of the animal feed ingredients market is the scientific evidence that the animal proteins are a more abundant source of nutrients and are considered as a whole food compared to plant and other derived proteins.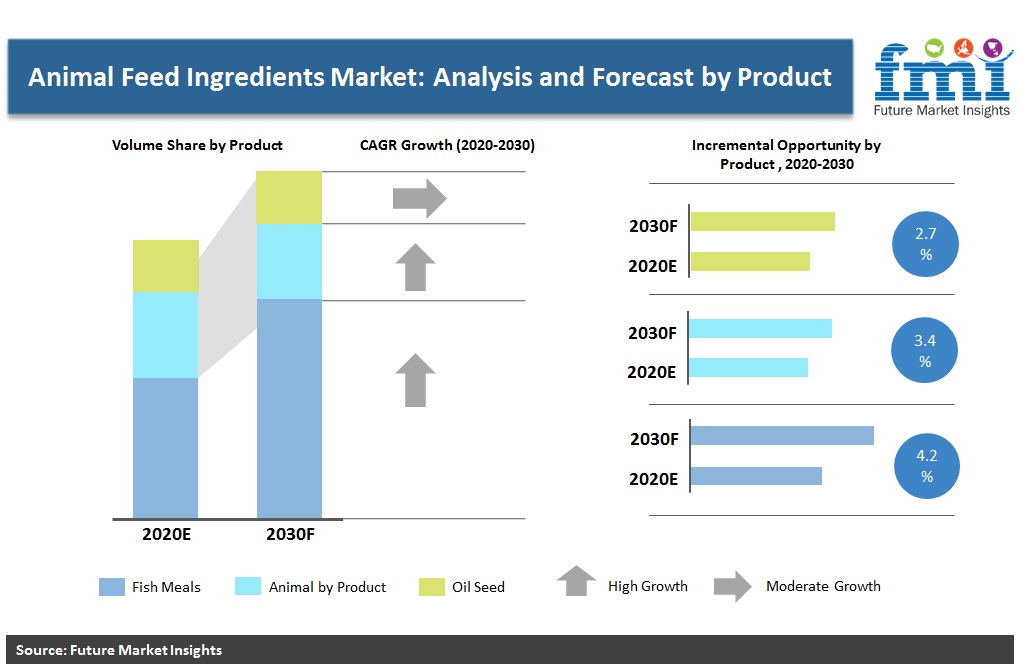 SHOULD BE ANIMAL FEED INGREDIENTS MARKET TAXONOMY
The global Animal Feed Ingredients market is segmented in detail to cover every aspect of the market and present complete market intelligence to readers.
Type
Compound feed
Fodder
Forage
Source
Animal-based Protein
Plant-based Protein
Application
Poultry
Ruminants
Swine
Aquatic Animals
Other Animals (Pet Animals, Birds, and Reptiles)
Region
North America
Latin America
Europe
East Asia
South Asia
Oceania
MEA
Need specific information?