Global Animal Feed Protein Ingredients Market to Reach US$ 282.9 Bn by 2029
The global Animal feed protein ingredients market is projected to reach US$ 282.9 Bn by the end of 2029. The market was valued at US$ 155 Bn in 2019. If these figures hold true, the market will exhibit a CAGR of 6.20% between 2019 and 2029. Rising animal feed protein ingredients demand due to fostering agricultural business supported by a global rise in living standards will promote overall market growth. Asia Pacific is expected to dominate the global market due to increasing consumption of dietary proteins in countries like India, Japan, South Korea, and China.
COVID -19 : Impact Analysis
Request the coronavirus impact analysis across industries and markets
Request Covid -19 Impact
Animal Feed Protein Ingredients Market - Key Research Findings
The animal feed protein ingredients market accounted for revenue worth US$ 155 Bn in 2019.
Change in dietary patterns supported by growing importance of health management has promoted animal-based protein consumption in daily diet, which in turn contributes to market growth.
Strong focus towards healthy livestock to inhibit their deteriorating health conditions and enhance productivity will support the market expansion.
Asia Pacific continues to account for major share of the global market value.
Rapid spread of COVID-19 across key economies and major markets, especially Europe and North America, presents a set of challenges.
Animal feed protein ingredients for poultry livestock will continue to witness higher demand as compared to that of swine, cattle, and aquaculture.
Major industry players are implementing various R&D programs for improved product utilization and livestock health.
Key Factors Shaping Animal Feed Protein Ingredients Market
Increased Livestock Production and Meat Consumption
One of the most significant factors influencing the consumption of animal feed ingredients is rapidly growing number of population seeking food products that align with their health regime. While industry experts are predicting momentum for meat alternatives and plant-based food products, livestock production and meat consumption continue to defy gravity. This, is turn, is potentially raising the demand for animal feed protein ingredients.
Frequent Outbreaks of Animal Diseases
Disease outbreaks such as bovine spongiform encephalopathy (BSE) among cattle have been significant fuelling the demand for animal feed protein ingredients to add nutritive value to animal feed to improve function ability. Additionally, growing consumer awareness about meat quality is compelling livestock farmers to invest in high quality, protein-rich animal feed to improve immunity and prevent risks of various diseases.
COVID-19 Crisis to Pull Production Levels Down
Nationwide lockdowns and mass closure of factories triggered by COVID-19 have shown fragility in access to a wide range of products, and animal feed protein ingredients are no different. During the pandemic crisis, consumers are turning to food, such as meat, that provide comfort and familiarity, which is weighing on same scale as increasing demand for animal feed and protein ingredients. However, halt in manufacturing and supply chain operations to combat the spread of COVID-19 is likely to result in product shortages in the near future.
Animal Feed Protein Ingredients Market Structure Analysis
Animal feed protein ingredients market shows a moderate level of consolidation with top players accounting for a larger share of the market revenue.
Cargill Incorporated, ADM, DSM, and Tyson Foods Inc. are primed to become the industry behemoths.
Collaborations, mergers & acquisitions activities, and capitalization on innovative technology are some of the key growth strategies.
Expansion of product portfolio and regional footprint remain key focus areas to maintain a strategic position in the market.
Report Metric

Details

Base year considered

2019

Actual estimates/Historical data

2014 - 2018

Forecast period

2019 - 2029

Market Value in 2019

US$ 155 Bn

Segments covered

Source, Form, and Application

Regions covered

North America, Latin America, Europe, East Asia, South Asia, Oceania and MEA

Key Players

BurconNutriSciences, Alltech, Nutraferma LLC, ADM, Hamlet Proteins, Dupont, Calysta, Titan biotech, Koninklijke DSM, and Proliver

Growth Drivers

High livestock production and meat consumption
Increased consumer awareness about the quality of meat
Demand for immune-boosting animal feed ingredients
Investment in technologies to improve production efficiency
COVID-19 Impact Analysis on Market
Animal feed protein is essential for proper feeding of animals. Protein also has a function to build and restore muscles and other body tissues. It consists of amino acids that promote enzyme and hormone secretion necessary for normal body function. Deficiency of any amino acid can lead to animal health issues, declining efficiency and output as a result. Animals cannot produce their own amino acid and thus need to be supplied in the form of their food. These factors will promote overall demand for animal feed protein.
Prior to COVID-19, the rising demand from several livestock consumption, including poultry, swine, cattle, and aquaculture, along with strategic partnerships and manufacturing alliances were key growth drivers. However, the consumption pattern across nations have changed in a short time since coronavirus engulfed the world. Following the COVID-19 outbreak various precautionary measures are undertaken across the world to encourage "social distancing." The current scenario has considerably impacted the overall consumption pattern of shoppers.
Consumers are nowadays are more likely to stay indoors. Hence their food preferences include a multitude of healthy and plant-based snacks. Aversion to meat consumption has a negative impact on the overall animal feed protein market. Furthermore, production across companies is disrupted on account of lockdown enforced by various governments. Culmination of these factors may restrain the market's growth to an extent.
Economic Expansion to Offer Major Growth Opportunities in Developing Nations
The market for animal protein ingredients is expected to expand in Asia Pacific due to the increase in demand for value-added goods and the expansion of distribution channels that sell animal protein ingredients. In Asia, health issues about the outbreak of many fatal diseases such as Asian bird flu have raised questions about the safety of animal protein ingredients and could delay the growth of the Asian market for animal protein ingredients. The population of North America has a strong preference for animal-based protein supplements, and because protein is the bulk of the food consumed in North America, there are strong opportunities for the growth of the market for animal protein ingredients in this area. Latin America exports a significant proportion of protein-rich animal feed, suggesting growth for the animal protein ingredients industry in this region. The Middle East contributes to the animal protein ingredient market due to its wide share of animal-based protein imports. In Europe, there is a change in consumer preference from animal-based proteins to plant-based proteins, in a bid to protect the environment and minimize animal farming, which may lead to a relatively slower growth in the demand for animal protein ingredients in this region
* This data is only a representation. Actual data may vary and will be available in report.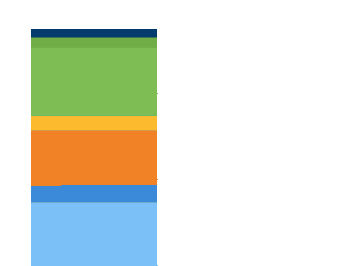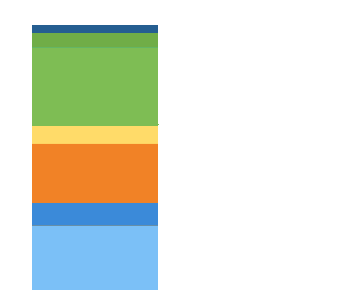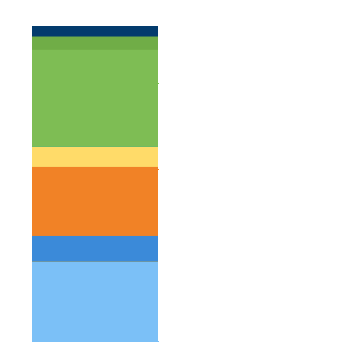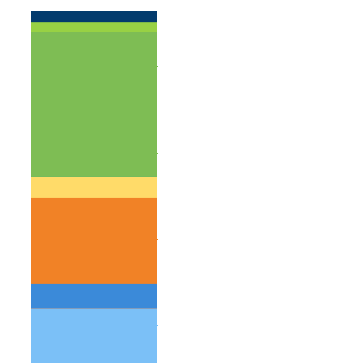 Nutritional Value Aiding in Growth
Protein is an important nutrient in ruminant diets because it provides ammonia required for microbial growth. Protein deficiency includes depressed reproductive success, poor development, weight loss, decreased appetite and decreased milk production. For animal productivity and ranch profitability it is important to provide adequate protein in cattle diets. Increasing milk requirements due to its high nutritional value would foster demand for cattle feed while stimulating market growth in animal feed protein ingredients. The requirement for cattle protein differs throughout the different production phases, animal size and expected efficiency. Cattle need higher amounts of protein during lactation, it is also needed for higher milk production and after calving retractive tract reconditioning, thus driving the demand for the drug. Rising demand for cattle feed due to health problems with cattle would have a positive effect on developments in the global industry.
Animal protein segment held the leading market share
Plant protein segment forecast to higher rate of growth
Dry segment held lion's share in the market
Liquid segment to remain the second-lead
Food & beverages segment holds dominance
Pharmaceuticals segment to rise at a higher CAGR
How Growth will Unfold
The evident growth for the animal protein ingredients market is evaluated by the the meat industry, as a large proportion of the animal-based proteins are obtained from the slaughterhouse industry animal by-products. Also contributing to the growth of the animal protein ingredients market is the scientific evidence that the animal proteins are a more abundant source of nutrients and are considered as a whole food compared to plant and other derived proteins. Fishmeal, which is an significant source of animal protein ingredients, is also supporting the growth of the demand for animal protein ingredients that can be linked to the growing aquaculture field. In addition, the trend in the sustainable mode of meat and feed processing is being pursued worldwide and contributes as a macroeconomic factor to the animal protein ingredients industry. On the other hand, people are opting for more and more vegan and vegetarian sources for health benefits, and this may hinder the growth of the animal protein ingredients market.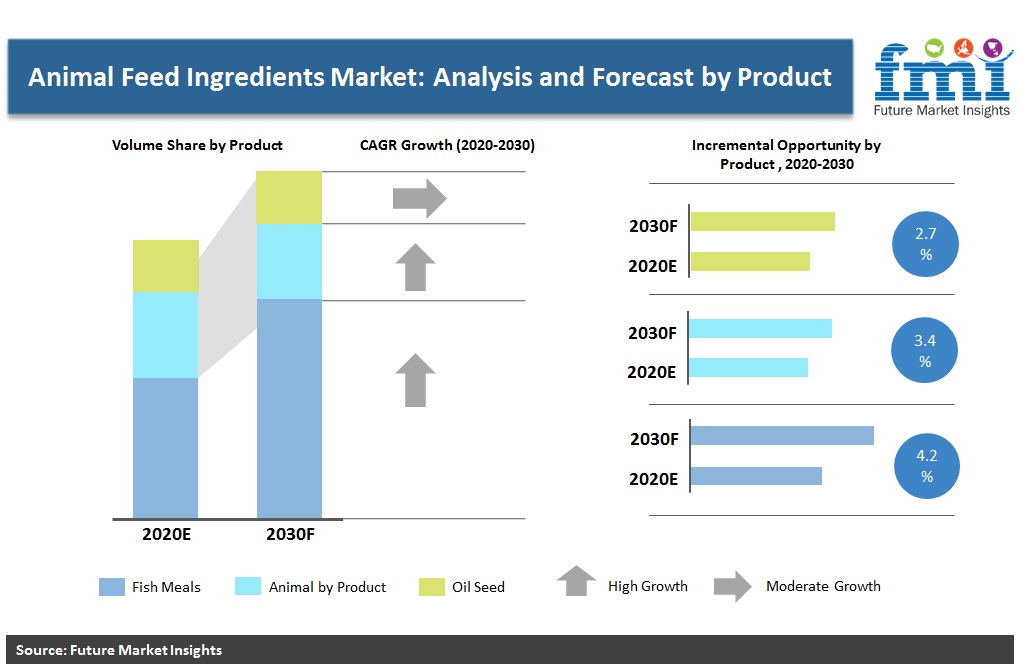 * This data is only a representation. Actual data may vary and will be available in report.
Click Here To Know How The Growth Will Unfold
Custom Market Research Services
FMI offers custom market research services that help clients to get information on their business scenario required where syndicated solutions are not enough.
Overview
Animal Feed Protein Ingredients Market: Global Industry Analysis 2015-2019& Opportunity Assessment 2020-2029
A recent market study published by Future Market Insights on the Animal Feed Protein Ingredients market offers global industry analysis for 2015-2019 & opportunity assessment for 2020-2029. The study offers a comprehensive assessment of the most important market dynamics. After conducting a thorough research on the historical, as well as current growth parameters of the Animal Feed Protein Ingredients market, the growth prospects of the market are obtained with maximum precision.
Animal Feed Protein Ingredients Market Taxonomy
The global Animal Feed Protein Ingredients market is segmented in detail to cover every aspect of the market and present complete market intelligence to readers.
Type
Compound feed
Fodder
Forage
Source
Animal-based Protein
Plant-based Protein
Application
Poultry
Ruminants
Swine
Aquatic Animals
Other Animals (Pet Animals, Birds, and Reptiles)
Region
North America
Latin America
Europe
East Asia
South Asia
Oceania
MEA
How the research was conducted?
Primary Research
C - Level Executives
Marketing Directors
Sales Heads
Production Managers
Distributors Heads
Sales Executives
Product Manufacturers
Distributors
Traders
Industry Experts
End Users
Current Market Dynamics and Challenges
Market Characteristics
Market Performance and Growth Quadrants
Competition Structure and Market Structure
Strategic Growth Initiatives
Near-term and Long-term Market Growth Prospects
Market Segment Splits and Authenticity
Opinions on Market Projections and Validity Of Assumptions
Secondary Research
Industry Publications

Industrial Week
Industrial Product Review
Industrial Magazine

Industry Associations

Dieticians Association
Food and Agriculture Organization

Company Press Releases
Annual Reports and Investor Presentations
Research Papers
Government Websites and Publications
Trade Websites
Primary Interview Splits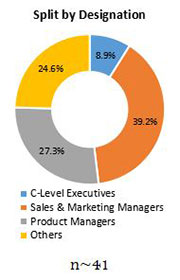 To Learn More About our Comprehensive Perspective on Animal Feed Protein Ingredients Market ,
Get in touch
Harish Tiwari
Global Head - Business Development
Akshay Godge
Client Partner - Global Business Development
CASE STUDIES
See how our work makes an impact.
At FMI, we design strategies that are adaptive, impactful, and implementable.