Companion Animal Drugs Market - Key Research Findings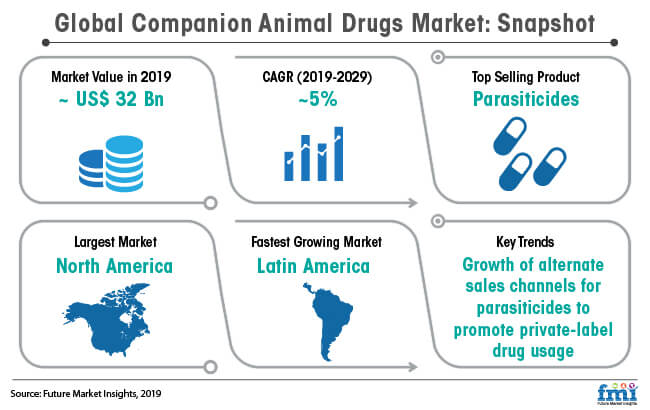 The global companion animal drugs market value in 2019 is estimated at ~ US$ 32
The companion animal drugs market is anticipated to grow at a CAGR of ~ 5% during the forecast period of 2019-2029.
Parasiticides are expected to remain the most preferred product, accounting for one third share of the companion animal drugs market.

The growth in demand for parasiticides is primarily attributed to their effectiveness in protecting the pets against parasites, fleas, ticks, and even mosquitoes.

North America is expected to account for ~ 32% of the revenue shares in the companion animal drugs market by the end of 2029.

North America continues to offer greater opportunities, due to presence of market players in the region along with increasing obesity rate among pets in the U.S.

Growing adoption of companion animal drugs in veterinary clinics in the animal healthcare industry is likely to result in increased market share during the forecast period.

Increased demand for proper treatment of pets has led to significant growth in number of veterinary clinics, thereby potentially raising the demand for companion animal drugs.
Development of new veterinary vaccines and medications for pets are contributing to the companion animal drugs market growth.
Key Factors Shaping the Companion Animal Drugs Market
Increasing Rate of Pet Obesity

Growing tendency to overfeed pets leads to increasing obesity in pets, globally. This has been negatively impacting the health of pets, thus making them susceptible to more diseases, which in turn, is likely to fuel the demand for companion animal drugs.

According to the report of Association for Pet Obesity Prevention (APOP) in 2018, it was estimated that 59.5% of cats and 55.8% of dogs were overweight or obese. This is a serious concern and is creating serious health problems in pets. It was also reported that the pets' owners and veterinarians were often confused by conflicting dietary advice and thus struggle to help pets achieve safe and ideal weights. This increasing obesity among animals is leading to robust growth of the companion animal drugs market.

Emergence of New Technologies, Especially in Biologics

Emergence of new technologies, especially in biologics, such as recombinant DNA vaccines for dogs are expected to eventually drive the demand for specialties in veterinary medicines. Recombinant vaccines provide advanced protection to pet animals. Example of one such vaccine is Recombitek from Sanofi – usually administered to offer broad range protection in canines.

Additionally, popularity of compounded drugs has been growing rapidly, due to need for easy access to services and affordable veterinary drugs. Thus, the increasing inclination towards new technologies is projected to fuel the growth of the companion animal drugs market over the forecast period.

Growing Prominence of Online Veterinary Pharmacies

The distribution pattern of veterinary medicines is undergoing a change due to rapid internet penetration across the globe. The number of online veterinary pharmacies has been increasing, as pet owners tend to study disease symptoms online and request for OTC medicines via internet. The trend is more common in the U.S. and the European countries, due to wide availability of online catalogs for prescription drugs.

Certain compounding pharmacies also deliver veterinary drugs after receiving an online order. The drugs are ready to be picked up from the store or may also be delivered at the doorstep in some cases. Thus, the online availability of companion animal drugs are expected to create new opportunities and scope for stakeholders to gain competitive edge in the companion animal drugs market.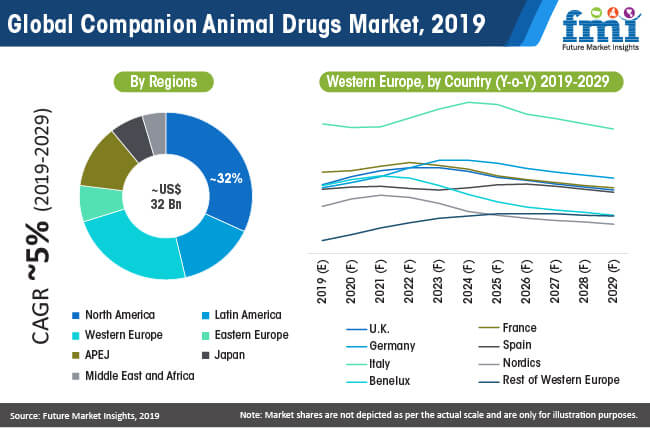 Companion Animal Drugs Market Structure Analysis
The global companion animal drugs market is a moderately competitive market. Zoetis, Inc, Elanco (Eli Lily), Merck & Co., Inc., and Merial (Boehringer Ingelheim) are the key players contributing maximum revenue share to the market.
Expansion of the business through mergers, acquisitions, collaborations, and alliances are the strategies followed by key players in the companion animal drugs market. Key market players focus on strategies such as development of new medications and introducing them into the market for evolving infectious diseases.
Noteworthy investments in the research and development for novel drugs are projected to boost the growth prospects of the companion animal drugs market.
Global and local market players are benefiting from a significant marketing network of distributors. Also, online veterinary pharmacy services are contributing to the growth of the companion animal drugs market.
Companion Animal Drugs Market: Segmentation
Product Type
Antibiotics
Anti-inflammatory
Parasiticides
Heart Worm Products
Behavioral Products
Nutritional Products
Skin Care Products
Vaccines
Distribution channel
Veterinary Hospitals
Veterinary Clinics
Pharmacies and Drug Stores
Region
North America
Latin America
Western Europe
Eastern Europe
APEJ
Japan
Middle East and Africa
Need specific information?
Talk Show:
The Rise of Intelligent Packaging
Personalized, Connected and Sustainable
November 18, 2021
11:00-11:45 AM PST (USA & Canada)
This is a LIVE session