VETERINARY VACCINES MARKET - KEY RESEARCH FINDINGS
The global demand for veterinary vaccines witnessed a massive downfall in the first half of 2020 on account of lockdown and social distancing barriers implemented due to the spread of coronavirus disease throughout the world. Big as well as small manufacturing companies went through the worst phase and suffered heavy losses in 2020. To overcome the previous losses, business firms in 2021 are focusing on research and developments to ensure uniqueness in their services.
Leading companies such as Zoetis, Merck, BoehringerIngelheim, Elanco, Ceva, Phibro Animal Health Corporation, and Virbac SA are actively indulged in the adoption of several market strategies like joint ventures, collaborations, partnership agreements, technological advancements, sales agreements, capacity utilizations, innovations, diversifications, geographical expansions etc to ensure improvements in their operations globally.
For instance, Zoetis Inc., in 2020, announced the launch of Librela, the first injectable monoclonal antibody (mAb) therapy approved in the European Union for monthly alleviation of osteoarthritis (OA) pain in dogs. This is a new option for veterinarians to control the OA pain effectively for a month long time period. The company also pledged its support for World Antimicrobial Awareness Week 2020. It was an initiative to encourage the use of antibiotics in people and animals. Zoetis has made 6 acquisitions till date and has invested in multiple sectors such as veterinary healthtech, pet tech, diagnostics and more.
In addition to this, Merck Animal Health and Automazioni VX Inc. partnered to introduce Innoject Pro, a newly designed vaccination technology that comes with an innovative eye and nasal drop vaccination system that will be utilized in combination with Merck Animal Health's Innovax® range of vaccines that provide saves from infectious diseases in poultry.
The veterinary vaccines market Asia Pacific region is projected to grow at a very high rate owing to new and emerging trends in pet adoption, rise in the number of key players and increasing disposable incomes. The MEA region holds a very high livestock population which is creating immense opportunities for the key players to extend their presence in the region.
The global veterinary vaccines market was valued at US$ 9.1 Bn in 2020, and is expected to expand at a CAGR of 7% during the forecast period of 2020-2030.
Increasing prevalence of zoonotic diseases, rising pet ownership, and increasing government initiatives to reduce contagious disease are some of the factors driving the demand for veterinary vaccines.
Collectively, Western Europe and North America are expected to account for more than half of the revenue share in the global veterinary vaccines market by the end of 2030.

North America will continue to be a prominent regional market for veterinary vaccines, due to the growing frequency of drug approvals and drug innovation, and higher pet adoption rate.

Attenuated live vaccines remain the most preferred product in the global veterinary vaccines market. Attenuated live vaccine testing accounted for the highest revenue in 2019, and the trend is projected to continue throughout the forecast period.

Demand for attenuated live vaccines for highly contagious diseases such as foot and mouth disease is relatively high.

In terms of species, livestock animals accounted for a major revenue share, due to the growing need for livestock animal immunization to assure the safety of food products and dairy products. Rising need for primary and secondary food items for livestock animals helps in creating sustainable demand for livestock vaccines; while rising disposable income, secluded lifestyles, and humanization of pets are driving demand for companion animal vaccines.
KEY FACTORS SHAPING VETERINARY VACCINES MARKET
Improving Public Health by Controlling Contagious Diseases Such as Avian Influenza

Governments are adopting mass vaccination programs for animals to stop disease transmission from animals to humans. This is expected to create sustainable demand for vaccines for national stockpiles. To cite an example, in 2014, the Bangladesh government, in collaboration with the WHO, adopted a mass vaccination campaign for dogs to control rabies. The vaccination drive was included in the national plan, which aims to eliminate rabies from the country by 2020.

However, the recent coronavirus (COVID-19) pandemic has substantially hit the profit margins of players in the veterinary vaccines market. The market that ranges from livestock to companion animal healthcare, has been subject to uncertainties amidst the pandemic. Initial rumours blaming meat and meat products for the spread have resulted in temporary halts in manufacturing facilities.

However, further studies have highlighted that, meat consumption does not spread the infection. This, in turn, has reignited the growth engine of the veterinary vaccines market, with demand upswing for animal-based products such as milk, eggs, and meat.
Improving Food Security Regulations Creates Strong Demand for Veterinary Vaccines
Increasing initiatives by various governments around the world to ensure food security are expected to sustainably drive the demand for veterinary vaccines. According to the Food and Agricultural Organization (FAO) of the United Nations, food production would need to increase by 70% between 2007 and 2050 to feed the global population. The global population is increasing at a yearly average rate of 3%, and is expected to reach 9.1 Bn by 2050 from 7.3 Bn in 2014.
Consumption of meat and associated products is projected to reach 376 million tonnes by 2030. These factors are expected to drive the growth of the livestock segment in the global veterinary vaccines market.
Advancements in Biotechnology and Veterinary Science in Developed Economies
Greater focus on innovation to avoid zoonotic diseases coupled with advancements in biotechnology is expected to create a favourable platform for the development of veterinary vaccines in high-income countries - the U.S and U.K. These techniques include next-generation sequencing and synthetic biology and systems biology, among others. Further, sustained funding of multi-disciplinary vaccinology studies could improve vaccine development efficiency and shorten time-to-market for upcoming veterinary vaccines.
Growing Importance of Developing Protozoan Parasitic Vaccines
The veterinary healthcare industry is witnessing increased demand for protozoan parasitic vaccines from countries in tropical and sub-tropical regions. Development of resistance to various chemotherapeutic agents is contributing to increased demand for vaccines over anti-parasitic drugs. In this regard, scientists have noted that, the production of third-generation DNA veterinary vaccines against protozoan parasites could prove largely helpful. These vaccines are safe and do not contain any pathogen.
VETERINARY VACCINES MARKET: STRUCTURE ANALYSIS
Vaccine development and procurement involves close partnership between industry players and research and academia, which leads to meaningful product innovation.

For instance, in May 2016, Bayer partnered with BioNTech to develop novel mRNA vaccines and therapeutics for animal health indications.

Prominent players continue to address the unmet needs in the market through continuous investments and clinical trials.
The top three prominent players in the veterinary vaccines market are Boehringer Ingelheim GmbH, Zoetis, and Elanco Animal Health; they contributed around 40% of the revenue share of the total veterinary vaccines market.
Manufacturers Continue to Eye Attenuated Live Vaccines
Attenuated live vaccines have been the conventional vaccination method in the field of animal healthcare, and are under experiments for developing further applications. Despite their status as traditional vaccines and associated drawbacks, attenuated live vaccines continue to maintain their primacy in the veterinary vaccines market. Moving ahead, DNA vaccines will deliver effectiveness and capability of producing response akin to attenuated live vaccines, and are relatively stable as compared to them. Over the following decade, the application of DNA vaccines in treating animal diseases will nearly double.
Developed Regions at Leading Edge; APAC to Attract Stakeholders
North America and Europe continue to shape revenue development of the global veterinary vaccines market. Uptick in usage of efficacious veterinary vaccines in tandem with tech-advanced vaccine delivery equipment to address increasing cases of canine disorders are critical in defining the veterinary vaccines market in these developed regions. Furthermore, rising ownership and adoption of companion animals along with uptight vaccination norms for these animals are adding another leg of growth to these developed regional markets.
Asia Pacific (APAC) is also representing investment opportunities, underpinned by collaborative initiatives of governments and private firms to promote better animal healthcare. In addition, livestock and companion animal owners in the region are showing interest in following regular vaccination.
Protozoan Parasitic Vaccines to Mold Future Landscape
Increasing resistance of certain parasites to anti-parasitic drugs and absence of effective parasite vaccines are an existing concern in the veterinary healthcare industry, especially in tropical and sub-tropical regions. This demanding situation is paving the way for protozoan parasitic vaccines. Backed by continuous research, scientists have unleashed the potential of these third-generation DNA vaccines against protozoan parasites.
Further, these protozoan parasitic vaccines are cost-effective, relatively stable as compared to attenuated live veterinary vaccines, and considerably safe due to the absence of pathogens.
How Growth will Unfold
Driven by increasing reliance on livestock animals for various purposes, including eggs, meat, and other animal-based products, manufacturers are laying greater focus on developing livestock veterinary vaccines. In addition, governments across the world are imposing bans on the usage of antibiotics on livestock animals meant for food. Consequently, animal meat producers are shifting towards regular vaccination to avoid the use of non-essential veterinary drugs.
Market players are also developing companion animal vaccines, owing to rising pet animal ownership across the world, and elevating trend of animal adoption backed by several non-governmental organizations (NGOs).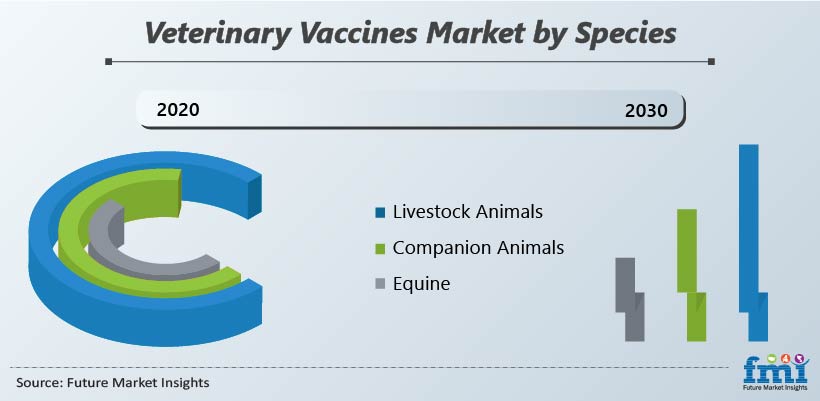 Scope of the Report
Attribute

Details

Base year considered

2020

Historical Data Available for

2015-20219

Market Analysis

USD Million for Value and Tons for Volume

Key Regions Covered

North America, Latin America, Europe, East Asia, South Asia & Pacific, Middle East & Africa

Key Countries Covered

US, Canada, Germany, U.K., France, Italy, Spain, Russia, China, Japan, South Korea, Taiwan, India, ASEAN, Israel, Turkey, GCC Countries, South Africa, Brazil, and Mexico

Key Segments Covered

Product, Disease, Distribution Channel, Species, and Region.

Key Companies Profiled

Boehringer Ingelheim GmbH. Zoetis Inc
Elanco Animal Health, Merck & Co., Inc
Major 10 players covered

Report Coverage

Market Forecast, Brand Share Analysis, Competition Intelligence, DROT analysis, Market Dynamics and Challenges, Strategic Growth Initiatives
VETERINARY VACCINES MARKET TAXONOMY
The global veterinary vaccines is segmented in detail to cover every aspect of the market and present a complete market intelligence approach to the reader.
Product
Attenuated Live Vaccines
Conjugate Vaccines
Inactivated Vaccines
Subunit Vaccines
Toxoid Vaccines
DNA Vaccines
Recombinant Vaccines
Disease
Anaplasmosis
Canine Parvovirus
Foot & Mouth Disease
New Castle Disease
Distemper Disease
Influenza
Porcine Reproductive & Respiratory Syndrome (PRRS)
Others
Distribution Channel
Veterinary Clinics
Veterinary Hospitals
Veterinary Research Institutes
Retail Pharmacies
Species
Companion Animals
Livestock Animals

Aquatic
Bovine
Porcine
Ovine/Caprine
Poultry

Equine
Region
North America
Latin America
Western Europe
Eastern Europe
Asia Pacific Excluding Japan (APEJ)
Japan
Middle East & Africa (MEA)
Need specific information?
Talk Show:
The Rise of Intelligent Packaging
Personalized, Connected and Sustainable
November 18, 2021
11:00-11:45 AM PST (USA & Canada)
This is a LIVE session