Veterinary Biologics Market By Product (Vaccines, Attenuated Live Vaccines, Conjugate Vaccines, Inactivated Vaccines, Subunit Vaccines, Toxoid Vaccines, DNA Vaccines, Recombinant Vaccines), Animal Type (Companion Animals, Canine, Avian, Feline, Livestock) & Region - Forecast to 2019 - 2029
Veterinary Biologics Market - Analysis, Outlook, Growth, Trends, Forecasts
January 2020

REP-GB-2288

232 pages
Veterinary Vaccines to Capture 92% of Total Sales
Apart from humans, preventive healthcare is becoming a key component of the overall wellbeing of all animals, large and small, thereby potentially raising the demand for veterinary vaccines. Accounting for over 90% of total revenue share, the category will continue to witness higher innovation and investments.
As diseases continue to evolve, an embrace of R&D on vaccines has also been underway to protect animals against new strains. Further, innovations are forthcoming for veterinary biologics such as monoclonal antibodies and immunomodulators. Approval of Zoetis' 'Cytopoint' – the first monoclonal antibody for veterinary use by the European Union – has influenced manufacturers to invest in this category.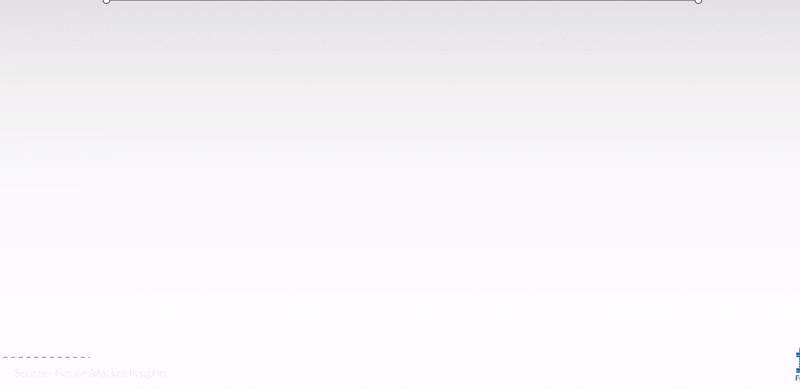 Europe to Lead the First Wave of Growth
Europe remains in the vanguard of the global veterinary biologics market, accounting for 1/3 of the revenue share. Growing number of households owing a pet and subsequent rise in demand for pet insurance in the region are key growth influencers of the market. Moreover, governments are actively taking part in improved animal health services, which have worked to the advantage of market players.
High growth opportunities are also expected in Asian countries, especially in China and India, where the pet adoption rate is growing at significant pace. Furthermore, increasing incidence of foodborne and zoonotic diseases in livestock animals will contribute to the increase demand for veterinary biologics in both, East Asia and South Asia.
Strategic Collaborations and Advances in Veterinary Science – Growth Promoters
In the current scenario, the veterinary biologics market shows a high level of consolidation, with key players such as Zoetis, Boehringer Ingelheim, Ceva, Elanco Animal Health, and Merck Animal Health accounting for 2/3 of the revenue share. These players are increasingly outsourcing their innovation to startups and other collaborators with advanced expertise in the field of genomics and biotech.
Moreover, the veterinary biologics market is expected to reach new heights, on account of continued investments in veterinary science and multi-disciplinary vaccinology research. Major transition in the animal health industry, in view of increased livestock production and booming sales of pet products, will further open a window of growth opportunities.
How Growth will Unfold
Demand for veterinary biologics is currently based on the increasing number of veterinary clinics in both, developed and developing countries, which account for 2/5 of the total revenue share. In order to improve their profit margins and regional presence, market stakeholders are directing the sales of their products through retail pharmacies.
Significant growth in the sales of veterinary biologics through these channels can also be attributed to greater government emphasis on the unification of research in veterinary drugs and human medicine. However, an existing large gap in understanding the epidemiology pattern of animal diseases continues to represent a potential threat for market players.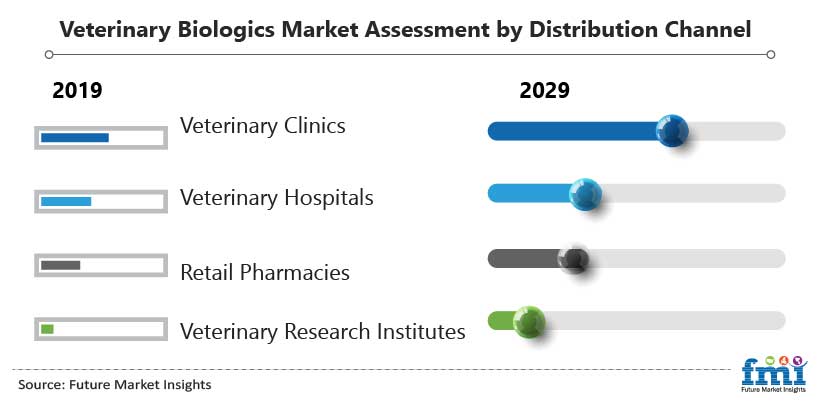 FREQUENTLY ASKED QUESTIONS ABOUT VETERINARY BIOLOGICS MARKET
Which region is expected to be at the forefront in terms of revenue in the global veterinary biologics market?
Europe is expected to be the dominant region in terms of revenue, owing to the growing trend of animal ownership in the region. However, East Asia is expected to gain significant traction regarding the sales of veterinary biologics during the forecast period.
Which product segment would be the most attractive for investments?
Vaccines emerged as the most attractive segment by product type with the highest revenue share in the veterinary biologics market. Notable growth is attributed to the use of vaccines in bulk or large batches for herd immunity in companion animals as well as livestock.
Which animal type segment would be the most prominent over the forecast period?
Livestock remains the most prominent segment, and is expected to continue to do so during the forecast period, owing to the increasing demand for processed animal origin food items.
Which distribution channel would contribute maximum revenue share during the forecast period?
Veterinary clinics offering veterinary biologics in bulk batches are expected to hold more than 1/3 of total veterinary biologics market revenue share during the forecast period.
What strategies are prominent players in the veterinary biologics market following?
Zoetis, Boehringer Ingelheim, Ceva, Elanco Animal Health, and Merck Animal Health are the top five players in the veterinary biologics market. Mergers and acquisitions, new product development, and subsequent launches are key strategies followed by these players. Veterinary biologics product manufacturers mainly rely on direct sales to gain better access to end users.
What are impediments in the veterinary biologics market growth?
Some of the prominent factors that might hamper the growth of the veterinary biologics market are gaps in epidemiological knowledge, regional variations in disease patterns, pitfalls in identifying and understanding antigen/immunogenic structures, and commodity-cycle-based nature of veterinary biologics. These factors make the market volatile and over dependent on governmental distribution channels for the supply of veterinary biologics.
World's Most Profilic Intelligence Engine
Get Access To The World's Largest Market Research Database.
Sign Up Now
VETERINARY BIOLOGICS MARKET TAXONOMY
The global veterinary biologics is segmented in detail to cover every aspect of the market and present a complete market intelligence approach to the reader.
Product
Vaccines
Attenuated Live Vaccines
Conjugate Vaccines
Inactivated Vaccines
Subunit Vaccines
Toxoid Vaccines
DNA Vaccines
Recombinant Vaccines
Bacterial Extracts
Monoclonal Antibodies
Immunomodulators
Allergenic Extracts
Animal Type
Companion Animals
Canine
Avian
Feline
Livestock

Aquatic
Bovine
Porcine
Ovine/Caprine
Poultry

Equine
Distribution Channel
Veterinary Clinics
Veterinary Hospitals
Veterinary Research Institutes
Retail Pharmacies
Region
North America
Latin America
Europe
East Asia
South Asia
Oceania
Middle East & Asia (MEA)
Need specific information?
Our Clients