Enzyme Linked Immunosorbent Assay (ELISA) Maintains its Prominence
Immunofluorescence, although, has been the conventional laboratory method in several biological applications, the technology is cost-prohibitive and requires skilled personnel. Enzyme linked immunosorbent assay (ELISA) has emerged as an alternative method, as it delivers high sensitivity and specificity, and is easier to perform compared to other methods for detection of substances in body.
Prominent players in pneumococcal testing market are manufacturing and distributing ELISA kits for qualitative detection of coronavirus-infected pneumonia cases, patients with suspected clustering cases, and new coronaviruses in serum or plasma samples. By 2030, ELISA would represent a multibillion-dollar opportunity.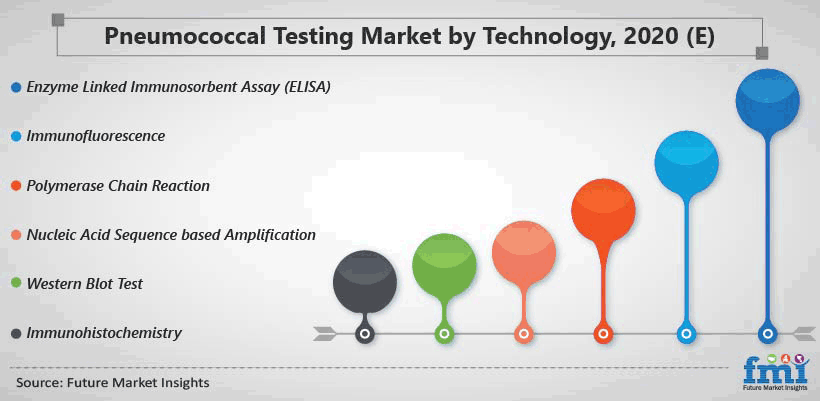 Market Players Continue to Invest in Developed Regions
Together, North America and Europe procure over 70% overall pneumococcal testing market value. Governments in these regions have been highly focused on bringing tech-driven transformations in the healthcare industry. The US Food and Drug Administration (FDA) has been showing immediacy in approving molecular tests under emergency use authorization (EUA).
Moreover, these tests are Conformité Européenne (CE) authenticated. The coronavirus (COVID-19) pandemic has substantially taken a humanitarian toll, with the US, Spain, and France seeing major uptick in confirmed cases. As such, these regulatory approvals are influencing pneumococcal testing market players to manufacture and distribute testing kits worldwide in order to detect the nucleic acid from coronavirus.
POCT - The Next Normal for VAP Diagnosis
Ventilator-associated pneumonia (VAP) diagnosis is challenging; while conventional culture-specific microbiological methods are considered the conventional approach, they are slow to enable clinicians to enhance prognosis with on-time antimicrobial therapy adjustment. Point-of-care testing (POCT) tools are used at or near the bedside, with delays ranging from a couple of minutes to a few hours.
Adoption of POCTs for VAP allows for quicker diagnosis and antimicrobial therapy adjustments. In-time diagnoses lead to effective treatment, which, in turn, improve clinical outcome significantly, especially in intensive care unit (ICU) settings. Furthermore, POCT equipment enable lower volumes of blood sample to acquire similar outcomes.
How Growth will Unfold
Point-of-Care testing provides real-time outcomes helping physicians make accurate and better decisions in disease treatment. As the healthcare industry aggressively moves toward prevention, and early detection, point of care infection control would gain preference in managing acute and chronic diseases.
Ongoing R&D efforts and advancements in complementary technologies will further remain on-ramp to novel POC in-vitro diagnostic (IVD) assays in the near term. Molecular diagnostic testing has shifted toward a broader syndromic screening approach, attributable to technologies that enable the detection of over one analyte simultaneously. FMI finds that, both the testing methods are exhibiting nearly identical growth rate annually.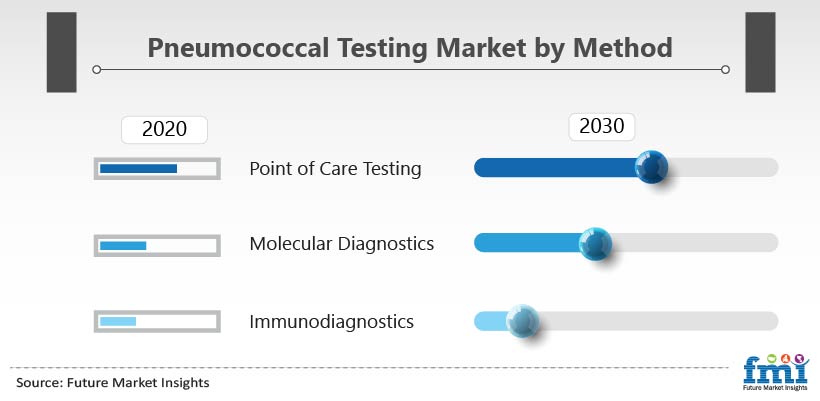 World's Most Profilic Intelligence Engine
Get Access To The World's Largest Market Research Database. Ngage with a revolutionary intelligence engine that scale and pricing that flexes as per your needs
Sign Up Now
PNEUMOCOCCAL TESTING MARKET TAXONOMY
The global pneumococcal testing market is segmented in detail to cover every aspect of the market and present a complete market intelligence approach to the reader.
Method
Immunodiagnostics
Molecular Diagnostic
Point of Care Testing
Technology
Immunofluorescence
Enzyme Linked Immunosorbent Assay (ELISA)
Western Blot Test
Nucleic Acid Sequence based Amplification
Immunohistochemistry
Polymerase Chain Reaction
Others
Product Type
Need specific information?