Portable Wheel Jack Market - Key Research Findings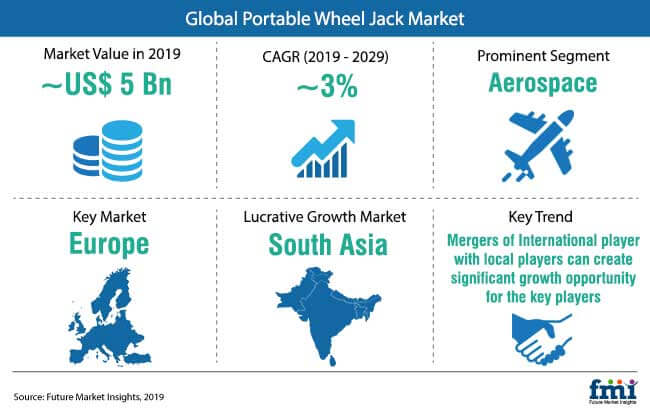 Global portable wheel jack market size in 2018 – nearly US$ 4,900 Mn.
The portable wheel jack market is expected to grow at a CAGR of over 3% during 2019-2029.
Europe, North America, and East Asia are projected to remain leading regional markets in the portable wheel jack market.

Europe and North America are the prominent regions in the portable wheel jack market. These regions account for significant shares in terms of production of automobiles and aircraft. Also, North America has a large number of airports, mirroring the robust demand for portable wheel jacks at airports.

Electric portable wheel jacks are expected to remain the most preferred product type in the portable wheel jack market.

The growth of this segment can be primarily attributed to the fact that electric portable wheel jacks offer exceptional safety and complete reliability in terms of lifting heavy loads, whilst mechanical jacks could be used for the reliable lifting of moderate and light loads. This feature safeguards customers from accidents and damage to infrastructure or life during heavy load lifting operations.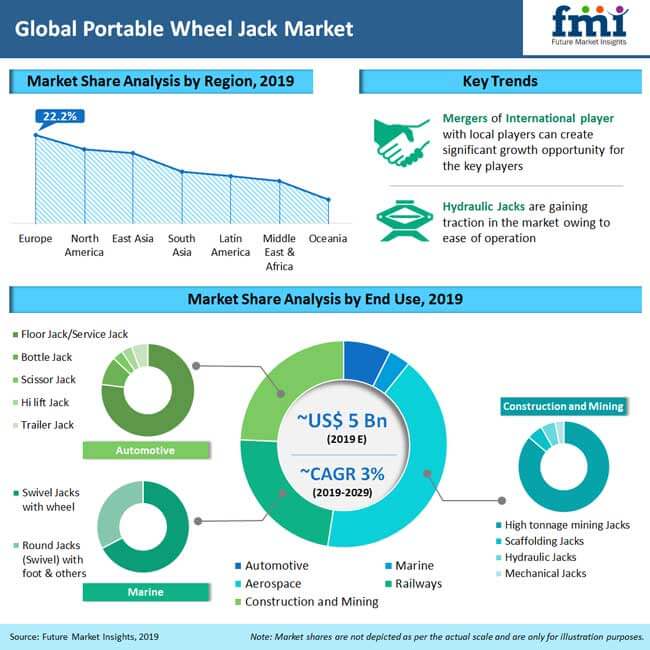 Top 3 Factors Shaping the Portable Wheel Jack Market
Hydraulic, electric, and pneumatic portable wheel jacks as an alternative for conventional jacks

Hydraulic, pneumatic, and electric portable wheel jacks provide significant advantages over mechanical jacks, and the increasing production of hydraulic jacks with great load sustaining capacity and hassle-free availability will increase the global trend of portable wheel jacks.

Increasing number of garages for automotive vehicles

There has been growth in the number of garages of automobile vehicles and increased awareness between railway and aircraft companies about the maintenance of these vehicles. Furthermore, elevation in the construction of new authorized repair shops and independent repair shops, mainly in Asia Pacific and Europe, will likely augment the sales of portable wheel jacks.
Portable Wheel Jack Market Structure Analysis
Horizon Global Corp., Curt Manufacturing LLC, Lippert Components, Inc., Gray Manufacturing Company Inc., Osaka Jack Co. Ltd., Tronair Inc. are some of the prominent portable wheel jack manufacturers operating in the global landscape.
Portable Wheel Jack: A Ubiquitous Tool to Lift the Equipment
Portable Wheel Jack product continues to gain substantial demand over the coming years. In recent years, manufacturers have transformed their focus on new technologies to enhance the product effectiveness. Metal stampings and a bushing material for a mount with minimal deflection and maximum support are incorporated in the portable wheel to gain competitive edge.
Market Set to Grow 1.5x between 2019 and 2029
Long working life of portable wheel jacks and economic operations are leading to the increasing growth of the portable wheel jack market. Economic operations and reduced human effort are the primary factors that are anticipated to make hydraulic portable wheel jacks as the best alternative for lifting operations performed in multiple industries. Growth in the public transport sector also serves the market with increased railways and aircrafts.
Portable wheel jacks are very effective in the process of repair and maintenance of rail-guided vehicles and aircraft. The increasing and booming automotive repair and maintenance services, air transport MRO and ship repair and maintenance services along with railway industry create enormous potential customer base for portable wheel jacks.
Emerging Regions Promise New Growth Opportunities
The portable wheel jack market is estimated to gain momentum in the East Asia and South Asia regions. North America, East Asia, and Europe are expected to contribute high revenue shares in the global portable wheel jack market in 2019. However, healthy growth is expected in developing countries, especially China, India, and Russia. East Asia is likely to emerge as a lucrative portable wheel jack market during the forecast period.
The Broader Perspective
Manufacturers involved in the production of portable wheel jacks are poised to focus on the sales of hydraulic portable wheel jacks in the near future. Nonetheless, in the long run, the demand for pneumatic and electric hydraulic jacks are likely to gain momentum at a substantial rate. This is due to the fact that, electric and pneumatic portable wheel jacks incur less amount of maintenance, and are cost-effective as compared to mechanical and hydraulic portable wheel jacks.
How Growth is Expected to Unfold
The aerospace segment is expected to maintain its lead over other variants during the assessment period, whereas, the automotive segment is also expected to gain momentum by the end of 2029.
PORTABLE WHEEL JACK MARKET TAXONOMY
The global portable wheel jack market is segmented in detail to cover every aspect of the market, and present a complete market intelligence approach in front of the reader.
By End Use
Automotive

Floor Jacks/Service Jacks
Bottle Jacks
Scissor Jacks
Hi Lift Jacks
Trailer Jacks

Marine

Swivel Jacks with Wheels
Round Jacks (Swivel) with Foots & Others

Aerospace
Railways

Heavy locomotives Jacks
Railcar Jacks
Transit Jacks

Construction and Mining

High tonnage mining Jacks
Scaffolding Jacks
Hydraulic Jacks
Mechanical Jacks
By Product Type
Hydraulic Portable Wheel Jacks
Pneumatic Portable Wheel Jacks
Electric Portable Wheel Jacks
Manually Operated Portable Wheel Jacks
Region
North America
Latin America
Europe
South Asia
East Asia
Oceania
Middle East & Africa
Need specific information?