Multifunctional Resource and Sensor Management- A Key to Optimal Radar Usage
Effective resource management and optimization has remained a key concern of every application, with radar applications being no exception. Optimized radar usage remains a prominent trend pervading in the radar market, translating into a massive influx of technologies central to this. Multifunctional resource and sensor management is widely acknowledged as a viable tool, which facilitates seamless assigning of resources by identifying the needs of particular radar tasks. Moreover, multifunctional resource and sensor management are also gaining high popularity, on the back of its competency in enhancing the overall radar system performance.
Quest for Operational Efficiency Propel Technological Modifications in Weather Radar
The need to attain maximum operational efficiency is translating into an influx of innovations and developments in the radar market. Software upgrades in the radar systems have evolved as a game changer, enabling seamless scanning of the atmosphere and conveying low-level updates every minute or whilst active weather conditions. However, technology named "multi-function phased array" is also foreseen to rapidly gain grounds in the next 10 years, with the convenience of obtaining radar updates without the necessity of software tricks.
Privatization of Space Exploration to Create Latent Business Opportunities
Until the recent times, only government agencies had the authority to deal in space exploration and launch of satellites. All the private players who wished to deal in space exploration or launch satellites had to get avail services from governments. Since the past few years, private players got the green light to launch commercial space flights, which is swiftly pushing the adoption of space-borne radar systems.
The use of satellites for applications including internet and GPS has been witnessing an optimistic growth, which is highly likely to have a positive influence on the overall demand for space-borne radar systems.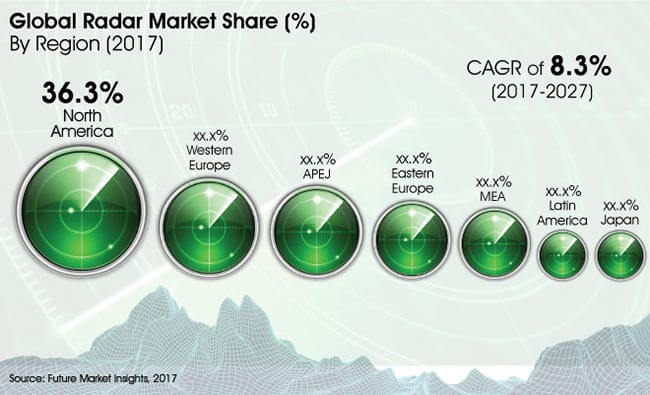 3D Radars to Pick Pace and Evolve as the 'Next-gen Radar
Multiple organizations across the globe are highly investing in 3D radar systems, on account of an indispensable need to enhance performance and efficiency of operations involved. 3D radars are steadily superseding the 2D radars across multiple applications and industries, especially in defense and meteorological applications. 3D radar systems are being extensively used across multiple applications such as weather monitoring, military and surveillance systems, where high-precision based scanning is one of the most paramount functionalities.
Surge in Deployment of Mobile Command and Control System to Boost Adoption in Eastern Europe
Widespread adoption of mobile command and control systems by defense forces has been increasing off late in Eastern Europe, owing to several features such as open architecture of software and hardware, mobility, less airlift requirements, widespread availability of common module set for command and control (C2) applications. Moreover, additional attributes such as prompt communication interfaces and assets and reliable LAN systems are also registering for high demand for mobile command and control systems. This surge in clamor for mobile command and control systems is likely to provide the much-need fillip to growth course of radar market.
Competitive Developments
BAE Systems, a leading player in the radar market, launched a new iMOTR radar system in 2017, meant for mounting on an aircraft trailer to offer better mobility. The primary function of this radar is to examine and evaluate ranges of unmanned aerial vehicles and aircraft.
Lockheed Martin Corporation, a leading player in the radar market, launched a new long-range discrimination radar in 2017 for detection of Intercontinental Ballistic Missiles (ICBMs).
Northrop Grumman Corporation, a key player in the radar market, company launched a new scalable agile beam radar in 2015. This radar is as an affordable solution, a low-risk retro fit, offering upgraded operational capabilities and excellent system reliability.
Rockwell Collins Inc., a prominent player in the radar market introduced a new inflight multi scan weather radar technology in 2014. This technology was meant to enable pilots navigate seamlessly in difficult radar systems, in a bid to minimize substantial flight delays or cancellations.
Global Radar Market: Segmentation
Region?
North America
Latin America
Western Europe
Eastern Europe
Asia Pacific excluding Japan
Japan
Middle East and Africa
Platform
Land
Naval
Airborne
Space
Range
Short Range
Medium Range
Long Range
Application
Defence & Aerospace
Marine
Weather Forecasting
Remote Sensing
Automotive
Others
Type
Detection and Search
Targeting Radars
Weather Sensing Radars
Navigational Radars
Mapping Radars
Others
Need specific information?