Marine Radar Market by Product Type (X Band Radars, S Band Radars), Application (Merchant Marine, Fishing Vessels, Yacht/Recreational, Military/Naval) & Region - Forecast to 2021 - 2031
Marine Radar Market - Analysis, Outlook, Growth, Trends, Forecasts
February 2021

REP-GB-4258

192 pages
About the Report
Marine radar is a device that sends out small bursts of electromagnetic waves when the waves are received back, helping to identify a range, angle, or speed of targets. Marine radar provide advantages for navigation and collision avoidance in the sea. They detect the stationary as well as moving object even at the time of bad weather or climate, which helps in avoiding accident. Marine radar also becomes useful at the time of war as it is capable to keep track of enemy ships
Over the course of the past few years, the global marine radar market is driven by factors such as rising demand for weapons guidance application and surveillance. Also increasing spending on military activities by developed and developing countries has provided lucrative growth opportunities. The global marine radar market has witnessed significant growth owing to the increase in marine tourism spending. This trend is expected to persist over the coming years.
Marine radar has a wide range of applications in merchant marine and military naval activities. Besides this, the increasing demand for fishing vessel is creating worthwhile growth in demand for marine radar.
In its new study, ESOMAR-certified market research and consulting firm Future Market Insights (FMI) provides insights on key factors driving demand for marine radar in its recent analysis, market research and consulting company. In addition to examining the influence COVID-19 has had on marine radar in general, and marine radar in particular, the study monitors global sales of marine in 20+ high-growth markets.
What is the Future Outlook for Marine Radar Market in Comparison to Historical Growth Pattern?
Merchant marine has traditionally been the most significant application for marine radar. The market continues to expand due to the rising demand for marine radar from pleasure boats, commercial ships, and fishing vessels sectors. The increasing demand for pleasure and luxury boats will in turn create growth opportunities. Thus all this application which helps in increasing marine radar market in coming years. The leading marine radar manufacturers are focused on developing new product with new technology.
Whether a boat is meant for sailing holiday or carrying freight from one location to another, keeping track of all objects, possible obstruction, and other boats and larger ships one might encounter on its way comes in handy if one doesn't intend to compromise with safety. This will remain a key factor enabling marine radar sales growth at 2.4% CAGR between 2021 and 2031.
Marine radar has been consistently implemented for weapons guidance application and surveillance which help in detecting the stationary as well as moving object and avoid accident in the past few decades. The manufacturing and supply chain activities have seen a slight down fall due to the ongoing impact made by the COVID-19 pandemic, but consumption will improve with the economic recovery, after stabilization of the pandemic.
What is the Commercial Potential of Marine Radar?
Marine radar is used in the different applications including merchant marine, fishing vessel, and yacht/recreational and military naval. The navy and coast guard across the world use small boat intrusion systems with radar to protect their naval bases while local, state, and national agencies use them to prevent illegal infiltration or immigration by sea, weapon trafficking, terrorism, smuggling, and other crime activities. These systems are often used by wildlife and fish agencies in their fight against trespassing and poaching.
Besides aforementioned factors, consistent increase in vessel traffic and environmental consciousness have created the need for a high degree of control and effective assistance to navigation. These factors are strengthening commercial prospects for marine radar market players. Furthermore, with the implementation of solid state technology, the demand for next-generation marine radar is likely to surge.
Why R&D is Key to Marine Radar Market Consolidation?
To achieve a competitive edge, some of the market players are investing in research and development (R&D) activities. Suppliers are implementing product marketing strategies and product positioning to strengthen their business presence in the market for marine radar. To provide new technology and solution for development of radar, the manufacturers are collaborating with key end users.
With businesses across the globe increasingly concentrating on research projects, new product development is on the agenda. There is much scope for robust new product types, particularly with value added features. Furthermore, together with long-term agreements with regional distributors, the establishment of sales and service facilities in developing countries also paves the way for the expansion of channel scope.
What are the Regulation Affecting Marine Radar Applications?
There are numerous standard for anti-clutter functions & detection performance standards. A radar should transmit band according to International Telecommunication Union Recommendations (ITU-R). Another regulatory bodies such as the International Organization for Standardization IMO and International Convention for the Safety of Life at Sea (SOLAS) also regulated the standard for marine radar. Stringent laws implemented by these bodies are expected to have considerable impact on the market.
Country-wise Insights
What is China's Contribution to the Global Marine Radar Market?
FMI has projected China to be one of the most lucrative markets over the course of the forecast period. China's costal are constitute around 14 % of its land area, therefore ocean is a major source of food production and employment. China also has one of the largest fisheries and aquaculture sectors. Owing to the maritime activity, the demand for marine radar has grown at a fast pace in the past few decade.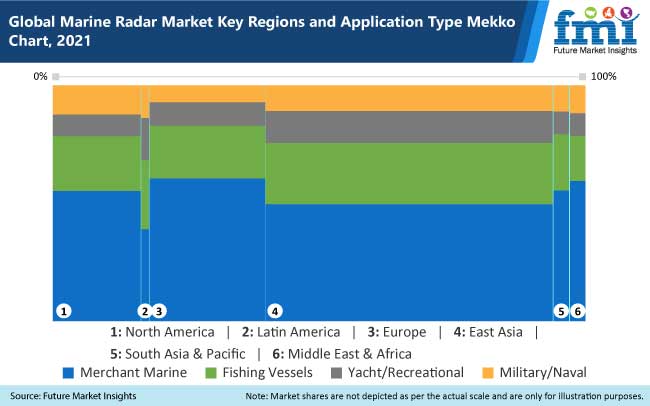 Both manufacturing and demand will continue to grow in the coming decade. The market will continue gaining as China's economy grows at a high pace, led by successive increases in industrial production, imports and exports, consumer demand, and capital. These factors will continue supporting expansion of the market in China.
What Is The Outlook On Japan Marine Radar Market?
One of the key factors supporting market expansion is growth in shipbuilding activities. A large portion of Japan's economy depends upon shipbuilding Industry. Like other industries in the country, innovation in maritime is mainly driven by corporate entities. Unlike in North America and Europe, where innovation appears to be driven by technology suppliers and startups, in Japan the ship operators themselves that are pushing the envelope.
Through a combination of R&D, corporate venturing, and internal transformation teams, Japanese ship operators are creating a quiet revolution in the industry. In shipping industry practice of navigational radar is fueling the market. The marine navigational radar is used to track, identify and position vessels and also to safely navigate the ship from one point to another.
What is Driving Growth in the U.S.?
According to U.S. Department of Transportation's Maritime Administration (MARAD) report the shipbuilding industry have significant economic importance in U.S. GDP. The U.S shipbuilding industry is expanding owing to the growing demand form military as well as from commercial market. Moreover, demand for radar is surging from the U.S. Navy due to increasing regional instability. For instance, in 2016, Raytheon Company one of the U.S. based company provided advance radar system for U.S. defense department.
Why is Germany's Maritime industry Considered Key Driver for Marine Radar?
The Germany's maritime industry is one of the most important sectors of the economy and it accounts for a turnover of up to EUR 50 billion, according to the Germany Federal Ministry for Economic Affairs and Energy. This maritime industry is mainly growing due to increasing import and export of raw materials, goods, and semi-processed and processed goods. Therefore, the demand for marine radar installation is increasing and owing to this the Germany's maritime industry is become key driver for marine radar.
What's Fuelling Demand for Marine Radar in U.K.?
The market for marine radar in the U.K. is driven by the rising demand from royal navy and commercial ships. This is because a radar is used to improve the safety of navigation and also to enhance the detection of enemy ships. Also growth registered in the U.K. is contributed by increasing shipbuilding business and oil & gas import export.
Some of the leading players are eying at strategic collaborations. For instance in 2016 one of the U.K based company BAE Systems signed five year Navy's Strategic Systems Programs (SSP) with U S $ 368Mn by U.S. Navy. Such partnerships are expected to bode well for the market.
Category-wise Insights
What's the Market Share of X Band Radar?
Over the forecast period, the merchant marine segment will continue to account for more than half of the global share by product type. According to FMI, by the end of 2031, the segment is projected to hold almost 58% of the market, in terms of product type. Owing to its space saving advantage and better target revolution offered by X band radar, therefore its finds wide application across various end use cases, including merchant marine, Fishing Vessels, Yacht/Recreational and Military/Naval, which drives its dominant market share.
Why Merchant Marine Applications Hold Higher % Share?
Merchant marine application will continue to account for the majority of the market for marine radar, accounting for more than 50% of the total share over the projected period. Segment growth is mainly due to the rapid growth of military merchant spending in globe and growing treading activity. Marine radar offer advantages for military ships and protect them from accident and enemy ships.
Opportunities in Marine radar market
According to FMI, the demand for marine radar in the commercial and military sector offer lucrative growth opportunities. In addition, demand for marine radar with new and advance technology offer lucrative prospects in the marine radar market. Although growing marine tourism and increasing the demand for pleasure boats and luxury boats, needed to be installed with the marine radar. The government is also made mandatory to installed marine radars in the ships and boats. This factor supposed to offer lucrative opportunity for marine radar market.
Competitive Landscape
The global marine radar market is highly consolidated by few large players often involved in defense and security technology development. The key players hold around 50% to 63% of market value share. Most of these players have bases in Europe and North America as the regional policies favor private sector involvement in defense technology development. Also, these players have large pile of patents which gives them extra edge over the small players and startups.
Companies operating in the market for marine radar plan to collaborate strategically with end consumers and regional distributors to meet the needs of an expanding consumer base. Suppliers of marine radar adopt acquisition and regional expansion strategies to establish a foothold in new and fast growing markets. Besides this, there is significant focus on research and development.
For instance:
Lockheed Martin's solid state radar (SSR) technology offers front-line defense to several countries through partnerships with Spain, Japan, Canada, and the U.S. Government
Raytheon has built two shipsets of SPY-6 radars under a contract of US$ 250 million with the U.S. Navy. The company also has entered into a contract to deliver 9 radar shipsets to DDG-51 Flight III destroyers
Some of the leading companies operating in the marine radar market are:
FURUNO ELECTRIC CO., LTD.
Lockheed Martin Corporation
Northrop Grumman Corporation
Raytheon Company
Saab AB
Japan Radio Co. Ltd
BAE Systems
JRC (Alphatron Marine)
Garmin
Wärtsilä SAM Electronics Gmbh
FLIR Systems, Inc.
Navico Group As
GEM elettronica
HENSOLDT UK
Koden Electronics Co., Ltd.
*The list is not exhaustive, and only for representational purposes. Full competitive intelligence with SWOT analysis available in the report.
Scope of the Report
Attribute

Details

Forecast Period

2021-2031

Historical Data Available for

2016-2020

Market Analysis

USD Million for value and Units for Volume

Key Regions Covered

North America, Latin America, Europe, East Asia, South Asia & Pacific, Middle East & Africa,

Key Countries Covered

US, Canada, Germany, U.K., France, Italy, Spain, Russia, China, Japan, South Korea, India, Thailand, Malaysia, Vietnam, Indonesia, Australia, New Zealand, GCC Countries, Turkey, Northern Africa, South Africa

Key Segments Covered

Product Type , Application and Region

Key Companies Profiled

FURUNO ELECTRIC CO., LTD.
Lockheed Martin Corporation
Northrop Grumman Corporation
Raytheon Company
Saab AB
Japan Radio Co. Ltd
BAE Systems
JRC (Alphatron Marine)
Garmin
Wärtsilä SAM Electronics Gmbh
FLIR Systems, Inc.
Navico Group As
GEM elettronica
HENSOLDT UK
Koden Electronics Co., Ltd.
Rutter Inc.
Kongsberg Maritime AS
TOKYO KEIKI INC.
Johnson Outdoors Inc.

Report Coverage

Market Forecast, brand share analysis, competition intelligence, DROT analysis, Market Dynamics and Challenges, Strategic Growth Initiatives

Customization & Pricing
World's Most Profilic Intelligence Engine
Get Access To The World's Largest Market Research Database.
Sign Up Now
Key Segments
Product Type
X Band Radars
S Band Radars
Application
Merchant Marine
Fishing Vessels
Yacht/Recreational
Military/Naval
Region
North America
Latin America
Europe
East Asia
South Asia & Pacific
Middle East & Africa
Key Questions Answered in the Report
Which is the most lucrative market for marine radar?
China currently leads the global market for marine radar. China will continue accounting for more than half of the East Asia market for marine radar through the forecast period.
Which type of marine radar is more in demand?
X Band Radars are highly preferred for many applications. The demand for X Band Radars is expected to remain high in the near future, especially due to its increasing use in various applications in merchant marine and fishing vessels.
Which end-use application is exhibiting high demand for marine radar?
Marine radar are widely used in merchant marine applications. Their usage in fishing vessels and yacht/recreational is rising day-by-day.
Which are some of the leading companies providing marine radar?
Some of the leading companies manufacturing marine radar are FURUNO ELECTRIC CO., LTD., Lockheed Martin Corporation, Northrop Grumman Corporation, Raytheon Company, Japan Radio Co. Ltd, etc.
Need specific information?
Our Clients