KEY RESEARCH FINDINGS
Marine collagen has low molecular weight compared to other types of collagen and provides better healing, nutrition and repair, fueling its adoption.
Collagen scales & skin remain preferred, as marine collagen made from fish skin helps mitigate environmental contamination and is an excellent protein source.
The marine collagen supplement stimulates the synthesis of collagen in the bones, encouraging bone building cells.
Food safety authorities have approved the use of marine collagen in pharmaceutical and foodstuffs due to its high protein content and multiple health benefits.
The marine collagen development process should be thoroughly validated and sufficiently stable for the reproducible and reliable removal of any potentially harmful pathogens in humans.
In terms of its amino acid composition and biocompatibility, collagen derived from sea animals has been shown to be similar to traditional bovine and porcine collagen.
KEY FACTORS DETERMINING MARINE COLLAGEN MARKET GROWTH:
Marine Collagen Offers Wide Range of Health Benefits
Marine collagen peptides, particularly the Type III ones, offer a host of benefits, including improving healthy hair and nail growth, improving skin elasticity and hydration, and supporting joint health and function, bone strength and healthy body composition. Such benefits have augmented the demand for marine collagen products among consumers.
Rising Applications in the Cosmetic Industry
The demand for marine collagen has registered an uptick, especially in the cosmetic industry. Marine collagen peptides are used as anti-aging formulae in various cosmetic products. Therefore expansion of the cosmetics and skincare industry will prove to be a boon for the market in the coming years.
COVID-19 Impact Analysis on Market
The outbreak of the coronavirus has significantly affected global markets. Brokers and analysts have warned that the decline in demand for freight transport would have an impact on the industry in the coming months. The coronavirus has become a global phenomenon which affects both the economy and transportation.
Industry demand and supply is currently at stake, as the bulk of the production is halted in the Chinese ecosystem. The current coronavirus situation has resulted in a setback for the marine collagen market. In terms of tracking forward progress, predicting the future of the marine collagen market meanwhile will depend on the overall impact of COVID-19 crisis.
MARINE COLLAGEN MARKET STRUCTURE ANALYSIS
Some of the prominent players operating in the global marine collagen market are Ashland Global Holdings Inc., BHN International Co. Ltd., Connoils LLC, Darling Ingredients Inc., Bega Bionutrients, Seagarden AS, Gelita AG, Nitta Gelatin, Weishardt Group and Amicogen.
Established food and beverage companies are shifting towards defending and improving their market position, both through product creation & innovation and inorganic growth through the acquisition of new disruptor brands and products.
REPORT SCOPE
Base year considered - 2020
Actual estimates/Historical data - 2015 - 2019
Forecast period - 2020 - 2030
Forecast units - Value (USD) Bn
Segments covered - Animal Type, Application, Source and Region
Regions covered - North America, Latin America, Europe, East Asia, South Asia, Oceania and MEA
Key Players - Ashland Global Holdings Inc., BHN International Co. Ltd., Connoils LLC, Darling Ingredients Inc., Bega Bionutrients, Seagarden AS, Gelita AG, Nitta Gelatin, Weishardt Group and Amicogen
Report coverage - Revenue forecast, company share, competitive landscape, growth factors, and trends
Demand for Fish Collagen to Rise in Pharmaceuticals and Cosmetics Industry, Bones and Tendons to Show High Growth in Terms of Source
Fish is one of the most widely used sea animals for marine collagen extraction. In addition to fish, other marine species such as jellyfish and sponges are also used for marine collagen extraction. Collagen extracted from fish is considered to be highly bioavailable because it can be processed up to 1.5 times more easily in the body; this is due to its lower molecular weight and scale.
It may also be effective in the treatment of many acute & chronic illnesses such as influenza, asthma, cancer, and Alzheimer's. These factors are responsible for the growing demand among manufacturers for fish collagen for the production of pharmaceuticals, food supplements and cosmetics.
In terms of source, the market can be segmented into skin, scales and muscles, bones and tendons, and others segment. While the others segment currently holds dominance, growth exhibited by the bones and tendons segment over the forecast period is likely to be higher.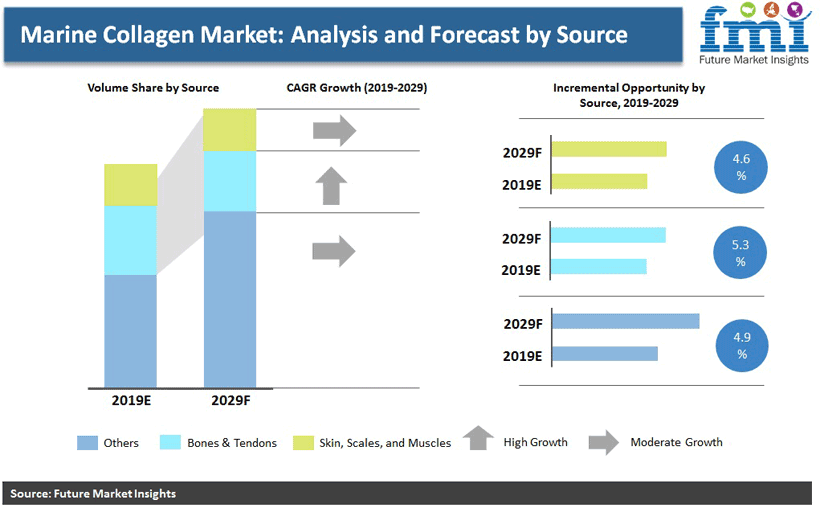 Asia Pacific Projected to Account Largest Share in Market
Asia Pacific currently leads the global market for marine collagen. Owing to the rising demand for health supplements, the marine collagen market is growing more rapidly in Asia Pacific. Due to its high protein content and various health benefits, the Food Safety authorities have approved the use of marine collagen in pharmaceutical and food products.
However, the high cost of marine collagen processing could hamper global market growth during the review period. Growing aging population, rising malnutrition cases, and increasing numbers of bone disease are also responsible for fueling this region's global marine collagen market. However, rising numbers of patients in Asia Pacific suffering from various joint disorders make this region display a significantly rapid growth.
Medical and Health-Related Issues have led to the Rising Demand
Rapidly rising aging population and increasing consumption of processed and health-based food products is a key factor expected to drive growth over the forecast period of the global marine collagen market. Broad use of marine collagen in various industries such as medicinal products and nutraceuticals is another factor expected to drive market development.
Another factor expected to fuel the growth of the global marine collagen market over the forecast period is growing usage for cosmetic products as well as rising awareness of the benefits associated with the use of marine collagen in cosmetics products. Growing disposable income and rising demand for processed food products are expected to fuel market growth over the forecast period.
The through health and medical problems have led to growing applications in the medical industry. However, from a religious point of view, the restrictions relating to bovine and porcine products have allowed medicinal manufacturers to go for animals such as fish as a source of marine collagen.
How Growth will Unfold
Growth in the global marine collagen market is driven primarily by increasing demand for a balanced lifestyle and high protein consumption. The increasing demand for processed foods to provide incentives for collagen-infused functional foods represents substantial growth opportunities for the marine collagen market. Strong import duty is likely to curb this market's growth over the forecast period. Nutraceutical producers are pursuing marketing techniques that make goods readily available to customers. It is one of the key forces in rising the market for collagen peptides.
Owing to the growing population, rising disposable income and changing customer habits, the Asia Pacific region is experiencing the highest demand for functional food items. Thanks to changing habits, change in market focus towards packaged food items such as frozen foods and RTE meals. The use of marine collagen to accentuate the organoleptic properties of the food & beverage products offers an incentive for business development for higher marketability. The demand for the marine collagen market is rising, with the increasing preference for convenience foods.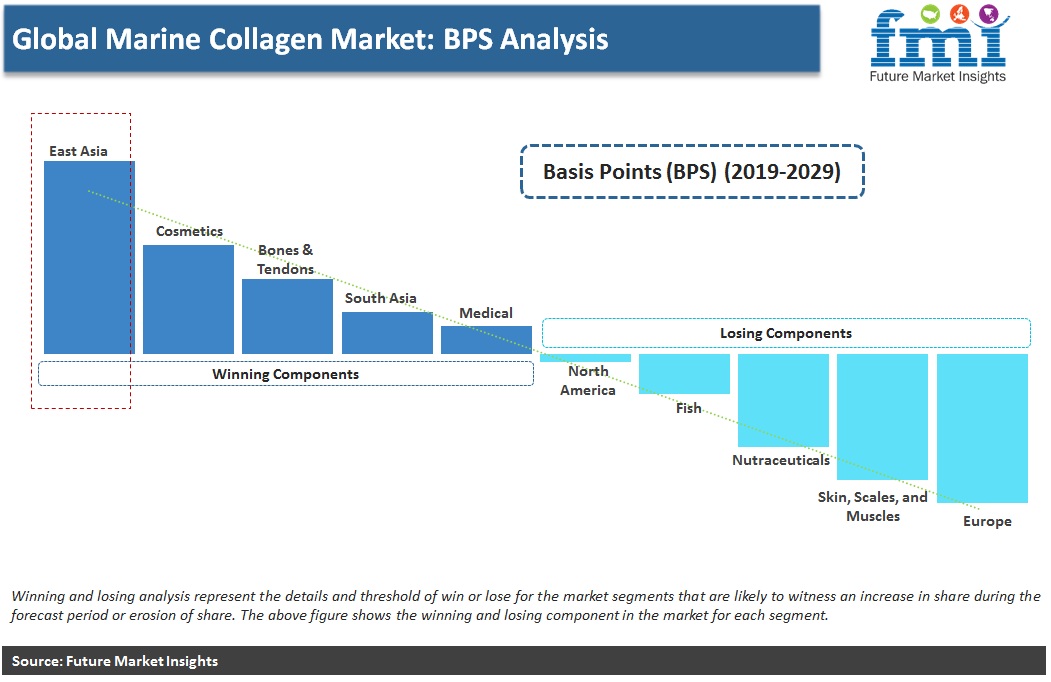 World's Most Profilic Intelligence Engine
Get Access To The World's Largest Market Research Database. Ngage with a revolutionary intelligence engine that scale and pricing that flexes as per your needs
Sign Up Now
MARINE COLLAGEN MARKET TAXONOMY
The global Marine Collagen market is segmented in detail to cover every aspect of the market and present complete market intelligence to readers.
Source Type
Skin, scales, and muscles
Bones & tendons
Others
Animal Type
Application
Nutraceuticals
Cosmetics
Medical
Others
Region
North America
Latin America
Europe
East Asia
South Asia
Oceania
MEA
Need specific information?