Railway Fishplate Market - Key Research Findings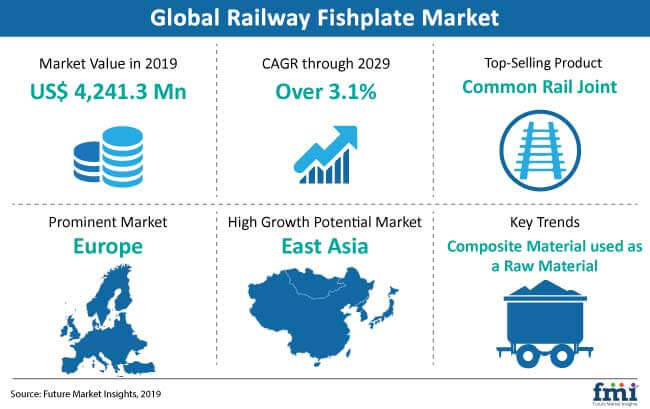 Global railway fishplate market size in 2018 – nearly US$ 4,000 Mn.

The railway fishplate market is expected to grow at a CAGR of over 3% during 2019-2029.

North America and Europe are projected to remain leading regional markets in the railway fishplate market.

Europe and North America are the leading regions in the railway fishplate market, owing to the high railway track network density and increasing usage of trams for local transport in these regions that creates a huge aftermarket.

Insulated rail joints are expected to remain the most preferred product type in the railway fishplate market.

The growth of this segment can be primarily attributed to the increasing popularity of high speed rails. For efficient and uninterrupted operations, high speed rails require a CRW method for the rail joints. This CRW method is highly correlated with insulated rail joints for safety reasons, which is the most efficient and reliable solution for high speed rails.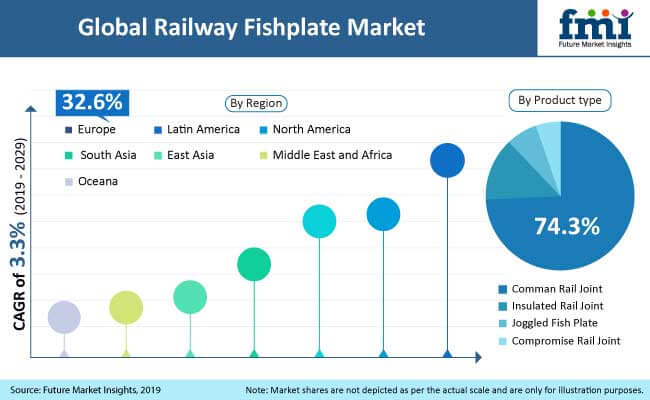 Top 3 Factors Shaping the Railway Fishplate Market
New railway line installation due to increasing number of passengers as well as logistics, globally.

Railroad transportation is one of the most cost-effective and efficient transportation systems available all over the globe. To meet the rising global demand, railroad service providers are expanding their operations by installing new railroad lines, which is expected to drive the demand for railway fishplates.

The emerging trend of high speed rails is expected to bolster the railway fishplate market, as insulated rail joints are used in the CRW method at specific distances. These new rail lines are creating increased opportunities for railway fishplate manufacturers in the market.

Ongoing new railway line installation projects:

The high speed railway project between Jakarta and Bandung, initiated by China and Indonesia, is the first of its kind in Southeast Asia. By 2020, the project is estimated to be completed with 25,000 km of rail lines.

China's ambitious Belt and Road Initiative; passes through various land corridors, promotes new rail line installation projects in Malaysia, and connects the east and west coasts at a cost of around US$ 11 billion.

Rail networks need periodic maintenance, which is expected to surge the railway fishplate aftermarket.

Every railroad transport service provider is concerned about safety and proper installation of railway track fittings. As such, the periodic maintenance of rail tracks is necessary. On a regular basis, these rail tracks are inspected for the smooth operations of railroad transportation. The need for such periodic maintenance is expected to swell the railway fishplate aftermarket. Utilization of transportation predictive maintenance is expected to support aftermarket sales of railway fishplate at global level. The maintenance cycle in some countries such as India, China, and Australia is around 7 to 15 days.

In emergency maintenance cases, rail tracks need to be rebuilt within a specific time frame. In such cases, joggled type fishplates are utilized on cracked and fatigue rails to avoid any failure. This factor is expected to drive the demand for joggled type fishplates for emergency maintenance scenarios.
Easy installation and cost effectiveness of railway fishplates, compared to the CRW method.

Railway fishplates are easy to install on railway tracks to join and hold the tracks together, horizontally as well vertically. It is a simple mechanical linkage between the rail track and fishplates with plates, nuts, and bolts. Adding to this, railway fishplates are more cost effective than the CRW method for rail joints.
Fishplate installation does not require special equipment and high skilled labor to meet the installation standards. Cost-driven economies where costing is a vital factor are expected to create the surge in the usage of railway fishplates.
Railway Fishplate Industry Outlook 2019-2029
Our perspective on how growth in the railway fishplate market will unfold.
Railway Fishplate Market Set to Grow 1.4x between 2019 and 2029
Installation of new rail lines, easy installation, and cost-effectiveness are the prominent factors expected to drive the global railway fishplate market. High speed rail is an upcoming trend in the railroad industry. High speed rails are expected to create the requirement of railway fishplates in a big way. As such, the railway fishplate market is estimated to witness steady growth over the course of the forecast period.
Emerging Regions Promise New Growth Opportunities
The railway fishplate market is estimated to gain momentum in the East Asia and South Asia regions. North America and Europe are expected to contribute high revenue shares in the global railway fishplate market in 2019. However, healthy growth is expected in developing countries, especially China, India, and Brazil, as governments and private players focus on improving the quality of transportation and the safety measures in these countries.
Among the emerging countries, China is likely to present sustained opportunities of growth in the railway fishplate market due to the ambitious project – 'One Belt, One Road'. Due to India's strong growth, South Asia is likely to emerge as a lucrative railway fishplate market during the forecast period.
The Broader Perspective
Manufacturers are focusing on offering effective products such as reduced pressure zones. It is highly likely that, R&D investments will continue to increase during the assessment period. Materials with high strength and high stiffness are likely to drive demand during the forecast period.
How Growth will Unfold
The common rail joints segment is expected to maintain its lead over other variants during the assessment period, whereas, the insulated rail joints segment is also expected to gain momentum by the end of 2029.
RAILWAY FISHPLATES MARKET TAXONOMY
The global Railway Fishplate market is segmented in detail to cover every aspect of the market and present a complete market intelligence approach to the reader.
By Rail Joint Type
Common Rail Joint
Compromise Rail Joint
Insulated Rail Joint
Joggled Fish Plate
By Rail Type
Region
North America
Latin America
Europe
South Asia
East Asia
Oceania
Middle East & Africa
Need specific information?