Sterile and Antiviral Packaging Adoption to Ascend 1.7X Through 2030
Ensuring sterility of medical equipment, and supplies is essential in overall strategy to reduce the rate of infections in the healthcare sector. In addition, the WHO has underlined that medical equipment must pose minimum risk to individuals handling them. Sterile and antiviral packaging has been making headways over past two decades, with key landmarks such as ISO 11607 introduced across the pharmaceutical and medical devices industries. The worldwide adoption of sterile and antiviral packaging will surge nearly 1.7X over 2020-2030. This study further estimates that the global market is likely to witness drop in value in 2020 due to complexities in supply chain, amidst the coronavirus pandemic.
Sterile and Antiviral Packaging Market: Key Research Findings
The global sterile and antiviral packaging market was valued at US$ 22 Bn in 2019.
Vials and ampoules continue to have high share in the sterile and antiviral packaging market over the forecast period. Blister packaging is expected to grow strong in the future with a CAGR of 5.3% in the sterile and antiviral packaging market.
The rise in the geriatric population leads to the increasing diseases and infections that more requires medicines which has spiked the demand for sterile and antiviral packaging in the market.
Key Factors Shaping the Sterile and Antiviral Packaging Market
Regulatory Compliance for Packaging of Sterilized Medical Devices to Increase Adoption
Regulatory compliances regarding the medical and pharmaceutical industry impact the presence of number of the players in the sterile and antiviral packaging market. However, government regulatory framework for the population such as health insurance, in developed economies such as US supports the growth of the healthcare industry. This is likely to augment the spending on healthcare facilities which is likely to raise the demand for sterile and antiviral packaging.
As per WHO, it is highlighted that medical devices should impose low risk to the individual handling them. Thus, the packaging systems shall be such that the devices are delivered clean and sterile. Shipment of these devices impose the risk of contamination. Therefore, sterile and antiviral packaging plays an important role in prevention of damage of medical products. This is likely to drive the demand for sterile and antiviral packaging over the forecast period.
Increasing Population and Economic Growth to Drive the Demand for Sterile and Antiviral Packaging in the Years to Come
Expansion in the global economy is expected to rise in the coming years due to the increasing demand from emerging economies. This is likely to raise demand for healthcare and medical facilities. In addition, aging population and chronic illnesses will result in boosting the demand for sterile and antiviral packaging. Moreover, economic strengthening and growing population will allow the population to spend on health and food & beverage to improve their standard of living. Therefore, growth in economy and demography is likely to be a predominant driver for sterile and antiviral packaging.
Supply Chain Disruptions Due to COVID-19 Outbreak
The market growth remains highly influenced by the expansion of pharmaceutical industry and rising geriatric population across the globe. The sterile and antiviral packaging is fragmented market and will witness a drop in market share in 2020 due to complexities in the supply chain that are driven by the current coronavirus outbreak. The COVID-19 pandemic continues to redefine the global economic order in 2020, and consequently the behavior of consumers in the near term.
However, the immediate repercussions on consumers' concerns regarding viral exposure and survival period of the virus on various surfaces, is likely to spur prolonged demand for novel packaging formats and substrates that actively show antiviral and antibacterial properties. In addition, rising consumer concerns regarding handling and hygiene across the supply chain will be escalated, potentially leading to a new era of trust building and communication to reassure protection to consumers.
Growing Awareness Regarding Infection among Consumer
According to World Healthcare Organization (WHO), infections are the most frequent adverse occurrences in the delivery of healthcare and pharmaceutical services globally, affecting hundreds of millions of patients annually. Ensuring the sterility of medical devices, equipment, supplies, and other related products is an essential strategy in overall effort to reduce the rate of infections in the healthcare sector. This factor is expected to propel the growth of the global sterile and antiviral packaging market over the forecast period.
Sterile and Antiviral Packaging Market Structure Analysis
Top players in the sterile and antiviral packaging accounts for more than tenth percent of the total market share. Key players in the sterile and antiviral packaging market are adopting organic strategies to cater the demand from wide geographical base. For instance, in 2020, Amcor joined hands with the Healthcare Plastics Recycling Council (HPRC) which will help the company foster more sustainable practices and innovation across the healthcare industry.
Report Metric

Details

Base Year

2020

Historical Period

2015-2019

Forecast Period

2020-2030

Market Value in 2019

US$ 21.7 Bn

Segments Covered

Packaging Type, Material Type and End Use

Regions Covered

North America, Latin America, Europe, South Asia, East Asia, Oceania, Middle East & Africa

Key Companies

E.IE. I. Dupont De Nemours and Company, BillerudKorsnas AB, Amcor Limited., Placon Corporation Inc., Sonoco Products Company, Oliver Healthcare Packaging, LLC, Ampac Holdings LLC and Wipak Group

Growth Drivers

Growing awareness regarding infections among consumers.
Regulatory compliances for packaging of sterilized medical devices to boost the market growth.
Plastics Remain Favorable Manufacturing Material
Plastic finds immense application in sterile and antiviral packaging such as pouches, thermoformed trays, and clamshell. The adaptability of plastic material to mold into various and high barrier properties make it suitable for sterile and antiviral packaging. Moreover, the material is available in abundance and easily fits with economical and value-based approach of manufacturers. Influenced by these benefits, companies - Gerresheimer AG, Amcor flexiblessps, and Oliver Tolas, are boosting the production of plastic-based sterile and antiviral packaging.
East Asia Inching Towards Europe
Europe continues to carve out a significant share of stakeholders' investments over the decade ahead. Robust R&D sector in tandem with presence of pharmaceutical innovators is making sterile and antiviral packaging a bullish market in the developed region. Moving on, the pharmaceutical industry in East Asia is highly fragmented owing to presence of several small- and medium-scale companies, especially in China. Market players are, thus, unfolding meaningful business opportunities in East Asia. Further, the regional sterile and antiviral packaging market will follow Europe's market closely, in terms of value creation, towards the end of forecast period.
NO2-based Sterilization Technology - A Perfect Alternative to Conventional Approach
Nitrogen dioxide (NO2) sterilization technology compensates for certain limitations of existing sterilization techniques that add value, yet not cost. The technology offers umpteen benefits - minimum pressure requirement, ultra-low temperature process, and fast cycle times (2-4 hours). NO2 gas is a surface sterilant that does not penetrate into the container closure system as well as ensures minimal surface residuals. The gas provides excellent options for surface sterilization of medical devices including, pharmaceutical vials, cartridges, and pre-filled syringes.
Vials & ampoules remain highly preferred
Increasing preference for blister & clamshells
Plastics procure leading value share
Swelling demand in surgical & medical instruments
Adoption in pharmaceutical & biological to rise
How Growth will Unfold
Brand hygiene and protection are crucial aspects for organizations, especially in the healthcare sector. Leading players in the sterile and antiviral packaging market are putting greater emphasis on integration of tech-driven advancements for security of their products as well as enhancing parenteral package quality, especially for surgical & medical instruments. Over half of the sterile and antiviral packaging market revenue would be realized by surgical & medical instruments. While market players are also targeting pharmaceutical & biological end uses for sustained growth, they are unpacking new revenue lines in food & beverage packaging applications.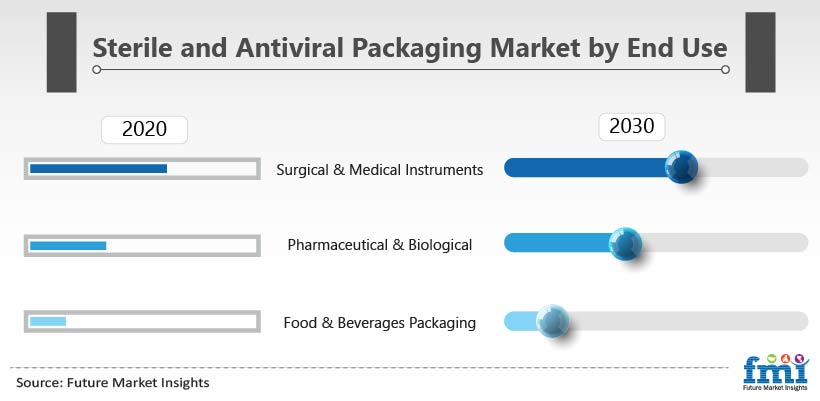 * This data is only a representation. Actual data may vary and will be available in report.
Click Here To Know How The Growth Will Unfold
Custom Market Research Services
FMI offers custom market research services that help clients to get information on their business scenario required where syndicated solutions are not enough.
Overview
A recent market report published by FMI on the sterile and antiviral packaging market provides global industry analysis for 2015-2019 & forecast for 2020-2030. The report offers a comprehensive assessment of the most important market dynamics. After conducting thorough research on the historical, as well as current growth parameters of the sterile and antiviral packaging market, the growth prospects of the market are obtained with maximum precision.
Sterile and Antiviral Packaging Market Taxonomy
The global sterile and antiviral packaging market is segmented in detail to cover every aspect of the market and present complete market intelligence to readers.
By Packaging Type
Thermoform Trays
Sterile Bottles/Containers
Vials & ampoules
Sterile closures
Pre-filled syringes
Blister & clamshells
IV Bags & pouches
Sterile Wraps
Others (Sterile Lids, etc.)
By Material
Plastics
Glass
Metal
Paper & paperboard
By Application
Pharmaceutical & Biological
Surgical & Medical Instruments
Food & Beverage Packaging
Others
By Region
North America
Latin America
Europe
South Asia
East Asia
MEA
Oceania
How the research was conducted?
Primary Research
Primary research interviews with key opinion leaders and other participants were conducted for data collection and validation of the below information:
Key Segments in the sterile and antiviral packaging market
Market Share Analysis
Average Selling Price (US$) and Market Growth
Key Regulations in Packaging Industry
Market Size
Key Trends & Developments
Competition & Key Vendor Strategies
Secondary Research
Industry Journals
Beverage Packaging Industry Growth
Regional Metal Packaging Consumption
Annual Reports/SEC Filings/Investor Presentations
Primary Interview Splits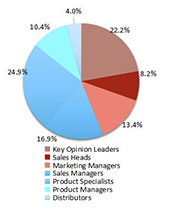 To Learn More About our Comprehensive Perspective on Sterile and Antiviral Packaging Market,
Get in touch
COVID -19 : Impact Analysis
Request the coronavirus impact analysis across industries and markets
Request Covid -19 Impact
CASE STUDIES
See how our work makes an impact.
At FMI, we design strategies that are adaptive, impactful, and implementable.