Plastics Remain Favorable Manufacturing Material
Plastic finds immense application in sterile and antiviral packaging such as pouches, thermoformed trays, and clamshell. The adaptability of plastic material to mold into various and high barrier properties make it suitable for sterile and antiviral packaging.
Moreover, the material is available in abundance and easily fits with economical and value-based approach of manufacturers. Influenced by these benefits, companies - Gerresheimer AG, Amcor flexiblessps, and Oliver Tolas, are boosting the production of plastic-based sterile and antiviral packaging.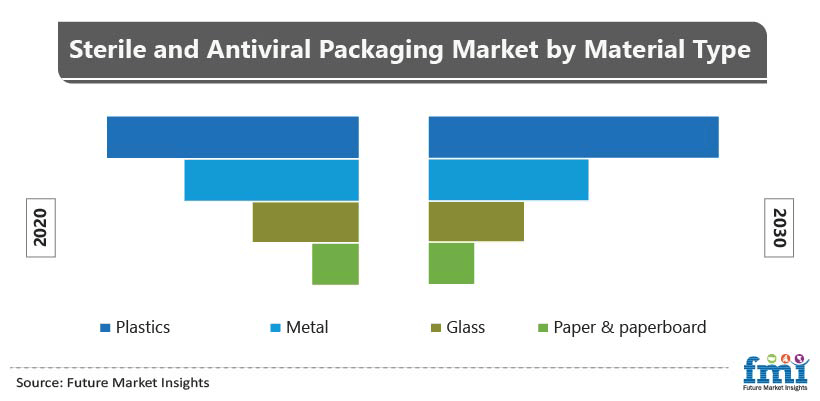 East Asia Inching Towards Europe
Europe continues to carve out a significant share of stakeholders' investments over the decade ahead. Robust R&D sector in tandem with presence of pharmaceutical innovators is making sterile and antiviral packaging a bullish market in the developed region.
Moving on, the pharmaceutical industry in East Asia is highly fragmented owing to presence of several small- and medium-scale companies, especially in China. Market players are, thus, unfolding meaningful business opportunities in East Asia.
Further, the regional sterile and antiviral packaging market will follow Europe's market closely, in terms of value creation, towards the end of forecast period.
NO2-based Sterilization Technology - A Perfect Alternative to Conventional Approach
Nitrogen dioxide (NO2) sterilization technology compensates for certain limitations of existing sterilization techniques that add value, yet not cost. The technology offers umpteen benefits - minimum pressure requirement, ultra-low temperature process, and fast cycle times (2-4 hours).
NO2 gas is a surface sterilant that does not penetrate into the container closure system as well as ensures minimal surface residuals. The gas provides excellent options for surface sterilization of medical devices including, pharmaceutical vials, cartridges, and pre-filled syringes.
How Growth will Unfold
Brand hygiene and protection are crucial aspects for organizations, especially in the healthcare sector. Leading players in the sterile and antiviral packaging market are putting greater emphasis on integration of tech-driven advancements for security of their products as well as enhancing parenteral package quality, especially for surgical & medical instruments.
Over half of the sterile and antiviral packaging market revenue would be realized by surgical & medical instruments. While market players are also targeting pharmaceutical & biological end uses for sustained growth, they are unpacking new revenue lines in food & beverage packaging applications.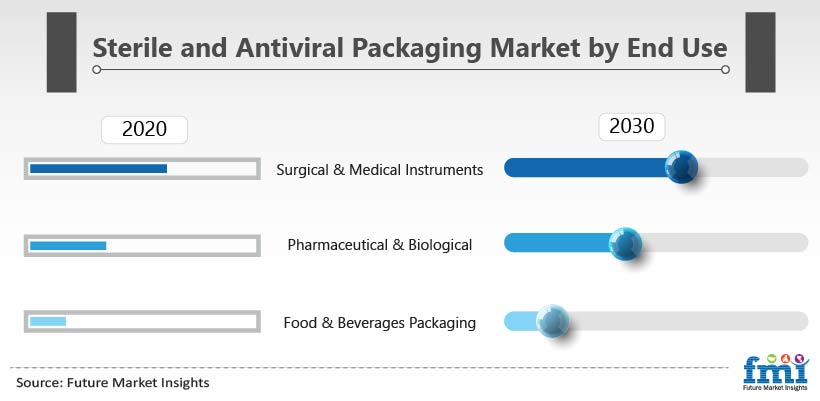 STERILE AND ANTIVIRAL PACKAGING MARKET TAXONOMY
The global sterile and antiviral packaging market is segmented in detail to cover every aspect of the market and present complete market intelligence to readers.
By Packaging Type
Thermoform Trays
Sterile Bottles/Containers
Vials & ampoules
Sterile closures
Pre-filled syringes
Blister & clamshells
IV Bags & pouches
Sterile Wraps
Others (Sterile Lids, etc.)
By Material
Plastics
Glass
Metal
Paper & paperboard
By Application
Pharmaceutical & Biological
Surgical & Medical Instruments
Food & Beverage Packaging
Others
By Region
North America
Latin America
Europe
South Asia
East Asia
MEA
Oceania
Need specific information?