Insulated Shippers to Remain Top Selling Category
Insulated shippers account for more than 60% of the total sales and continue to influence manufacturers' growth strategies. While EPS foam containers are typical product of choice of distributors and suppliers to ship specialty pharmaceuticals and biologics, demand for PUR containers and fiberboard is expected to remain strong going forward.
Today, many pharmaceutical companies are turning to PUR insulated shippers as an alternative to their EPS counterparts, owing to high durability and sustainability, reduced risk of product failure, less space consumption, and more extreme temperature control. Additionally, insulated containers, both chest style and upright style, are projected to garner significant traction in long-term dimensions.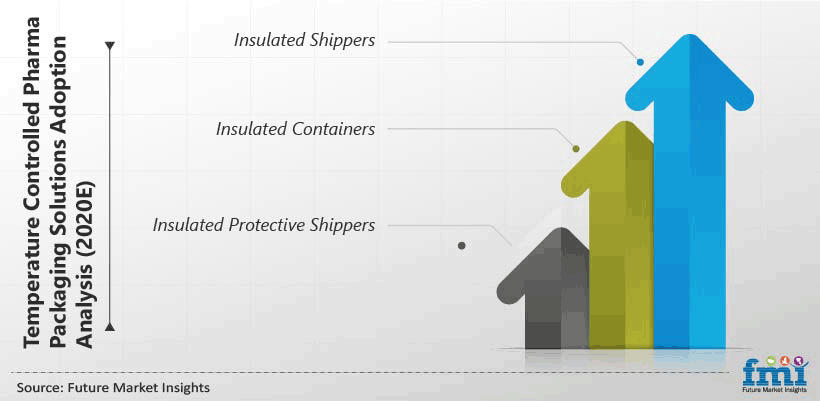 APEJ to Outperform North America in 2020 Amid COVID-19 Related Disruptions
The latest strain of coronavirus has upended the global pharmaceutical supply chain - a major roadblock for key market players. China's dominant role as the 'world's factory' and the domino effect of nationwide lockdowns, product stoppages, scarcity of raw materials, and labor shortages are putting the global supply chain in general and North America's temperature controlled pharma packaging market in particular at risk.
North America's market is expected to lose its leading position to APEJ in 2020 and beyond, mainly assisted by recent restrictions on the export of various active pharmaceutical ingredients (APIs) from India and a large number of US-based generic drug manufacturers whose supply chain is heavily reliant on Chinese suppliers.
Next-gen Tracking Technology and High Insulation Based Packaging Solutions to Dictate Future Growth Prospects

Temperature controlled pharma packaging solutions will continue to see a stronger influence of regulations, considering the nature of products to be packed and shipped. Moreover, the demand for quality and compliance is growing at a faster rate than innovation. Market players are targeted towards reinforced composite materials with high thermal protection and stability to set their products apart from the competition.
The greater need for cost effective solutions for highly temperature-sensitive shipments is likely to direct the focus towards lightweight yet high insulation based packaging solutions. Through next-gen shippers and data management devices, innovative technologies are making their way into the market space, enabling faster, more accurate transparency in the movement of sensitive pharma products.

TEMPERATURE CONTROLLED PHARMA PACKAGING SOLUTIONS MARKET TAXONOMY
The global market is segmented in detail to cover every aspect of the market and present complete market intelligence to readers.
Product
Insulated Shippers

Panels and Envelopes
EPS Foam Containers
Fiberboard
PUR Containers

Insulated Protective Shippers
Insulated Containers

Chest Style
Upright Style

Others (refrigerants, gel, icepacks, phase change materials, etc.)
Application
Region
North America
Latin America
Western Europe
Eastern Europe
Asia Pacific Excluding Japan
Japan
Middle East and Africa
Need specific information?