Tip Location Devices Market By Product Type (Tip Location System, Accessories, basis of technology, ECG Tip Confirmation, ECG with Magnetic Tracking, ECG and Intravascular Doppler), End User (Hospitals, Ambulatory Surgical Centres, Catheterisation Labs) & Region - Forecast 2020 - 2030
Tip Location Devices Market - Analysis, Outlook, Growth, Trends, Forecasts
June 2020

REP-GB-880

220 pages
Tip Location Devices Market Outlook & Key Findings
Tip location devices market was valued at nearly US$ 34.1 Mn in 2019 and it is expected to grow at a CAGR of 6.4% over the forecast period
Cost-effectiveness offered by tip location devices in case of PICC tip confirmation as compared to X-Ray and fluoroscopy, and increased precision of PICC placement further fueling revenue growth of the tip location devices market
North America accounts for more than 40% of revenue share and is projected to register a CAGR of 5.3% in terms of value during forecast period
Tip Location Devices Market: Precision to be the Booster
The tip location system facilitates real-time visual navigation. It helps in confirming the ultimate placement of PICC (peripherally inserted central catheter) tip using ECG in superior vena cava's lower one-third part.
The tip location system, along with its accessories, comply with AVA and INS guidelines with respect to PICC tip placement. Ambulatory surgical centres, catherisation labs, and hospitals are home to PICCs, which are used for obtaining access to the patients' central venous. PICCs prove to be one of the most reliable alternatives to the non-tunneled central venous catheters as they have lower potential complications and are cost-effective.
PICCs enable parenteral nutrition, administration of antibiotics, and chemotherapy as well. Tip location confirmation via fluoroscopy and X-Ray takes good amount of time, whereas infusion therapy through tip location devices gets done in no time. This factor is expected to offer rewarding opportunities for market players.
Tip Location Devices Market Driven by Inorganic Treatment
Increasing adoption of ECG and IV Doppler-based tip location system in developed economies is expected to fuel the tip location devices market during the forecast period
Various new developments are taking place across the globe on this count. For instance, – in Oct 2019, acquisition of Italy-based Pilot by France-based Vygon was announced. The objective of this acquisition was to get the ECG location/navigation technology of Pilots TLS product. This enhanced Vygon's portfolio to intravascular therapies like PICC lines, implantable ports, central venous catheters and midlines, and equipment like ECG Pilot TLS system and Vysion XS ultrasound system.
Developments like these are also expected to drive the market during the forecast period. The revenue share of ECG tip confirmation is expected to decline over the forecast period as compared to ECG with magnetic tracking and ECG and IV Doppler. These are expected to take the centre-stage in the forecast period, as ECG with magnetic tracking is reported to show stronger correlation amongst the ischemic regions in heart. ECG and IV Doppler help in detecting abnormal blood flow which could indicate issues with one/more than one valves of the heart.
Increasing prevalence of chronic diseases, such as cancer, is leading to the rise in adoption of PICC procedures as PICC are used for administration of antibiotics, parenteral nutrition and for chemotherapy across the globe, which in turn is expected to fuel revenue growth of the tip location devices market globally over the forecast period. Cost-effectiveness offered by tip location devices in case of PICC tip confirmation as compared to X-ray and fluoroscopy and increased precision of PICC placement is further fueling revenue growth of the tip location devices market currently.
Lack of clinical data regarding tip location devices and dearth of skilled professionals to operate the device are few factors expected to hamper growth of the global tip location devices market to a certain extent. Major trends in the tip location devices market include product modifications and innovations, strategic marketing campaigns and partnerships and acquisitions to increase consumer base.
Tip Location Devices Market Regional Analysis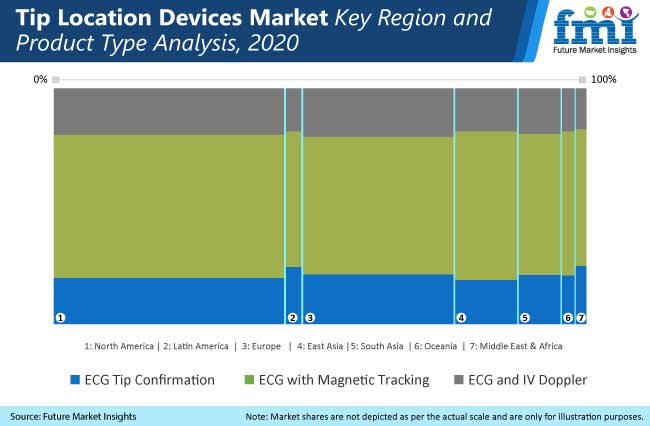 ECG with magnetic tracking is expected to account for a higher market share as compared to ECG tip confirmation in 2020 due to its higher sensitivity with respect to detection of anomalies in the functioning of heart.
ECG and IV Doppler are expected to take over in the upcoming period, as even the slightest of diversion in the functioning of heart can't be missed herein.
North America is the leading market for tip location devices globally This could be attributed to rapidly evolving reimbursement scenario followed by increasing incidences of cancer amongst the geriatric population.
North America, along with Europe, collectively account for around 75% of market revenue. Increase in the number of PICC procedures, coupled with new product launches, have placed Europe as the second most lucrative market for tip location devices.
For instance – In Sep 2019, Philips and B. Braun launched Onvision needle tip tracking to empower anesthesiologists to carry out regional anesthesia procedures like peripheral nerve blocks with greater amount of safety and efficiency. Plus, since 2019, POCUS (Point of Care Ultrasound) started getting implemented as a rapid procedural and diagnostic tool; especially in NICU for facilitating lumbar puncture completion and central catheter insertion; and, not to forget – identifying positioning of central catheter.
Extensive research is being carried out to come up with more portable ultrasound devices to boost the healthcare infrastructure in Asia Pacific. This factor is expected to boost tip location device sales in Asia Pacific.
Tip Location Devices Market Trends
Product innovation on continuous basis does help manufacturers increase their customer base. For instance – Bard, a known name in tip location devices, has recently launched Sherlock 3CG Tip Confirmation System (TCS); which has ECG-based PICC and fully integrated magnetic tracking technology.
It comes across as Sherlock II Tipp Location System's modified version. Besides, considering the ongoing Covid-19 pandemic, experts from GAVeCeLT (Long Term Central Venous Access Group) have stated that those suspected or confirmed of Covid-19 but not requiring hospitalization could be administered drugs/solutions through peripheral venous route wherein tip location devices would come into picture. So, apart from the long-term trends, this short-term boost would also keep the market in sync with growth.
Tip Location Devices: Key Players
The global market is dominated by top 5 manufacturers- C.R. Bard, Inc., Teleflex Incorporated, AngioDynamics Inc., Vygon S.A., and CORPAK MedSystems. They are focusing on advancement in tip location devices used specifically for PICC procedure.
For instance – a PICC nurse takes close to 62.4 minutes to insert a blind PICC; whereas Sherlock 3CG Tip Confirmation System takes around 57.5 minutes. This 5-minute reduction was recorded by NICE (National Institute For Health and Care Excellence).
Tip Location Devices Market: The Way Forward
The research report related to tip location devices gives an overview and estimation of market growth between 2020 and 2030. North America and Europe hold a substantial share due to feasible reimbursement scenario in the former and new product launches on the part of latter.
Strategic acquisitions are also likely to play an important role in tip location market growth. Sustenance of the organizations would be greatly dependent on incorporation of technical advancements and innovations. As of now, the tip location devices that are available are being placed bedside. If manufacturers think of miniaturization with the same precision regarding tip replacement, the market could get catalyzed in the forecast period
World's Most Profilic Intelligence Engine
Get Access To The World's Largest Market Research Database.
Sign Up Now
Tip Location Devices Market: Segmentation
basis of Product types
Tip Location System
Accessories
basis of technology
ECG Tip Confirmation
ECG with Magnetic Tracking
ECG and Intravascular Doppler
basis of end user
Hospitals
Ambulatory Surgical Centres
Catheterisation Labs
basis of Regions
North America
Western Europe
Eastern Europe
Latin America
Middle East & Africa
Asia Pacific excluding Japan (APEJ)
Japan
Need specific information?
Our Clients