Two-Wheeler Lubricants Market By Product (Synthetic Oils, Semi-Synthetic Oils), Two Wheeler Type (Motorcycle, Scooter), Application (Engine Oil, Suspension Oil), Sales Channel (OEM, Aftermarket) & Region Forecast to 2019 - 2029
Two-Wheeler Lubricants Market - Analysis, Outlook, Growth, Trends, Forecasts
August 2019

REP-GB-10121

272 pages
Two-wheeler Lubricants Market - Key Research Findings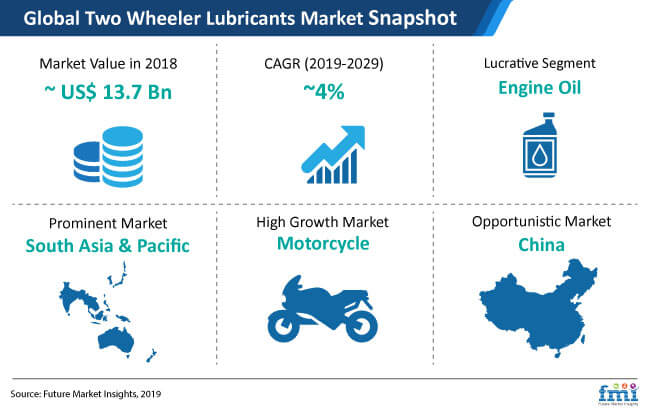 The global two-wheeler lubricants market size in 2018 was ~US$ 13 Bn.
The two-wheeler lubricants market is expected to grow at a CAGR of ~4% during the forecast period of 2019 to 2029.
Besides the significant growth of synthetic lubricants and functional fluids, synthetic oils, semi-synthetic oils, mineral oils, and grease segments, the bio-based two-wheeler lubricants segment is expected to project lucrative growth over the forecast period (2019 to 2029).
South Asia and Oceania, collectively, are expected to account for more than half of the total share of the global two-wheeler lubricants market by the end of the forecast period (2019 to 2029).

South Asia, attributing to the strong presence of the automotive industry, will continue to be a prominent region for manufacturers of two-wheeler lubricants market.

The motorcycle type of two-wheelers is expected to remain as one of the prominent consumers of the global two-wheeler lubricants market over the forecast period (2019 to 2029).

Growing population, coupled with the growing rate of urbanization resulted in a drastic increase in the number of working individuals across geographies.
Motorcycles are the most preferred source of transportation in regions that has traffic related issues.
Key Factors Shaping the Two-wheeler Lubricants Market
Increasing Demand and Fleet of Two-wheelers to Fuel the Demand for Two-wheeler Lubricants
As a consequence of the increasing disposable income of the population in rural areas and the backwardness of well-established public transportation systems, the demand for two-wheelers such as conventional motorcycle and scooters has increased significantly in such areas. Furthermore, the transportation infrastructure of rural areas is still in its primary stage when compared to developed and urban areas.
Therefore, to fulfil the demand for transportation infrastructure in rural areas and overcome the high prices and taxes of four wheelers, consumers are preferring two-wheelers, hence, increasing the demand for two-wheeler lubricants.
Furthermore, the fleet (vehicle in use) of two-wheelers in developing nations has increased considerably. This is estimated to create lucrative growth opportunities for all the two-wheeler lubricants market participants across the value chain in the global two-wheelers lubricants market.
Demand-Supply and Contango Situation
Prices of crude oil have witnessed a steep decline over the past year and a half. In 2014, the average crude oil price was pegged at ~US$ 96 per barrel as compared to ~US$ 43 per barrel in 2015. This steep decline in global crude oil prices can be attributed to the relatively weak economic growth in key markets, coupled with the global oil supply glut.
Since last few years, some of the key economies, such as China, a major importer of commodities and ASEAN countries, especially crude oil - have witnessed relatively low economic growth, which in turn, has affected the global oil imports and consumption. Conversely, the global oil supply has witnessed a steady increase over the same period due to the steadily increasing oil production in OPEC countries, the shale revolution, and re-entry of Iran in the global oil market.
Another trend of Two Wheeler Rental is also picking up in the market which is further expected to drive growth in consumption of two-wheeler lubricants across the globe.
Product Innovations Prompt a Continuous Stream of Opportunities
Consumers of two-wheeler lubricants in developed economies are demanding lubricants that are efficient, offers high load bearing capacity, adequate viscosity, and low coefficient of friction. Through R&D development and product innovation in advanced manufacturing, and refining of two-wheeler lubricants, manufacturers have significantly improved their product portfolio.
Furthermore, the development of bio-based two-wheeler lubricants that are helping manufacturers achieve their targets of sustainable development has further enhanced the sales of the global two-wheeler lubricants market. This is expected to create ample opportunities for the market growth in the upcoming years, and in turn, boost the growth of the global two-wheeler lubricants market.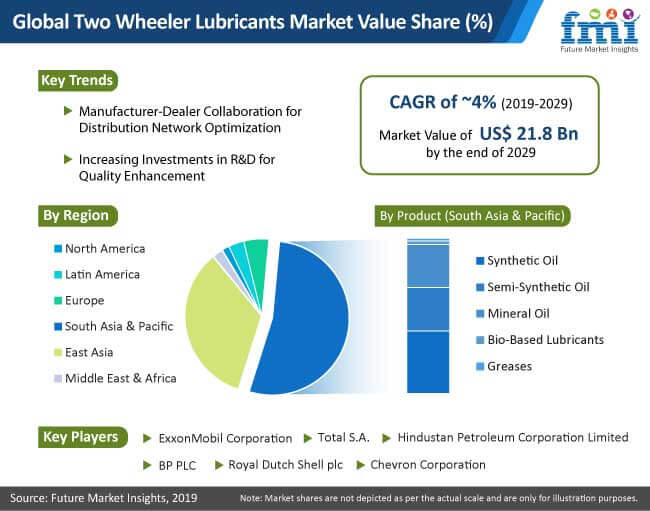 Two-wheeler Lubricants Market Structure Analysis
The global two-wheeler lubricants market is significantly consolidated with few players holding prominent shares of the global two-wheeler lubricants market. A majority of the global two-wheeler lubricants market key players maintain their strategic focus on the development of solid distribution partnerships, joint ventures, and targeting a firmer global footprint.
Prominent manufacturers of two-wheeler lubricants are presently prioritizing research and development (R&D) and new product launches to resonate with the booming demand for two-wheeler lubricants across geographies.
Product portfolio diversification is also observed to be one of the key developmental strategies followed by key players in the global two-wheeler lubricants market.
Furthermore, to achieve a stronger and firmer foothold in target regions, global two-wheeler lubricants manufacturers rely strongly on inorganic strategies for developmental growth such as mergers and acquisitions with other players involved in the same businesses.
Expansion into high growth regions is another key strategy adopted by key market players.
Two-Wheeler Lubricants – Tackling Electromobility and Delivering Fuel Economy
In the era of electric mobility where battery is the fuel, automotive and transportation industry has been witnessing significant transformation and megatrends. The engine technology is changing fast, as emission regulations intensify and consumer demand for affordable yet efficient vehicles increases. As electrification takes hold of the transportation sector, disruption is also expected in automotive lubricants space, which has traditionally been one of the most attractive areas in oil & gas value chain.
Although the global lubricant brands are not likely to be affected by electric mobility anytime soon, companies are getting ready to draft new strategies to thrive in the disruptive business world. The 'two-wheeler lubricants market', though slightly touched by the emerging technologies, remains a bright spot in an otherwise slow-moving lubricants market, owing to its significant growth in developing economies.
To analyze what lies ahead on the horizon, Future Market Insights (FMI) has conducted an in-depth study on two-wheeler lubricants market and developed the growth projections up to 2029.
Impressive Two-Wheeler Penetration in Rural Areas Points to Robust Opportunities
Today's two-wheeler lubricants market is being shaped by a number of trends such as population growth, increasing mobility, rise in vehicle ownerships, and robust two-wheeler sales. In rural and semi-urban areas, poor infrastructure, demographic, and economic realities have mandated two-wheelers as indispensable means of transportation, thereby preparing ground for increasing the production of two-wheeler lubricants.
Sensing continuous investments in infrastructure projects and increasing number of women and young population driving conventional motorcycles and scooters, especially in developing regions, stakeholders are gearing up to tap the market by rolling out new products, developing brand-specific lubricants, and expanding geographically.
However, it is pertinent to note that, today's consumers are increasingly demanding fuel economy improvements, reduced CO2 emissions, and ultimately zero emissions travel – leading to a rise in sales of electric scooters (two-wheelers) as well as cars. In addition, restrictions on two-wheeler usage in major cities along with a sharp decline in two-stroke vehicle population leading to an uptake of four-stroke vehicles are likely to represent as a threat to the steady growth of the market.
Developing Countries Promise Lucrative Growth Opportunities
Volatility in crude oil prices in general, and two-wheeler sales in particular remain key growth influencers of the two-wheeler lubricants market. Upcoming trend of two wheeler rental services has positively impacted sales of two wheelers therby generating substantial push for two wheeler lubricants demand. Continuous R&D activities on formulation science are being applied in lubricant designs that not only meet ever-tightening regulations but also fulfil the needs of end customers.
High growth prospects of the market are expected in developing countries across Asia Pacific, Latin America, and Africa, on the account of successful penetration of two-wheelers in both rural and urban areas along with increasing usage of such vehicles as taxis and for goods transportation. A rise in the demand for high-end motorbikes for recreational purposes in developed nations is further likely to open new avenues for market participants.
Notable Trends Influencing Two-Wheeler Lubricants Landscape
With a mass adoption of newer technologies and demand for qualitative evolution in two-wheeler lubricants, manufacturers are making a shift towards premiumization and developing a pipeline of technologically innovative and advanced products. In addition, an alarming level of air population has been forcing governments to tighten emission limits and improve fuel quality, which in turn, is likely to drive lubricant quality improvements.
Although the relationship between vehicle design and lubrication remained consistent, vehicle designs are changing. Advancements in two-wheeler designs are likely to call for more advanced lubricants with superior oxidative stability, capable of minimizing wear and maintaining hardware durability.
As the focus on vehicular emissions intensifies, market players will need to venture into renewable energy space and explore the potential of bio-based lubricants that not only comply with regulations but also have lower impact on the environment.
Two-Wheeler Lubricants Market – Gearing Up for the Road Ahead
With increasing environmental concerns and an inclination towards enhanced fuel economy, two-wheeler lubricants industry has been moving to lighter viscosity grades. As components in next-generation two-wheeler become more compact, lubricants have to work synergistically to ensure smooth and safer ride. Market players are thus aggressively investing in R&D for advanced lubricants that can aid in improving theperformance of vehicular components.
Sensing a saturation of certain products in mature markets, a number of OEMs are establishing strong partnerships and collaboration with local dealers to strengthen their distribution network. Additionally, advances in manufacturing and refining technologies have brought more focus on lubricants which have high load bearing capacity, adequate viscosity, and low coefficient friction. Strategic acquisitions and joint venture between global and local players will further remain a key to gaining distinct competitive edge in the two-wheeler lubricants market.
World's Most Profilic Intelligence Engine
Get Access To The World's Largest Market Research Database.
Sign Up Now
Key Segment
By Product
Synthetic Oils
Semi-Synthetic Oils
Mineral Oils
Bio-Based Lubricants
Greases
By Two Wheeler Type
Motorcycle

Standard
Cruiser
Sports
Mopeds

Scooter

Standard
Maxi
Enclosed
Three-Wheeled
By Application
Engine Oil
Suspension Oil
Break Oil
Chain Oil
By Sales Channel
By Region
North America
Latin America
Europe
South Asia
East Asia
Oceania
Middle East and Africa
Need specific information?
Our Clients