Adoption of conventional motorcycles for recreational purposes
There is a certain class amongst society, particularly in affluent nations in Europe and North America that is extremely active in recreational sports such as country-side riding with high-engine capacity conventional motorcycles.
This trend of recreational activities has changed the perception of conventional motorcycles in these regions and the key demographic to focus on is men above the age of 35 years. These consumers are helped by a high disposable income allowing them to indulge in leisure activities that revolve around conventional motorcycles such as biking stunts, racing, and off-roading.
In addition to this, the rise in motorcycling clubs of cruiser motorcycles symbolised by the iconic American giant Harley-Davidson and Indian motorcycles has spurred the growth of the global conventional motorcycles market. The global conventional motorcycles market is approx. twice the size of the global conventional scooters market with expected sales of more than 33 million units in 2017 and a market value of over US$ 84 Bn.
Bumper-to-bumper traffic benefits the global conventional motorcycles market
The public transportation systems in emerging economies in Latin America, Africa, and Asia are not exactly known for their efficiency. That is the primary reason why customers in these populous countries prefer to commute with their self-owned vehicles. As the per-capita income here is much lower than that of developed nations, the vehicle of choice is usually a conventional motorcycle.
Conventional motorcycles have the dual benefit of being more convenient in addition to being cost-effective. A report by Moovit states that the average commuter in Mexico spends nearly 90 minutes every day while using public transport that can be avoided by using conventional motorcycles.
Economical motorcycles triumph over scooters in the global arena
Economical motorcycles dominate the global conventional motorcycles market and are especially popular in emerging economies that prioritise fuel-efficiency over performance. Motorcycles have several advantages over scooters such as a lower cost of maintenance in the long run, a larger fuel tank, and greater longevity.
However, that doesn't mean that motorcycle manufacturers have not made their products any less stylish to appeal to fashion conscious buyers. More often than not, conventional motorcycles have a sportier look and better performance than conventional scooters, offering their buyers the best of both worlds.
Global Conventional Motorcycles Market Absolute $ Opportunity Analysis, by Product Type
The Standard segment is projected to create a total incremental $ opportunity of US$ 22.4 Bn between 2017 and 2027. The segment is expected to account for a 47.1% share of the global market absolute $ incremental opportunity. The Cruiser motorcycles segment is expected to witness 1.47X growth in terms of value over the forecast period.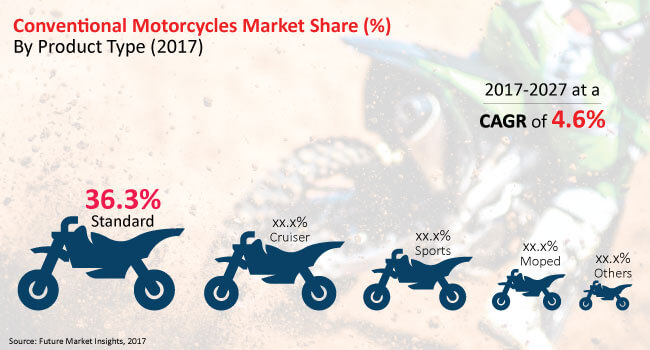 Electric bikes pose a huge challenge for conventional motorcycles
With scandals such as Dieselgate, countries across the world have begun to crack down aggressively on fossil fuels by tightening their emission norms and imposing heavy penalties on offenders. China, one of the world's largest conventional motorcycles market, is actively promoting electric bikes and this can have a substantial impact on the global conventional motorcycles market.
Electric bikes are energy efficient, emission free, low-cost, and do not require a license or any sort of registration and these factors can pose a challenge for conventional motorcycle makers.
Furthermore, the tax rate in some countries such as India has considerably increased on items perceived to be in the luxurious category. The Indian government has raised tax on conventional motorcycles with engine capacity greater than 350 cc to 31%, which could prove to be a dampener in the sales of conventional motorcycles in this dynamic country.
APEJ to hold a lion's share of the global conventional motorcycles market
APEJ – led by China, India, and Indonesia – will account for a major share of the global conventional motorcycles market and this picture is likely to remain so for the foreseeable future. The APEJ conventional motorcycles market is predicted to be worth almost US$ 95 Bn by the end of the forecast period and record a CAGR of 4.7% from 2017-2027, making the region vital for stakeholders in the global conventional motorcycles market.
Conventional Motorcycles and Scooters Market Taxonomy
Conventional Motorcycles Market
Product Type

Standard
Cruiser
Mopeds
Sports
Others

Engine Capacity Type

Up to 150cc
151-300cc
301-500cc
Above 500cc
Conventional Scooters Market
Product Type

Standard
Enclosed
Maxi
Three-Wheeled

Engine Capacity Type

Up to 150cc
151-300cc
301-500cc
Above 500cc
Region
North America
Latin America
Western Europe
Eastern Europe
Asia Pacific excluding Japan ( APEJ)
Japan
Middle East & Africa
Need specific information?