KEY GROWTH INFLUENCERS - COMMERCIAL REFRIGERATION EQUIPMENT MARKET
The global demand for commercial refrigeration equipment witnessed a massive downfall in the first half of 2020 on account of lockdown and social distancing barriers implemented due to the spread of coronavirus disease throughout the world. Big as well as small manufacturing companies went through the worst phase and suffered heavy losses in 2020. To overcome the previous losses, business firms in 2021 are focusing on research and developments to ensure uniqueness in their services.
Recognized corporations are adopting business strategies such as sales contracts, strategic alliances, acquiring technical expertise, product approvals, patents and events, joint ventures, partnership agreements, collaborations, digital marketing, mergers and acquisitions, capacity utilisations, technological advancements etc to lead the global market for commercial refrigeration equipment with largest market share. The corporations like Carrier Corporation, Emerson Electric Company, Daikin Industries Ltd, and GEA Group AG and others are making high investments in the establishment of research institutes in different regions to come up with improvements in their offerings.
For instance, on April 9, 2021 Carrier Commercial Refrigeration signed an agreement with Algidus AB company. This strategic agreement will enable the Algidus AB to offer cutting edge remote display cases manufactured by Carrier to the Swedish Food Retailers. The Carrier is all set to manufacture sustainable and innovation driven remote display cases for commercial refrigeration. It offers a wide range of products to keep stores cool, maintains low energy costs and much more.
In terms of growth, the market in Asia Pacific is anticipated to remain a prominent region with a promising revenue rate during the forecast owing to rapidly changing lifestyle and shift towards westernization. All developing and developed nations are predicted to pick up pace through 2030 owing to the emergence of leading manufacturing companies and new domestic players. All the other key regions such as North America, Latin America, Eastern and Western Europe, South and East Asia, Oceania and MEA are driving the market growth and opening various opportunities for manufacturers.
Increasing Capital Expenditure on Refrigeration Systems
Over the last decade, there has been a significant increase in the number of retail stores across the globe. Major players in the retail sector are expanding their footprints in emerging markets of Asia Pacific, especially in India and China to capitalize on the growing consumer spending power in these countries.
The retail market in developing regions is substantially fragmented. However, favourable government policies regarding investment in the retail sector in developing regions such as India and China has led to the significant growth of the organized retail sector.
Additionally, foodservice providers are increasing their capital expenditure on refrigeration systems to cater to strong consumer demand for frozen food and chilled products. Also, the number of licensed and franchised stores of limited service restaurants such as McDonald's and Subway is growing, leading to an increase in the demand for refrigeration systems. Aforementioned factors are expected to drive the overall demand for commercial refrigeration across the globe.
Rapid Growth of Food & Beverages Industry
Increase in the food and beverages production, along with the expansion of cold chain capacities to ensure efficient storage and minimize wastage of food is expected to boost the demand for commercial refrigeration system across the globe over the forecast period.
According to the Food and Agricultural Organization of the United Nations (FAO), in 2015, food and beverages worth US$ 750 Bn was wasted across the globe. Countries across the globe are strengthening their cold supply chain infrastructure to minimize waste of food and beverages.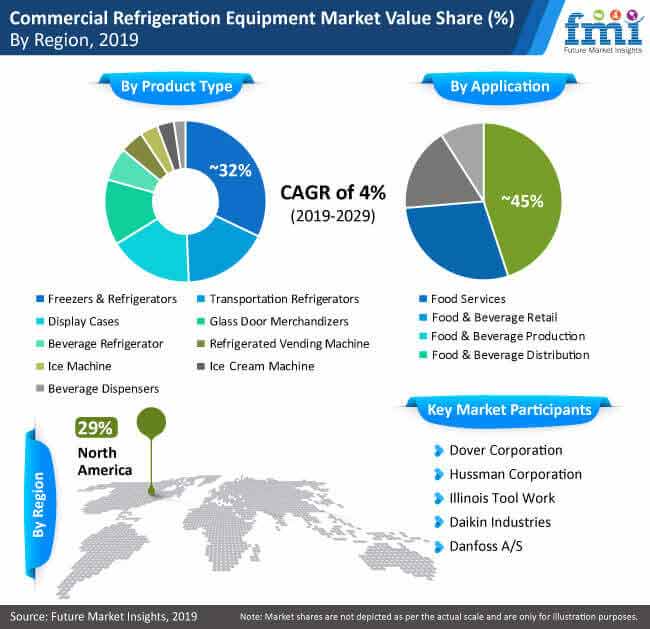 Changing Consumer Preference from FSR to QSR
The rapid changing lifestyle and shift towards westernization has shifted the consumer preference from FSR (Full Service Restaurants) to QSR (Quick Service Restaurants). There has been a significant increase in the number of quick service restaurants in recent years. The consumer spending on QSR has increased by 4.1% between FY2005 and FY2015, reaching a total market value of about US$ 275 billion in FY2015. Thus, international companies and local companies are substantially investing in quick service restaurant equipment, such as display cases and vending machines.
Additionally, the dining out culture is gaining prominence worldwide owing to the rapidly changing lifestyle. Consumers' preference for dining out is increasing at a rate of 7% worldwide. It is more prominent in developing regions of Asia Pacific such as India and ASEAN, where it is expected to grow at a rate of over 11% over the forecast period. Hence, this shift of culture is expected to drive the demand for commercial refrigeration equipment.
COMMERCIAL REFRIGERATION EQUIPMENT MARKET STRUCTURE ANALYSIS
The global commercial refrigeration equipment market represents a fairly fragmented competition landscape, where a majority of key players maintain their strategic focus on the development of solid distribution partnerships and joint ventures, targeting a firmer global footprint.
Prominent manufacturers of commercial refrigeration equipment are currently prioritizing R&D and new product launches to resonate with the growing consumption of refrigeration equipment in North America, Europe, and China.
To have a stronger foothold in target markets, acquisition of local players and collaboration with retailers is also identified to remain as one of the key developmental strategies adopted by manufacturers of commercial refrigeration equipment.
Key players operating in the global commercial refrigeration systems market follow a hybrid model or multi-channel route to market their products. Hybrid model involves the adoption of channel sales and direct selling to effectively reach customers. For instance, United Technologies subsidiary Carrier markets its products through both direct selling routes and conventional channel. Whirlpool markets its products through direct selling routes (online sales) and conventional channel.
Beverage Refrigerators and Dispensers Gathering Traction
Freezers & refrigerators would remain top selling category in the global market, making up nearly a third of the global market revenues. Transportation refrigerators and display cases also continue to see steady sales growth. The beverage sector is emerging as the key growth lever for commercial refrigeration equipment market.
Buoyed by robust growth in the functional, energy, and grab and go drinks categories, beverage refrigerators and dispensers will continue to sell strong throughout the forecast period. Display cases and glass door merchandizers collectively account for over a fourth of market value.
Opportunities Abound in APAC and MEA
The U.S. and EU5 will be in the vanguard of the commercial refrigeration equipment market, attributing to the strong presence of stakeholders that export their products to domestic and international end users. On the other hand, the expanding F&B industry and growing preference for quick service restaurants (QSRs) will drive demand in Asia Pacific (APAC). While increase in per capita beverage consumption will push sales in APAC and Middle East & Africa (MEA), developed markets would lag in terms of growth rate.
Manufacturers Must Speed-up their Move Towards Low-GWP Alternatives
While market players remained focused on capitalizing on rapidly expanding foodservice industry and retail outlets, the evolving regulatory framework will continue influence the development strategies. With the new EPA 680 update on allowable refrigerant leak rate thresholds for triggering of leak repair requirements, manufacturers are focusing on distributed refrigeration systems that can minimize the leak potential.
With refrigerant regulations in place and gaining prominence in various countries requiring the phase-down of hydrofluorocarbons (HFCs), potent greenhouse gases (GHGs), manufactures are in dire straits to shift from HFCs to climate-friendly, low-GWP (global warming potential), or zero-ODP (ozone-depleting potential) alternatives. Besides, companies are leveraging digital solutions to improve engagement and remote management of their products.
How Growth will Unfold
Market gains will be driven by foodservice and F&B retail expansion. As the dining out culture continues to gain prominence, commercial refrigeration equipment sales are set to remain high across foodservice industry. Sales will also ramp up in F&B retail chains, and currently represent nearly 29% share in market.
However, as supermarkets and hypermarkets are emerging as energy-intensive businesses, market players could possibly face tough times to meet the new regulatory requirements. A focus on energy-efficient technologies with minimal environmental impact will thus remain vital for stakeholders in the long run.
COMMERCIAL REFRIGERATION EQUIPMENT MARKET TAXONOMY
The global commercial refrigeration equipment market is segmented in detail to cover every aspect of the market and present a complete market intelligence approach to the reader.
By Product
Beverage Refrigerator

Drinking Fountain
Soda Fountain
Beer Dispensing Equipment
Beverage Coolers

Freezers & Refrigerators

Freezer & Chillers

Blast Chiller/Stock Freezers
Contact Freezers

Refrigerators

Walk-in-Refrigerators
Reach-in Refrigerators

Transportation Refrigerators

Trailers
Trucks
Shipping Containers

Glass Door Merchandizers
Display Cases

Ice Cream Cabinets
Bakery/Deli Display

Beverage Dispensers
Refrigerated Vending Machine
Ice Machine
Ice Cream Machine
By Application
Food Services
Food & Beverage Retail
Food & Beverage Production
Food & Beverage Distribution
By Region
North America
Latin America
Europe
South Asia
East Asia
Oceania
Middle East and Africa
Need specific information?