Building Automation System Market - Key Research Findings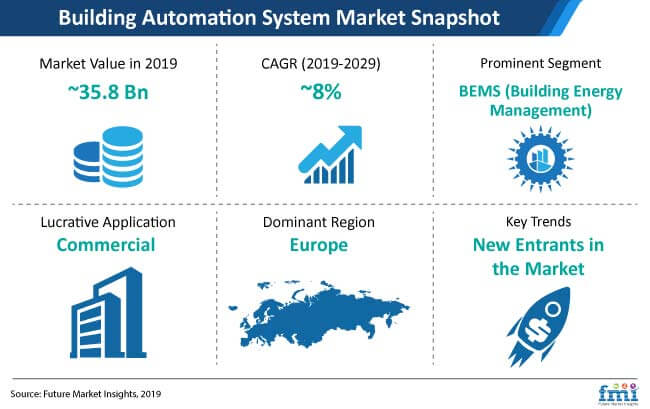 The global building automation system market size in 2018 was ~US$ 36 Bn.
The building automation system market is expected to grow at a CAGR of ~8% during the forecast period of 2019-2029.
Ever-growing energy consumption in global economies to pave strong growth prospects for stakeholders involved in the building automation system market.
Collectively, North America and Europe are set to account for 3/5th of the revenue shares in the building automation system industry by the end of 2029.

Primary factors responsible for the strong market outlook for the building automation system in Europe are, the presence of a large number of service providers, high awareness for the installation of building automation system, and government regulation to curb the energy consumption.

The commercial construction establishment is foreseen to remain prominent application area to target market players involved in the building automation system.

Building automation systems have been receiving great attention due to their potential for reducing energy consumption and facilitating building operations, monitoring, and maintenance, while improving occupants' satisfaction. Therefore, the aforementioned parameters fit perfectly to commercial buildings, suggesting substantial growth opportunities for the building automation system for the commercial segment.
Key Factors Shaping the Building Automation System Market
A Paradigm Shift towards Building Automation System
A building automation system aims at automating tasks in technologically-enabled environments, unifying several mechanical and electrical devices in a distributed manner employing underlying control networks. Building automation systems are predominantly deployed in commercial infrastructures such as malls, hotels, and other enterprise establishments or even in the domestic domain (residential).
Furthermore, building automation systems are not used to their full potential to lower energy consumption in buildings. Optimising potential of the building automation system is set to provide lucrative opportunities for the construction value chain to create new prospects for the energy management of buildings and significantly lower building operation costs.
Sustainable infrastructure is an integral part of the smart cities mission. As cities expand, it is imperative to invest in smart buildings and housing to enable cohesive development in the future.
Energy-Efficient Buildings - A Prime Market Mover
As per the primary responses, building owners who are likely to install building automation systems in the near term, are looking to reduce the energy consumption, improve tenant comfort, security, and productivity (airflow, lighting, etc.), comply ever-changing regulations, and reducing maintenance and life cycle costs.
Rising smart buildings and smart factory projects in countries such as India, Thailand, and Singapore, are driving the investment in building automation systems. Furthermore, the government's initiatives have led to the deployment of building automation systems for energy efficiency solutions.
Socio-Economic Trends Expected to Drive the Market
With the increasing susceptibility to power outages by electricity grid in countries of South Asia, building and property owners are investing in building automation system that subsequently reduces the energy costs. The revolutionary building automation system delivers self-sufficiency, improving the overall operational efficiency, and translating to positive market growth.
In the long run, the growth of the building automation systems market is anticipated to be driven by socio-economic trends, including the rapid population growth, rising affluent middle-class population, and sprawling urbanisation in India and other South Asian countries.
Rising per capita disposable income and expenditure in these regions are the crucial factors expected to drive the sales of building automation system products and solutions, which in turn, is expected to boost the building automation system market. Consequently, rising disposable income in countries to offer substantial growth avenues for the building automation system market over the forecast period.
Europe to Remain Prominent in the Building Automation System Market
As per the analysis, costs for equipping building with building automation system has decreased drastically, consequently promoting the robust sales of hardware and software of building automation systems. Moving ahead, focus on France and the U.K. are the ascertained conclusions that will certainly boost the market growth of building automation systems.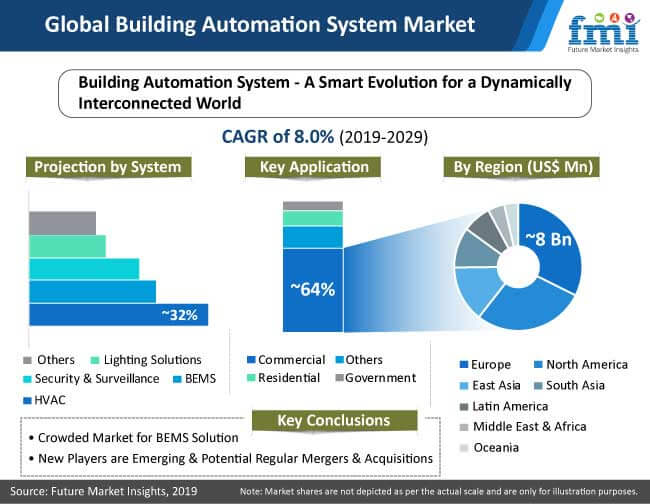 Building Automation System Market Structure Analysis
The global building automation system market represents a fairly consolidated competition landscape, where several players are involved in M&A (mergers & acquisitions) activities and poised to continue their inorganic strategies.
Top players account for significant market size with a market share of ~60% because these conventional top actors in the building automation system market operate on closed-source software and building automation systems.
Prominent providers of building automation systems are currently prioritizing commercial establishments to target for the market development in Europe, North America, and East Asia.
Some prominent new companies, like Google NEST and Apple, are entering into the building automation system market and focusing on the residential side of the market and less on complex building systems. In addition, small players are offering simple open-source energy management solutions; thereby, allowing their products to be implemented more easily in larger buildings.
'Automation' Becoming the Cornerstone of Building Infrastructure
Building automation systems (BAS) have seen momentous advancements in the past century, with an objective of redefining 'comfort' and 'safety' of building occupants. The implementation of automation systems in building infrastructure is getting better with each passing year, as proliferation of technology continues at a steady pace in the AEC (architecture, engineering, and construction) industry.
From the 1950s to 1990s alone, building automation systems have come a long way from pneumatics to electronics to open protocols, and a promising debut of 'easy-to-use' systems will further complement this evolution. Though larger buildings continue to be at the forefront of the adoption of building automation systems, the last few years have seen ascending installations in small- and medium-sized buildings.
This, in turn, brings along a new plethora of opportunities for new entrants to start with new projects, as property owners of these buildings will remain biased toward new companies offering attractive deals over the 'well-established' traditional suppliers.
The Switch from 'Wired' to 'Wireless' – Unwinding New Possibilities
The switch to 'wireless' is well underway in the building automation systems, with the ever-evolving emphasis on connective solutions. Wireless functionalities have redefined the way building automation installations work by breathing new life into their operational efficiencies, which, in turn, uplifts the overall value of these systems. Apart from this, wireless functionalities have also fuelled remote operations, thereby making a large difference in effectiveness quotient of the building automation systems.
Companies offering building automation systems are focusing on smarter R&D investments, with an aim of coming up with the most effective, flexible, and fully-programmable wireless solution. However, the acceptance of wireless building automation systems among the property owners will be largely influenced by the marketing strategies devised by these companies, as effective marketing bridges the gap between customer needs and product capabilities.
Asset Digitization in Asia – Paving New Avenues for Growth
Fast-growing economies such as Indonesia, India, and China, have spectated the metamorphosis of 'asset digitization' from a mere trend to an utmost necessity. Both commercial and residential spaces across these countries are being installed with multi-modal building automation systems, given that asset digitization has disrupted the AEC (architecture, engineering, and construction) industry with newer promises for building occupants and market players alike.
Additionally, the escalating demand for solutions offering real-time monitoring and alerts is also upholding the deployment of building automation systems across developing economies in Asia. This, in turn, makes Asia a promising region for market players to expand their operational bases.
Decoding Manufacturers' Winning Business Models
Companies active in the building automation system market don't follow the 'one-size-fits-all' approach, for the fact that requirements would considerably vary between buildings of different sizes. Accordingly, the market players are developing automation systems of all building types and size, with an objective of covering all the usability requirements put forth by end users.
With integration of intelligent & centralized energy management and innovative energy saving features, manufacturers are vying to offer significant cost and energy savings for the end users to reap a myriad of benefits.
The building automation system market structure reflects a fair degree of consolidation, wherein the leading players command for a nearly 60-65% of the global market share. The top 5 market players - Schneider Electric, ABB, Siemens AG, Johnson Controls Inc, and Honeywell International Inc. to name a few – account for nearly 40% market share and will continue to reap the 'first-mover' advantage in the global market space.
Strong portfolios and active regional presence will continue to underpin the relevance of these companies, however, bespoke innovations will further condition their growth.
How is IoT Reshaping Building Automation?
With sheer proliferation of internet connected things, ranging from cars to fitness trackers, the Internet of Things (IoT) is now increasingly known as Internet of Everything (IoE). 'Internet-connected' has emerged as the new normal across building structures and the installed devices, primarily pushed by a demand for enhanced connectivity.
With building managers and real estate investors having a vested interest in bringing down building operating costs and boosting related efficiencies, IoT is seeing a broader acceptance in the arena of AEC (architecture, engineering, and construction).
As compared to other industries that are on the verge of IoT disruption, the building automation system industry has a head start on this disruptor. The embodiment of web connectivity within the building automation solutions would not only offer umpteen cost benefits, but also ensure excellent risk management through prompt notifications on potential risks and dangers.
Key Segment
By Product Type
Hardware
Software
Services
By System Type
Security & Surveillance
HVAC
Lighting Solutions
BEMS (Building Energy Management)
Others
By Application
Commercial
Residential
Government
Others
By Region
North America
Latin America
Europe
South Asia
East Asia
Oceania
Middle East and Africa
Need specific information?