Building Information Management Market Outlook (2022 to 2032)
[378 Pages Report] The global building information management market revenue totaled ~US$ 6,098.1 Million in 2021. The building information management market is expected to reach ~US$ 23,660.9 Million by 2032, growing at a CAGR of 13.2% from 2022 to 2032.
| | |
| --- | --- |
| Attribute | Details |
| Estimated Year (2022) Building Information Management Market Value | US$ 6,819.2 Million |
| Projected year (2032) Market Value | US$ 23,660.9 Million |
| CAGR% (2022 to 2032) | 13.2% |
| Top 5 Vendor Market Share | Around 45% |
The building information management market currently represents about 9% of sales of the total smart buildings solution market. Rapid urbanization and surge in infrastructure projects, rising awareness about building information modeling and associated benefits, and a growing number of smart city projects worldwide are among various factors driving the BIM software market.
Rapid advances in computer-controlled manufacturing, digital building design tools, interconnectivity, and computer-controlled connection have ushered in a new stage of the building design and construction process. The introduction of computer software has resulted in a paradigm change in the architectural planning and modeling sector in recent years.
Don't pay for what you don't need
Customize your report by selecting specific countries or regions and save 30%!
2017 to 2021 Building Information Management Demand Outlook Compared To 2022 to 2032 Forecast
The building information management demand is estimated to grow at a CAGR of around 13.2% between 2022 and 2032 in comparison with the historic period (2017 to 2021) CAGR of around 11.0%, as the adoption of traditional tools such as paper-based design & modelling and CAD systems were on the higher side during this historic period.
As populations and economies are on the rise, the need for housing and infrastructure will fuel the growth of the global construction industry in the coming years.
With a rise in construction activities around the globe, there will be a greater need for efficient ways of building infrastructures. BIM solution gives architects, engineers, and construction (AEC) professionals the ability to plan, design, and manage building projects more efficiently.
Thus, the 3D model-based approach of building information management in delivering construction projects is gaining traction over the globe. As BIM solution is gaining popularity, it is creating an international framework that can give an industry a proper direction and a rule book to work for building modelling.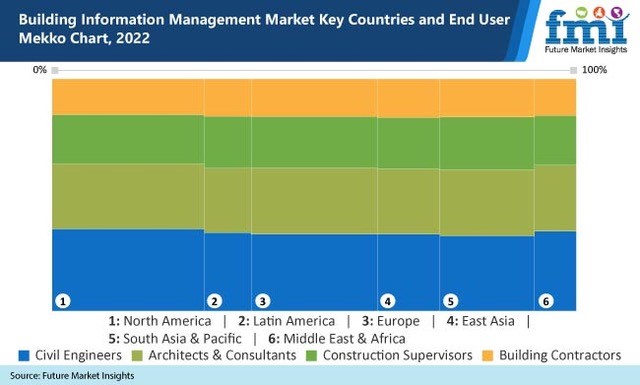 Building information management primarily facilitates the users to create precise, accurate, and geometric virtual models with all the components and structures involved in the building. BIM technology is predicted to develop rapidly since numerous government policies encourage the use of BIM solutions in many regional markets.
Due to the efficiency of its modelling systems, many private businesses throughout the world are gradually shifting to BIM, fueling market development.
The Civil Engineer segment among end users in the global building information management market is estimated to have dominating market share of 33.7% in 2022. Moreover, owing to rapid urbanization & implementation of smart building projects, the South Asia & Pacific region is estimated to grow at a noteworthy CAGR of 15.4% during the forecast period.
How Is Awareness About Building Information Management And Associated Benefits Affecting Market Growth?
BIM is a technique used for producing and maintaining all project information, it results in a building information model, which comprises digital descriptions for every part of the physical project.
Some of the most significant advantages of building information management in construction include improved onsite collaboration and communication, model-based cost estimation, building project visualization in preconstruction, better coordination and clash detection, risk mitigation and cost reduction, improved scheduling/sequencing, increased productivity with prefabrication, improved safety on construction sites, and streamlining facility management.
Currently, the increasing acceptance of BIM systems in operational standards has resulted from the developing trends of new technology.
Many private organizations across the globe are increasingly moving towards BIM owing to its efficient modeling systems, thus driving the market. In addition, as many government regulations are promoting the usage of BIM solutions in various regional markets, BIM technology is expected to witness high growth in adoption over the forecast period.
What Is The Impact Of COVID-19 Crisis On Building Information Management Growth?
The pandemic proved to be a speed breaker in the rapid growth of the BIM industry. It had an adverse effect on the building information management market, as it is closely related to the construction industry.
Unforeseen data slowdowns were witnessed when planning for new projects with employees working remotely and consequentially, firms had to build in more time to accommodate these possible delays. To counteract delays in productivity, planning project timelines appropriately became critical.
However, rising trends in advanced technologies have led to the growing adoption of innovative approaches to the working standards of the construction industry. BIM is one such approach that provides benefits such as visualization and collaboration, synchronization of design and construction planning, conflict detection, and cost reduction.
In addition to this, owing to the outbreak of COVID-19, the building information management market is expected to witness a Y-o-Y growth of around 11.0% to 11.8% from 2019 to 2022.
How Has Advent Of Virtual Reality (VR) And Augmented Reality (AR) Affected BIM Market?
BIM-supporting technology and procedures are constantly evolving in the construction industry. BIM integration with AR/VR, in which users view and interact with a virtual world, has grown in popularity.
The rising popularity of BIM integration with AR/VR benefits market growth by improving communication among stakeholders and providing better visualization for designers, engineers, and other stakeholders, enabling one-to-one totally immersive experiences.
Scholars have advocated for the use of emerging technologies such as augmented reality (AR) and virtual reality (VR) to solve some of BIM's core shortcomings and to open up a new area for development in the Architecture, Engineering, and Construction (AEC) industry. AR/VR technologies have the potential to improve BIM in a variety of ways, including real-time on-site collaboration, which might lead to increased growth.
Get the data you need at a Fraction of the cost
Personalize your report by choosing insights you need
and save 40%!
Country-Wise Insights
Why is the Demand for Building Information Management Increasing in Japan?
Widespread Digitization across Organizations in Japan Encouraging BIM Uptake
The sales revenue in Japan is estimated to grow at an impressive rate of around 16.5% CAGR between 2022 and 2032. Since robotics, IoT, and other modern solutions require more comprehensive data and data management than is achievable with non-BIM, 2D techniques, interest in other technologies is helping to fuel the demand in the overall country.
BIM is becoming increasingly beneficial in this context, particularly for bringing all digital information together on a single platform. Furthermore, there is significant interest in Japan in the capabilities that BIM models provide for facility management applications. Furthermore, modular building projects are on the rise in Japan.
Design choices must be taken sooner in modular projects and designers must match their works with the manufacturing process, there is a significant motivation to employ BIM tools throughout the design phase. As a result, there is a growing demand in the sector to deliver more.
How big is the Opportunity for the Adoption of Building Information Management in Germany?
Government Boost to BIM in Germany to Remain a Chief Growth Driver
Europe is predicted to remain one of the dominant markets during the forecast period, after North America. According to the study, the BIM industry in Germany is estimated to grow by 3.9X during the forecast period.
In Germany, the government is boosting the adoption of BIM across the country. The country has mandated the adoption of BIM solutions for all infrastructure projects since late 2020. To aid BIM implementation, a group of industry experts, large companies, and non-governmental organizations have teamed up to establish a German BIM Steering Group.
As the anticipated benefits of BIM far outweigh the risks and challenges posed by its introduction, it is expected that implementing BIM for civil engineering projects will gradually lead to its adoption into large-scale and, subsequently, small-scale construction projects in Germany.
How will the Sales Prospects for Building Information Management unfold in GCC Countries?
GCC Countries Emerge as BIM Hotspots in MEA
The BIM demand in the GCC countries is expected to account for nearly 31.1% of the overall MEA market share in 2022. The Middle East & Africa has been home to some of the most innovative building projects in the world.
While BIM is currently at an early stage of implementation in the GCC countries, the study demonstrates that it is poised for significant growth. Strong project and business benefits reported by current BIM users are likely to help drive the market, as will the perception of BIM's growing importance to firms seeking to stay competitive in the region.
Some of the other key drivers for the progress of the BIM market in the GCC are the digitization of building operations and management and the increasing demand for energy-efficient and eco-friendly buildings. Many countries in the region are gradually promoting energy efficiency as a means to achieve energy security.
With government initiatives encouraging energy monitoring, more market participants, including global BIM players, are playing key roles in the advancement of BIM solutions in the GCC.
There is an increasing demand for integrating smart building automation systems with the growing digital infrastructure in the GCC, which is in turn, anticipated to create various growth opportunities for building information management market players in the region.
Category-Wise Insights
Why the Demand for Building Information Management Software is increasing?
Diverse Solutions Offered by BIM Software to Drive Their Adoption
The BIM software segment is expected to showcase a high growth rate in the coming years with a CAGR of close to 13.7% between 2022 & 2032. The software segment is predicted to create an absolute $ opportunity of US$ 11,813.8 Million by the end of 2032. `
BIM software comprises solutions for a variety of objectives, including sustainability, architectural, mechanical, electrical, and plumbing (MEP), structures, facility management, and construction throughout the project life cycle. BIM software solutions have characteristics such as compatibility across programs, ease of visualization, and cost-effectiveness.
3D BIM is increasingly being used by several AEC professionals. Numerous types of BIM software solutions available in the industry are Graphisoft ArchiCAD, Autodesk Revit Structure, Tekla Structures, Bentley Facilities Manager, and Nemetschek ALLPLAN Architecture.
Reduction in time and cost, the flexibility of changing designs as per requirement, and 3D visualization of a project are the best features of BIM software, making it the most preferred technology over the coming years in the construction industry.
Will Civil Engineers Remain Dominant End Users?
Civil Engineers' Need for Real-World Context Models Makes BIM Adoption Imperative
The civil engineer segment accounted for around 33.5% market share in the global BIM market in 2021. In addition, the segment is likely to grow by 3.7X between 2022 & 2032. The BIM software helps civil engineers to understand the possible future challenges of the projects well in advance. In addition, civil engineers can obtain continuous insights into the process with BIM solutions. This is likely to remain prevalent over the forecast period.
In preliminary engineering, for example, BIM solutions may help to create more realistic AEC 3D conditions and models of a project. Having these real-world context models at their disposal can assist civil engineers in identifying possible flaws and implications of their design earlier in the process when making adjustments is less expensive overall.
How will Demand from Commercial Sector Affect BIM Market Growth?
Impressive Growth in Demand on Cards from the Commercial Sector
The commercial segment by application is expected to grow with a robust CAGR of around 15.9% during the forecast period. Also, the sector is estimated to create an absolute $ opportunity of US$ 5,545.1 Million between 2022 & 2032.
Commercial establishments have been one of the largest application bases for BIM solutions. Forecasting and analytics technological developments, together with increased consumer awareness, are projected to be the primary drivers of growth in this industry.
The creation of smart cities and smart offices throughout the world is a key use of BIM software. As each region prepares for the future, the installation of smart cities and smart offices gains traction, increasing the reliance on BIM software for improved operational efficiency. With the increasing construction activities across the globe, the building information management market is expected to witness growth during the forecast period.
Competitive Landscape
The BIM market appears to be mildly concentrated moving towards the fragmented stage with the emergence of new players in the market. The market is highly competitive owing to the presence of many small and large vendors providing solutions in the domestic as well as the international market.
Major players in the market are adopting strategies like mergers & acquisitions and product & service innovations.
In April 2022, Autodesk launched Revit 2023, the latest upgrade of the BIM software which includes customer-requested features to improve documentation, interoperability, and productivity across the design workflow. The Revit 2023 features a new analytical modeling workflow for structural engineers.
In July 2021, Graphisoft announced substantial updates to BIMx and BIMcloud to improve security, storage space, visualization, and collaboration features. Furthermore, the new 3D BIMx engine is now accessible to Android users.
Scope Of Report
Attribute
Details
Market value in 2022
US$ 6,819.2 Million
Market CAGR 2022 to 2032
13.2%
Share of top 5 players
Around 45%
Forecast Period
2022 to 2032
Historical Data Available for
2017 to 2021
Market Analysis
USD Million for Value
Key Regions Covered
North America, Latin America, Europe, East Asia, South Asia & Pacific, and the Middle East & Africa
Key Countries Covered
USA, Canada, Germany, UK, France, Italy, Spain, Russia, China, Japan, South Korea, India, Malaysia, Indonesia, Singapore, Australia & New Zealand, GCC Countries, Turkey, North Africa, and South Africa
Key Segments Covered
The solution, End User, Application, and Region
Key Companies Profiled

Autodesk Inc.
Trimble Solutions Corporation
Graphisoft (Nemetschek Group)
BIMobject
Elecosoft
RIB Software SE
Dassault Systèmes
DataCAD LLC
Bentley Systems
Procore Technologies
Bricsys NV
Vizerra SA
Cadmatic Oy
ArCADiasoft
ACCA software
Kreo

Report Coverage
Market Forecast, Company Share Analysis, Competition Intelligence, Drivers, Restraints, Opportunities and Threats Analysis, Market Dynamics and Challenges, and Strategic Growth Initiatives
Customization & Pricing
Available upon Request
Building Information Management Outlook By Category
By Solution:
Software
Services

Structural Design & Modeling Services
Project Consulting
Support & Maintenance
By End User:
Civil Engineers
Architects & Consultants
Construction Supervisors
Building Contractors
By Application:
Residential
Commercial
Industrial
Government
By Region:
North America
Latin America
Europe
East Asia
South Asia & Pacific
Middle East and Africa (MEA)
Frequently Asked Questions
Japan is likely to dominate the building information management (BIM) market.
The growth rate for the building information management (BIM) market is projected to reach $23660.9 Million by 2032.
The market prospects for the building information management (BIM) market are estimated at $6848.05 Million in 2022.
Rapid urbanization & upsurge in infrastructure projects is driving the market growth.
The building information management (BIM) market is expected to grow at a CAGR of 13.2% through 2032.