Valve Seat Inserts Market – Key Research Findings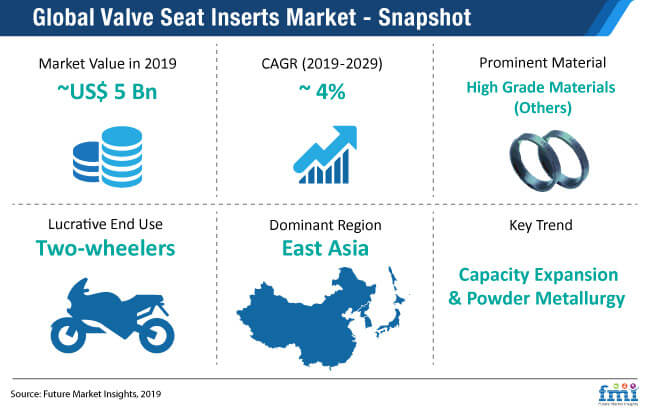 The global valve seat inserts market size in 2019 is predicted to reach ~US$ 5 Bn.
The valve seat inserts market is expected to grow at a CAGR of ~4% during the forecast period of 2019-2029.
According to analysis, new material development for valve seat inserts is being done by the manufacturers while ensuring the engines meet performance and durability standard. Additionally, at a capacious level - environmental factors, ride sharing, better public transport, and urban apartment living are the macro-level factors to sway the demand in car purchases.
Collectively, Europe and East Asia are set to account for nearly 66% of the revenue shares in the valve seat inserts market by the end of 2029. The availability of cheaper raw material, robust manufacturing capabilities, and hefty automobile production, are translating to dominance of these regions in the valve seats inserts market.

China accounts for nearly a quarter of the global automobile production and similarly, Japan boasts a share of nearly 8% in the world. Consequently, with a substantial production share in the world, the demand for valve seats is expected to remain buoyant in these countries.

The sales of valve seat inserts are robust in the gasoline engine primarily manufactured of iron and steel alloys.

The steel versus aluminum alloys debate will continue to rage as OEMs seek ever lighter materials by adulterating the product with nickel, manganese alloys for the development of valve seat inserts. Moreover, the demand for high-grade materials is likely to increase in the coming years due to increasing manufacturing by powder metallurgy.
How Powder Metallurgy Will Transform the Valve Seat Inserts Market
According to European Powder Metallurgy Association, valve seat inserts manufactured through powder metallurgy offer a variety of benefits including cost saving, improved performance, and increased component complexity. Moreover, modern engines developed by OEMs and tier-1 manufacturers put much higher levels of mechanical and thermal stress on valve seat inserts.
Thus, to handle the more severe conditions within these engines, the OEMs are equipping engines with sintered valve seat inserts. However, cast chrome and auxiliary alloy-based valve seat inserts will not adequately withstand the demands of environment. Nickel-based alloys and others (high grade material) are imperative for the valve seat inserts market growth over the coming years.
Expansion of Sales Channels and Introduction of New Products Will Give the Winning Edge
Global automotive production and sales are subject to cyclical trends and imponderables to sway the market performance in the foreseeable future. The companies in the valve seats market are expanding aftermarket offerings to capture value from existing vehicle parc and aftermarket exports.
A shift by manufacturers to sell valve seat inserts through new channels, predominantly e-commerce will offer a conspicuous boost to the valve seat inserts market. For instance, the companies such as Mahle, TRW, Federal-Mogul, among others are offering valve seat inserts through online partners such as Alibaba, IndiaMART etc.
Ongoing Production Cuts by the OEMs to Stifle the Market Growth
Manufacturers are heavily focusing on cutting down the production, as numerous variations in the product line-up are proving expensive and complicated while incentives and marketing supports are strained. Rise of rental fleet and ride sharing scenario in the market space will directly impact the production of vehicles and valve seat inserts market.
Recently, the OEMs outlined plans to launch new EVs to hit annual sales of 23 million electrified vehicles by 2023. Subsequently, aftermarket will be the key arena where manufacturers of valve seat inserts can find their winning imperative against the backdrop of a mammoth automotive fleet.
East Asia to Maintain their Status Quo in the Valve Seat Inserts Market
A host of geographical and technological developments is expected to disrupt the automotive aftermarket pertaining to valve seat inserts over the next 8-10 years. Prominence of automakers in East Asia squarely influence the demand for valve seat inserts.
On the other hand, India is at the forefront of many segments - leading in two-wheelers and tractors across the world. An evolving regulatory and trade environment is forming the backdrop for the valve seat inserts market development. Moreover, the Society of Indian Automobile Manufacturers cited that lower government spending, the impact of the election, and production cuts by companies is going to impact the valve seats market.
Valve Seat Inserts Market Structure Analysis – Acquisitions and Product Innovations Leading the Way
The global valve seat inserts market represents a fairly consolidated competition landscape, where several players are involved in mergers & acquisitions (M&A) and are riding on this juggernaut to continue in their quest for growth.
Top players operating in the valve seats inserts market account for significant market size with a market share of ~40-45% and are mainly engaged in the capacity expansion and product innovation to cater to the growing demand. For instance, recently, Nippon Piston Ring enhanced production capacity to boost output of valve seats significantly in India to benefit from the bolstering motorcycle and car production in the country. Furthermore, Federal-Mogul developed High Thermal Conductivity (HTC) materials and Thermal Interface Material (TIM) for valve seat inserts.
A shift towards novel distribution/sales channels and partnerships, in particular e-commerce businesses and workshops, is expected to be seen in the valve seat inserts market.
As per the life cycle of valve seat inserts is concerned, it ranges between growth and maturity. For instance, the demand for ferrous-based valve seat inserts is stagnating and the sales of nickel-based and high-grade materials are increasing. Therefore, translating this hypothesis, it is evident that the companies entering the valve seat inserts market have lesser odds of success than those who entered early in the valve seat inserts market. In addition, followers or small scale manufacturers of valve seat inserts tend to cater to the domestic market as opposed to leading players.
Modern and Downsized Engines Pushing Innovations in Valve Seat Inserts
Manufacturers operating in the automotive sector have consistently adapted to the evolving technological innovations and industrial landscape. In the last couple of decades, there has been a significant surge in the number of automotive vehicles worldwide. Further, the demand for off-road vehicles and industrial machinery witnessed a steady growth which in turn, has influenced the growth of the valve seat inserts market.
In recent years, as the adoption of aluminum cylinder heads increased, valve seat inserts garnered noteworthy popularity among automotive manufacturers as sintered valve seat inserts can efficiently handle high mechanical and thermal stress generated by modern engines.
In the current scenario, consumer trends have played an important role in shaping the valve seat inserts market as consumers are leaning towards valve seat inserts made from thermal resistive and durable materials. The demand for valve seat inserts produced by powder metallurgy observed a steady growth, owing to their credible benefits including, enhanced performance, reduced costs, and improved component complexity.
Powder Metallurgy Technology - Providing Solutions to Improve Durability of Valve Seat Inserts (VSI)
At present, manufacturers operating in the valve inserts market are focusing on addressing customer demands and reducing costs to increase sales. In addition, research and development activities have increased at a rapid pace as manufacturers are exploring the potential of using new materials to develop valve seat inserts and simultaneously ensure that engine performance and durability is not affected.
In the current scenario, the demand for compact and highly loaded engines and engines that use alternative fuels to function is on the rise. However, the aforementioned engine generate high temperatures and exert high degree of combustion pressure on the valve train and valve seat inserts which eventually cause the valve seat inserts to wear out.
Moreover, over the course of the last decade, the demand for highly efficient engines with reduced carbon emissions and advancements in variable valve timing technology has also resulted in high valve seat tear as these systems hinder the lubricity of the exhaust gas stream. The highly conventional approach towards enhancing valve seat inserts durability is to significantly increase the magnitude of alloying using wear-resistant particles.
However, this approach is like to cause machining problems and create hurdles for series production. Thus, advanced powder metallurgy emerged as one of the best ways to solve the aforementioned problems. The adoption of powder metallurgy to manufacture valve seat inserts is on the rise as it is cost-effective. In addition, powder metallurgy is expected to play a critical role in the manufacturing of valve seat inserts in the coming years.
Lucrative Prospects in East Asia to Boost Demand
The automotive sector in East Asia, especially in nations such as China and Japan is expected to create lucrative opportunities for manufacturers operating in the valve seat inserts market. Some of the factors contributing towards market growth in East Asia include, availability of inexpensive raw materials, large-scale automobile production, and evolving manufacturing capabilities.
Further, the growth of maritime tourism in South Korea, Japan, and China has created pockets of opportunities for manufacturers owing to the growing demand for new crew boats. Some of the other factors shaping the growth of the valve seat inserts market include, growing demand for SUV's in India, steady increase in disposable income, growing middle-class population, and onset of electronic vehicles.
Manufacturers Aim To Improve Their Production Potential to Gain Advantage
In recent years, manufacturers operating in the valve seat insert market are devoting resources towards product development, innovation, and expanding their product portfolio, in order to overcome the existing challenges within the industrial landscape.
For instance, Federal-Mogul Powertrain, an established manufacturer in the valve seat inserts market, developed High Thermal Conductivity (HTC) and Thermal Interface Material (TIM) for valve seat inserts. Furthermore, Nippon Piston Ring significantly increased their production capacity in India owing to the robust growth in automotive production in the country.
Manufacturers are constantly seeking opportunities to improve their technological and production potential to gain a competitive edge in the market. Besides, a few prominent players in the industry are turning their attention towards the potential opportunities in the untapped markets.
The onset of the e-commerce businesses has emerged as an excellent distribution/sales channel for manufacturers operating in the industry and the trend is expected to gather momentum in the foreseeable future. At present, multiple manufacturers are offering their products on e-commerce websites including, IndiaMART and Alibaba.
How Growth Will Unfold
The global valve seat inserts market is expected to grow at a moderate pace in the coming years amidst the evolving industrial and environmental regulations. In the coming years, manufacturers are expected to leverage the onset of advanced technologies such as powder metallurgy to offer resilient, efficient, and cost-effective valve seat inserts.
Further, as downsizing of modern day engines continues, manufacturers need to focus on enhancing the lifecycle of valve trains and valve seat inserts by using wear-resistant materials. The growth of maritime tourism in regions including China, Mexico, and South Korea among others is further expected to bolster the growth for valve seat inserts. Further, for business development, manufacturers are expected to lean toward mergers and acquisitions with regional leaders to penetrate new markets.
World's Most Profilic Intelligence Engine
Get Access To The World's Largest Market Research Database. Ngage with a revolutionary intelligence engine that scale and pricing that flexes as per your needs
Sign Up Now
Key Segment
By Material
Iron Alloys
Steel
Nickel-based Alloys
Others
By Sales Channel
By Engine
Gasoline Engines
Diesel Engines
Gas Engines
By End Use
Automotive
Passenger Cars
Light Commercial Vehicles
Heavy Commercial Vehicles
Off-Highway
Two wheelers
Marine
Industrial Machinery
By Region
North America
Latin America
Europe
South Asia
East Asia
Oceania
Middle East & Africa
Need specific information?