BIOCHAR FERTILIZER MARKET - KEY RESEARCH FINDINGS
The biochar fertilizer market will exhibit a CAGR of 14.5% between 2020 and 2030
Both organic fertilizer and inorganic fertilizer are likely to be in high demand, enabling both categories to account for the maximum share in the market
By application, gardening and agriculture application are anticipated to remain frontrunners
Expansion of agricultural sector in organic and compound segments in developing economies and the launch of advanced and organic products and technologies are expected to create growth opportunities for biochar fertilizer market
North America is anticipated to exhibit considerably high demand for biochar fertilizer during the forecast period
KEY FACTORS SHAPING THE BIOCHAR FERTILIZER MARKET
Increasing Use of Biochar Fertilizer in Soil amendment
The effect of using biochar on soil relies on regional conditions including soil type, soil (depleted or healthy), temperature, and humidity. The pyrolysis of biomass residue extracted from agricultural or forest provides biofuel. Biochar is a by-product of pyrolysis that can be used to fertilize farms to improve their fertility and stability. Using biochar fertilizers has resulted in remarkable improvement in tropical soils, improving soil fertility and plant disease resistance.
Rising Demand from Food Sector Boosts Growth
Due to rapid growth of urbanization, hectic and busy life style and conservative supplementary dietary needs make consumers to shift towards the healthy and organic products. To fulfill all the daily nutrition supplements such as vitamins, minerals consumers are more attracted towards organic food products.
This factors makes organic and compound manufacture to produce moreorganic products that are made from biochar fertilizers. Furthermore, due to growing population of cardiovascular heart diseases, obesity and blood pressure problems the demand for organic food is rising. These are some of the factors that can drive the growth of the biochar fertilizer market.
INDUSTRY STRUCTURE ANALYSIS
Some of the leading players are focusing on collaborating with other market players in order to form effective distribution channel.
Leading players are likely to engage in acquisitions and partnership to gain competitive strength.
Some of the leading companies are also focusing on expansion strategies to strengthen their foothold in the market.
Companies such as Phoenix Energy, Pacific Pyrolysis, 3R ENVIRO Tech Group and Cool Plant Power Systems Inc. are providing pyrolysis technology to solve and manufacturer energy solutions. Through this, they intend to gain competitive advantage.
Report Scope
Base year considered - 2020
Actual estimates/Historical data - 2015 – 2020
Forecast period - 2020 – 2030
Market Value in 2020 - US$ 954.0 Mn
Segments covered - Product Type, Application and Region
Regions covered - North America, Latin America, Europe, East Asia, South Asia, Oceania and MEA
Key Players - ECOSUS, Cool Planet, Biochar Supreme, NextChar, Terra Char, Genesis Industries, Interra Energy, CharGrow, Pacific Biochar, Biochar Now, The Biochar Company (TBC), ElementC6, Vega Biofuels, Carbon Gold, Kina, Swiss Biochar GmbH, BlackCarbon, Carbon Terra, Sonnenerde, Biokol, Verora GmbH, Biochar Products Inc., Diacarbon Energy Inc., Agri-Tech Producers LLC, Green Charcoal International, Vega Biofuels Inc, Full Circle Biochar, Pacific Pyrolysis Pty Ltd.
Manufacturers are Increasingly Adopting Biochar Fertilizers to Cater to Rising Demand for Organic Products
Rising use of organic biochar fertilizers in organic food production and its capacity to improve plant growth is the chief driver of the market. Raw materials that use biochar fertilizer enhances agriculture production and improves soil fertility. Spurred by these factors the market is likely to witness increasing demand. Biochar fertilizer is a byproduct of charcoal that is produced by heating degradable waste materials such as forest waste, woods waste, agricultural waste and animal manner.
Because of environmental consciousness, coherent policies and lower cost of waste management and raw materials, biochar fertilizers market will have a conducive environment for growth in the coming years. In terms of application, the agriculture sector is expected to keep exhibiting high demand. Besides this, the use of biochar fertilizer for gardening will remain considerably high through the forecast period.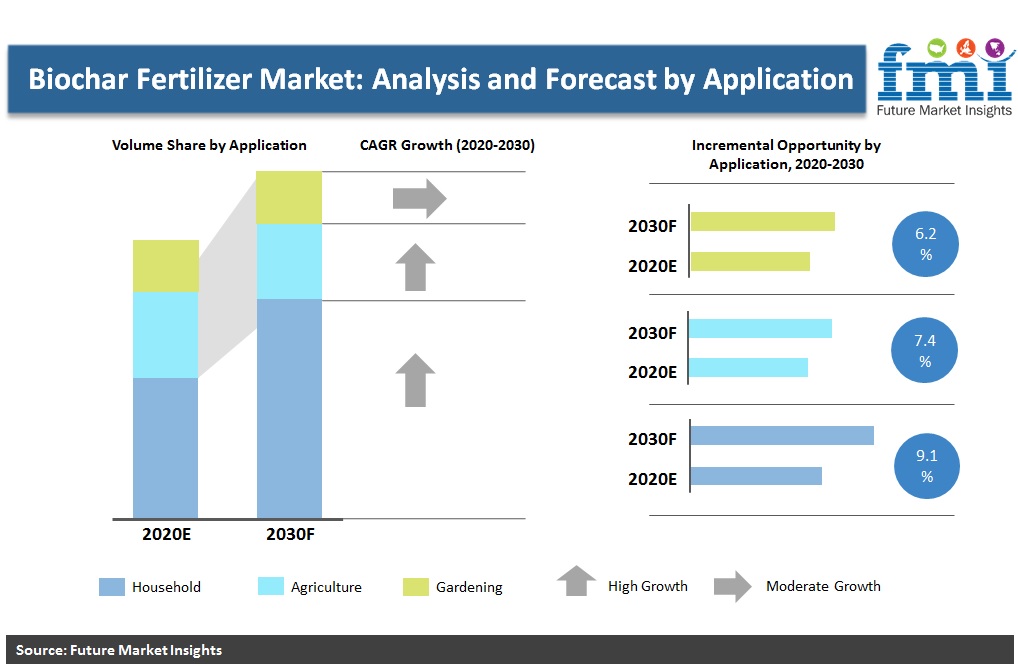 North America Is Expected To Dominate the Biochar Fertilizer Market
Rising demand for organic food will support the expansion of biochar fertilizers market in North America, owing to increasing consumer's inclination towards food products with higher nutritional values.
Large and small scale manufacturers have contributed significantly to the growth of the market at international and domestic levels. China is the world's third-largest producer of organic foods. The use of genetically modified crops has impacted soil and crop production in the country's agricultural fields. Biochar fertilizer amalgamation in farming led by several country-wide research initiatives is expected to increase product recognition and improve consumption.
Rising Usage of Biochar in Agricultural, Textile Industry and as Water Treatment Facility Driving Growth
Other than agricultural sectors, no other industry has discovered the full potential of biochar fertilizer. Biochar can be used as a fabric substitute in the textile industry, as raw materials in building construction and as a safety shield against electromagnetic radiation in the electronic industry. Increasing demand from the food sector is expected to be a very important factor in boosting the growth of the biochar market. Biochar is expected to be used as one of the significant applications in water treatment processes in the developing economies in the near future. In addition, biochar utilizing crop residue and biogas is expected to complement the demand over forecast period. The EU Commission and the U.S. Environmental protection agency are the regulatory authorities regulating the market over agricultural production and waste management.
How Growth will Unfold
Due to increased awareness of various biochar products, the farming community has taken more interest in biochar fertilizer products. In addition, changing dietary need and change in consumption of food habits, increasing demand for biochar such as in organic products in food sector, rising understanding of nutritional benefits of organic food consumption and high inorganic fertilizer use in gardening and agricultural products worldwide are some other factors that are expected to drive the growth.
Furthermore, the growth of the food and beverage industries, improvement in living standards, introduction of new technologies and nutritious products, consumer preferences and implementation of stringent guidelines on the use of inorganic ingredients will support the growth of the market. In the coming years the market is expected to witness increasing demand across all its categories, including organic fertilizer, inorganic fertilizer, and compound fertilizer.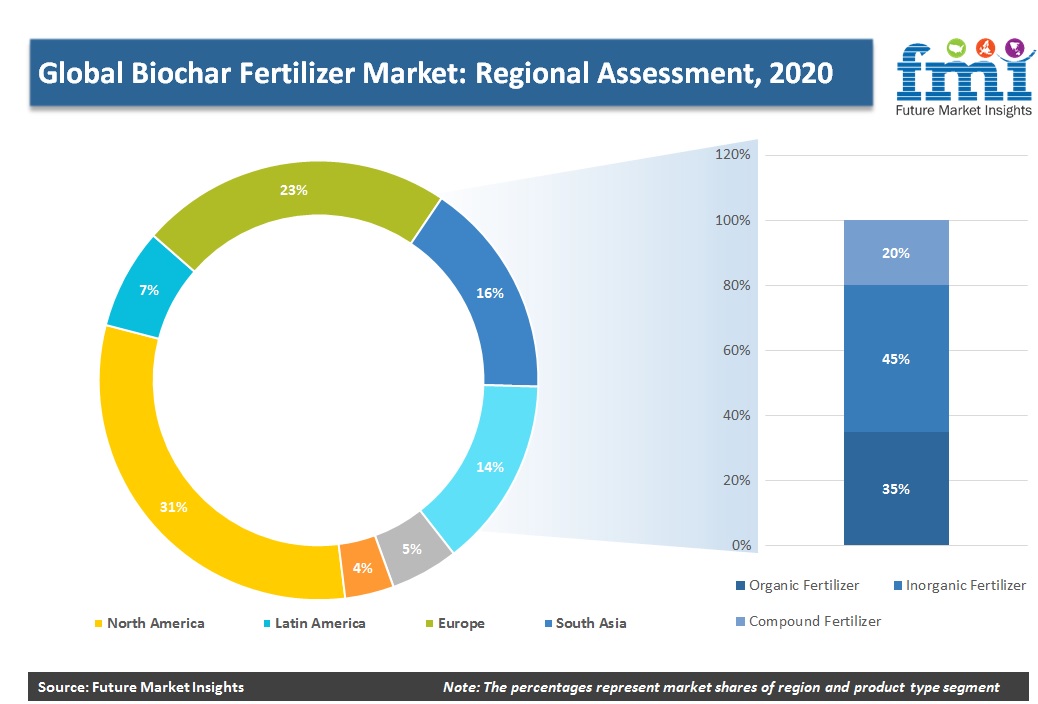 BIOCHAR FERTILIZER MARKET TAXONOMY
The global biochar fertilizer market is segmented in detail to cover every aspect of the market and present complete market intelligence to readers.
Product Type
Organic
Inorganic
Compound
Application
Animal Feed
Agriculture
Fish farming
Others(water management, animal husbandry)
Region
North America
Latin America
Europe
East Asia
South Asia
Oceania
MEA
Need specific information?