Boat Trailers Market By Product (Bunk Trailers, Roller Trailers, Hybrid Trailers), Material Type (Aluminum, Galvanized Steel), Load Capacity (Up to 1,500 Kg, 1500 Kg-3,000 Kg, 3,000 Kg - 4,500 Kg, More than 4,500 Kg) & Region - Forecast to 2019 - 2029
Boat Trailers Market - Analysis, Outlook, Growth, Trends, Forecasts
June 2019

REP-GB-8069

250 pages
Boat Trailers Market - Key Research Findings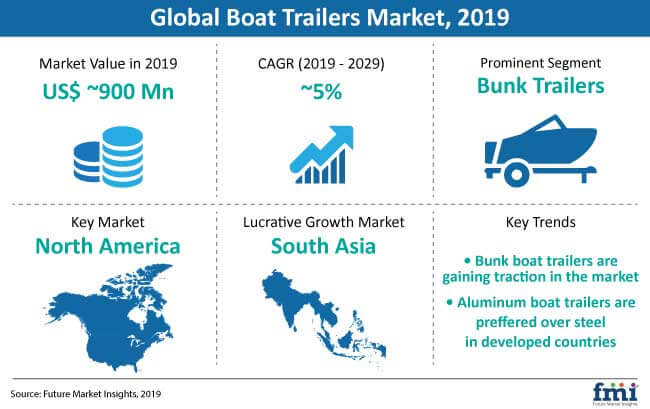 The global boat trailers market size in 2018 was ~US$ 800 Mn.
The boat trailers market is expected to grow at a CAGR of ~5% during 2019-2029.
North America and Europe markets are expected to remain prominent regional markets for boat trailers.

North America and Europe are the prominent regions in the boat trailers market owing to the large number of boat parks, sales of new boats, and presence of several boat trailers manufacturers, which is expected to drive the demand for boat trailers.

Significant investment in developing new and durable products by companies is expected to uplift the boat trailers market growth prospects.

Major players in the boat trailers market such as Hostar Marine Transport Systems, Inc., TRIGANO Group, Kropf Industrial Inc., Hydrotrans, Balbi Rimorchi Srl, EZ Loader, Shoreland'r, TRACKER, Load Rite, Karavan Trailers, HLT Ltd., Boatmate Trailers, and Venture Trailers are developing new products. In 2014, Hydrotrans launched its all new SW5 boat trailers, which can lift up to 10T weight of the boat.

The bunk trailer segment is expected to remain the most preferred product segment in the boat trailers market.

The growth of this segment can be primarily attributed to the global growth of the boat trailers market.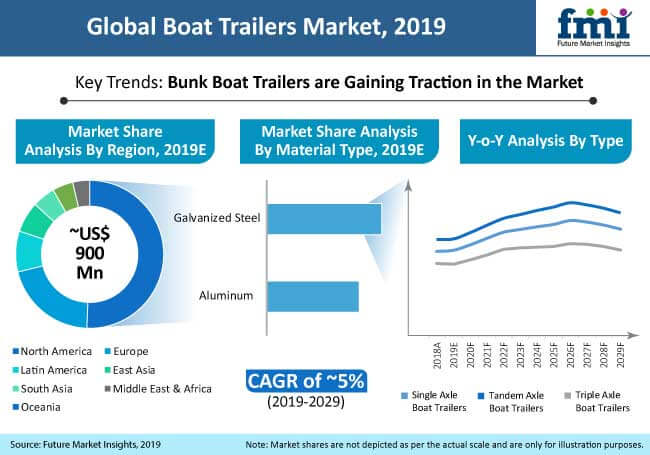 Top 3 Factors Shaping the Boat Trailers Market
Use of High Strength and Durable Materials for Boat Trailers

In developed countries across the globe, aluminium is the most preferred type of material for manufacturing boat trailers due to its lightweight and corrosion resistive property. Apart from these features, aluminium boat trailers have high strength and long life as compared to steel trailers.

Due to its lightweight, it increases the fuel efficiency of boat trailer's towing vehicle and also require low maintenance as compared to other material trailers. Moreover, due to the easy flexibility and customization, aluminium boat trailers are more preferable as compared to steel boat trailers. However, in salty water, galvanized steel boat trailers are preferred because galvanized steel is corrosion resistive in salty water.

Growth in Marine Time Tourism

The increasing demand for boats and water crafts for recreational activities in developing and developed regions due to the increasing number of tourists in countries that are in close proximity to waterside bodies. This factor is anticipated to boost the demand for new boats and water crafts, which in turn, increases the sales of boat trailers during the forecast period.

High Scale Competition among Manufacturers

The boat trailers market is fairly fragmented as there are several tier-2 and tier-3 manufacturers in the market. Due to the presence of several boat trailer manufacturers across the globe, the competition for boat trailer pricing is high, which provides moderate to high power of bargaining to the customer of boat trailers. This factor is also expected to drive the growth of the boat trailer market.
Boat Trailers Market: Structure Analysis
The global boat trailers market is a fairly consolidated market. Tier-1 players hold approximately 20% of the share in the market.
Some of the prominent companies in the boat trailers market includes Hostar Marine Transport Systems Inc., Trigano Group, Kropf Industrial Inc., EZ Loaders, and others.
Most of the key players maintain strategic focus on the development of new products and expansion of business in new regions.
Key players have extensive marketing network of branch offices across all tier 1 and tier 2 cities, providing nationwide support to its customers.
Boat Trailers – Gaining Profits through Recreational Water Sports
While tourism industry is flourishing in line with the rising disposable income and the subsequent surge in lifestyle expenditure, one of the key beneficiary sectors is coastal & marine tourism – particularly the recreational water sports. The growing demand for boats and personal watercrafts pointing to a positive growth outlook of the boat trailers market. Increase in activities such as water skiing, kite surfing, yachting, and boating will remain key influencers upholding new boat & craft sales.
Market Projected to Expand 1.5X Through 2029
The boat trailers market is expected to witness healthy growth during the forecast period. Rising number of boat parks and recreational water sports centres, especially in developed regions, are supplementing new boat and craft sales, thereby creating high demand for boat trailers.
Marine Tourists Uplifting the Market Potential of Developing Countries
Personal and commercial applicability of boat trailers has been attracting revenues to North America's market. However, new growth opportunities are expected in developing Asian countries, backed by rising number of marine tourists and purchasing power of consumers.
Manufacturers thus continue to target these regions through production capacity expansion and stronger distribution networks. Sensing the growing popularity of marine tourism activities, companies are significantly investing in the development of cost-effective and durable products.
The Broader Perspective
With every component of vehicles and related products undergoing a shift to 'lightweight', boat trailers are no exception. Manufacturers thus remain focused on developing lightweight trailers for operational and maintenance benefits. Offering economically sound products without compromising the quality and durability also remains a key focus area of stakeholders.
How Growth Will Unfold
Bunk trailers will continue to gain higher demand compared to other variants for their cheaper price point and low maintenance, while roller and hybrid trailers are expected to see a gradual increase in adoption.
World's Most Profilic Intelligence Engine
Get Access To The World's Largest Market Research Database.
Sign Up Now
Key Segment
By Product
Bunk Trailers
Roller Trailers
Hybrid Trailers
By Material Type
Aluminum

Single Axle
Tandem Axle
Triple Axle

Galvanized Steel

Single Axle
Tandem Axle
Triple Axle
By Load Capacity
Up to 1,500 Kg
1500 Kg-3,000 Kg
3,000 Kg - 4,500 Kg
More than 4,500 Kg
By Region
North America
Latin America
Europe
South Asia
East Asia
Oceania
Middle East & Africa
Need specific information?
Our Clients