Growing outdoor activities such as fishing and leisure boating are expected to rule consumer preference for electric boats in the global market
Recreational boating activities are enjoyed by a large percentage of the population across the developed countries in North America and Europe. This has led to the proliferation of the boating industry in these regions. Further, the use of powered boats for security purposes is also driving increasing adoption across the globe. The deployment of police boats – particularly electric boats – is predominant in the United States followed by Canada, Germany, and the United Kingdom.
Electric boats are used to patrol the seas and monitor criminal activities like goods smuggling. These boats are also used as rescue vehicles owing to the speed with which they can traverse the seas and carry out mid-sea rescue operations efficiently. Moreover, activities such as recreaional fishing, which is prominent in these regions, also requires specialized boats such as trawler boats.
Shift towards electric transportation and increase in coastal tourism to create lucrative opportunities for market growth
With increasing pollution due to conventional propulsion systems such as marine fuels and marine diesel, the density of polluting agents such as SOx and NOx has increased significantly since the past few years. This is one of the prime reasons that is expected to increase the adoptability of electric boats for numerous purposes. Moreover, with the increase in disposable income of the population across the globe, the spending on tourism activities has increased significantly. This is further anticipated to boost the demand for electric boats for tourism and recreational purposes.
Of late, solar hybrid electric boats are gaining popularity across the globe, owing to their environment friendly characteristics. Lithium Ion technology is also evolving in the global market. With numerous disadvantages associated with lead acid batteries, the demand for a better propulsion technology has led to the introduction of lithium ion batteries. These factors are expected to augment demand and sales of electric boats in the coming years.
Inherent advantages of electric boats to spur adoption in the global market
Electric boats – especially the pure electric category – are zero emission vehicles that are fuelled by electric power from large capacity batteries. Pure electric boats are being widely preferred in most of the countries due to their inherent capability to reduce pollution. On the other hand, hybrid boats incorporate a combination of power in the form of electricity and fuel from the diesel engine to drive propulsion. Hybrid boats are extremely fuel efficient and emit lower greenhouse gases than conventional boats. These advantages of electric boats are fuelling demand in the global market.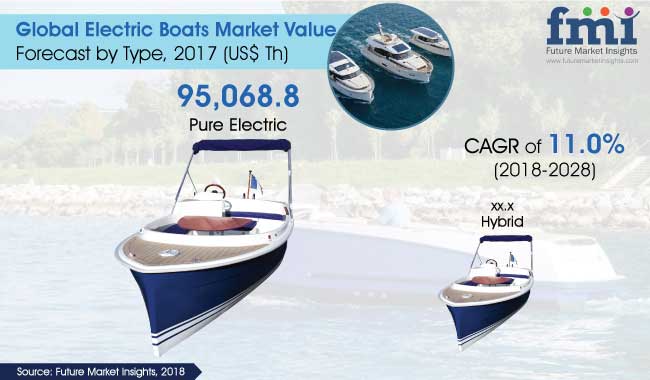 Performance analysis of the pure electric and hybrid boats categories reveals increased market acceptance
Of the two main types of electric boats, pure electric boats are expected to hold a large share of more than 85% in the global market through 2028. In terms of demand and growth rate, pure electric boats are expected to outshine hybrid boats in the coming decade. Growing consumer awareness of the need for eco-friendly transportation options is a key driver of growth in demand for electric boats. However, it will take a certain number of years before electric boats will be accepted as mainstream water transportation vehicles for purposes of recreation and other activities.
Market segmentation
The market is segmented as given below:
By Type
By Boat Type
Small Size
Medium Size
Large Size
By Battery Type
Lead Acid
Lithium Ion
Nickel based batteries
By Power Output
Below 5KW
Between 5KE to 30KW
Above 30KW
By Region
North America
Latin America
South East Asia (SEA) and Pacific
Western Europe
Eastern Europe
Japan
Middle East and Africa (MEA)
China
India
Need specific information?
Talk Show:
The Rise of Intelligent Packaging
Personalized, Connected and Sustainable
November 18, 2021
11:00-11:45 AM PST (USA & Canada)
This is a LIVE session