Electric Scooters Market By Product Type (Standard, Folding, Self-Balancing, Maxi, Three-Wheeled), Battery Type (Li-Ion, NiMH, Lead-Based), Technology (Plug-In, Battery) & Region - Forecast to 2021 - 2031
Electric Scooters Market - Analysis, Outlook, Growth, Trends, Forecasts
July 2021

REP-GB-2705

200 pages
Electric Scooters Snapshot
Growing environmental concerns, coupled with demand for reduced costs of commute, easy commutation, and emission control are primary factors encouraging the adoption of electronic vehicles across the world. These factors also will enable the electric scooters sales to total US$ 8.8 Bn in 2021.
Driven by favorable growth opportunities, Future Market Insights (FMI) has forecast the market to register a robust 9% CAGR during 2021-2031. While competition will continue soaring, leading market players, including Jiangsu Xinri E-Vehicle Co. Ltd., Sanyang Motor Co. Ltd., Vmoto Limited, Terra Motors Corp., GOVECS GmbH are expected to account for 55% of sales in 2021.
Growth forecasts remain positive for the market. While hindrances were likely amid COVID-19 induced restrictions, sales will recover at an impressive pace. FMI also forecasts the market to exhibit 5.5% year on year growth in 2021.
Key Points Covered in Electric Scooters Market Survey
Market estimates and forecast 2021-2031
Key drivers and restraints impacting market growth
Segment-wise, Country-wise, and Region-wise Analysis
Competition Mapping and Benchmarking
Brand share and Market Share Analysis
Key Product Innovations and Regulatory Climate
COVID-19 Impact on Electric Scooters Market and how to Navigate
Recommendation on Key Winning Strategies
Electric Scooters Market Historic Sales Compared to 2021-2031 Forecast Outlook
Growth remained tepid between 2016 and 2020 as FMI estimated the market to have registered 1.1% CAGR in the assessment period. However, increasing awareness about carbon emissions has encouraged adoption electronic scooters, on account of which market enjoyed y-o-y growth at 5.5% between 2020 and 2021.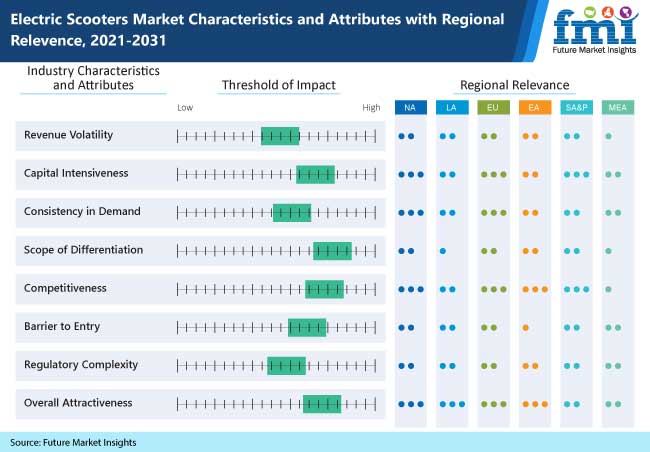 In 2020, as the novel coronavirus outbreak hit the world, several industries suffered ominous losses, and the automotive industry was not spared from the negative impact. Due to restrictions on movement, many production facilities were shut down, delaying product rollouts. This has impeded the electric scooters market growth to a great extent.
Nevertheless, FMI projects a positive growth outlook for the electric scooters market in its latest study. Factors such as easy mobility, cost-effectiveness, and convenience of electric scooters as a choice of commute will keep the market afloat. In the coming years, sales of electric scooters, both foldable and self-balancing e-scooters will increase at a positive pace.
Demand for Urban Mobility a Key Trend Shaping Electric Scooters Sales Outlook
With rapid urbanization and high population density in certain countries, there is pressing need for emission control. Modern methods of commute will remain highly sought-after in these countries.
City planning authorities across the globe are preparing for the new era of urban mobility which revolves around the concept of using sustainable transport vehicles across the city to reduce congestions on roads and to control emissions for a clean and fresh environment.
Electric vehicles have emerged as the most preferred choice, however, a large number of cars on single-lane roads and neighborhoods might further accelerate the congestion problems. Here, electric scooters and bikes were picked as appropriate devices to support urban mobility in cities irrespective of their sizes.
Bike-share schemes, dockless bikes, and electric scooters sales are gaining momentum, supporting the urban mobility plans in various cities. Additionally, e-scooters reduce commute time relatively, as compared to cars and public transport, which in turn is a driving factor in sales of electric scooters.
Urban mobility forms depend on consumers' preferences, be it walking, automobile, or public transport. However, a significant uptick in demand for electric scooters have been prevalent in recent years, owing to easy mobility, and convenience for riders traveling long and short distances. and the trend will continue propelling sales in the electric scooters market.
How will the Market Gain from Inclination for Individual Transit?
In large urban agglomerations, public transport has been prevalent for many years, even for traveling short distances. Public transport vehicles including buses and taxis contribute highly to greenhouse gas emissions. Growing concerns over environment conservation are encouraging consumers to prefer individual transit options such as scooters and cars over public transport vehicles.
The advent of COVID-19 has also shaped consumers' perspectives towards electric scooters over public transport. Even with relaxations in lockdown regulations, people are preferring to travel via individual transit to avoid contracting the virus.
This trend has shouldered growth in electric scooters market, as the population combated with rising fuel prices and generated demand for efficient mobility vehicles for added convenience in times of despair.
Lack of Electric Vehicle (EV) Charging Stations May Impede Market Growth
Currently, the number of electric charging stations in proportion to the number of electric vehicles across the globe seems to be highly inadequate. Range concerns associated with plug-in electric scooters are dampening market prospects.
Convenience of charging anytime and anywhere is a pressing concern in some countries. Manufacturers are providing self-owned charging services but they are not enough to bridge the gap, making the charging process highly stressful for many users.
Intensive charging infrastructure in countries such as India and Mexico is required to keep the sales of plug-in electric scooters afloat and to avoid emergencies in remote areas.
Country-wise Insights
The U.S. Anticipated To Exhibit Increasing Adoption of E-Scooters
Electronic scooters sales in the U.S. are gaining momentum, emerging as unequivocal modes of transport among urbanites. As per reports by the National Association of City Transport Officials (NACTO), 136 million trips were taken on shared bikes and scooters in 2019.
Rapid adoption of shared e-scooters is crucial for cities aiming to reduce carbon emissions in the U.S. With stringent emission regulations across the country, electric scooters are making an appearance in university campuses, neighborhoods, parks, and other public places.
Some cities including New York, Boston, and Philadelphia are not in favor of electric scooters due to reckless usage and rising cases of accidents on crowded streets. However, cities such as Atlanta, Austin, Dallas, Los Angeles, San Diego, and Washington, D.C. yielded higher ridership, thereby creating lucrative opportunities for market entrants and key players.
As per FMI's analysis, the electric scooters market in the U.S. is anticipated to expand at a healthy 8.4% CAGR.
Three-Wheeled E-Scooters to Gain Traction in the U.K.
Growth outlook for electric scooters in the U.K. is anticipated to be positive with rapid adoption of three-wheeled and maxi scooters. With the prevalence of bike-sharing schemes, electric scooters are favorable alternatives for environment-friendly modes of transport, offering short-term, self-service use.
Several market entrants backed by venture capital firms are capitalizing on the growing demand for three-wheeled electric scooters in the U.K. For instance, US-based Lime and Bird and Europe-based Voi, Flash, and Circ are increasingly gaining popularity among the masses.
In 2020, electric scooters sales took a hit due to the pandemic. Even with relaxations in restrictions on movement, riders opted for personal cars as a means of safer transport. However, with tourists arrivals in cities such as Lisbon and Paris, electric scooters found the road to recovery.
As a part of decarbonization strategy, commuters are preferring electric scooters over other passenger vehicles, typically for the 'last mile', helping to achieve cleaner, quieter and safer streets.
Electronic scooters potentially add to travelers' choices and effectively reduce congestion in urban areas, which is likely to boost sales in the upcoming years, leading to market expansion at 8.8% CAGR through 2031.
Why is Electric Scooters Sales Surging in China?
As a well-known automotive hub, China is leading sales and innovations in the electric scooters market, where increasing environmental awareness and growing riser population are playing as chief growth factors.
Wide-acceptance of electric scooters in China has created growth avenues for leading players and new entrants in the market. Cost-effective production and noteworthy preference for two-wheelers and three-wheelers in the country is contributing to increasing demand for electric scooter.
Additionally, lead-based batteries used in electric scooters are largely being manufactured in China, which is augmenting market growth. Adoption of electric scooters for fulfilments of tasks such as food delivery and eCommerce is fostering sales of electric scooters in the country.
With highly congested roads in China, consumers' are choosing electric scooters over cars and public transport for short trips and to prevent long traffic durations. As travel profiles in small and medium cities require short rides, demand for electric scooters will continue gaining traction in China during the assessment period.
How will Government-Initiated Back E-Scooters Sales in India?
Increasing demand for electric scooters in India can be attributed to the federal government's 2019 Faster Adoption and Manufacturing of Hybrid and Electric Vehicles policy, which offers subsidies of each sale of electric two-wheeler scooters.
Rising fuel prices in the country, coupled with rapid urbanization and growing population of riders is encouraging leading manufacturers to rollout efficient and cost-effective electric scooters to cater to growing demand.
Leading manufacturers including Bajaj Auto, Ather, Okinawa Autotech, and regional player TVS are introducing new technologies with advanced features to shape the market for electric scooters positively in India.
In addition, one of the world's largest two-wheeler manufactures in the world, Hero MotoCorp, provided tailwind to the trend by launching its first scooter named '450' in 2018, which surpassed sales of the most commonly preferred Indian scooter Activa by Honda Group.
Category-wise Insights
Lithium-Ion Battery Sales Set To Gain Momentum
Based on battery type, lithium-ion batteries will lead sales in the electric scooters market, backed by their ability to provide longer charge cycles and facilitate high energy density.
Increasing demand for low self-discharge rates in electric scooter batteries is a key factor driving lithium-ion battery sales, while compelling players to emphasize research and development in the same.
Lithium-ion batteries, also known as li-ion and dry cell batteries, use lithium salts as electrolytes that release electrons through energy-storing reactions. These batteries are exceptionally durable and retain maximum storage capacity even with regular cycles.
Li-ion batteries don't require extended battery life and planned cycling and they get dully charged quickly, almost in two hours. Such factors are attesting to the growing popularity of lithium-ion batteries, and demand will continue ascending during the assessment period.
Maxi Electric Scooter Will Lead Market Expansion, Three-Wheelers to Follow
As per FMI's analysis, based on product type, maxi electric scooters are anticipated to garner consumer traction throughout the assessment period.
With effective stability, luxurious design, and similar performance to a motorbike, maxi scooters are gaining immense popularity, becoming a great option for short-distance commute and touring.
However, sales of three-wheeled electric scooters will also gain momentum in the coming years, owing to easy mobility and fun riding experience, which is increasingly being preferred by riders across the globe. Bike-sharing plans and increasing adoption of three-wheeled e-scooters in university campuses and neighborhoods will significantly boost sales in the market.
Batteries Will Be The Most-Preferred Technology Type
In terms of technology, electric scooters equipped with batteries will experience high demand throughout the forecast period, due to inadequate number of electronic vehicle charging stations in numerous areas.
With ongoing research and development and innovations to ensure high battery efficacy, battery-based electric scooters will record high sales in the near future.
Competitive Landscape
Top manufacturers of electric scooters are capitalizing on the growing consumer need by launching new models that offer superior features and design. As per FMI's market survey, leading players account for 55% of the global electric scooters market share.
Incorporation of technology for better performance of electric scooters, coupled with intensive research and development are among key strategies leveraged by leading players in the electric scooters market. For instance:
In July 2021, BMW Motorrad revealed new CE 04 electric scooter, geared with a permanent magnet motor, traction control system, a ventilated mobile charging compartment, and a futuristic look.
In June 2021, Bajaj Auto announced the delivery of Chetak e-scooters to begin in September. Chetak e-scooters will be launched in two variants, Chetak Premium and Chetak Urban. Additionally, the scooters come fitted with data communication for advanced security and user authentication.
Scope of Report
Attribute

Details

Forecast Period

2021-2031

Historical Data Available for

2016-2020

Market Analysis

USD Million for Value

Key Regions Covered

North America, Latin America, Europe, East Asia, South Asia, Oceania, and the Middle East & Africa

Key Countries Covered

US, Canada, Germany, U.K., France, Italy, Spain, Russia, China, Japan, South Korea, India, Thailand, Malaysia, Indonesia, Australia, New Zealand, GCC Countries, Turkey, Northern Africa, and South Africa

Key Segments Covered

Product Type, Battery Type, Technology Type, and Regions

Key Companies Profiled

Alta Motors
Ather Energy
BMW Motorrad International
Cezeta
Evoke Motorcycles
Hero Eco
Johammer e-mobility GmbH
KTM AG
Mahindra GenZe
Ninebot Limited
Okinawa Autotech Pvt. Ltd.
Piaggio & C. SpA
ReVolt Electric Motorbikes
Xiaomi
Yamaha Motor Company Limited.

Report Coverage

Market Forecast, Company Share Analysis, Competition Intelligence, DROT Analysis, Market Dynamics and Challenges, and Strategic Growth Initiatives

Customization & Pricing

Available upon Request
World's Most Profilic Intelligence Engine
Get Access To The World's Largest Market Research Database.
Sign Up Now
Electric scooters Market by Category
By Product Type:
Standard
Folding
Self-Balancing
Maxi
Three-Wheeled
By Battery Type:
By Technology:
By Region:
North America
Latin America
Europe
South Asia
East Asia
Oceania
Middle East and Africa
Key Questions Answered in the Report
What is the current electric scooters market value?
The electric scooters market totaled US$ 8.8 Bn in 2021.
At what rate did the electric scooters market grow between 2016 and 2020?
The electric scooters market experienced sluggish growth at 1.1% CAGR between 2016 and 2020.
What are the key trends driving electric scooters sales?
Increasing penetration of electric scooter sharing services, along with rising awareness of electric mobility are key trends driving electric scooters sales.
Who are the leading players in the electric scooters market?
Leading players operating in the electric scooters market are Jiangsu Xinri E-Vehicle Co. Ltd., Sanyang Motor Co. Ltd., Vmoto Limited, Terra Motors Corp. and GOVECS GmbH.
What will be the demand outlook for North America electric scooters market?
North America electric scooters market is anticipated to expand at a robust 8.4% CAGR through 2031.
At what rate will electric scooters demand rise in Europe?
The electric scooters market in Europe will experience healthy growth, exhibiting 8.8% CAGR.
Which are the top countries driving the electric scooters market sales?
Top countries in terms of electric scooters sales are China, the U.S., the U.K., and India.
What is the market share of leading players in electric scooters market?
The top 5 players in the electric scooters market will collectively account for 55% of global market share in the year 2021.
What is the current market share of Japan and South Korea in the global electric scooters market?
Japan and South Korea will account for 8.7% of the global market share in 2021.
Need specific information?
Our Clients