Electric Scooters Witness Profuse Growth, with Cost-efficient and Eco-friendly Attributes
On the back of grave environmental concerns, governments around the world are propagating mass adoption of electric vehicles (EVs) such as scooters, cars, and other automobiles. A crucial part of the electrical automotive space, electric scooter garners increasing consumer interest. Favorable factors such as cost-efficiency, reduced pollution, and ease of travelling attribute for growing consumer inclination.
Innovations such as foldable, and self-balancing e-scooters further push the market potential of electric scooters. The global electric scooters market is valued at US$ 8.6 Bn in 2018 and shows strong signs of steady growth, with remunerative opportunities during the forecast period (2019 -2029).
Lithium Ion Battery Garners Increasing Consumer Traction
Surging demand for longer charge cycles and increase in miles per charge warrant research and development of energy-efficient batteries. On the basis of battery type, the electric scooter market can be segmented as lithium ion (Li-ion), nickel metal hydride (NiMH), and sealed lead acid (SLA). Among these, Li-ion batteries garner increased consumer traction on the back of their capacity to facilitate high energy density, longer charge cycles, and low self-discharge rates.
SLA batteries hold share-wide dominance over the market owing to early penetration in electric scooters market. However, the risk of excessive sulfate discharge, coupled with high self-discharge rates, pose restraints for e-scooter manufacturers that employ SLA batteries. Market players are eyeing profits in sustainable growth opportunities by introducing batteries that tackle aforementioned consumer demands.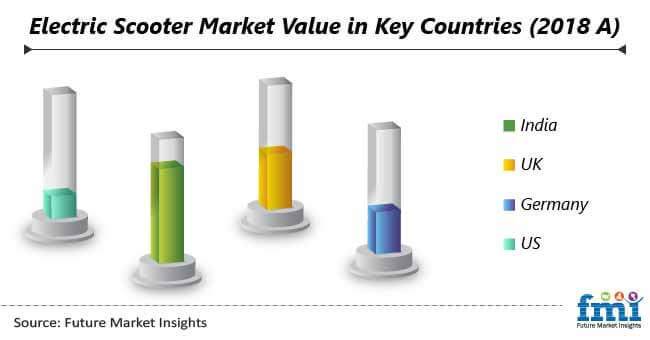 Asia Pacific Registers Noteworthy Growth amidst Cohesive Government Policies
Asia Pacific (APAC) leads global sales of e-scooters, with a spurring ecosystem of developing economies, supported by multiplying millennial population that prefers electric vehicles over conventional automotive. APAC accounts for over 80% of total market value, followed by North America, Europe, Latin America, and Middle East & Africa. The central factors that impel growth are subsidies and conducive support offered by statutory bodies in developing economies such as India, and China to consumers and manufacturers alike.
For instance, In India, Faster Adoption and Manufacturing of Hybrid and Electric vehicles (FAME) extended monetary incentives for consumers that purchase EVs. Similarly, the US issues an annual directive named the Corporate Average Fuel Economy (CAFÉ) standards that monitor and establish permissible fuel economy levels for a given year. The US Department of Transportation (DOT) and National Highway Traffic Safety Administration (NHTSA) ensure that economy levels are maintained for both passenger vehicles and commercial vehicles.
Early Adopters Shape Competitive Landscape
Increasing awareness about carbon emissions from traditional internal combustion engines (ICE) propel the demand for eco-friendly alternatives such as electric scooters. Omnipresent trends in consumer behavior and government policies propel mass adoption of electric scooter manufacturing by established ICE companies. This is further shaping a highly competitive landscape where innovation and market penetration is crucial to leverage gainful opportunities during the forecast period.
Some of the market players that will shape the electric scooter market are Alta Motors, Ather Energy, Bajaj Auto, BMW Motorrad International, Cezeta, Energica Motor Company, Evoke Motorcycles, Hero Eco, Johammer e-mobility GmbH, KTM AG, Mahindra GenZe, Ninebot Limited, Okinawa Autotech Pvt. Ltd., Piaggio & C. SpA, ReVolt Electric Motorbikes, Xiaomi, and Yamaha Motor Company Limited.
Electric Scooters Market: Taxonomy
The global electric scooters market is segmented in detail to cover every aspect of the market and present complete market intelligence to the reader.
By Product
Standard
Folding
Self-Balancing
Maxi
Three-Wheeled
By Battery
By Technology
By Region
North America
Latin America
Europe
South Asia
East Asia
Oceania
Middle East and Africa
Emerging Country
Need specific information?