An Incisive, In-depth Analysis on the Electrical Steel Market
This study offers a comprehensive, 360 degree analysis on the Electrical Steel market, bringing to fore insights that can help stakeholders identify the opportunities as well as challenges. It tracks the global Electrical Steel market across key regions, and offers in-depth commentary and accurate quantitative insights. The study also includes incisive competitive landscape analysis, and provides key recommendations to market players on winning imperatives and successful strategies.
Rapidly increasing demand for motors and transformers are expected to proliferate the demand for electrical steel on a larger basis across the globe. Growing production sales of grain-oriented steel closely tracks power infrastructure, thereby enabling healthy growth of electrical steel market. Holistically, the outlook on electrical steel market on a global basis is positive, and is estimated that demand will continue to increase at a robust pace during the forecast period. Newly evolving growth pockets are expected to charge infrastructure for the electric vehicles, rising smart power infrastructure, etc.
End-use sectors are likely to significantly contribute towards increasing demand for electric steel that are non-grain oriented, thereby creating growth avenues for the electrical steel market on a global basis. Automotive industries will contribute towards maximum revenue share in the near future. Technological developments across the steel industry will lead towards improvement in effectiveness and efficiency of steel products together with reduction in the labor and production costs.
Macroeconomic factors hold a substantial influence on the demand for electrical steel. Fluctuations in the prices of raw materials have been hindering the growth of electrical steel market during the forecast period. Besides macroeconomic factors, drawbacks of electrical steel continues to create challenges for both manufacturers and end-users in the electrical steel market. Therefore, manufacturers are concentrating on addressing all the challenges, though, the existing demand is obstructed due to these hurdles.
According to Future Market Insights, electrical steel market on a global basis is anticipated to expand at a healthy 7.3% CAGR during the forecast period, 2016-2026. In addition, electrical steel market is likely to touch an evaluation of approximately US$ 38,445.4Mn by the end of 2026.
APAC to Hold the Largest Market Share in Electrical Steel Market
China is expected to contribute towards maximum revenue share in the growth of electrical steel market. Rapidly increasing industrial activities have been contributing towards increasing production sales of electrical steel in the region. Growing manufacturing sector will is anticipated to create incremental avenues for the growth of electrical steel market during the forecast period.
Manufacturing Insights
Electrical steel manufacturers, namely, Höganäs AB, Phoenix Mecano AG, NICORE ELECTRICAL MANUFCTORY CO., LTD, AK Steel Corporation, and Cogent Power Limited, Thyssenkrupp AG, voestalpine AG and Emirates Transformer & Switchgear Limited amongst others are reported as the major players in electrical steel market on a global basis. These companies will actively work in the electrical steel market over the forecast period. Taking into account the form of customer needs as well as assessing cause behind fluctuating prices of the raw materials are likely to be strategic factors that would drive product development among these players.
Considering the evolving end-user demands, proliferation of smartphones are robustly gaining traction across the electrical steel market. Manufacturers are focusing on product enhancement and are making heavy investments in research and development, in order to attain futuristic demand, which is expected to gain impetus during the forecast period. In addition, most of the manufacturing companies, especially in the steel industry have been planning to establish long-term associations with solution providers for the purpose of modifying functionality of end-products and to improve effectiveness.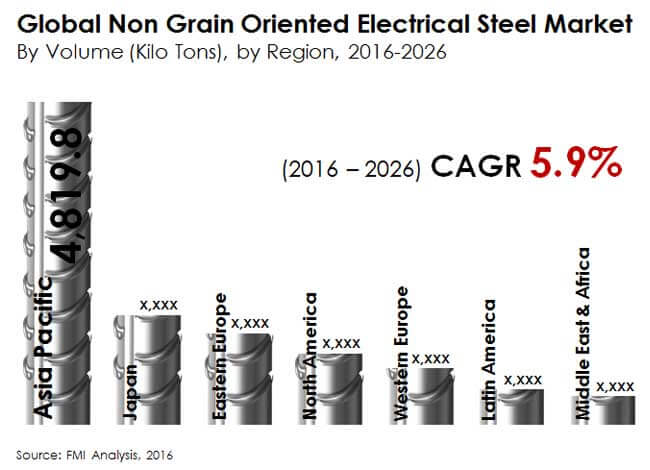 The global market for electrical steel has been recently studied in-depth to understand multiple aspects of the market and comprehend how these aspects are expected to shape the growth of the electrical steel market in the near future. Future Market Insights recently published an exhaustive research intelligence outlook on the global electrical steel market, titled "Electrical Steel Market: Global Industry Analysis and Opportunity Assessment, 2016–2026." This report assesses the historic market scenario during 2015-2017 and offers market performance forecast over the next eight year period – 2018-2026.
Executive summary, the first section of FMI's global electrical steel market report, provides a quick overview of the entire electrical steel market, including market value and volume forecasts, growth rates, and key factors influencing the performance of market currently as well as over the next few years. The next part of the report offers the market definition that discusses the fundamentals of both the types of electrical steel and their most popular applications in a variety of end use industries.
In the global electrical steel market report, the next chapter throws light on the key market segmentation or taxonomy that has been prepared on the basis of steel type and application. The application-wise segment is further classified for the convenience of understanding the sales pattern and application base of each different type of electrical steel. The report then offers a comprehensive parent and target market overview, followed by the detailed target market analysis that involves electrical market sizing in terms of value and volume, pricing and cost structure analysis, value chain analysis, and production analysis by country.
In the key market dynamics section of the electrical steel market report, valuable insights have been provided on the most impactful factors that are most likely to remain associated with the growth of market during the forecast period. Within the analysis of key drivers and restraints, the report maintains focus on the detailed impact analysis of these factors. The next chapter that follows elaborates on the PESTLE analysis of the global electrical steel market. The electrical steel market report in its next section offers market forecasting on the basis of product type and application, followed by the sub-segmental analysis that has been conducted considering sizing, growth rates, market attractiveness, and absolute dollar opportunity. This section also offers detailed trends analysis by product type and application, focusing on the trends that are expected to be shaping the market growth in upcoming years.
Comprehensive regional analysis has been included in the next section of the global electrical steel market report. This chapter offers valuable insights on the individual geographical markets for electrical steel that also includes regional market share estimations, yearly growth rates, and compound annual growth rates. Then follows the individual country-wise regional assessment based on product type and application, and extensive trends analysis. In the competitive landscape assessment section of the report, competition has been thoroughly tracked by country, which is subsequently followed by precise company profiling and brand share analysis, examination of brand market positions, and in-depth tactical brand positioning strategy analysis. The competitive dashboard considering both steel manufacturers and steel component manufacturers has also been provided in the report.
The expert market research analysts at FMI have been practicing a systematic research approach to achieve deep dive industry and market analysis. An in-depth secondary research is first used to ascertain the overall market size, top industry and market players, top products, and leading industry associations. For conducting interviews of industry experts, FMI has a detailed, specifically formulated discussion guide that has a comprehensive list of industry players (manufacturers), distributors, retailers, other supply chain participants, and industry experts. Extensive information is gathered post interviewing a number of industry experts, key industry players, distributors, and retailers. Then, the available data is validated by the triangulation method, in which secondary, primary, and FMI analysis collaboratively contribute to the final output of insights in form of data. The data is then scrutinized with the help of MS-Excel to obtain qualitative and quantitative insights about the industry.
Electrical Steel Market Reports - Table of Contents
Harish Tiwari
Global Head - Business Development
CASE STUDIES
See how our work makes an impact.
At FMI, we design strategies that are adaptive, impactful, and implementable.