An Incisive, In-depth Analysis on the Electrical Testing Services Market
This study offers a comprehensive, 360 degree analysis on the Electrical Testing Services market, bringing to fore insights that can help stakeholders identify the opportunities as well as challenges. It tracks the global Electrical Testing Services market across key regions, and offers in-depth commentary and accurate quantitative insights. The study also includes incisive competitive landscape analysis, and provides key recommendations to market players on winning imperatives and successful strategies.
COVID -19 : Impact Analysis
Request the coronavirus impact analysis across industries and markets
Request Covid -19 Impact
Transformer safety to continue witnessing high adoption rate, while protection testing to exhibit higher opportunities in the future
Electrical testing market includes the services that are used to test or inspect the operating standards of a plant. FMI's study on electrical testing services includes only the post-commissioning services. These service types are transformer testing, circuit breaker testing, protection testing and battery testing. According to the final outcome of the market research based on these services, transformer testing covers the highest market share of over US$ 3,200 Mn by the end of 2028. Although, the protection testing service is also in strong competition with the transformer testing segment and is expected to grow at higher growth rate of over 7.3% CAGR during the forecast period. It has emerged as one highly opportunistic segment in the global electrical testing services market within the years coming ahead, while the transformer testing segment will continue to witness high adoption rate across the regions.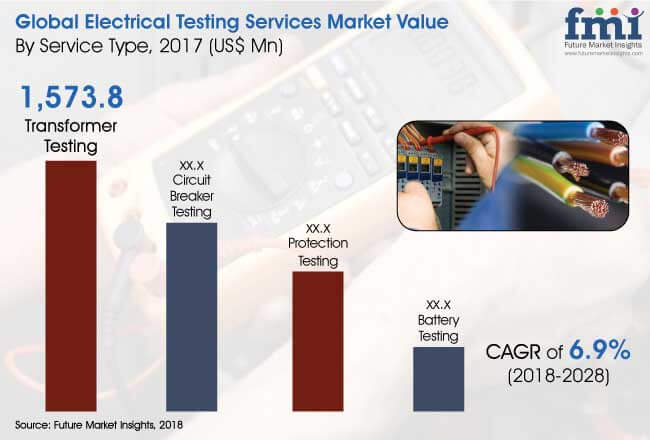 Personnel safety stands out to be the foremost factor that maintains the prevalence of electrical testing market
Unchecked electrical equipment has a greater probability of causing dangerous situations such as current leakage, short circuiting, faults in wiring, leakage of lubricants, transformer oil and equipment par corrosion. Significant number of deaths in industries are caused by faulty electrical equipment such as transformers, gas circuit breakers and rectifiers. These faulty equipment pose the hazard of causing both electrocution as well as generation & propagation of fire. Growing dependency of large institutes such as power generation plants, manufacturing industries, and oil refineries on testing of the electrical equipment will continue to boost the electrical testing services market. Some other advantages, including improved life of the equipment.
Increase in In-house Capabilities and High Cost of Testing to Hamper the Growth of Global Market
Companies are urging to shift the trend from outsourcing the testing services to in-house testing department. Despite incurring higher initial costs for clients, this trend is beneficial due to the instant availability of testing equipment and personnel. As a result, it could increase the frequency of tests without additional price charges, and thereby accelerate the growth of the market for electrical testing services across the globe.
Electrical testing equipment to monitor the functioning of low, high and medium voltage transformers and circuit breakers, etc. are costly devices owing to the extreme nature of the equipment it performs tests on. These testing devices have to endure high voltages, current fluctuations, and other critical criteria without compromising testing performance and are therefore built with sturdy materials and calibrated precisely leading to an increase in its selling price. The factors are responsible for creating a hurdle in the growth of global electrical testing services market.
The Global Electrical Testing Services Market
The Global Electrical Testing Services focuses only on post-commissioning services. In the post commissioning electrical testing services market, the equipment (transformers, circuit breakers, protection relays and batteries) which are currently in operation in-use in end use industries, such as power generation sector, transmission & distribution, steel plants, major refineries and railways, have been considered. The market refers only to the electrical testing services (transformers testing, circuit breaker testing, protection relay testing and battery testing) in the global market.
Research Methodology
FMI utilizes robust methodology and approach to arrive at market size and related projections. The research methodology for this report is based on 3 dimensional model. We conduct about 45-60 min duration detailed interviews with product manufacturers; apart from this we also collect market feedback from industry experts. To validate this data, we interact with senior panel members having more than 10 years of experience in relevant field. The panel members help in validating the findings and fill the gaps if any. In addition, we leverage on our existing pool of information, paid database and other valid information sources available in public domain. Usually industry interactions extend to more than 50+ interviews from market participants across the value chain.
Data Collection
FMI collects data from secondary sources including company annual reports, association publications, industry presentations, white papers, and company press releases apart from these we leverage over paid database subscriptions and industry magazines to collect market information and developments in exhaustive manner. After being done with desk research, detailed questionnaire and discussion guide is formulated to initiate primary research with key industry personnel; the discussion aims at collecting key insights, growth perspectives, prevalent market trends and quantitative insights including market size and competition developments. Both of these research approaches help us in arriving at base year numbers and market hypothesis.
Data Validation
In this phase, FMI/PMR validates the data using macro and micro economic factors. For instance, growth in electricity consumption, industry value added, other industry factors, economic performance, growth of top players and sector performance is closely studied to arrive at precise estimates and refine anomalies if any.
Data Analysis and Projection
Data analysis and projections were made based on proprietary research frameworks and statistical analysis, which was further validated from industry participants. These frameworks include Y-o-Y growth projections, macro-economic factor performance, market attractiveness analysis, key financial ratios, and others.
For public companies we capture the data from company website, annual reports, investor presentations, paid databases. While for privately held companies, we try to gather information from the paid databases (like Factiva) and based on the information we gather from databases we estimate revenue for the companies. In addition, the team tries to establish primary contact with the companies in order to validate the assumptions or to gather quality inputs.
Key Questions Answered
How the market has performed over the past few years?

What have been the challenges for market participants and how did they overcome them?

How has the technology landscape evolved over the past years?

How the competitors have performed and what have been their growth strategies?

What is the market potential expected to look like in near future across the globe?

How to sustain and grow market share?

What should be the future course of action?

Where do I currently stand?

Which are the segments, factors, regions offering promising growth potential?

What are the trends in the market and am I ready for them?
Market Taxonomy
By Service Type

By End User

Region

Transformer Testing

Circuit Breaker Testing

Protection Testing

Battery Testing

Power Generation Stations

Transmission & Distribution Stations

Steel Plants

Major Refineries

Railways

North America

Latin America

Western Europe

Eastern Europe

SEA and Other Pacific

China

India

Japan

MEA
Harish Tiwari
Global Head - Business Development
CASE STUDIES
See how our work makes an impact.
At FMI, we design strategies that are adaptive, impactful, and implementable.