Transformer safety to continue witnessing high adoption rate, while protection testing to exhibit higher opportunities in the future
Electrical testing market includes the services that are used to test or inspect the operating standards of a plant. FMI's study on electrical testing services includes only the post-commissioning services. These service types are transformer testing, circuit breaker testing, protection testing and battery testing.
According to the final outcome of the market research based on these services, transformer testing covers the highest market share of over US$ 3,200 Mn by the end of 2028. Although, the protection testing service is also in strong competition with the transformer testing segment and is expected to grow at higher growth rate of over 7.3% CAGR during the forecast period.
It has emerged as one highly opportunistic segment in the global electrical testing services market within the years coming ahead, while the transformer testing segment will continue to witness high adoption rate across the regions.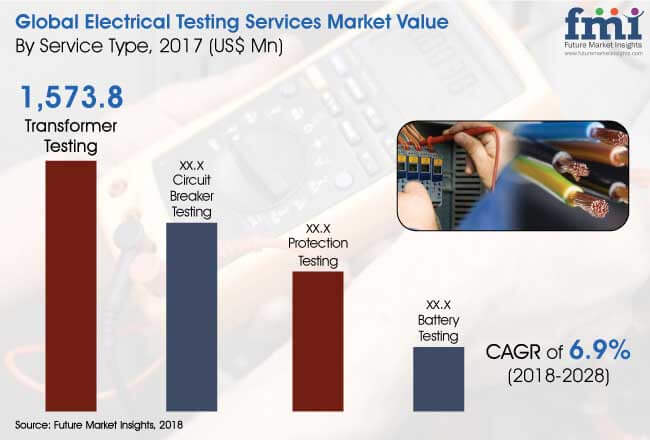 Personnel safety stands out to be the foremost factor that maintains the prevalence of electrical testing market
Unchecked electrical equipment has a greater probability of causing dangerous situations such as current leakage, short circuiting, faults in wiring, leakage of lubricants, transformer oil and equipment par corrosion. Significant number of deaths in industries are caused by faulty electrical equipment such as transformers, gas circuit breakers and rectifiers.
These faulty equipment pose the hazard of causing both electrocution as well as generation & propagation of fire. Growing dependency of large institutes such as power generation plants, manufacturing industries, and oil refineries on testing of the electrical equipment will continue to boost the electrical testing services market. Some other advantages, including improved life of the equipment.
Increase in In-house Capabilities and High Cost of Testing to Hamper the Growth of Global Market
Companies are urging to shift the trend from outsourcing the testing services to in-house testing department. Despite incurring higher initial costs for clients, this trend is beneficial due to the instant availability of testing equipment and personnel. As a result, it could increase the frequency of tests without additional price charges, and thereby accelerate the growth of the market for electrical testing services across the globe.
Electrical testing equipment to monitor the functioning of low, high and medium voltage transformers and circuit breakers, etc. are costly devices owing to the extreme nature of the equipment it performs tests on. These testing devices have to endure high voltages, current fluctuations, and other critical criteria without compromising testing performance and are therefore built with sturdy materials and calibrated precisely leading to an increase in its selling price. The factors are responsible for creating a hurdle in the growth of global electrical testing services market.
Market Taxonomy
By Service Type
Transformer Testing
Circuit Breaker Testing
Protection Testing
Battery Testing
By End User
Power Generation Stations
Transmission & Distribution Stations
Steel Plants
Major Refineries
Railways
Region
North America
Latin America
Western Europe
Eastern Europe
SEA and Other Pacific
China
India
Japan
MEA
Need specific information?