About the Report
The electric sub-meter market registered sluggish growth amid the COVID-19 pandemic in 2020. The contraction in growth is particularly attributable to the restrictions in production, logistics, and sales enforced by governments worldwide. However, initiatives being undertaken to mitigate the ongoing disruptions, the electric sub-meter sales are expected to improve considerably by 2030.
Key Developments in Electric Sub-Meter Market
Key players such as Xylem Inc., Itron Inc, Schneider Electric, General Electric (GE), Landis+Gyr, Mitsubishi Electric Corporation, Siemens AG, Honeywell International Inc., Siemens AG, ABB, OSAKI ELECTRIC CO., LTD, and Mitsubishi Electric Corporation, are presently focusing on tackling these disruptions and on increasing their global presence.
For instance, General Electric has introduced a smart Electric sub-meter EPM6100 in 2020 that enables the end-user to remotely monitor the consumption and thus, in long run, save a considerable amount of money. Also, the company has recently put this product for a flash sale, which helped them to improve their sales and global presence.
Meanwhile, Schneider Electric has recently put its focus on customizable power management platforms, such as their EcoStruxure™ Power Advisor platform, as a strategy to stand alone and to improve their global network.
Besides this, Mitsubishi Electric Corporation has partnered with the Tokyo Institute of Technology, Japan in January 2021 to create blockchain-driven technology platforms to optimize their energy trading network. This is an example of a prudent strategy adopted by key players.
ELECTRIC SUB-METER MARKET: KEY INSIGHTS
Rising need to ensure energy efficiency, influenced by stringent regulatory framework, would be a major growth driver.
Smart sub-meters continue to carve out significant share in the electric sub-meter sales.
Single phase electric sub-meters would remain sought-after; three phase electric sub-meters to lose traction.
Residential sector continues to generate greater total returns to shareholders; adoption in commercial establishments and industrial sector to dip.
East Asia would remain at the vanguard of global electric sub-meter sales network.
KEY FACTORS
Increasing Demand for Smart Electric Sub-meters over Conventional Ones
Rising smart grid installation projects in countries such as India, China, Indonesia, Brazil, and Argentina are driving investments in smart electric sub-meters. Furthermore, government initiatives have led to the deployment of smart electric sub-meters over conventional electric sub-meters.
For instance, in India, the Smart Meter National Programme is being implemented by the Energy Efficiency Services Limited (EESL), a joint venture (JV) of public sector undertakings under the Ministry of Power, to deploy smart electric sub-meters across the country.
The installation of smart electric sub-meters can help in efficiently managing electricity, checking data-entry errors, billing efficiencies, and cost cutting of manual meter readings through a web-based monitoring system. EESL's Smart Meter National Programme (SMNP) is working to replace nearly 250 million conventional electric sub-meters with smart meters by 2020.
Joint Ventures & Partnerships with Energy Suppliers to Drive Growth
Growing demand for energy efficiency, monitoring energy leakages, and energy outages are important for electricity suppliers and consumers. This has led government agencies, electricity suppliers, and manufacturers to partner or jointly venture to overcome energy efficiency-related issues. This has resulted in more investments in research & development to produce highly efficient and low-cost electricity sub-meters, which are expected to further drive the growth.
Electrical utility companies are entering into partnerships with energy and data management and data solution providers to reduce the cost of conserve resources, improve efficiency, and increase the demand for electric sub-meters.
For example, governments in developing economies are reducing the price of smart electric sub-meters to enhance the adoption rate for residential applications.
Companies such as Jay Auto and Hexing tied up with Pal Mohan Group for making a bid with an Indian company through a joint venture. The benchmark smart electric sub-meter price per meter is INR 1,400 (US$ 20), whereas, the lowest bidding completed was INR 2,200 per meter for the supply of 5 million smart electric sub-meters.
In October 2018, Hexing Electrical signed a joint venture with West Zone Power Distribution Company Limited to develop a new company named Bangladesh Smart Electrical Company Limited, to produce smart prepaid meters.
Strengthening Customer and Vendor Relationships
Growing competition and increasing number of players in regional as well as global levels have made project acquisition more difficult. Key players are now focusing on increasing customer retention and strengthening their relationship with existing customers. Long-term relationships with customers, distributors, and vendors enable companies to acquire long-term contracts for product requirements, and this is expected to be the key strategy for growth in the global electric sub-meter sales.
Furthermore, concentration on acquiring new electric sub-meter installation orders related to smart electric sub-meters in solar energy farms is anticipated to drive sales of electric sub-meter in South East Asian countries.
Impact of COVID 19 Pandemic
The global economy has taken a massive hit due to the spread of novel coronavirus across the globe. According to recent findings, even in the best possible scenario, the global economy is anticipated to witness a fallout of US$ 2.3 trillion. As per the International Monetary Fund (IMF), around 170 countries are expected to witness negative per capita income growth. All this economic downfall is anticipated to curb the manufacturing and sales of electric sub-meters.
The current deployment of smart electric sub-meter projects are on hold, and this delay will affect demand and supply in the current year, and have a moderate impact in the first quarter of 2021. The downfall is anticipated for a limited period, after which, is expected to recover from its losses.
REGIONAL OUTLOOK
In terms of growth, the South Asia Pacific and South Asia are anticipated to propel at a promising pace.
Due to increasing manufacturing of smart electric sub-meters in the countries such as India and China, they are expected to progress at a growth rate of nearly 6% from 2020 through 2030.
Additionally, after the containment of the COVID-19 pandemic, the electric sub-meter market might witness a shift of manufacturing facilities from China to other South East Asian countries.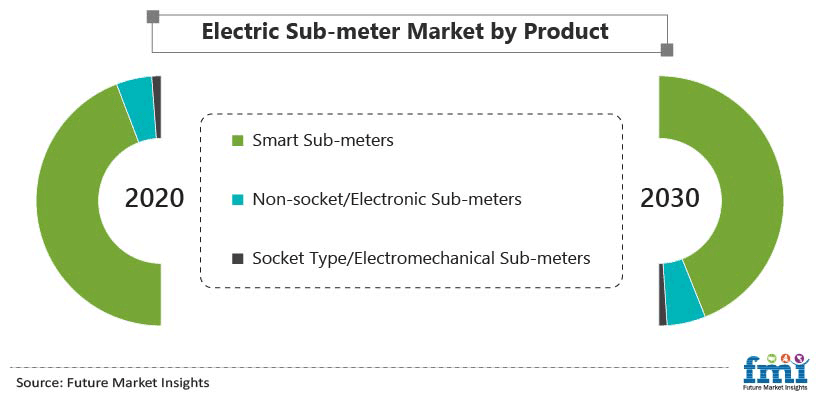 STRUCTURE ANALYSIS
The global electric sub-meter sector is considered to be a highly competitive landscape, due to the presence of regional as well as international players. Leading players are focused on acquiring new contracts from respective governments as well as from developing economies.
Most of the key players are aiming to extend their product portfolios through collaborations, partnerships, and acquisitions to expand their global share.
The competitive landscape remains fragmented, with several big and regional players.
Some of the prominent companies in include Itron Inc, Landis+Gyr, Xylem Inc., Schneider Electric, General Electric, Siemens AG, Mitsubishi Electric Corporation, Honeywell International Inc., ABB, Siemens AG, Mitsubishi Electric Corporation, OSAKI ELECTRIC CO., LTD., and others.
Key players are maintaining strategic focus on mergers and acquisitions, partnerships, and agreements with utility companies for expansion.
Some of the top manufacturers that are contributing a high revenue share are Schneider Electric, General Electric, Honeywell International Inc., Itron Inc., Landis+Gyr, Xylem Inc., ABB, and OSAKI ELECTRIC CO., LTD.
Base Year - 2019
Historical Period - 2015-2019
Forecast Period - 2020-2030
Market Value in 2019 - US$ 9.7 Bn
Segments Covered - Product, Phase, Application, and Region
Regions Covered - North America, Latin America, Europe, South Asia, East Asia, Middle East & Africa, and Oceania
Key Companies - are Itron Inc., Schneider Electric, General Electric, Siemens AG, Mitsubishi Electric Corporation, Honeywell International, HPL Electric & Power Limited, ABB, Landis+Gyr, Osaki Electric Co. Ltd, Xylem Inc., Bentec Electricals & Electronics Pvt. Ltd., Genus Power Infrastructures Ltd., Kamstrup A/S, Leviton Manufacturing Co. Inc., Hexing Electric Co. Ltd., Zhejiang CHINT Instrument Co. Ltd., and Jiangsu Linyang New Energy Source Co. Ltd.
Growth Drivers -

Increasing demand for smart electric sub-meters
Intensifying need to achieve energy efficiency
Competitive pricing due to high fragmentation of market
Stakeholders Continue to Invest in Smart Sub-meters
In a bid to maintain their competitiveness, industrials are walking the extra mile to ensure energy efficiency and performance. This preferential shift is enabling the broader adoption of smart electric sub-meters over conventional variants such as electronic and electromechanical sub-meters. Electric sub-meter manufacturers mapping this opportunity and devising distinctive strategies with technology at the center will be well placed for realizing outsized returns. Further, by 2026, these smart meters would register over US$ 10 Bn in revenue.
Regional Analysis - to Lead the Way
Uptick in smart grid home area network (HAN) installation projects in East Asia, driven by government initiatives, is creating fertile ground for key players. In addition, local manufacturers are offering smart electric sub-meters for installation in commercial and residential spaces. Considering the rising level of competition, both, global and regional players are focusing on enhancing value-addition in their offerings at competitive pricing. The same theme is sweeping the South Asia electric sub-meter market, especially in Indonesia, and Vietnam. Together, both, East and South Asia capture around half of the total stack.
Collaborating with Energy Providers for Cost-effective Upgradation
Monitoring energy outages and leakages is imperative for electricity distributors and customers. As the need to achieve energy efficiency continues to defy gravity, players are establishing strategic collaborations with energy suppliers in a bid to satiate the ever-increasing demand. Combined with progressive R&D activities, these collaborations are poised to allow manufacturers to sell at competitive electric-sub meter prices. Case in point, Hexing Electric Co. Ltd. teamed up with West Zone Power Distribution Company Ltd. to develop smart prepaid meters.
How Growth will Unfold
Around 70% of the revenue would be realized by the residential sector. FMI says that, the number would follow an upward trajectory over the decade ahead. Moving ahead, electric sub-meter installation in commercial establishments - small, large, medium (SML) retail stores, and data centers - and the industrial sector is expected to drop in the near term. As such, manufactures allocating their resources to the residential sector will increase their odds of bigger profit margins.
World's Most Profilic Intelligence Engine
Get Access To The World's Largest Market Research Database. Ngage with a revolutionary intelligence engine that scale and pricing that flexes as per your needs
Sign Up Now
TAXONOMY
The global market is segmented in detail to cover every aspect and present a complete and intelligent approach to the reader.
By Product
Socket Type/Electromechanical Sub-meters

Feed-through Sub-meters
Current Transformers

Non-socket /Electronic Sub-meters
Smart Sub-meters
By Phase
By Application
Commercial Establishments

Large Retail Stores
Data Centers
Others

Residential Sector
Industrial Sector
By Region
North America
Latin America
Europe
South Asia
East Asia
Middle East & Africa
Oceania
Need specific information?