Electric Motor Market Snapshot
As per newly released data by Future Market Insights (FMI), the electric motors market is estimated to be worth US$ 109.4 Bn in 2021. The market is slated to grow at 4.8% CAGR through 2031. With increasing demand for electric motors in automotive industry and HVAC systems, the market is expected to expand swiftly during the forecast period of 2021-2031.
Europe, China, and the U.S. are the most lucrative markets for electronic motors, accounting for maximum share of global electricity consumption. This can be attributed to the increasing mechanization in agriculture sector and rapid industrialization across these countries.
Key Points Covered in Electric Motor Market Report
Market estimates and forecast 2016-2031.
Key drivers and restraints impacting market growth.
Segment-wise, Country-wise, and Region-wise Analysis.
Competition Mapping and Benchmarking.
Brand share and Market Share Analysis.
Key Product Innovations and Regulatory Climate.
COVID-19 Impact on Electric Motor Market and How to Navigate.
Recommendation on Key Winning Strategies
2020-2020 Electric Motor Market Outlook in Comparison to 2021-2031 Forecast
The electric motors market is expected to grow at 4.8% CAGR between 2021 and 2031 in comparison to 3.4% CAGR registered in 2016-2020. The transition of energy sector from fuel powered motors to green and efficient technologies has created a plethora of opportunities for growth within the global electric motor market. Increasing concerns related to air and water pollution have brought electric technologies under the spotlight.
The demand for innovative electric motors in industrial, agricultural, automotive, and HVAC sectors is propelling the growth of market. Electric motors are gaining importance because of their highly sought-after features such as long operating life, low maintenance and energy consumption, and low-cost.
Key companies in the electric motor market are focusing on increasing their market share by concentrating on adopting various strategies such as product innovations, mergers and acquisitions, joint ventures and collaborations with key players. Research and development (R&D) activities are undertaken to improve EUV technology.
Besides this, there is high focus on strengthening collaboration with technology providers. For instance, Bosch completely acquired EM-motive, an electric motor manufacturer in 2019, WEG S.A. acquired Antriebstechnik KATT Hessen GmbH, a manufacturer of high-speed motors in 2019. Similarly, Nidec Corporation launched two new traction motor systems (the kW Ni200Ex and 50 kW Ni50Ex) in 2020.
The introduction of intelligent and pollution free electric vehicles is expanding the market. Even the demand for powerful electric motors in aviation sector is increasing sales. Companies like Tesla have started gaining the momentum. It is expected that the market will grow more rapidly in the future as Electric vehicles will take over petrol/diesel-fueled vehicles.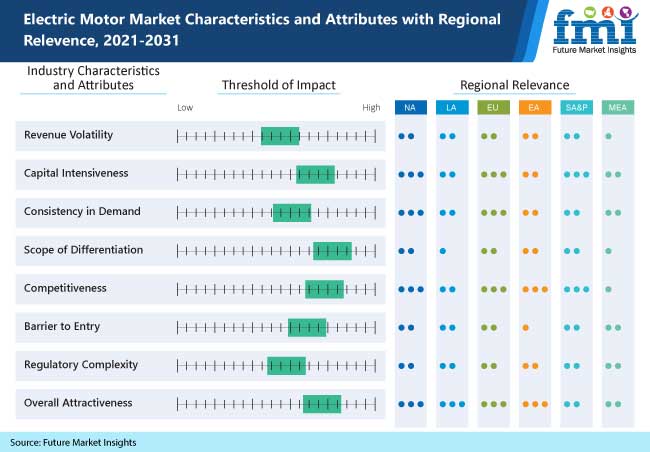 KEY FACTORS SHAPING ELECTRIC MOTORS MARKET
Increasing Focus on Mergers & Acquisitions by Leading Players
Surge in mergers and acquisitions by leading players or manufacturers in the electric motors market over the last few years has driven the global market growth. Ongoing market consolidation can be primarily attributed to the increasing demand for organizational efficiency, product innovation, technological advancements and market expansion. Large-scale industries acquire small-scale industries to increase their market presence and expand their business. Over the years, owing to several acquisitions, the electric motor industry has evolved.
For instance, some of the prominent acquisitions are:

In 2019, Bosch completely acquired EM-motive, an electric motor manufacturer.
In 2018, WEG S.A. acquired Antriebstechnik KATT Hessen GmbH, a manufacturer of high-speed motors.
In 2017, Nidec acquired the electric motor business of Emerson Electric Company.
In 2017, WEG acquired Bluffton Motor Works LLC, an electric motor manufacturer.
New Developments and Diverse Applications
Manufacturers are continuously focusing on R&D to develop new and effective electric motors to meet consumer demand. Increasing concerns, such as environmental pollution and regulations, are forcing manufacturers to develop electric motors that reduce vibration and increase efficiency. For example: A synchronous electric motor is around 80% more efficient than an induction electric motor.
Another example can be the development of a new type of steel for electric motors, which reduces the weight of the electric motor and makes it more efficient and powerful. This new type of electric motor will be small in size and cost effective, which will raise demand from residential and commercial applications.

For instance, in June 2017, Arc Systems Inc. developed the squirrel cage induction electric motor with class-H insulation materials, which can sustain high temperature.
Regulations Aiming at Minimizing Energy Consumption
About 2/5 of the total energy used in industries is consumed to drive electric motors, mostly to power equipment such as industrial pumps, compressors etc. A favorable regulatory environment will be promoting the use of high-efficiency electric motors. Stringent regulations will compel industries to replace existing electric motors and use motors with high efficiency, which in turn, will drive market growth.

The Minimum Energy Performance Standard (MEPS) set by the European Commission mandates minimum efficiency standard for industrial electric motors. The legislation has been imposed in three stages. According to the third stage of EU MEPS, IE3 is the minimum efficiency class required for three-phase induction motors (in the range of 0.75-7.5 kW) and IE2 motors can be used but with a variable speed drive.
Similarly, Greenhouse and Energy Minimum Standards (GEMS) Act 2012 creates framework for electric product efficiency in Australia.
Electric Motors Market Structure Analysis
The electric motors market landscape is highly fragmented with a large number of big, small-scale, and regional players in the market.
Over the last few years, there are manufacturers who offer intelligent electric motors and export them to developing regions.
The global electric motors market has been witnessing an increase in the number of acquisitions and collaborations, product launches, and investments in new manufacturing facilities by leading manufacturers to complement their business model and strengthen their footprint in regional markets.
In recent times, the competition in the global market has become intense, which is leading to creation of opportunities for collaboration with sales and distributor companies.
Such activities will help enhance market presence of leading players and drive the sales of electric motors.
Many China-based players are offering low-cost electric motors, which are supporting sales in the Asian region, but negatively affecting the growth in market share of players from the U.S., the U.K., Germany, France, and Italy.
Online sales platforms and portfolio extension are also identified to remain key developmental strategies adopted by manufacturers of electric motors.
Key Questions Answered in the Report
How much is the electric motor market worth?

The global electric motor market is estimated to be valued worth US$ 109.4 Bn in 2021.

What is demand outlook of electric motor market?

Spurred by the rising demand for green and efficient technologies, the electric motor market is expected to grow at a CAGR of around 4.8% between 2021 and 2031.

At what rate did the electric motor market grow in the last five years?

The electric motor market grew at 3.4% CAGR in the last five years, from 2016 to 2020.

What are the key trends shaping the electric motor market?

Improvement of energy efficiency ratings in order to earn accreditation from industry bodies and expansion of sales network beyond existing territories by OEMs are the key trends in electric motors market.

What are the key factors driving electric motor demand?

Demand from pumps and drive units in respective end use sectors and need for replacement of ageing units are driving the electric motors market.

What is the market share of top 5 players?

The combined market share of top 5 players is around 15-17% of the overall market

What are the top 5 countries driving demand?

The top 5 countries driving demand for electric motor include The U.S., Germany, China, India and GCC Countries.

What is the North America electric motor market outlook?

North America is expected to register a steady growth rate, with the U.S. being dominant market within the region.

At what rate will the electric market grow in Europe?

The electric motor market is expected to register CAGR of 2.9% between 2021 and 2031 in Europe.

Which countries are key producers of electric motors?

The U.S., China, Germany and Japan are the leading producers or manufacturing hubs of electric motors.
Electric Motors Market: Taxonomy
The global electric motors market is segmented in detail to cover every aspect of the market and present complete market intelligence to the reader.
Product Type
AC Motors
DC Motors

Brushed DC Motors
Brushless DC Motors
Power Output
Less than 1 HP
1-500 HP
Above 500 HP
Application
Pumps
Fans
Compressors
General Machinery
Centrifugal Machinery
Grinders
Extruders
Others
End User
Pumps
Fans
Compressors
General Machinery
Centrifugal Machinery
Grinders
Extruders
Others
Region
North America
Latin America
Western Europe
Eastern Europe
Asia Pacific Excluding Japan (APEJ)
Middle East and Africa
Japan
Need specific information?