Bonded Magnets Market By Product Type (Rare Earth Magnets, Ferrite Magnets), Process Type (Injection Molded Bonded Magnets, Compression Bonded Magnets, Calendaring Bonded Magnets), Application Type (Sensors, Motors, HDD (Hard Disk Drives)), End use (Automotive, HVAC Equipment, Medical Devices) & Region - Forecast to 2020-2030
Bonded Magnets Market - Analysis, Outlook, Growth, Trends, Forecasts
July 2020

REP-GB-12221

346 pages
Bonded Magnets Market Outlook & Key Findings
The global bonded magnets market value set to grow at 4.8% CAGR through 2030
Players to realize returns from continued advancements in formulation of superior product prototypes
Consumer electronic devices industry to remain primary end user of bonded magnets; automotive industry touted as the next-growth market
Market in East Asia to make quantum leaps over the following decade
Bonded Magnets Market Analysis – Critical Component in Modern Data Storage Technology
Given their versatility and affordable manufacturing process, bonded magnets have been making significant strides in wide range of industries over the past few decades.
In addition, they are playing a crucial role in computer hardware with data storage devices in particular. Application of bonded magnets is not only paramount, but is continuously stepping up, especially with regards to data storage.
This can be recording and storage of confidential data on computers in businesses and other industry verticals. Magnetic data storage – hard disk drive (HDD) - is among the widely preferred digital storage solution. Recent studies reveal that about 4000 T neodymium (NdFeB) bonded magnets are used in computer drivers every year.
Storage drives containing bonded magnets offer greater benefits compared to conventional solid state drives (SSD) such as greater storage capacity, faster file copy speed, and subsequently better performance.
Researchers across the world are honing in on various developments that enable data storage on magnetic media using laser-activated heat that is swifter and allows procuring of large chunks of data - HAMR (Heat Assisted Magnetic Recording).
With the onset of the information age, computers are increasingly commonplace in almost every sphere. Recent estimates suggest that in 2018, about 912 exabytes of SSD/HDD storage shipped collectively, containing over 800 exabytes of HDD, 89% of which comprised of magnetic spinning platters.
Furthermore, the research reveals that magnetic HDD will remain the prominent storage technology in the coming years regardless of use cases, with 54% of overall stored data acquired on magnetic spinning platters. Such trends are poised to sustain the demand growth of bonded magnets in computers and magnetic storage devices.
Bonded Magnets Market Trends – Complexity is Free with 3D Printing Technology
3D printing (3DP) or additive manufacturing has sparked a revolution in material processing technologies lately. At present, there has been a rising interest in printing bonded magnets, given the importance of these materials in broad array of use cases. Hard-magnetic components are commonplace in consumer goods and industrial equipment.
That being said, integration and processability of bonded magnets has hindered further development of new-age magnetic technologies that are paramount in the areas of renewable energy, robotics, aeronautics, or automotive engineering.
Existing manufacturing techniques for bonded magnets such as sintering, and injection molding encounter several hurdles, especially in manufacturing of complex configurations.
3D printing technology enables developing high-quality, composite bonded magnets that are patterned in arbitrary architectures and shapes and developed particularly for specific use cases, and thus, helping in reducing costs.
Owing to high complexity offered by 3D printing method, manufacturers are able to obtain several thermoplastic–bonded magnetic composites (TBMC) complex designs and adjustable customized magnetic aspects.
Application of 3DP for magnetic purposes reflects a step towards on-site flexible fabrication of complicated magnetic devices that would otherwise have been impractical with traditional production methods.
Automotive Industry – Primary Consumer of Neodymium Magnets
Neodymium (NdFeB) bonded magnets are increasingly leveraged in the automotive sector, and have become the preferable choice for designing new magnetic applications for this end-use sector. FMI reveals that the automotive industry accounts for about a quarter of the total bonded magnets market value.
Neodymium bonded magnets are becoming an integral component of electric motors, particularly owing to growing demand and sales of electric vehicles (EV) in the global automotive industry.
Electric motors and innovative technologies are at the front line and bonded magnets are playing an instrumental role in the future of global industry and transport. Neodymium bonded magnets behave as stator and provide rejection power to form a linear or circular motion.
The count of solenoids and electric motors in futuristic vehicles and designs is well in double digits. Neodymium bonded magnets in electric motors offer relatively greater benefits compared to other kinds of magnets, particularly in high-performance motors or where diminishing size is a vital factor. As majority of novel technologies look for decreasing the overall size of products, such electric motors are likely to take over the entire market.
Manufactories are developing a novel kind of neodymium bonded magnet that requires considerably less neodymium and is suitable for application in high temperature conditions.
This novel development is beneficial for extending the use of engines in several domains including, robotics, and automobiles, as well as for keeping a balance between demand and supply of valuable rare-earth resources.
Bonded Magnets Market Regional Analysis – East Asia to Maintain its Supremacy through 2030
About 45% of bonded magnets market revenue would be realized by East Asia, primarily represented by China, and Japan. The regional market is witnessing huge demand from automotive industry, which makes up for around a quarter of total revenue.
China is the leading manufacturer of automobiles in Asia, generating about 20.4 million sales in 2019, followed by Japan.
The consumer electronics appliances and electrical equipment segments are also contributing majorly to the bonded magnets market in East Asia. Together, both these segments capture about a third of the regional market value.
Moving ahead, the South Asia & Pacific bonded magnets market is driven by government initiatives such as Make in India. Various manufacturing giants such as HTC, Siemens, Toshiba, and GE have either establish or are in the process of setting up manufacturing plants in the region.
This is likely to significantly propel the demand for bonded magnets in South Asia & Pacific.
However, the COVID-19 pandemic is putting a strain on the Asia Pacific (APAC) bonded magnets market, with China, Japan, and South Korea witnessing double-digit drop in sales of passenger vehicles (PV). In addition, consumer electronics spending in East Asia is likely to drop as the industry is affected majorly by retail store closures, and supply chain disruptions.
That said, resumption of manufacturing and assembly in several automotive and electronics hubs in APAC is anticipated to augur well for the recovery of bonded magnets market in H2 of 2020, and Q1 of 2021.
Furthermore, North America and Europe collectively procure around 30% of total bonded magnets market stack. Demand is primarily driven by rising sales of electric vehicles (EV) in both these regions. While vehicle sales, in general, have plummeted due to COVID-19 shockwaves, EV sales continue to make up a growing percentage of consumer vehicle sales in 2020.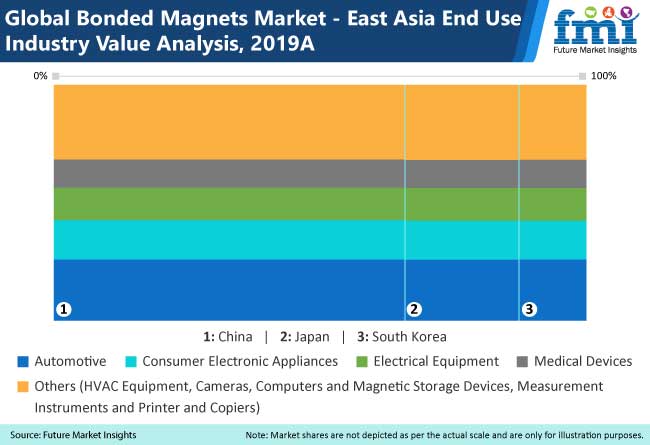 Bonded Magnet Manufacturers – Product Innovations Hold the Key to Success
The global bonded magnets market is fairly consolidated with top five manufacturers holding a significant chunk of overall market value. Market players are increasingly investing in product innovation keeping operational efficiency and greater durability at center along with diversified applications. For instance,
Hitachi is developing NEOMAX® - a high-performance NdFeB sintered magnet for greater efficacy and downsizing in wind power generators
Ningbo Yunsheng Co. Ltd. develops plastic bonded magnets with injection molding and pressing techniques. The magnets find application in actuators, stepper motors, and sensors
Magnequench International LLC creates bonded magnets with high temperature aging aspects. The magnets are ideal for injection molded and compression molded automotive use cases that demand exceptional aging properties
Bonded Magnets Market Growth Outlook – Recycling Bonded Magnets with Ionic Fluids for Sustainable Future
NdFeB bonded magnets are crucial for present-day technology, owing to their exceptional magnetic properties. Over the past decade, recycling of sintered NdFeB hard magnets has been receiving significant attention and these efforts have been examined in other locations.
These routes generally include hydrometallurgical, pyrometallurgical, and solvometallurgical methods, or a blend of them.
On the flip side, NdFeB bonded magnets have been subject to minimal attention in terms of their recycling. This lack of interest is attributed to considerably lower rare-earth content of bonded magnets versus that of sintered magnets, as well as presence of polymeric resins or binders that make direct recycling courses (such as hydrogen decrepitation) challenging.
Recent dissolution experiments have been carried out on a larger scale for PA6-bonded NdFeB magnet powder and ionic liquid tributyl (ethyl) phosphonium diethyl phosphate (C18H42O4P2). The magnetic powder can be dissociated from the polymer (polyamide) and is able to almost mimic its initial magnetic characteristics.
In addition, these polymer-free magnet powders can produce new compression-bonded magnets, with their magnetic aspects nearly in line with those of their commercial counterparts.
Such experiments depict that treatment of end-of-life bonded NdFeB magnets with ionic liquids holds great potential in direct recycling of these magnets. Apart from being eco-friendly, the approach is also a flexible route that enables manufacturing of secondary bonded magnets with new shapes and polymeric material
World's Most Profilic Intelligence Engine
Get Access To The World's Largest Market Research Database.
Sign Up Now
Key Segment
Product Type
Rare Earth Magnets
Ferrite Magnets
Others (Alnico, SmFeN, Hybrids)
Process Type
Injection Molded Bonded Magnets
Compression Bonded Magnets
Calendaring Bonded Magnets
Extrusion Bonded Magnets
Application Type
Sensors
Motors
HDD (Hard Disk Drives)
Level Gauges
Instrument Panels
Copier Rotors
Fuel Filters
Magnetic Couplings
End use Industry
Automotive
HVAC Equipment
Medical Devices
Cameras
Consumer Electronic Appliances
Computers and Magnetic Storage Devices
Electrical Equipment
Measurement Instruments
Printer and Copiers
Region
North America
Latin America
Europe
East Asia
South Asia & Pacific
MEA
Need specific information?
Our Clients