Boron Carbide Market - Key Research Findings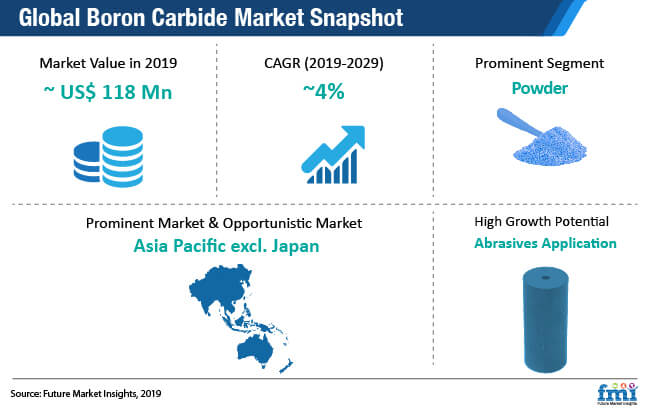 The global boron carbide market is estimated to be valued at ~ US$ 118 Mn in 2019.
The boron carbide market is expected to grow at a CAGR of over ~ 4% during the forecast period of 2019 to 2029.
The demand for boron carbide in the form of powder will witness significantly high demand over other types such as grain and paste.
On a regional front, Asia Pacific excl. Japan is noted to account for a lion's share in the global boron carbide market by the end of the forecast period (2019 – 2029).

Asia Pacific excl. Japan is expected to maintain its stronghold in the global boron carbide market owing to the large-scale manufacturing capabilities in the region along with the robust growth witnessed by end-use industries, prominently in China and India.

Adoption of boron carbide in abrasives is anticipated to remain high over the forecast period (2019 – 2029).

This is mainly due to the significant growth expected in the automotive industry, resulting in a sizeable proportion of the market consuming boron carbide for abrasive products.
Key Factors Shaping the Boron Carbide Market
Increasing Defence Expenditure and Rise in Production of Armours

Owing to its application in the production of body and vehicular armour, the demand for boron carbide is significantly high in the defence sector. Over the past several years, countries such as India, China, the US, and others have significantly increased their defence budgets, and the procurement of armour has also witnessed significant growth. This is noted to spur growth in the consumption of boron carbide.

Complexities in the Manufacturing Process Lead to High Manufacturing Cost

Manufacturing boron carbide involves a process that requires a temperature of over 2000o Celsius. Furthermore, since boron carbide is initially produced in ingots, it is yet again a complex process, which leads to increase in its price.

Boron carbide is noted to be nearly ten times more expensive than its alternatives, which leads to end users preferring inexpensive options available in the market. Furthermore, due to stringent government regulations surrounding nuclear technology and its use, sluggish growth is expected in the segment.

Increased Efforts Directed towards Product Innovation

Several market participants are noted to invest largely in research & development activities surrounding product enhancement as well as finding novel scope of applications for boron carbide. Advancements in several industrial sectors such as automobile, aerospace, chemical, as well as building and construction, among others are compelling manufacturers to develop products with a longer service life.

Hence, though being priced higher, end users are noted to prefer boron carbide over other products in high-end applications, resulting in lucrative market growth in the coming years. However, research and development is expected to play a pivotal role in the long-term forecast period.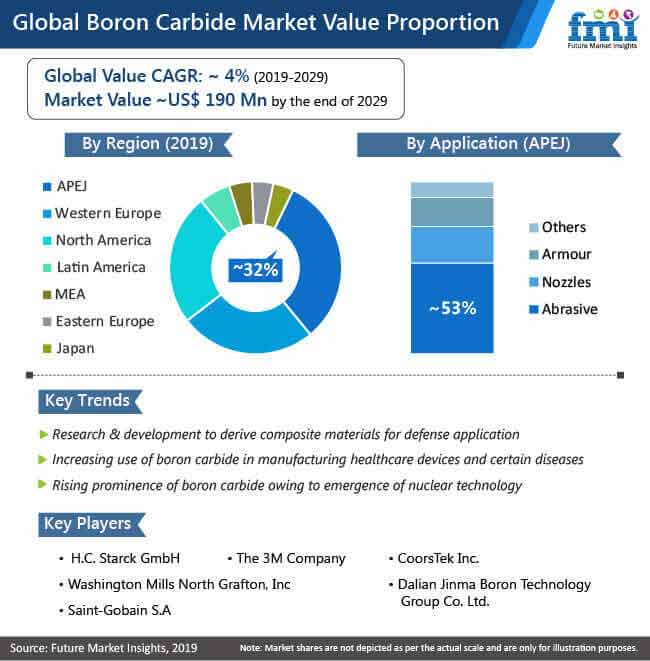 Boron Carbide Market Structure Analysis
The global boron carbide market is very fragmented due to the presence of numerous regional and local manufacturers.
Several manufacturers are currently placing their focus on the research and development (R&D) and commercializing products targeted for specific applications in order to gain an edge over competitors.
Placing significant faith in the organic growth strategy has been noted throughout the market and key players in the global boron carbide market are likely to enhance their distribution network to further leverage their market presence.
Several mergers and acquisitions are also proving profitable for few players and venturing in the high growth region is observed throughout the marketplace via collaborations and trade practices.
Boron Carbide Market: Taxonomy
Grade
Product Type
Application
Abrasive
Nozzles
Armor
Others
Region
North America
Latin America
Western Europe
Eastern Europe
Asia Pacific excl. Japan
Japan
Middle East and Africa
Need specific information?