Aerospace Industry - Key Adopter of 3D Printing Technology
Factors such as low manufacturing costs and increased domestic production are powering the growth of 3D printing technology across every industrial dimension. The aerospace industry is among the key industries to invest in large-scale 3D printing for developing intricate components that exhibit greater resistance and lightweight properties versus those developed using traditional methods.
As the aerospace industry continues to unlock the potential of 3D printing, manufacturers are focusing on establishing on-site 3D printing operations. Furthermore, 3D printing materials in manufacturing processes are contributing to considerable decrements in product-development cycle times in industries - consumer electronics, medical, and automotive - in due course of time.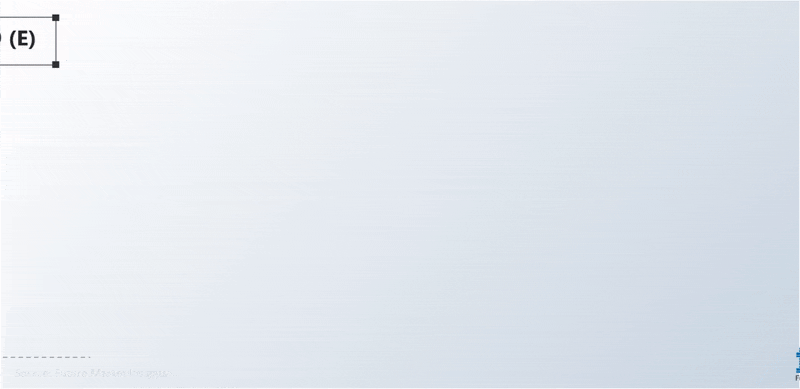 North America and Europe Continue to Gather Center Stage
3D printing technology has emerged as a feasible alternative to traditional manufacturing in a multitude of use cases. Housing a strong foothold of technology pioneers, North America and Western Europe continue to offer value-capture prospects to players in the 3D printing market.
Together, they procure over 60% of total market value, at present. While the 3D printing market in Asia Pacific (excluding Japan) is cruising in to represent a multibillion-dollar opportunity, the markets in Eastern Europe and Latin America are showcasing fastest annual growth rate - over 40%.
Artificial Intelligence to Take 3D Printing to New Heights
Artificial intelligence (AI) and 3D printing technologies are rapidly emerging from their nascent status, and are serving as a cornerstone in almost every sector, worldwide. 3D printing is a complicated process, thus, coupling it with AI will complement the precision and flexibility while producing a wide array of products. This blend of AI and 3D printing possesses the capability of transforming businesses, and holds great promise in advanced materials, design, and engineering.
How Growth will Unfold
Considering capital (CAPEX) and operational expenses (OPEX), material extrusion is the preferable technology in the 3D printing market. However, this technology will lose its share in the near future due to its high susceptibility to temperature changes and warping.
Vat polymerization and selective laser sintering (SLS) techniques offer greater accuracy in tandem with reduced processing time, and, as such, are likely to outperform the material extrusion technique by the end of foreseeable timeframe. As binder jetting delivers lesser post-processing waste and is immune to extreme conditions, market players are exploring investment opportunities related to this technology.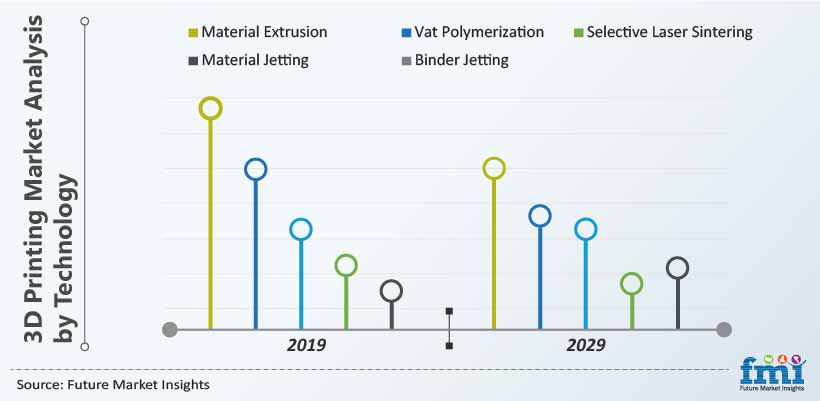 KEY RESEARCH FINDINGS - GLOBAL 3D PRINTING MARKET
The global 3D printing market revenue is set to increase seven-fold by 2029.
Demand for industrial-grade 3D printing remains prominent, while professional-grade 3D printing will gain swift momentum through 2029.
Adoption of material extrusion technology will continue to rise through 2029, while deployment of vat polymerization for 3D printing gains pace.
Aerospace industry will remain the key revenue generator of the global 3D printing market.

3D printing is increasingly used in automotive sector, in the view of lightweighting and weight-reduction trend
KEY DYNAMICS INFLUENCING 3D PRINTING MARKET GROWTH
Increased Demand for Efficient Prototyping Tools
In recent times, 3D printing has been gaining significant traction as a viable method to manufacture efficient prototypes. Today, as prototypes are no longer created using one-size-fits-all approach, engineers and tech companies are increasingly leveraging 3D computer-aided design (CAD). It helps in reducing time required for prototyping transitions in conventional manufacturing and in lowering the operational cost.
High Rate of Adoption in Developed Markets
North America accounts for significant share of the global 3D printing market, due to extensive adoption of additive manufacturing. The U.S. and Canada have been the early adopters of technologies for various manufacturing process. Likewise, Europe is home to several companies active in additive manufacturing with strong technical expertise in the 3D printing processes. Collectively, North America and Europe account for more than 60% of the global market value..
Growing Importance of 3D Printing in Healthcare Sector
Additive manufacturing plays an important role in the healthcare sector, as it helps in developing artificial muscles and tissues that replicate the human tissues. These factors are poised to drive the adoption of 3D printing across the healthcare landscape.
3D PRINTING MARKET STRUCTURE ANALYSIS
Leading players focus on upgradation of their existing technologies to cater to growing demand from different end-users.
Key players with major shares in the 3D printing market are particularly relying on their strong R&D activities, strategic partnerships, and diverse product portfolio.
Base Year - 2019
Forecast Period - 2019-2029
Market Value in 2029 - US$ 19 Bn
CAGR over 2019-2029 - 21.6%
Segment Covered - Component, Vertical, Technology, Level
Regions Covered - North America, Latin America, Eastern Europe, Western Europe, APEJ, Japan, MEA
Growth Drivers -

Growing demand for advanced prototyping tools
Greater access in developed markets
Government investment in 3D printing
Key Companies - 3D Systems Inc., ExOne, SLM Solutions, and Nano Dimension Ltd.
3D PRINTING MARKET TAXONOMY
The global 3D printing market is segmented in detail to cover every aspect of the market and present a complete market intelligence approach to readers.
Level
Entry-level
Hobbyist
Enthusiast
Professional
Industrial
Technology
Material Extrusion
Vat Polymerization
Selective Laser Sintering
Material Jetting
Binder Jetting
Others
Vertical
Automotive
Aerospace
Industrial/Business
Consumer Electronics
Medical
Research and Academia
Government/Military
Architecture
Others
Region
North America
Latin America
Western Europe
Eastern Europe
Asia Pacific excluding Japan
Japan
Middle East & Africa
Need specific information?