3D Printing Market By Component (3D Printers, 3D Printing Software, Services), Technology (Stereolithography, Fuse Deposition Modelling, Selective Laser Sintering), Application (Prototypes, Tools & Fixtures, Production Parts), Industry (Automotive, Healthcare & Medical Devices, Aerospace & Aeronautics) & Region - Forecast to 2021 - 2031
3D Printing Market - Analysis, Outlook, Growth, Trends, Forecasts
May 2021

REP-GB-553

323 pages
3D Printing Market About the Report
[323 pages Report] Introduction of 3D printing technology has transformed the ways in which products are designed, developed, manufactured, and distributed. Advantages of 3D printing over traditional manufacturing open plenty of opportunities for industry verticals, spanning from product design and development, and customization services to restructuring of supply chain for higher efficiency. Continuous innovations and upgrades made in product portfolios can help attract a wide range of customers operating in different industry verticals.
3D printing technology complements the manufacturing process of final products across a wide range of end-use verticals. The usage of 3D printing is rising continuously across various industries and it is benefiting professional environment financially and operationally with the enhanced efficiency and cost effectiveness. Currently, there has been a considerable growth in the demand for 3D printing, as the consumers are inclined more towards the customized products and cost efficient solutions and growing demand for automation across different industries.
Future Market Insights' revised study covers comprehensive insights about market trends, value (US$ Mn) projections, recent developments, and dynamics in the 3D printing market for the forecast period of 2021-2031. After the unprecedented events of 2020, it has become important to capture the impact of COVID-19 and recalibrate our findings with the actual market scenario. The report tracks the global value of 3D printing in 20+ high-growth markets, where demand seems to be high across North America, East Asia and Europe.
How Does Future Outlook for 3D Printing Market Compare with Historical Sales?
According to the report, the global 3D printing market is anticipated to witness high growth in revenue from around US$ 16 Bn in 2020 to US$ 122.6 Bn by 2031. The market is anticipated to gain traction over the coming years owing to increasing focus on innovations in the 3D printing industry and rising demand for 3D printing services and solutions across different industries.
The advent of 3D printing services is changing the scenario across diverse industries including manufacturing, consumer goods, industrial goods, construction, aerospace, automotive, and medical among others. 3D printing design services are expected to take the guess work out of designing process of a new product. This helps the customers to have an actual view of how the end product will look like.
One of the major reasons behind the exponential growth in the adoption of 3D printing technology is that it facilitates complex designs which cannot be produced with traditional manufacturing techniques. Conventional manufacturing processes are based on the removal of raw materials to create final products. On the contrary, 3D printing works by building a product layer by layer, hence it is also referred to as additive manufacturing.
Most commonly used 3D printing technologies include Fused Deposition Modeling (FDM), Direct Metal Laser Sintering (DMLS), Laser Sintering (LS), Multi Jet Fusion (MJF), Binder Jetting, and Stereolithography (SL) among others. Currently, manufacturers across a broad spectrum of industries, including aerospace, defense, industrial equipment, medical, and automotive, among others, are all increasingly implementing 3D printing services and solutions.
Demand is expected to increase further with rising need for customizations across different industry verticals. Owing to these factors, demand for 3D printing is likely to surge across the globe with an impressive CAGR of around 20.4% throughout the 2021-2031 over the forecast period.
How is Growing Need for Production Parts Propelling the Demand for 3D Printing?
Currently, in the manufacturing and industrial goods industries, consumer demand is not being met by spare parts suppliers. Products manufactured by industrial companies are complex and compose of a number of different parts, most of which will have to be replaced over the lifetime of the equipment. A spare parts supplier is expected to manage an elaborate network of suppliers, production, sales, and customers to meet the consumer needs. This requires a lot of strategic decisions and increased costs to keep continuing the spare parts.
Owing to this, companies tend to discontinue increasing number of parts every year, causing an inconvenience to the consumers. Given the challenges and cost burdens that spare parts customers are facing, a large number of companies that buy spare parts are shifting towards using 3D printing to create their own parts. Owing to this, a large number of consumers are turning towards 3D printing design and manufacturing services.
How are Increasing Partnerships & Collaborations Supporting Market Expansion?
3D printing providers are entering into partnerships & collaborations with regional players and software vendors to enhance and jointly develop their product portfolios, especially meant to fulfill growing demand for advanced 3D printing across the globe, and provide customers with differentiated products.
For instance, in June 2019, the company entered a partnership with Siemens, the global technology powerhouse in automation and digitalization. This partnership is aimed to integrate ExOne's S-Max Pro with Siemens' Digital Enterprise Portfolio of software and automation technology to leverage benefits of Industry 4.0.
It is also planning to expand the partnership with Siemens across its industry-leading industrial 3D printers for tooling and production metal. Apart from this, in October 2019, 3D Systems entered into a partnership agreement with Antleron to offer advanced solutions and accelerate development of bio printing solutions in the biomedical industry by utilizing 3D Systems' printing technologies.
Over the years, it has been observed that 3D printing solution and service providers are focusing on entering partnerships and collaborations with other regional players and raw material providers in the market to enhance and jointly develop their product portfolio. These partnerships and collaborations are increasing continuously to fulfill the growing demand for advanced 3D printing technologies across the globe and provide customers with a swift access to 3D printing solutions and services.
Which Factors are Affecting Adoption of 3D printing?
Today, 3D printing technology has progressed on many technical fronts. There are faster 3D printers, new 3D printing materials, and attractive customization and personalization tools available in the market. Advancements in 3D printing hardware, software, materials and services are creating lucrative opportunities in developing countries across the globe.
With enhanced performance, active participation and high quality aesthetics options available in the personalization process, consumers are being motivated to learn about 3D printing and procure 3D printing services. Manufacturers are focusing more on cost saving and eliminating risks. This trend is especially noted in the case of manufacturers operating in those industries that are more sensitive and susceptible to fluctuating demand.
Will Diversification Strategies Adopted by Market Players Impact Growth?
Market participants are adopting a product diversification strategy to enhance their market presence. Moreover, emerging companies are significantly investing on new product development and launches to sustain their market presence. Moreover, via innovation and development, various vendors are focusing on enhancing their solution attractiveness levels among various consumers.
The 3D printing market is estimated to be highly fragmented over the forecast period. The projected high fragmentation is attributed to the revenue generated by major giants and new start-ups along with other established small- and medium-sized 3D printing providers operating in the market.
Market leaders are the companies that individually hold a market share of above 10%. This group includes giants such as 3D systems and Stratasys, Ltd. which are the largest and most experienced in the industry and have significant regional coverage across the globe.
Companies with a market share of over 5% and below 10% are promising players. These companies are likely to showcase quick growth and harness the opportunities that the global market has to. These companies hold approximately 25-30% share of the global market. These companies include ExOne, SLM Solutions Group AG, Renishaw plc, and Nanoscribe.
Companies that have a relatively lower share worth less than 5% are striving to attract new clients in foreign markets. These companies account for approximately 40% to 42% of the global 3D printing market share.
3D Printing Market Country-wise Insights
What Makes China a Lucrative Market for 3D Printing?
Asia Pacific happens to be one of the fastest growing markets for 3D printing solutions and services. Growing demand for customized services across industry verticals is one of the major factors driving the market growth in the region. Additionally, strategic initiatives undertaken by national governments especially in China and India, are facilitating the creation of a sustainable additive manufacturing ecosystem. China is the strongest force propelling the growth of 3D printing market in the Asia Pacific region.
The growth of 3D printing markets in China is attributable to increasing government support. Various government initiatives are undertaken in China, India, and other countries to nurture 3D printing solution providers, while supporting technology standardization and investing in training 3D printing workforce.
What Will Support Expansion in Japan?
Japan is home to many additive manufacturing research centers and hubs focused on achieving excellence in the field. Most of these research centers and innovation hubs are established by foreign companies. Global companies, such as HP, GE, UPS, DNV GL, Evonik, ThyssenKrupp and Voestalpine, are setting up regional additive manufacturing centers in Japan.
Furthermore, the cost of 3D printing vary as per the requirement and complexities are involved. Usually, the complex 3D printing with higher capabilities are costlier in nature and this happens to be one of the major factors responsible for hampering the market growth.
How Big is Opportunity in Germany and the U.K. ?
The 3D printing industry in the United Kingdom and Germany, is highly susceptible to economic fluctuations. It is primarily used as a prototyping technique in the region. Over the last two decades, 3D printing market participants have reduced investments in research and development, resulting in declining demand for prototyping services.
By bringing the 3D printing processes in-house, the production time taken by the 3D printing manufacturing processes can be reduced to a matter of days, or even hours. As a result, the overall product design and manufacturing cycle is shortened and repetitive redesigning along with the longer wait times can be avoided. Therefore, aerospace and defense industries are estimated to continue recording higher adoption of 3D printing software and solutions across Europe over the forecast period. However, bringing in the 3D printing processes in-house can be tricky and expensive. Hence, not all the companies can afford manufacturing their own 3D printed products.
Is 3D Printing Aiding in Building a More Sustainable Manufacturing Industry in Australia?
The Australian government has been playing a positive role in fostering the adoption of 3D printing solutions and services in the country. The Australia's national science agency, CSIRO, has made a substantial commitment to 3D printing research, with an investment of more than AUD$ 6 million in its Lab 22 AM facility.
The Lab22 Innovation Centre is one of Australia's leading centers for metallic 3D printing offering broader capabilities and expertise. It is focused on offering amazing opportunities for businesses in Australia in order to differentiate themselves while being competitive. Owing to such measures, the growth of 3D printing technology in the region is anticipated to rise, while building a more competitive and sustainable manufacturing industry in the region.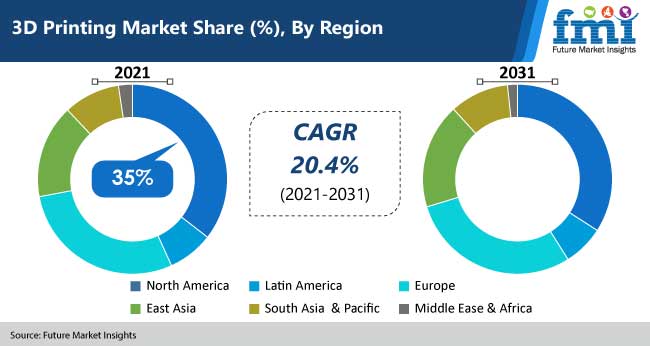 3D Printing Market Category-wise Insights
Which Industry Holds the Largest Share in 3D printing?
Among the industries, the consumer goods segment is expected to hold a considerable market share, as 3D printing solutions are increasingly being used to meet the growing demand of customized solutions and products. It is is anticipated to expand at a high CAGR of close to 20.3% over the forecast period. Among other industry verticals, automotive, aerospace, and medical, have been the early adopters of 3D printing services and solutions. In medical, dentists are already making use of 3D printing technologies. Moreover, with the development of 3D bio-printing, 3D printing is bringing the new industrial revolution in the medical field.
Furthermore, the 3D printing market is majorly being propelled by the increasing adoption of 3D printing in the automotive industry. For instance, in automotive, the Porsche has 3D printed spare parts for rare vehicles, Volkswagen Group has 3D printed tools and spare parts, Jaguar used 3D technologies to recreate their classic XKSS model from 1957, and Ford has turned to 3D printing of fully functional brakes. The sub-segment is anticipated to expand at a high CAGR of close to 18.6% over the forecast period, and is anticipated to create an incremental opportunity of close to US$ 17.1 Bn from 2021 to 2031.
3D printers are highly sought-after. They account for nearly half of components sold across various industries. However, the demand for 3D printing services is expected to surge at a higher pace than 3D printers.
Why is DMLS Technology Anticipated to Hold the Largest Share of the 3D Printing Market?
Direct Metal Laser Sintering (DMLS), Selective Laser Sintering (SLS), and Fused Deposition Modelling (FDM) happen to be the most extensively used 3D printing technologies. In 2020, DMLS accounted for more than 22% of the market share of the global 3D printing market. The DMLS technology is used in applications such as manufacturing of production parts, fixtures and tools. The technology aids in enabling the creation of higher quality of metal parts.
It helps in facilitating the assembly of complex metals. Hence, the technology is ideal for the manufacturing industry. Major growth drivers for the DMLS based 3D printing technology include cost-efficient production, detailed resolution, and simplified handling. Few of the advantages of 3D printing over the conventional manufacturing include, flexibility in design, dimensional accuracy, offers wide range of materials, and leaves a small footprint of manufacturing while continually shrinking manufacturing costs.
In terms of application, 3D printing is increasingly used for developing prototypes. The increasing demand for prototypes in the manufacturing sector will therefore continue aiding growth.
Competitive Landscape
The market is highly competitive in nature due to the presence of a large number of players operating in the 3D printing industry. Companies are focusing on the expansion of their production capacities and enhancing capabilities in order to gain a competitive advantage in this space.
3D printing vendors are offering innovative products in order to provide the 3D printing equipped with enhanced sensing technologies for customers according to their needs. In addition, players are also focusing on expanding their presence in order to serve increasing consumer needs.
For instance, in December 2018, Sculpteo announced that it has obtained the ISO 9001-2015 standard. This standard confirms the high quality of the 3D printing process, solutions, and services offered by the company, enabling the company to partner with some of the largest industrial companies including leading manufacturer of planes and trains Bombardier, and to adapt to the requirements of cutting-edge sectors such as the rail transport.
Some of the leading companies providing 3D printing are:
Stratasys
ExOne
SLM Solutions
Voxeljet
Proto Labs
Nano Dimension Ltd.
Renishaw Plc
Nanoscribe GmbH
Ultimaker BV
Arcam EBM
*The list is not exhaustive, and only for representational purposes. Full competitive intelligence shall be available in the report.
Report Scope
Attribute

Details

Forecast Period

2021-2031

Historical Data Available for

2016-2020

Market Analysis

US$ Mn for Value

Key Regions Covered

North America, Europe, East Asia, South Asia & Pacific, Middle East & Africa, and Latin America

Key Countries Covered

U.S., Canada, Germany, Italy, France, U.K., Spain, Benelux, Russia, China, Japan, South Korea, India, Thailand, Malaysia, Indonesia, ANZ, GCC, Turkey, South Africa, Brazil, and Mexico

Key Segments Covered

Component, Technology, Application, and Industry, and Region

Key Companies Profiled

3D Systems, Inc.
Stratasys
ExOne
SLM Solutions
Voxeljet
Proto Labs
Nano Dimension Ltd.
Renishaw Plc
Nanoscribe GmbH
Optomec Inc.
Ultimaker BV
Arcam EBM

Customization & Pricing
World's Most Profilic Intelligence Engine
Get Access To The World's Largest Market Research Database.
Sign Up Now
3D Printing Market by Category:
By Component
3D Printers
3D Printing Software
Services

3D Printing Services
Consulting Services
Support Services
By Technology
Stereolithography
Fuse Deposition Modelling (FDM)
Selective Laser Sintering (SLS)
Direct Metal Laser Sintering (DMLS)
Electron Beam Melting (EBM)
Digital Light Processing (DLP)
By Application
Prototypes
Tools & Fixtures
Production Parts
By Industry
Automotive
Healthcare & Medical Devices
Aerospace & Aeronautics
Consumer Goods
Industrial
By Region
North America
Latin America
Europe
East Asia
South Asia Pacific
Middle East & Africa
Key Questions Answered in the Report
How will the 3D printing market expand until 2031?
Future Market Insights projects the 3D printing market to register a CAGR of 20.4% between 2021 and 2031.
What are the key challenges for 3D printing providers?
High costs incurred on printing small and complex parts are causing hindrance to the growth of 3D printing market.
Who are the leading players providing 3D printing?
Prominent players operating in this space include 3D Systems, Inc., Stratasys, ExOne, SLM Solutions, Voxeljet, Proto Labs, Nano Dimension Ltd., Renishaw Plc, Nanoscribe GmbH, Optomec Inc., Ultimaker BV, and Arcam EBM (General Electric), among others.
Which region is expected to be at the forefront of 3D printing market?
North America has emerged dominant in the global market for 3D printing. Within the region, the U.S. has emerged as a highly lucrative market.
Need specific information?
Our Clients