CMOS Sensor-based Cameras Maintain Positive Trend
Both, CCD and CMOS sensor-based cameras share identical functions. While the former is used in advanced astrophotography equipment and low-end point-and-shoot cameras, the latter predominates the large mid-range market. However, CMOS sensor-based CCTV cameras are overshadowing their CCD counterparts in myriads of industrial use cases.
CCD sensor-based cameras come with an expensive price tag and are power-intensive, and, as such, they will fade away over the decade ahead. Furthermore, CMOS sensor-based CCTV cameras would register revenue nearly thrice that of the CCD variant.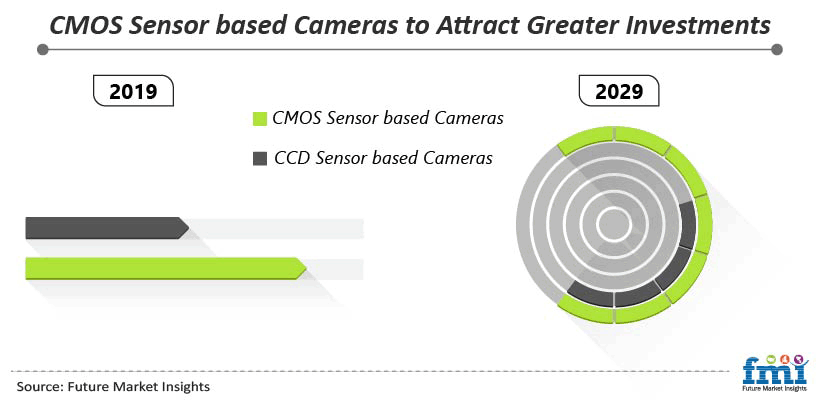 Manufacturers Target the Americas for Sustained Value Creation
Given the high adoption of network-based video surveillance solutions in the region, North America continues to generate greater total returns to shareholders (TRS). The U.S. represents the most prospective CCTV camera market. By 2029, the CCTV camera market in North America will hit the US$ 5 Bn mark.
Market players are also turning their sights to Latin America, owing to the rising demand for IP/network-based CCTV systems. Manufacturers in the region are experiencing upsurge in the demand for security information monitoring (SIM) and security event monitoring (SEM) to enhance alerting mechanisms or identify security incidents manually.
CCTV Cameras in Combating COVID-19 Pandemic
At present, CCTV cameras are finding immense utilization in detecting cases of the novel coronavirus (COVID-19) and help curb its spread. Case in point, Moscow is deploying facial recognition cameras to alleviate the transmission of the pandemic. Despite protests and legal complaints, the government has equipped the capital city with 100,000 cameras linked to artificial intelligence (AI).While it was reported that the technology might prove to be inept in identifying individuals wearing medical masks, a China-based company has underlined that the facial tracking solution can also identify those who are wearing masks.
How Growth will Unfold
Driven by video analytics, CCTV cameras are able to zoom in to reveal the identity of an individual - intruder and guest - that is highly beneficial to prevent crimes when utilized properly. Moreover, criminals or muggers can be apprehended quickly. Governments, worldwide, are heavily investing in security and surveillance equipment across every sector. A majority of returns would be realized by the commercial and government sectors, wherein, CCTV cameras valuing around US$ 10 Bn will equipped by 2029, collectively. Furthermore, this study highlights a demand upsurge from the residential sector too.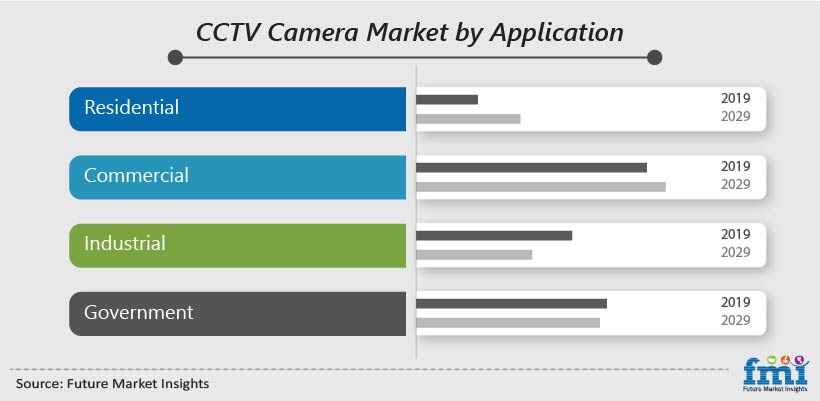 CCTV CAMERA MARKET TAXONOMY
The global CCTV camera market is segmented in detail to cover every aspect of the market, and present a complete market intelligence approach to readers.
Model Type
Box Cameras
Dome Cameras
PTZ Cameras
Fixed Bullet Cameras
Positioning Cameras
Onboard Cameras
Others
Technology
Analog CCTV Systems
IP/Network-based CCTV Systems
Camera Sensor Type
CCD Sensor-based Cameras
CMOS Sensor-based Cameras
Application
Residential
Commercial
Industrial
Government
Region
North America
Latin America
Western Europe
Eastern Europe
Asia Pacific excluding Japan & India
Japan
India
Middle East & Africa
Need specific information?