CCTV Camera Market Value to Surge 2X Over 2019-2029
Security of critical infrastructure is amongst the paramount aspect of the physical security market, as these assets are subject to intrusions, thefts, and terrorism threats. Governments across the world are scaling up their security measures in an effort to protect critical infrastructure such as oil and gas refineries, power plants, water utilities, and smart grids from possible trespassing. Among these measures, closed-circuit television (CCTV) cameras are considered as a favorable option. Expanding at a healthy CAGR, the CCTV camera market would create around two-fold revenue by 2029.
Global CCTV Camera Market Scenario
The global CCTV camera will surpass the US$ 10 Bn mark in 2022.
The market is expected to expand at a CAGR of more than 6% over the forecast period (2019-2029), majorly driven by large-scale spending on public security and surveillance.
Preference for CMOS sensor-based cameras remains intact; CCD sensor-based cameras to witness notable drop in their deployment.
IP/network-based CCTV systems continue to attract stakeholders' attention; analog CCTV systems to falter notably.
Commercial and government sectors would be key end users of CCTV cameras; residential sector to represent potential growth avenues.
North America maintains its supremacy in global CCTV camera market, Latin America to offer new revenue lines.
KEY FACTORS SHAPING CCTV CAMERA MARKET  
Increasing Thermal Imaging Technology-based CCTV Cameras Spurring Market Growth
Thermal cameras need no light and are based on subtle differences in temperature, called heat signatures. Thermal imaging cameras create a crisp image, and can also see through light, fog, and smoke. These cameras also overcome surveillance issues involving natural scene camouflages. Regular cameras can be tricked by landscapes, in which analogous colors or patterns conceal objects of interest, raising the possibility of something going undetected. Moreover, a thermal camera can also detect elevated body temperatures in public and private spaces, which can alert security and healthcare teams of the need to test scanned subjects for an illness in a way that does not slow the flow of foot traffic.
Increasing Security Demand across Various Industries Driving Growth of CCTV Camera Market
The demand for security and surveillance equipment is on the rise across all verticals, given the increasing awareness among customers about security. The CCTV market for network cameras is growing swiftly, as enterprises, small and medium businesses, and end customers are looking to increase perimeter security for critical infrastructures. Also, existing CCTV cameras paired with the latest video analytics software can be used as sophisticated IoT sensors with both, audio and video data, to help with everything from traffic management to public safety. This rising demand in various verticals across the globe is expected to create increased growth opportunity for the global CCTV camera market.
The global economic order is, at present, confronting a detrimental situation due to the coronavirus (COVID-19) pandemic, thus disrupting the supply chain and logistic operations of video surveillance system providers. In the recent past, the global CCTV camera market has grown by nearly 6% annually. In 2019, the market valued around US$ 9 Bn. Given the COVID-19 pandemic, demand for video surveillance has surged in Q1 of 2020, and the trend would continue in Q2, 2020. This is expected to be driven by rising demand for public video surveillance for security monitoring amidst nationwide lockdowns.
Increasing Adoption for IP/Network-based CCTV Cameras
IP network cameras often require low power and have advanced thermal efficiency, multiple sensors, and two-way audio communications. IP cameras are gaining traction as they offer cost efficiency and convenience to the end user. Also, network-based CCTV systems provide numerous benefits to users, such as remote monitoring, better work productivity, protection against theft, traffic management, and also support in gathering evidence in legal cases. Thus, IP/network-based CCTV cameras will create potential growth opportunities for the CCTV camera market.
CCTV Camera Market: Structure Analysis
Acquisition and collaboration of market players is one of the key strategies followed by leading CCTV camera providers in the market.
Hangzhou Hikvision Digital Technology Co Ltd., Canon Inc., and Dahua Technology, Inc. are the largest and most experienced in the global CCTV camera market.
The global CCTV camera market is highly concentrated in nature, which remains a key factor for its dynamic competitive structure.
Report Metrics

Details

Base Year

2018

Historical Period

2014-2018

Forecast Period

2019-2029

Market Value in 2018

US$ 8.2 Bn

Segments Covered

Model Type, Technology, Camera Sensor Type, Application

Regions Covered

North America, Latin America, Western Europe, Eastern Europe, Asia Pacific excluding Japan & India, Japan, India, MEA

Key Companies

Hangzhou Hikvision Digital Technology Co Ltd., Canon Inc., Bosch Security Systems Inc., Honeywell International Inc., Panasonic Corporation, Dahua Technology Co. Ltd., Pelco, Sony Corporation, Samsung, Cisco Systems, Tyco International, Radiant Info Solutions Pvt. Ltd., E Vision India Pvt. Ltd., Samriddhi Automations Pvt. Ltd., Matrix Comsec, Secureye, Vantage Security, Vintron Informatics Ltd., and Digitals India Security Products Pvt. Ltd.

Growth Drivers

Surging investments in security and surveillance
Rising need to protect critical infrastructure
Swelling adoption of video analytics
Upsurge in smart city and hi-tech infrastructure projects 
CMOS Sensor-based Cameras Maintain Positive Trend
Both, CCD and CMOS sensor-based cameras share identical functions. While the former is used in advanced astrophotography equipment and low-end point-and-shoot cameras, the latter predominates the large mid-range market. However, CMOS sensor-based CCTV cameras are overshadowing their CCD counterparts in myriads of industrial use cases. CCD sensor-based cameras come with an expensive price tag and are power-intensive, and, as such, they will fade away over the decade ahead. Furthermore, CMOS sensor-based CCTV cameras would register revenue nearly thrice that of the CCD variant.
Manufacturers Target the Americas for Sustained Value Creation
Given the high adoption of network-based video surveillance solutions in the region, North America continues to generate greater total returns to shareholders (TRS). The U.S. represents the most prospective CCTV camera market. By 2029, the CCTV camera market in North America will hit the US$ 5 Bn mark. Market players are also turning their sights to Latin America, owing to the rising demand for IP/network-based CCTV systems. Manufacturers in the region are experiencing upsurge in the demand for security information monitoring (SIM) and security event monitoring (SEM) to enhance alerting mechanisms or identify security incidents manually.
CCTV Cameras in Combating COVID-19 Pandemic
At present, CCTV cameras are finding immense utilization in detecting cases of the novel coronavirus (COVID-19) and help curb its spread. Case in point, Moscow is deploying facial recognition cameras to alleviate the transmission of the pandemic. Despite protests and legal complaints, the government has equipped the capital city with 100,000 cameras linked to artificial intelligence (AI).While it was reported that the technology might prove to be inept in identifying individuals wearing medical masks, a China-based company has underlined that the facial tracking solution can also identify those who are wearing masks.
Surging demand for dome cameras
PTZ cameras to garner traction
IP/network-based CCTV systems remain highly preferred
Analog CCTV systems to falter markedly
CMOS sensor-based cameras hold leading revenue share
CCD sensor-based cameras to witness adoption decline
Commercial sector remains key end user
Demand upsurge residential sector witnessed
How Growth will Unfold
Driven by video analytics, CCTV cameras are able to zoom in to reveal the identity of an individual - intruder and guest - that is highly beneficial to prevent crimes when utilized properly. Moreover, criminals or muggers can be apprehended quickly. Governments, worldwide, are heavily investing in security and surveillance equipment across every sector. A majority of returns would be realized by the commercial and government sectors, wherein, CCTV cameras valuing around US$ 10 Bn will equipped by 2029, collectively. Furthermore, this study highlights a demand upsurge from the residential sector too.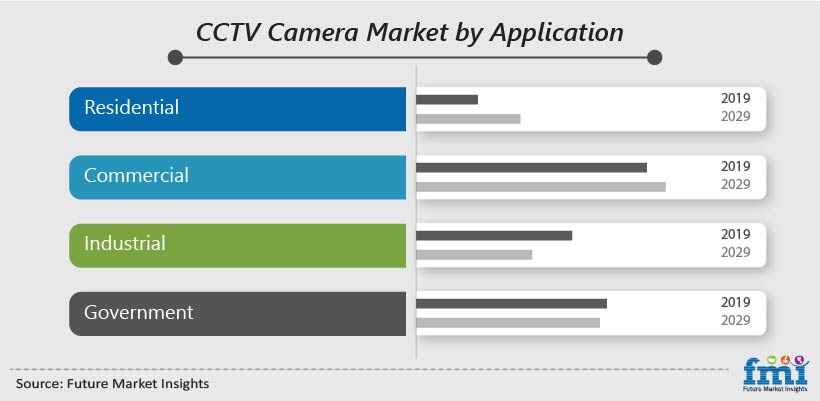 * This data is only a representation. Actual data may vary and will be available in report.
Click Here To Know How The Growth Will Unfold
Custom Market Research Services
FMI offers custom market research services that help clients to get information on their business scenario required where syndicated solutions are not enough.
Overview
A recent market report published by Future Market Insights on the CCTV camera market includes global industry analysis of 2014-2018 and opportunity assessment for 2019-2029, and delivers a comprehensive assessment of the most important market dynamics. After conducting thorough research on the historical and current growth parameters, growth prospects of this market are obtained with maximum precision.
CCTV Camera Market Taxonomy
The global CCTV camera market is segmented in detail to cover every aspect of the market, and present a complete market intelligence approach to readers.
Model Type
Box Cameras
Dome Cameras
PTZ Cameras
Fixed Bullet Cameras
Positioning Cameras
Onboard Cameras
Others
Technology
Analog CCTV Systems
IP/Network-based CCTV Systems
Camera Sensor Type
CCD Sensor-based Cameras
CMOS Sensor-based Cameras
Application
Residential
Commercial
Industrial
Government
Region
North America
Latin America
Western Europe
Eastern Europe
Asia Pacific excluding Japan & India
Japan
India
Middle East & Africa
How the research was conducted?
Primary Research
C - Level Executives
Marketing Directors
Sales Heads
Sales Executives
Technical Advisors
CCTV cameras manufacturer
Distributors
Industry Experts
End Users
Current Market Dynamics and Challenges
Market Characteristics
Market Performance and Growth Quadrants
Competition Structure and Market Structure
Strategic Growth Initiatives
Near-term and Long-term Market Growth Prospects
Market Segment Splits and Authenticity
Opinions on Market Projections and Validity of Assumptions
Secondary Research
Company White Papers
Annual Reports and Investor Presentations
Research Papers
Company Press Releases
Government Websites and Publications
Primary Interview Splits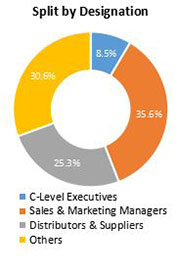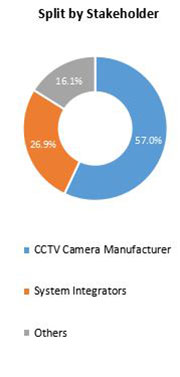 To Learn More About our Comprehensive Perspective on CCTV Camera Market,
Get in touch
COVID -19 : Impact Analysis
Request the coronavirus impact analysis across industries and markets
Request Covid -19 Impact
CASE STUDIES
See how our work makes an impact.
At FMI, we design strategies that are adaptive, impactful, and implementable.