Introduction
Smart cameras are also called as intelligent cameras or connected cameras. Technological advancement in camera industry and machine vision industry has resulted in the evolution of smart camera technology. Smart camera not only allows users to capture images but also extract images, get real time view, and share those images. Smart Camera have various industrial as well as consumer applications which helps in driving the growth of global smart camera market.
Smart Camera: Market Value & Forecast
The Global smart camera market is estimated to be worth US$ 2469.0 Mn in 2014 and expected to reach US$ 9829.1 Mn by 2020, reflecting a CAGR of 23.84% during the forecast period.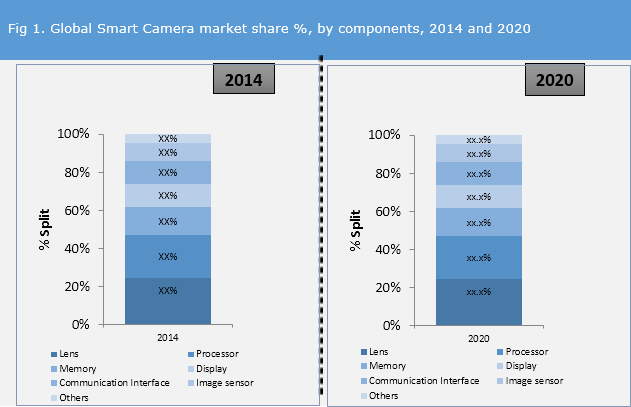 Lens component market was valued at US $ 604.9 Mn in 2014 with 24.5% market share. It is expected to dominate throughout forecasting period with increase in 150 BPS. Processor is the second largest component in terms of market share i.e. 22.5% in 2014. Display component market is likely to exhibit highest CAGR of 26.2% during 2015-2020 with rising y-o-y growth through the forecast period.
Market Segmentation
The global smart camera market is also segmented on the basis of application which includes transportation & automotive, healthcare & pharmaceutical, food & beverages, military & defence, commercial area, consumer and other segments. Consumer segment is the largest application which accounts for 26.3% market share in 2014 but it is likely to lose its market share by 590 BPS in 2020.
Food & beverages application segment is expected to witness highest CAGR of 29.0% during forecasted period. Commercial area applications are second largest in terms of growth during forecasted period with CAGR of 27.0%.
Smart Camera Market: Key Regions
Geographically, the market is segmented into seven regions, North America, Latin America, Western Europe, Eastern Europe, Asia – Pacific (excluding Japan), Japan as a separate region and Middle East & Africa. Asia – Pacific region is largest in terms of market size in 2014 with 32.7% market share, whereas Latin America fastest growing region with CAGR of 31.7%.
Increasing concern for safety and security and high growth of bio-metric market in this region influencing the smart camera growth in Latin America region.
Increasing adoption of home and industry automation system, technological advancement of camera industry, reduction into cost & size of chip and growing electronics and semiconductor industry are the major driving factors for the growth of global smart camera market. On the other hand, high cost of single chip smart camera and lack of software applications etc. are few restraining the growth of smart camera.
Key Players
Some of the market leaders in the global smart camera market are Samsung Electronics Co., Ltd., Canon Inc., Nikon Corporation, Sony Corporation and Panasonic Corporation, Olympus Corporation, Polaroid Corporation, Microscan Systems, Inc., Vision Components GmbH, Matrox Imaging, and XIMEA GmbH. These key players are focusing key strategies such as brand reinforcement strategyand new product development strategy to attract customers and to gain major market share.
Key Segments Covered
By Component
Image Sensor
Memory
Processor
Communication Interface
Lens
Display
Others
By Application
Transportation & Automotive
Healthcare & Pharmaceutical
Food & Beverages
Military & Defence
Commercial Area
Consumer Segment
Others
Key Regions/Countries Covered
North America
Latin America
Western Europe
Asia Pacific
Eastern Europe
Japan
Middle East & Africa
Need specific information?
Talk Show:
The Rise of Intelligent Packaging
Personalized, Connected and Sustainable
November 18, 2021
11:00-11:45 AM PST (USA & Canada)
This is a LIVE session