Introduction
With speedy urbanisation and increasing economic affluence, countries are shifting focus towards managing the internal road, rail, marine, and air traffic efficiently. Additionally, easily available financial facilities and rising developments in the automotive industry have led to a condition where every person possesses his own private vehicle. As a result, urban traffic has grown to an extent that congestion has become an everyday issue.
Further worsening the situation are numerous fatalities that occur on a daily basis. All this is affecting the quality of life and productivity of cities. In order to control these issues, the adoption of traffic management systems is at its peak in every country of the world. Also, the adoption of traffic management systems leads to a decrease in the levels of pollution, and various other benefits such as rise in effectiveness, better use of city infrastructure, and productivity of human life.
Roads to lead in adoption of traffic management systems owing to integration of IT
Robust advancements in the IT industry have created a strong growth potential for all the other industry verticals. At present, IT is entering all industry verticals with the latest technologies such as IoT, connected devices, machine learning, deep packet assessment, and augmented and virtual reality. As these technologies continue to advance, integration of IT technology in traffic management systems will lead to the development of advanced systems with far more capabilities and enhanced performance, drastically enhancing the safety of individuals.
Furthermore, market players now provide traffic management software integrated with machine learning and deep packet examination technologies, and have witnessed heavy demand for these software, thereby leading to healthy adoption.
Consequently, the integration of IT technologies such as cloud, connected devices, and integrated machine learning in these systems creates strong growth opportunities for the traffic management systems market. As a result of this, the adoption of traffic management systems in roadways is increasing at a rapid pace. Moreover, the implementation of traffic rules and growing awareness have triggered the integration of traffic management systems in roadways across the globe.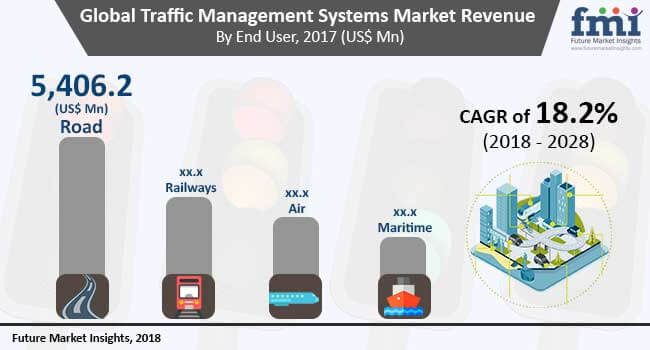 Rail and aviation to also increase the deployment of traffic management systems
Apart from roads, aviation and rail facilities are also developing globally. Moreover, the increasing inter-region and intra-region economic activities are triggering the need to expand the airline facilities. As a result, global travel businesses across the globe are growing at a robust rate. This increasing requirement has led to the construction of more airports, metros, monorails, and railway tracks all over the world. These expanding transport facilities have in turn led to an increased need to deploy traffic management systems in order to ensure the smooth flow of traffic and maintain the safety of individuals. Rapidly growing aviation and rail facilities are expected to create lucrative growth opportunities for the traffic management systems market in the near future.
The technological advancements and growing risks in aviation and rail and the rising number of accidents is expected to further trigger the demand for traffic management systems in railways and in the aviation industry across the globe. Increasing air traffic congestion is also expected to support the growth of the market.
World's Most Profilic Intelligence Engine
Get Access To The World's Largest Market Research Database. Ngage with a revolutionary intelligence engine that scale and pricing that flexes as per your needs
Sign Up Now
Market Taxonomy
The global traffic management system market has been segmented into the following:
Component
Hardware
Software
Services
Application
Urban Traffic Management Systems
Adaptive Traffic Control Systems
Journey Time Management Systems
Incident Detection & Location Systems
Others
End User
Railways
Roads
Air
Maritime
Region
North America
Latin America
Western Europe
Eastern Europe
SEA and Other Asia
Pacific
Middle East and
Africa
Japan
China
Need specific information?