Document Outsourcing Services Market Outlook & Key Findings
Document outsourcing services market to grow at over 3% in 2020, as COVID-19 outbreak pushed adoption of cloud based solutions
Online and offline content access across different devices is one of the key driving force on global level
Increased pressure for regulatory compliance and greater transparency in sectors like banking, insurance and healthcare is expected to increase the demand for analytics and document processing
In terms of verticals, BFSI to register a CAGR of 4.1%, closely followed by healthcare from 2020 to 2030, surfacing as pillar of growth for document outsourcing services market
Advantages of updating and upgrading software in real-time to make cloud-based technology the obvious choice for document outsourcing services, resulting in 2.5x growth of the segment by the end of 2030
Guaranteed Cost Savings becomes Strong Undercurrent for Adoption of Document Outsourcing Services
Organizations are extensively investing in document outsourcing services as the need to enable cost and operational efficiencies is dire. Mounting piles of documents within an organization that require scanning, printing, and storing have to be managed to ensure a relevant connection is maintained between various applications.
If all the applications have to interact with each other, the number of possible interfaces is an exponential function of the number of applications in the organization. An organization with a thousand applications can have up to half a million interfaces. Hence, enterprises are outsourcing documents to third party service providers, to easily manage the flow, process, and store documents in digital or print formats.
Document outsourcing services vendors guarantee savings of over 10% on print production in year and savings of approximately 25% in authoring and translation costs. Thus, the adoption of document imaging and scanning services to store all documents in one central place for easy retrieval in a cost-effective way is expected to up the demand for this segment, specifically.
Modern Solutions to Traditional Systems of BFSI to be Turning Point for the Market
The BFSI sector has been at the forefront of digitizing its record for quick retrieval of documents when required. Scores of documents generated in the BFSI sector are creating a large need for efficient storing to build scalability and flexibility. Looking at the extent of growth of banking and financial services, the requirement of storage capacity is projected to increase exponentially during the forecast period.
The constant efforts by document outsourcing service providers to help their customers modernize policy administration has given the market a shot in the arm. For instance, feature such as dynamic localization of the index fields or automated classification through optical character recognition (OCR), which helps to counter the effect caused due to document displacement during scanning process are expected to iron out the wrinkles in the documentation processes.
Document outsourcing services have also played a crucial role in improving customer service by quick processing of documents in an error-free manner. Opting for these services has allowed new and legacy brands to enrich their customer onboarding and acquisition, omni channel support, and customer retention.
Over the years, document outsourcing services have engaged in offering intelligence to end users about best strategies for optimizing business decisions and processes. service providers help integrate and optimize business processes and align them with the company's strategic goals, as they possess knowledge about new regulations and compliance required in the industry that functions on a global scale.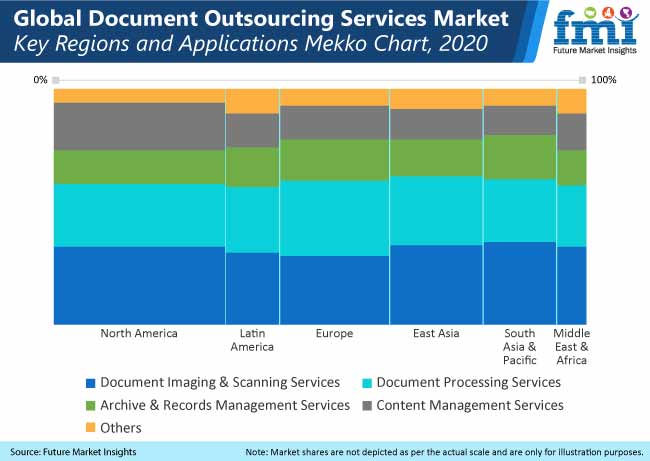 Market share of document imaging and scanning services and document processing services collectively accounts for more than 50% of total share of document outsourcing services market across all the regions.
North America, Europe, and East Asia are the major regions contributing significantly towards the growth of the market, owing to document explosion. This has led to high uptake of advanced analytics capabilities that are offered by document outsourcing services. Thus, integration and analysis of this vast number of documents has been the key demand driver for document management services in these regions.
India and China are major outsourcing service providers. About 43% companies the U.S. utilize offshore outsourcing for IT services due to low outsourcing service charges in East Asia and South Asia and Pacific. In addition, Philippines is one of the largest English-speaking countries in the world with 70% of the population fluent in English, which helps tackle concerns such as language barriers when outsourcing.
Over the last decade, the percentage of Vietnam's growth in the BPO industry has been 20-35% consistently. Data from Vietnam Software and IT Services Association (VINASA) shows that Japan has been the biggest investor in the industry. All of these factors is projected to make East Asia and South Asia and Pacific important to the growth of document outsourcing services market during the forecast period.
How will Document Outsourcing Services Market Tackle COVID-19?
In response to the COVID-19 pandemic, document outsourcing service providers are taking special measures to meet the customer demand by enhancing their service offerings. Regular notifications to customers regarding any policy changes caused by the pandemic situation though the web, SMS, phone, and others have been an important part of response to the ongoing pandemic.
Document outsourcing service providers are offering work- from- home options to their employees and maintaining continuity of business operations by implementing a workforce planning assessment. Companies are also offering secure physical and digital storage, sophisticated machine learning software, automated workflow solutions, and consulting services to navigate way out of COVID-19.
Vendors are providing digitization, storage, data management and shared services that enable compliance at offices as well as homes as recovery is slated for Q3-Q4 of 2020.
Document Outsourcing Services: Regional Market Analysis
North America held the lion's share in the document outsourcing services market with the U.S. playing the disruptor, controlling around 65% of North America's share in 2019. Also increasing number of small and medium enterprises in this region is contributing significantly towards the growth of this market, as start-ups and online business are adopting document outsourcing services and solutions to streamline operations and ensure consistent efficiency.
In addition, support from the governments is also playing to the advantage of the regional progress. For instance, in January 2020, government of Canada, entered into a six-year agreement with Ricoh Canada, Inc. to improve the delivery of printing technology and services. The government has selected Ricoh Canada, Inc. as one of three managed print services (MPS) providers to purchase and manage printing technology and services.
Increasing demand from BFSI, healthcare, and IT & telecom industries in countries such as Germany, France, China, South Korea, Italy, and Japan is expected to drive the growth of the market significantly during the forecast period. Companies in these sectors are trying to reduce operational cost and gain competitive advantage through outsourcing IT services.
Also companies in these countries are outsourcing their services to other countries which provide outsourcing services at low costs. Thus, East Asia and Europe are estimated to offer lucrative opportunities for revenue generation during the forecast period.
Competitors Look at Features such as Real-time Monitoring of Upgrades to Gain Advatange
Document outsourcing services vendors are focusing on launching new solutions, as the demand from BFSI industry is expected to increase rapidly in the near future. It is expected to raise the demand for new or upgraded document management solutions and services solutions over time.
Document outsourcing services providers are also partnering with cloud service providers as remote operations and easy access will be the cornerstones of business operations in the foreseeable future.
For instance, Symcor partnered with Indigenous Link, engagement tools provider, to engage indigenous communities across Canada. This partnership allows Symcor to report, track, calibrate, and monitor document management process in 'real-time' and utilize unique ability to make mid-stream corrections anytime while on the campaign, enhancing return on investments.
The document outsourcing services market has a handful of key players. Some of these market leaders include,
Ricoh Co. Ltd.
Fuji Xerox Co., Ltd.
Iron Mountain Incorporated
Max BPO
Symcor
Hewlett-Packard Co.
Lexmark International Inc.
The following promising players are estimated to showcase a quick growth trend and grab opportunities over the coming years:
Invensis Technologies Pvt. Ltd.
Suma Soft Private Limited
Nimble Information Strategies Inc.
*The list is not exhaustive, and only for representational purposes. Full competitive intelligence with competition deep dive available in the report
Services Focused on Customer Satisfaction to Pave the Way
Customer experience is an important differentiator for carriers when it comes to leading document outsourcing service providers. Hence, companies are focusing on building integrated solutions that create personalized and multichannel customer experiences at lower costs.
Services equipped with artificial intelligence technologies will pave the way for vendors as ensuring customer satisfaction will remain essential. The players will also look at integration of advanced technologies for enhanced document management capabilities to easily collaborate documents, reduce complexity, and many others.
Document outsourcing service vendors can also focus on launching new cloud –based solutions, as demand of such solutions is expected to increase rapidly in the near future. Cloud-based technology offers advantages of updating and upgrading software in real-time, thereby facilitating users to utilize documents more efficiently.
Some document outsourcing service vendors are also focusing on entering partnerships with cloud service providers to offer new or upgraded document management solutions and services during the forecast period.
Document Outsourcing Services Market: Segmentation
The global document outsourcing services market is segmented in detail to cover every aspect of the market and present a complete market intelligence approach to readers.
Services
Document Imaging & Scanning Services
Archive & Records Management Services
Content Management Services
Document Processing Services
Others
Enterprise Size
Small and Medium Enterprises
Large Enterprises
Industry
Banking, Financial Services & Insurance (BFSI)
Manufacturing
Legal
Media & Entertainment
Government
Retail
Healthcare
IT & Telecom
Others (Food and Beverage, Real Estate etc.)
Region
North America
Latin America
Europe
South Asia and Pacific
East Asia
Middle East and Africa
Need specific information?