TOP GROWTH INFLUENCERS – DOCUMENT IMAGING MARKET
Rising Demand for Big Data Handling and Analytics
The document imaging market offers various solutions that are essential in any business entity for big data and analytics. Owing to this rising demand in many organizations such as commercial and residential, the document imaging market is expected to witness considerable growth during the forecast period. Big data technology is a new potential source of revenue generation in any organizations.
Many organizations are installing document imaging for cost cutting and time saving opportunities. Customers mainly look for sleek design and flexible compact imaging technology. Young customers are interested in mobile printing apps and multi-functional printers. Owing to this factor, the document imaging market is growing significantly, and is expected to see robust growth during the forecast period.
Organizations are mainly looking for automated supply and service fulfillment scanners that can provide secure print and document imaging services. Additionally, customers are ready to pay high amounts for better solutions in imaging documents. Dealers are aware about customers' need for holistic solutions. Therefore, the demand for document imaging is growing substantially worldwide.
For instance, in November 2018, Xerox Corporation announced the launch of its cloud-based ECi e-automate software, through which accredited channel partners can shorten many back-office tasks from days to hours. Tasks like handling meters, duplicating help desk and service desk tickets, generating invoices, and read data can now be accomplished by integrating this new document imaging software.
Frequent Product Innovations
To add new features to document imaging solutions, many key players in the market have undertaken research initiatives, such as investigating the need of their customers and improve their existing product portfolio. Awareness among target customers and more advanced products are expected to create new opportunities for the document imaging market in developing as well as developed nations. Hence, the customer base is anticipated to grow, establishing a huge market for future businesses.
For instance, in October 2018, HP Development Company, L.P., introduced a new edition of HP Sprocket, its handheld photo printer. In this 2nd edition, users can print on the same device simultaneously by following few simple steps. Moreover, this edition prints sharper pictures with deeper colors and more visible detail.
North American Governments Investing in R&D
Large number of U.S.-based users and significant players are present in the document imaging market. Governments in this region are investing heavily in research and development of document imaging systems, hence it is also anticipated to propel the growth of the document imaging market. In addition, players are providing monthly basis subscription and discounts on multi-user agreements for increasing the number of startups in this region. This factor is also anticipated to drive the growth of the market.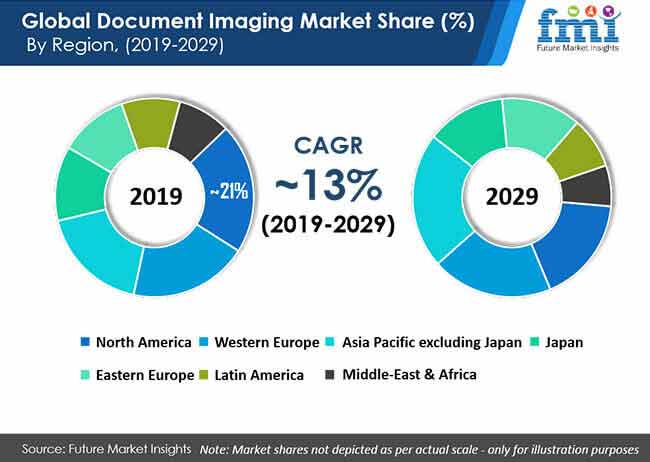 DOCUMENT IMAGING MARKET STRUCTURE ANALYSIS
Increasing Number of Strategic Alliances
In this fast-growing marketplace, it is difficult for document imaging solution providers to specialize in everything. Thus, alliances or partnerships are essential for growth of the document imaging market. In addition, to defend their current position in the market or to emerge new distribution channels, it is very crucial to have new dimensions of applications connectivity. Thus, companies can interface or open up with business partners to capitalize on new technology in the document imaging business. With the help of these strategic alliances, companies are focusing on innovations as customers' demand for improved solutions with high capability and features. They are following these strategies to maintain its distinctiveness in the document imaging market.
For instance, in July 2018, Canon Inc., partnered with AVEVA Group plc, a software provider with the aim to innovate facilities in which machinery and production equipment are connected to a network. This strategy helps the companies in achieving factory visualization by bringing together companies' image processing and camera technologies.
Diverse Product Offerings
Key players are offering diversification in terms of models in the document imaging market for higher profit margins. Most of the competitors are trying to expand their line of offerings by providing new products and services. Rising competition in the Managed Printing Service (MPS) industry is encouraging dealers to invest or diversify in other business entities. However, decreasing price and cost cutting trend is attracting new entities and existing dealers to invest in this document imaging market. Hence, the demand for document imaging is anticipated to rise during the forecast period.
Demand Upsurge within Governments and Law Firms
Government organizations would remain top consumer of paper and are migrating to paperless environment to enhance their workflow, by adopting document imaging technologies. Such workflow transformation echoes swift adoption rate of document imaging. Law firms are also exhibiting significant rate of employment of document imaging solutions.
Several law firms complain of data surplus, with average file cabinet burdened with greater than 10,000 high-priority documents. To be at par with requisites of ever-changing demesne of legal practice, adoption rate of document imaging in law firms, which witnessed a sudden hike in 2017, will outdo their counterparts at over14% during the next decade.
Asia Pacific to Outpace Developed Markets
North America currently leads document imaging market, closely trailed by Western Europe. Realizing the demanding situation regarding paper disposal, government organizations in the U.S. have been directed to store paperless documents. Further, Western Europe, under the influence of the European Commission (EU), is shifting towards electronic data interchange (EDI) to establish paperless international trade.
Asia Pacific excluding Japan (APEJ) will eclipse North American market for the first time in 2022, and Western Europe in the following year. The pattern is expected to remain alike through 2029. In addition, yearly export of APEJ could climb by ~US$ 250 Bn in the near future.
Companies Embracing Shift Away from Paper
Concerns apropos environmental deterioration are compelling enterprises to shift away from paper and transmute their workspaces with a blend of digitalization. The Environmental Protection Agency (EPA) suggest that paper and paper-derived items contribute the largest proportion of products ending up in landfills. As per the United Nation Environment Program, industrialized nations utilize 80% of printing and writing paper. Given the costs of electricity and ink, it climbs to 2-3X the initial price of paper.
Realizing the criticality of situation, governments of different countries are channelizing their focus towards waste reduction by deploying environmentally-friendly and paperless techniques. Further, enterprises, in order to ensure efficient work surrounding and deflate capital investments, are embracing state-of-the-art document imaging solutions
How Growth will Unfold
While on-premise document imaging is still the preferred mode that generates revenues almost twice that of cloud document imaging, there are strong possibilities of cloud gaining superior traction in the near future. On-premise document imaging provides the feature of customization as per the needs of enterprises, especially niche markets.
As on-premise document imaging are cost-prohibitive, they are ideal for large-scale industries with gigantic budgets. Cloud document imaging, on the flip side, is witnessing momentous demand within small and midsize enterprises (SMEs) owing to its low upfront costs. Furthermore, cloud document imaging offers straightforward accessibility from diverse locations, essential in the era of flexible workspaces
World's Most Profilic Intelligence Engine
Get Access To The World's Largest Market Research Database. Ngage with a revolutionary intelligence engine that scale and pricing that flexes as per your needs
Sign Up Now
DOCUMENT IMAGING MARKET TAXONOMY
The global document imaging market is segmented in detail to cover every aspect of the market and present a complete market intelligence approach to the reader.
Component
Software
Hardware

Scanners
Printers
Microfilm Readers

Others
Deployment
End-user
Government Organisations
Law Firms
Physician Practices
Educational Institutions
Others
Region
North America
Latin America
Western Europe
Eastern Europe
Asia Pacific
Excluding Japan
Japan
Middle East and Africa
Need specific information?