Spinal Imaging Market: Key Research Findings
The global spinal imaging market is set to reach US$ 3.5 billion (approximately) by the end of 2032
The multi-billion dollar industry is forecast to exhibit above 5% CAGR between 2022 and 2032, according to Future Market Insights (FMI)
FMI's forecast on the market is based on changes brought about by advances such as 3D modelling of spine
FMI notes the diverse approaches undertaken by leading players such as Philips Healthcare, GE Healthcare, and Siemens Healthcare, who have identified hidden opportunities but have reciprocated in different ways
Don't pay for what you don't need
Customize your report by selecting specific countries or regions and save 30%!
Move towards More Targeted Treatment Spurs Innovations in Spinal Imaging
Advances in genomics have been steering the move towards more targeted treatment that could be a better match for individual patients. Since imaging is one of the key diagnostic tools, it is expected to play an increasingly crucial role in helping physicians determine the precise approach for each patient.
Spinal imaging is one such concept that FMI forecasts to leave a considerable effect in the healthcare sector. Exhibiting a tremendous potential of improving various aspects of care continuum in healthcare organizations, the spinal imaging market will have stability in growth between 2022 and 2032.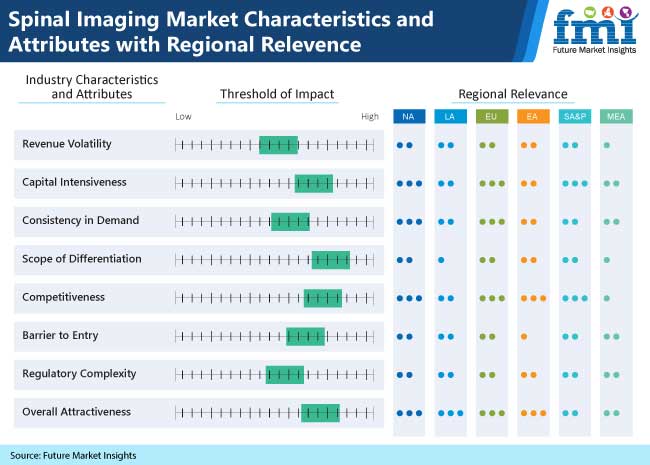 The advent of AI based imaging equipment will further help personalize imaging procedures and protocols while 3D printing will enable better assessment of treatment. Many of these technologies are still at their nascent stage, despite which Future Market Insights thinks they will advance at a quicker pace than expected.
Technology integration in spinal imaging market differs regionally, so is the attributes of the market. Global spinal imaging market is characterized with low revenue volatility, but is capital intensive thus entry of new market actors are slight difficult. Image below explains other attributes of the spinal imaging market.
Rising Procedural Volume of Spinal Surgeries to Fuel Demand in the Market
FMI's forecast for impressive growth of the market is underpinned by a number of factors. In addition to aforementioned factors, the rising procedural volume of spinal surgeries is expected to create significant opportunities for the market through the forecast period.
According to the World Health Organization (WHO) nearly 80% of the global population is prone to experiencing back pain in some point of their life or other. This is clearly indicative of the rising population of target audience for the market.
High prevalence of sedentary lifestyle, coupled with growing aging population, has spurred by the incidence of various lifestyle disorders. This often leads to the deterioration of intervertebral discs, making people more vulnerable to spinal disorders.
Conventional imaging modalities come to little help in precise diagnosis of spinal discs due to their complex structures. Lack of visibility may impede timely diagnosis and treatment, which is why the volume of CT and magnetic resonance imaging (MRI) scans conducted around the world has exponentially increased.
Subsequently, the advances such as the innovation of multidetector CT with a higher gantry speed have improved the overall imaging quality. Leading companies have already started to capitalize on some of the opportunities. However, their approach and level of reactiveness vary widely.
For instance, Toshiba has introduced a cutting-edge automatic alignment tool, which it has dubbed as "Easy Tech". The innovation is in-built with machine learning features to help reduce the time taken for examination.
The rate of innovations is expected to surge in response to the expansion of the healthcare sector. This, coupled with the rising demand from various countries, will drive the spinal imaging market through the course of the forecast period.
Advent of Artificial Intelligence Facilitates Improvements in Spinal Imaging
The use of artificial intelligence (AI) as an alternative or adjunct to radiologic workflows has shown to facilitate segmentation and detection of images. Meanwhile patients can derive benefits from rapid and automated detection of critical diagnosis with improved image quality.
MRI, which holds dominance with over 40% of the spinal imaging market, is undergoing major transformation, following the advent of AI technologies. GE healthcare say has revealed that the combination of AI and MRI offers nearly 87% specificity and greater than 80% accuracy and sensitivity. Contrary to this, MRI data alone can yield no more 75% specificity, 69& sensitivity, and 72% accuracy.
A multitude of studies have confirmed that using AI can improve the overall quality of MRI images, without excessively increasing the computing time. These images also provide a clearer resolution of a patient's brain without distorting the structure.
The advent of artificial intelligence based MRI is also expected to accelerate growth rate of the overall spinal imaging market. Healthcare organizations are gradually transitioning from disparate approaches in radiology departments to a more integrated imaging service line (ISL), to offer improved service levels.
Through this, they aim at helping their healthcare partners gain from economies with scale, creating a dynamic ecosystem for improvement in X-ray, MRI, and scanning modalities. This paradigm shift is bound to impact the spinal imaging market as well, enabling it to scale at a higher pace.
Higher Incidence of Spinal Disorders Paves Way for 3D Technologies, Driving Growth in Spinal Imaging Market
Spinal disorders are in the rise. Globally the prevalence of spinal stenosis, herniated discs, radiculopathy, and equine syndrome has surged, spurring demand for spinal imaging. While MRI continues to remain a preferred imaging tool, the demand for improved accuracy will pave the way for cutting-edge 3D imaging technology.
Healthcare institutes are aiming at better assessing a patient's condition to design targeted approach. This is creating higher demand for 3D surface imaging systems in the spinal imaging market. Advanced analytics and 3D printing when applied to spinal imaging can help clinicians offer more personalized care to patients.
3D imaging is used also for the diagnosis of spinal cord compression, which constitutes one of the primary application-based segments in spinal imaging market. Most common causes of spinal cord compression include degenerative diseases, neoplasms, and disc herniation. Other conditions leading to spinal cord compression includes hematoma, epidural abscess, and trauma.
FMI observes a higher prevalence of aforementioned conditions which is spurring the incidence of spinal cord compression. Resultantly, the demand for spinal imaging as well as improvements in traditional modalities is rising.
Against this backdrop, FMI forecasts hospitals to continue reigning the market as the leading end user. The segment is also considered to remain dominant through the course of the forecast period. Hospitals not only attract an increasing patient pool but offer a sophisticated infrastructure to support advancements such as AI-based and 3D imaging modalities.
Higher investment in hospitals will, therefore, invariably boost the spinal imaging market. Besides hospitals, the advancements of diagnostic imaging centers hold the key for expansion of the market in the near future.
Get the data you need at a Fraction of the cost
Personalize your report by choosing insights you need
and save 40%!
Spinal Imaging Market: Region-wise Analysis
The presence of several top companies and sophisticated healthcare infrastructure has cemented North America's position as the leading market for spinal imaging. The region boasts higher volume of spinal surgeries, backed by the increasing demand from the U.S. wherein spinal disorders are identified as the second most common cause of disability and third most common cause of surgeries.
Patients in this regions exhibits higher demand for advanced diagnosis for better accuracy. Consequently, advent of novel technologies will help North America remain dominant in the global spinal imaging market.
Meanwhile, Europe will remain a highly attractive market for spinal imaging especially since several countries within the region maintain favorable reimbursement policies. Also, steps taken by governments to improve access to modern healthcare will drive growth in the region.
Over the course of the forecast period, Future Market Insights expects Asia Pacific to emerge as a highly lucrative market. The presence of a large patient base and favorable government initiatives encouraging the expansion of the healthcare sector will support growth in the Asia Pacific market.
Market Players Focus on Innovation as Key Strategy to Gain Competitive Edge
It is common among companies operating in the market to stress upon technological advancements. The focus on innovations among market players is therefore considerably high. Recently in 2019, Siemens Healthineers has received the U.S. FDA approval for an MRI scanner it dubbed as "MAGNETOM Lumina 3T".
The product showcases a unique AI-based biomatrix technology that promises to speed up the entire MRI workflow. Companies are also adopting mergers and acquisitions and developing low cost equipment to gain competitive edge in the market.
For instance India-based TATA Foundation has developed a portable and high-tech MRI scanner needs less power but can produce scan three to four times faster than its indigenous counterparts.
Leading Suppliers in the Spinal Imaging Market
In order to closely study various strategies adopted by the leading companies and gauge their impact on the market, FMI profiles some of them in its recent study. Some of the companies profiled in the report are:
Canon Medical Systems Corp.
GE Healthcare
FUJIFILM
Siemens Healthineers
Koninklijke Philips N.V.
Bruker
Shimadzu Corp.
Mediso Ltd.
Toshiba Medical Systems, Inc.
Hitachi, Ltd.
Spinal Imaging Market: The Way Forward
Growth witnessed in the spinal imaging market is primarily driven by recent advances in technology such as the advent of artificial intelligence and 3D printing technologies that can be applied to medical images.
These advances are intended to help clinicians use medical imaging to offer more personalized care to patients. Therefore, FMI observes a higher focus on designing cutting-edge imaging equipment that can better adapt changing protocols.
Precise radiomic data sets obtained from clinical contexts will foster deep learning thus facilitating precision medicine through developments in spinal imaging. These developments will make real-time and image-guided interventions possible thus ensuring better accuracy in diagnosis and treatment.
Spurred by recent developments in technology, the medical imaging market will expand at an impressive pace.
Market Segmentation
Product Type
Application
Spinal Infection
Vertebral Fractures
Spinal Cancer
Spinal Cord and Nerve Compression
End User
Hospitals
Diagnostic Imaging Center
Ambulatory Care Center
Region
North America
Latin America
Europe
East Asia
South Asia
Oceania
MEA
Frequently Asked Questions
The spinal imaging market is expected to grow at a 4.8% CAGR from 2022 to 2032
By 2022-end, the spinal imaging market sales are likely to reach US$ 2.2Billion
By 2032-end, spinal imaging market sales are likely to reach US$ 3.5 Billion
Canon Medical Systems Corp., GE Healthcare, FUJIFILM, and Siemens Healthineers are some leading spinal imaging market providers.