Dental Imaging Equipment Market By Product Type (Intraoral X-ray Systems, Intraoral Plate Scanner, Intraoral Sensors, Intraoral Phosphor Storage Plates, Extraoral X-ray Systems, Cone-Beam Computed Tomography (CBCT) Imaging, Intraoral Cameras) & Region - Forecast to 2020-2030
Dental Imaging Equipment Market - Analysis, Outlook, Growth, Trends, Forecasts
June 2020

REP-GB-861

250 pages
Dental Imaging Equipment Market Outlook & Key Findings
The global dental imaging equipment market to grow at around 6% during the forecast period (2020 – 2030)
Digital imaging gaining traction owing to limitations of convention systems
COVID-19 pandemic to stall growth in the short-term, but long-term prospects remain bullish
Venture funding remains a key capital generation modus operandi
High cost of dental treatment procedures remains a deterrent
Digital Imaging Replacing Conventional Film-based Imaging
The dental imaging equipment market is witnessing an influx of digital imaging systems in place of conventional film-based imaging systems. Digital image processing reduces the downtime as no time needs to be devoted for developing images from films.
Retakes can also be done with minimal exposure to radiation. So, more number of patients with dental ailments could be attended to in lesser time-span. Plus, the ecological balance doesn't get disturbed as waste materials like silver salts and lead foil don't get formed.
These factors are expected to drive the dental imaging equipment market during the forecast period as patients will have to spend less time in awaiting the images and be safe from radiation.
CBCT (Cone-Beam Computed Tomography) finds a broad range of applications. Dental reconstruction and maxillofacial surgeries ask for 3D images of dental structures. Some of the key players providing CBCT digital imaging systems include the following:
Carestream Health provides CS 9300 CBCT dental imaging system and CS 9000 extraoral imaging system
Dentsply Sirona is offering GALLILEOS ComfortPLUS and ORTHOPHOS XG 3D – advanced dental imaging modalities.
Planmeca manufactures and develops ProMax 3D Max CBCT equipment, Planmeca ProMax 3D Mid, Planmeca ProMax 3D Plus, Planmeca ProMax 3D, and PlanMeca ProFace that makes way for 3D facial photo as well.
Organized Dental Clinics Chain: The Biggest Market
Growing venture capital funding with regards to dental laboratory business in the developed countries has enabled firms to go for their own distribution channels. For instance – Recently, Leixir raised money from IvyCap Ventures for forming an organized dental chain.
In Feb 2018, Nordic Capital inked agreements for acquiring Top Mondzorg BV and TopOrtho ("Dental Clinics") with Adent Cliniques Dentaires Groupe SA (Adent) with 22 clinics in Switzerland and 88 clinics in The Netherlands. Dental Clinics and Adent were acquired from Oaktree Capital Management.
Asian Healthcare Fund (AHF) is one of the private equity firms that invests in the life sciences and healthcare sector of India. The objectives behind this investment are identifying proper healthcare investment opportunities and working with promoters to maximize the healthcare industry's value creation potential. Its investments include the ones in "Sabka Dentist" and "MyDentist" since 2010.
Covid-19 Crisis Impact on Dental Imaging Equipment Market
The outbreak of Covid-19 is acting as an obstacle to manufacturing, workforce management, supply chain, transportation, and trade due to lockdown. This has also resulted in decrease in visits of patients to hospitals as social distancing needs to be adhered to. As such, the dental imaging equipment market has slowed down. It will take around two subsequent quarters for the situation to get back to normal.
High Cost of Dental Procedures and Negligible Insurance Coverage: Key Challenges to Dental Imaging Equipment Market
Dental treatment is costly especially due to high cost of the equipment used therein. Plus, majority of insurance companies do not cover dental treatment. So, these expenses have to be borne by patients alone. This factor is expected to restrain the dental imaging equipment market in the forecast period.
Dental Imaging Equipment Market Dynamics
The ever-increasing scope for upgradation of devices coupled with growing capital funding is expected to drive the dental imaging equipment market. Also, least probability of new entry of players could create a hesitation in the minds of investors.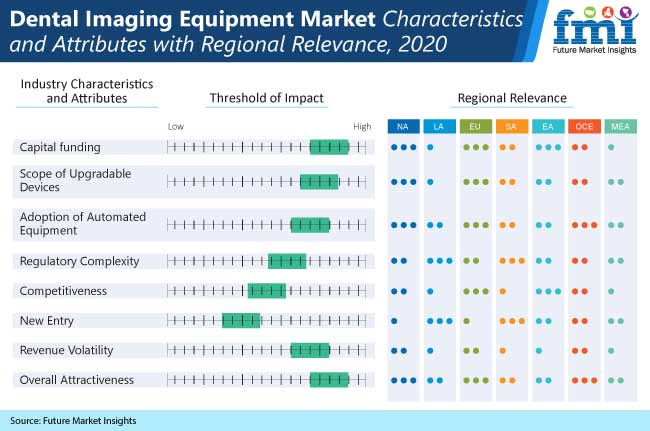 Dental Imaging Equipment Market: Region-wise Analysis
North America and Europe continue to hold the largest share pertaining to Extraoral X-Ray systems.
Asia Pacific is expected to grow at the fastest rate followed by Latin America and Africa.
South Africa and Brazil are also into creating awareness regarding importance of dental hygiene. These factors are likely to boost the dental imaging equipment market in the forecast period.
Leading Players in Dental Imaging Equipment Market
The dental imaging equipment market is onto the digital spree. Digital imaging systems are being provided by the key players to cater to the increasing number of patients throughout. At the same time, AI is being tried out as an effective tool for dental digital solutions.
In line with the above-mentioned developments, twin robotic X-Ray system from Siemens provides a combination of 2D X-Rays with fluoroscopy along with 3D imaging.
Envista Holdings Corporation, in Jul 2019, launched "KaVo ORTHOPANTOMOGRAPH OP 3D". It is inclusive of cephalometric version.
In Sep 2019, 4th-IR and Apteryx Imaging, Inc. inked a partnership for developing AI (Artificial Intelligence) solutions to facilitate dental digital imaging.
The key players in the dental imaging equipment including the ones mentioned above are:
Envista Holdings Corporation
Dentsply Sirona
Carestream Dental, LLC
Danaher Corporation
Acteon Group
Planmeca Oy
*The list is not exhaustive, and only for representational purposes. Full competitive intelligence with SWOT analysis available in the report
Dental Imaging Equipment Market: The Way Forward
The long-term outlook regarding dental imaging equipment market remains strong, with FMI's analysis stating that the Y-o-Y growth could be over 6%. The ongoing pandemic has hampered the short-term demand for dental imaging equipment market. It will take some time for the market to bounce back
Dental imaging equipment market players are already switching over to the digital mode of imaging. However, high resolution images need to be emphasized on. Besides, collaborating with local manufacturers to table cost-effective equipment should be on the agenda.
World's Most Profilic Intelligence Engine
Get Access To The World's Largest Market Research Database.
Sign Up Now
Dental Imaging Equipment Market: Segmentation
The global dental imaging equipment market is segmented in detail to cover every aspect of the market and present a complete market intelligence approach to the reader.
Product Type
Intraoral X-ray Systems

Wall/Floor Mounted Intraoral X-ray Systems
Hand-Held Intraoral X-ray Systems

Intraoral Plate Scanner
Intraoral Sensors
Intraoral Phosphor Storage Plates
Extraoral X-ray Systems

Panoramic X-rays Systems
Cephalometric Projections Systems

Cone-Beam Computed Tomography (CBCT) Imaging
Intraoral Cameras
End Users
Hospitals
Independent Dental Clinics
Ambulatory Surgical Centres
Forensic Laboratories
Region
North America
Latin America
Europe
East Asia
South Asia
MEA
Oceania
Need specific information?
Our Clients