Market Players Continue to Prefer Desktop Workstations
Desktop workstations provide wider configuration options and allow for further hardware modifications such as adding a professional-grade graphics card or, a sound card. Such flexibility is expected to enable two-fold adoption of desktop workstations through 2029. Mobile workstations, on the other hand, enable users to perform on-site operations, and are operable in compact workspaces. Although they are cost-intensive versus the desktop version, their benefits significantly outweigh their drawbacks. Further, by 2020, deployment of mobile workstations would accent around US$ 10 Bn.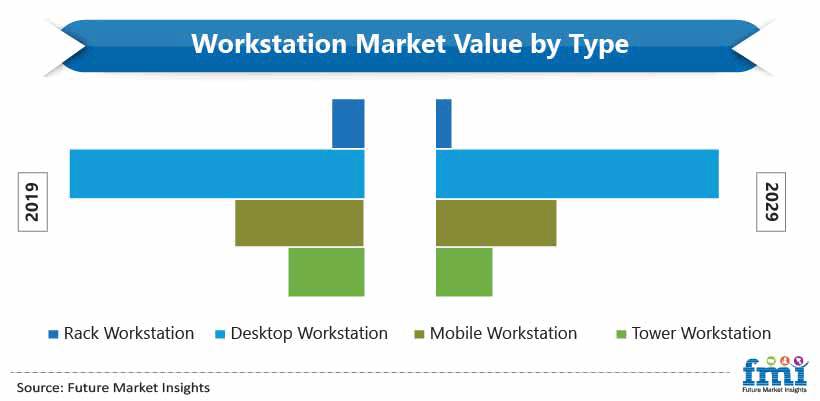 North America Continues to Lead, APAC to Emerge Attractive
North America and Europe procure around 70% of total workstation market value, collectively, with the former representing the fastest growing market for 3D animation technology. Strong foothold of technology pioneers - Microsoft Corporation, and Secunet AG - in both the regions are expected to keep market players engaged throughout the projection timeframe. Service vendors are also allocating their capital investments to Asia Pacific (APAC), owing to rapid penetration of industrial automation in the region. This research study further reveals that the markets in China, and India would emerge as the most lucrative in the coming years.
AR- and VR-ready Workstations to Shape Growth Curve
The industrial sector has emerged as a power user of augmented reality (AR) and virtual reality (VR) technologies that marked their initial presence in media and entertainment. FMI finds that worldwide expenditure on these immersive technologies - collectively known as extended reality (XR) - is likely to heave at around 80% in 2020 compared to 2019. Engineering and manufacturing companies are leveraging the potential of AR- or VR-enabled workstations in visualizing, simulating, and developing computer-generated environments. Centralized workstation providers must capitalize on these industrial use cases in order to reap meaningful revenue and profits.
How Growth will Unfold
Market players continue to view the engineering & design, and manufacturing sectors as their target end users, which collectively capture nearly half of overall market value. This is attributable to surging demand for creating 3D mechanical designs and engineering simulations, which, in turn, is driven by the rising adoption of Computer-aided Design (CAD) software. Furthermore, workstation solution providers are channelizing their attention towards the banking, financial services and insurance (BFSI), and healthcare industries to ensure outsized returns.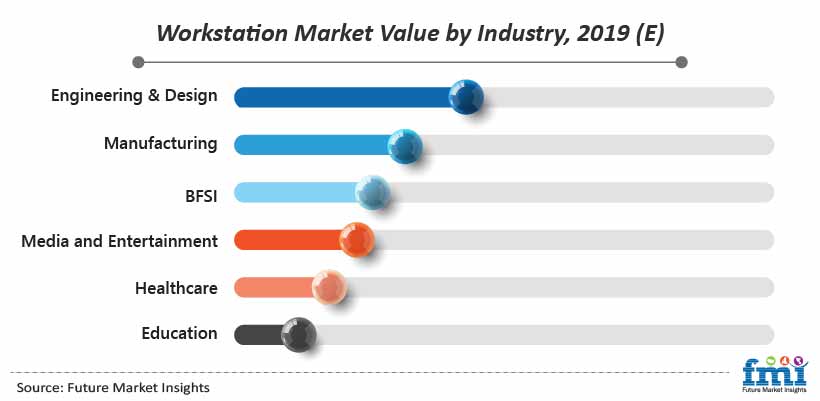 WORKSTATION MARKET TAXONOMY
The market is segmented in detail to cover every aspect of the market and present a complete market intelligence approach to the reader.
Type
Rack Workstation
Desktop Workstation
Mobile Workstation
Tower Workstation
Operating System
Core
6 Cores
8 Cores
12 Cores
18 Cores
28 Cores
32 Cores
56 Cores
Others
Enterprise Size
Application
Digital Content Creation
Advanced Data Modelling
Industrial Designing
3D Modelling
Others
Industry
Healthcare
Education
BFSI
Manufacturing
Media and Entertainment
Engineering & Design
Others
Region
North America
Latin America
Western Europe
Eastern Europe
Asia Pacific excluding Japan
Japan
Middle East & Africa
Need specific information?
Talk Show:
The Rise of Intelligent Packaging
Personalized, Connected and Sustainable
November 18, 2021
11:00-11:45 AM PST (USA & Canada)
This is a LIVE session