About the Report
The global workstation software market is expected to reach a valuation of US$ 28.77 Bn by 2031. The increasing demand for graphics designing and digital content creation software and high quality graphics and games across the globe have been creating growth opportunities for the market.
Purpose-built workstations for content creation and computer-aided design (CAD), helps in accelerating 3D modeling workflow and increases the productivity. Adoption of workstations enables users to run mission-critical applications on a stand-alone workstation that is optimized for size, weight, and power.
Small as well as large scale enterprises are adopting workstations and associated software to enhance the computing performance. Thus, the increasing adoption of workstations among enterprises across several industries is expected to propel the growth of the market.
In its new study, ESOMAR-certified market research and consulting firm Future Market Insights (FMI) offers insights about key factors driving demand for workstation software products. The report tracks the global adoption of workstation software products in 20+ high-growth markets, along with analyzing the impact of COVID-19 on the global adoption of workstation software solutions, along with the pre-COVID and post-COVID market growth analysis.
How the Historical & Future Projections for Workstation Software Market Match Up?
Between 2016 and 2020, global workstation software market has registered the CAGR of 11.3%. Rise in the demand for 3D modeling software in architecture and construction industries will drive the growth of workstation software market.
3D modeling is a process that develops a representation of an object in three distinct dimensions through distinguished software. The created object is called a 3D model and these 3-dimensional models are used in a variety of industries, including manufacturing, media & entertainment, architecture and construction, and others.
3D modeling software is increasingly used in architecture and construction sectors. This is because designing tasks are also becoming more resource intensive, consuming a lot of processing power, memory and high graphical processing units.
The representation of 3D modeling is primarily done through one CPU core and interaction with a 3D program. However, to succeed in 3D modeling, user needs to have a workstation CPU that has a superior clock speed. Several companies offer high configuration workstations with high processing power and top clock speed to help architectural and construction organizations in designing effective 3D structures of buildings and infrastructure designs, thus increasing the demand for 3D modelling software in the workstation software market.
How is Adoption of Heavy Software Applications among Enterprises will Impact Market growth?
The term workload is defined as the amount of work performed by an application in a given period. Every application has limited capability to handle and process work. Several organizations use heavy applications for their business processes like financial analysis, design, Computer Aided Design (CAD), heavy video editing and graphics, and if the assigned applications goes beyond the workload capacity, it may take a long time to complete or often it gets crashed. It becomes even more severe in cases where a workload requires high compute resources, such as servers or database systems assigned a workload upon creation.
Workstations offer an efficient and optimal way to address the problem of heavy workload applications, irrespective of platforms or industry. Workstation provides parallel processing of heavy applications to execute intensive workloads of varying size. Workstations offers several options tailored to suit various requirements like huge RAM capacity, high storage, Multi-Graphical Processing Units (GPUs), thermal cooling, and enable running of heavy-memory applications such as CAD, CAM, Photoshop, and massive multiplayer games.
Increasing Demand for High Graphics Quality Games
The gaming landscape has changed massively as compared to how it was when home computers first became popular. Many devices and inventions have appeared that correspond to the main achievements of computer technology. However, nowadays, gamers expect to find high-end games, with high graphics quality and plenty of different genres to explore.
Modern gamers now expect near-realistic graphics and a smooth play experience regardless of the game they're playing. Since most gamers want to be able to play the latest releases with the highest graphics settings, creating a supply and demand for high-powered gaming workstations. Thus, game lovers spend huge amount on highly configured workstations to play high-end graphics quality games.
What are the Factors Restricting the Adoption of Workstation Software?
One of the major factors hampering adoption of workstation software is the high initial upfront cost required for high-end workstation. Several industries such as manufacturing, engineering, architecture and construction rely on powerful computers that comprise of high graphics, more number of cores, and huge storage space. These computers can cope with data-heavy applications, for everything from fluid dynamics modelling to rendering rich and immersive 3D virtual reality graphics.
Companies often buy high-end workstations, such as, gaming workstations, for high-quality production and performing task specific activities, companies need to add extra cost to make workstations more advanced. The cost for low-end workstations varies from $1,000 to $1,500, and the cost for mid-range workstations varies from $3,000 to $4,000, compared with $500 to $1,000 for an equivalent desktop PC.
As the demand for workstations in industrial sectors is increasing, organizations have also increased there IT investments to run industry applications efficiently and hit their deadlines. But, for many enterprises, including SMEs, these investment costs are a matter of concern. This lack of adequate budget continues to be an important concern for industry professionals to effectively carry out their IT operations. Hence, the high initial upfront cost is expected to act as a major challenge in the global workstation software market.
Growing Demand for Digital Content Creation Propelling Growth
With growing understanding of the high-end usage of digital photos & videos among consumers, the media industry is currently adopting simple 2D & 3D image editing, web creation and low-end video editing to feature-film special effects creation and editing. This in turn is increasing the adoption rate of workstations, as the demand for digital software for high processing platform is rising.
The digital content creation segment accounted for approximately 13% of the workstation market in 2015 and is expected to grow by 25% by end of 2026.
The global digital content creation market grows with rapidly expanding user base of smart technologies and electronic gadgets.
Country-wise Analysis
Workstation Software Adoption Trend in the U.S.
Until 2020, workstation software market in the U.S. exhibited growth of over 8.0% to reach US$ 2.68 Bn. The market is set to further aggrandize at a CAGR of nearly 10.2% through 2031. FMI has projected the U.S. to remain one of the most lucrative markets in North America throughout the course of the forecast period, owing to presence of prominent workstation software vendors in the region. According to estimates, the sales of workstations in U.S. is expected to increase by 2% to 3% during 2020 to 2022, owing to rise in mobile workstations across the country.
Moreover, the heighten demands, specifically from the architecture and manufacturing sector has propelled the growth of U.S. workstation software market.
What are the Key Trends in U.K. Workstation Software Market?
Europe is making huge progress in the areas of content creation, media & advertising and gaming sectors. With the U.K. being one of the most advanced global markets for computing, there is a sizeable business ecosystem serving the primary market, for example in desktop and mobile workstation. By the year 2020, the U.K. market is expected to achieve growth at the CAGR of 13.7%.
In terms of market share, the U.K. owns over 20% share in the 3D rendering and modeling market. The demand is mainly coming from automotive manufacturers, as the manufacturers are seeking new technology and method to shorten the development time, reduce intensity of manufacturing, fully use outside resources, and integrate and cooperate with their global suppliers.
The growing demand for workstation software products across several industries is driving the growth of U.K. workstation software market. The U.K. workstation software market is estimated to reach a valuation of 1,455.2 Mn by the end of 2031 by registering a CAGR of 16.2%.
China Emerges as a Key Workstation Software Market
China is estimated to record an incremental opportunity worth US$ 2.58 Bn during the forecast period. China is among the world's largest computing resource manufacture market. Companies like Dell and Huawei are among the best-positioned to capitalize.
The China government is focusing on an early adoption of new technologies and highly subsidizes companies in developing industries. It is dedicated to pushing the virtual and computing market in the country, creating major business opportunities for workstation software vendors. The government is continuously focusing on investing on cloud and related ICT technologies to enhance digital transformation, which in return, would drive the growth of China workstation software systems market.
What is Driving Workstation Software Sales in India?
In India, researchers are exploring the economic potential of 3D modelling and rendering technology. The construction industry in particular has a long way to go in India, along with other applications where 3D modelling remains surprisingly unused in comparison with Europe and the US.
The adoption of workstations is gaining momentum and growing exponentially. The main reason behind the growth is because of the government's support in embracing emerging latest technologies and best practices derived from different cloud deployment scenarios and application areas.
The Indian workstation software market is a very vibrant market and the country has presence of all of the major global cloud providers like Autodesk, Adobe, Coral Corporation, and among others. Small and medium-sized businesses in the country are actively migrating to workstations and related technologies and large enterprises are also following suit.
The manufacturing sector in India workstation software market is witnessing the high growth with a CAGR of 18% and is estimated to record the incremental opportunity worth US$ 295.2 Mn during the forecast period.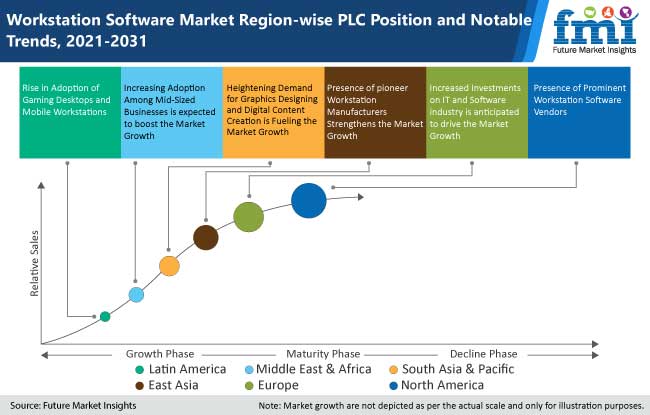 Category-wise Insights
How is Adoption of Virtual Reality (VR) Software Impacting Growth?
Increasing access to Virtual Reality (VR) is creating new opportunities for product design and manufacturing, from initial design concepts to sales. Some uses of VR are extensions of existing use cases, while others are completely new. These technologies have huge market potential to become the next generation computing platform.
CPU and GPU play an important role in creating and running VR applications. CPUs are required in VR viewing applications, frequency/clock speed tend to be more important than having lots of cores. In those applications, dedicated VR systems may be best served with a low core count CPU at the highest possible clock speed.
For users that are creating VR content, additional CPU cores can make a difference, depending on the VR content creation software. Many 3D manipulation and rendering programs scale well with multiple cores, as does stereoscopic video editing. Several 3D modeling software development companies are continuously innovating, upgrading, and developing advance software to expand their presence into the VR market.
For instance, in March 2020, Autodesk Inc., unveiled the latest version of its Autodesk VRED, its automotive 3D visualization software, to supports NVIDIA Quadro RTX, letting designers tap into powerful GPU technology to create and design like never before.
How Increasing adoption of 3D Modeling, Rendering and Animation Software would impact market growth?
Nowadays, 3D animation software's are considered high in demand and are very popular and helpful for animators and designers. 3D animation software's are used to make 3D movies, video effects, motion graphics, VFX, and animation videos. Some of the most used and popular 3D animation software available in the market are Autodesk Maya, Autodesk 3Ds Max, Blender, Cinema 4D, ZBrush, and LightWave 3D.
Who is the Leading End User of Workstation Software?
Over the past few years, the demand for workstation software has increased in industries such as media & entertainment, and gaming. According to the study, the demand from media & publishing segment will continue rising at a high pace. It is expected to account for over 30% sales in the global market.
Competition Landscape
The workstation software market is highly concentrated. The companies that hold market share near to 40% are tier-1 companies and this group includes players like Autodesk, Inc., Adobe Inc., Microsoft Corporation, and Fujitsu.
The companies with market share of above 10% and below 15% are the promising players. These companies are likely to showcase a quick growth trend and harness the opportunities that the global market has to offer to accommodate business expansion and revenue generation. This group includes Corel Corporation, Virtuix, Dassault Systèmes and Others.
Companies that have a relatively lower share in the market, worth less than 10%, are strategizing to attract new clientele in foreign markets. The companies in this group are Luxion Inc, Enscape, Maxon Computer, and among others.
Market players rely on multiple expansion strategies to deepen penetration across lucrative markets. These strategies include product launches, collaborations with key players, partnerships, acquisitions and strengthening of regional and global distribution networks.
In February 2021, Autodesk, Inc. has entered into definitive agreement to acquire Portland, Oregon-based Innovyze, Inc., a global leader in water infrastructure software. The acquisition would help Autodesk for providing end-to-end water infrastructure solutions from design to operations, accelerates Autodesk's digital twin strategy, and creates a clearer path to a more sustainable and digitized water industry.
In June 2020, Autodesk Inc, has unveiled the worldwide availability of Autodesk Takeoff, a new product that empowers estimators to perform 2D and 3D quantification workflows from a common data environment to increase collaboration, speed and accuracy during the estimation process.
In December 2020, VMware released its new update of VMware vSphere 7. The new update is the most powerful version of VMware vSphere to date and provides the capabilities that organizations need for traditional and modern applications and workloads.
In November 2020, Fujitsu introduced its new version of iCAD SX V8L1, the latest version of the 3D CAD software Fujitsu Manufacturing Industry Solution COLMINA Design & Manufacturing Support iCAD SX for machinery design, which is powered by the world's fastest 3D CAD engine.
FMI has profiled the following prominent workstation software providers in its report:
Fujitsu
Unity Technologies
Virtuix
Corel Corporation
Microsoft Corporation
Dassault Systèmes SolidWorks Corporation
GIMP
SubVRsive Inc.
Survios
Luxion Inc
Enscape
MAXON COMPUTER GMBH
Skylum
Workstation Software Market Report Scope
Attribute

Details

Forecast Period

2021-2031

Historical Data Available for

2016-2020

Market Analysis

US$ Mn for Value & Units for Volume

Key Regions Covered

North America, Latin America, Europe, East Asia, South Asia & Pacific, and Middle East & Africa

Key Countries Covered

U.S., Canada, Germany, Italy, France, U.K., Spain, GCC and South Africa

Key Segments Covered

Workstation Software, End User, and Region

Key Companies Profiled

Autodesk, Inc.
Fujitsu
Unity Technologies
Adobe Inc.
Virtuix
Corel Corporation
Microsoft Corporation
Dassault Systèmes SolidWorks Corporation
GIMP
SubVRsive Inc.
Survios
Luxion Inc
Enscape
MAXON COMPUTER GMBH
Skylum

Customization & Pricing
Key questions answered in the report
How will Workstation Software market expand until 2031?

FMI projects the global workstation software market to register a CAGR of 11.3% during 2021-2031 assessment period. Rise in demand for 3D modeling software in architecture and construction industries will drive growth.

Which is the most lucrative region in the global workstation software market?

North America is the most lucrative region in the global workstation software market and it is likely to remain dominant in the the near future. Continuous developments in workstation software and presence of prominent workstation software vendors will support expansion in the region.

Who are the leading players in workstation software market?

Some of the leading players operating in the global workstation software landscape include Autodesk, Inc., Fujitsu, Adobe Inc., Corel Corporation, Microsoft Corporation, and among others.

What are the Major Factors Driving Workstation Software market?

The major driving factors behind the growth of workstation software market includes increasing demand for high graphics quality games, growing demand for digital content creation, and heightening demand for graphics designing and digital content creation software's

What are the major trends impacting market growth?

Rising demand for 3D animation software and higher adoption of workstation applications in SMEs are expected to shape the future of the workstation software market.
Key Segments Covered:
By Workstation Software
3D Modeling & Rendering Software
CAD, CAM and CAE Software
Virtual Reality (VR) Software
Image and Video Processing Software
By End User
Engineers, Designers and Architects
Enterprise Software Developers
Gaming and Entertainment
Media and Publishing
By Region
North America
Latin America
Europe
East Asia
South Asia Pacific
Middle East & Africa
Need specific information?