This Ivf Workstation market study offers a comprehensive analysis of the business models, key strategies, and respective market shares of some of the most prominent players in this landscape. Along with an in-depth commentary on the key influencing factors, market statistics in terms of revenues, segment-wise data, region-wise data, and country-wise data are offered in the full study. This study is one of the most comprehensive documentation that captures all the facets of the evolving Ivf Workstation market.
Rise in Infertility Cases & Gynaecological Disorders are Increasing the Demand for IVF Workstation to be used for IVF procedure
Infertility is the major problem worldwide and results in the abnormal functioning of the male or female reproductive system and can manifest as an inability to get pregnant, inability to maintain the pregnancy or inability to maintain the pregnancy to a live birth. According to the Centers for Disease Control and Prevention data for 2011–2013 in the U.S reported that about 7.5 million women had decreased the ability to get pregnant or carry a baby to long term. Infertility can be due to both men and women or due to some unknown problems. The number of patients suffering from problems related to ovulation, uterine problems, blocked fallopian tube, poor diet, age, and others is growing. High consumption of alcohol, drug abuse, smoking, chemotherapy, radiation therapy, strong medication are some of the risk factors associated with infertility in men. The IVF procedure is sensitive and possess high risk of contamination, so there is the need of clean and aseptic environment. The IVF workstation are rust free, sterile and specified to the IVF requirements. The IVF procedure is very critical as the embryo and the oocytes are manually manipulated, then the embryo is transferred to the woman's uterus. All these procedures should be carried out in a clean and safe environment, so the IVF laboratories and specialty hospitals are using IVF workstation important for carrying the steps of IVF procedure. The IVF workstation are type of laminar air flow, and are specialized for manipulation of embryo. The IVF workstation market is expected to grow at a significant CAGR due to rise in infertility and rise in IVF procedure.
Identify Key Market Forces and their Long-Term Forecast
Sneak Peek into Key Forecast Factors and thier Impact
COVID -19 : Impact Analysis
Request the coronavirus impact analysis across industries and markets
Request Covid -19 Impact
Success of IVF Laboratory
The laboratory for IVF procedure should be aseptic with advanced technology as workstations are positioned to perform practical and accident-free IVF procedure. The IVF workstation is required to minimize microbial contamination and for research work in the field of human reproduction. The benefits of using IVF workstation are low noise level, controlled pH and osmolality, and maintains the required temperature for the procedure. The recent advantages in the IVF workstation include HEPA filtration, which reduces the contamination. Integrated temperature-controlled humidification system, programmable auto-start and shut-down functions and many other facilities are offered in the IVF workstation for the successful IVF procedure. According to the National Vital Statistics report of the U.S., in 2013 the fertility rate was 62 births per 1000 women, which was down by 1% from 2012. The IVF workstation market is segmented based on single and dual IVF workstation types. The single IVF workstation segment accounts for higher market share as its adoption is more in hospitals and IVF clinics and it can fit in any laboratory space constraints and reduce the risk of contamination.
IVF Workstation Market Assessment by End Users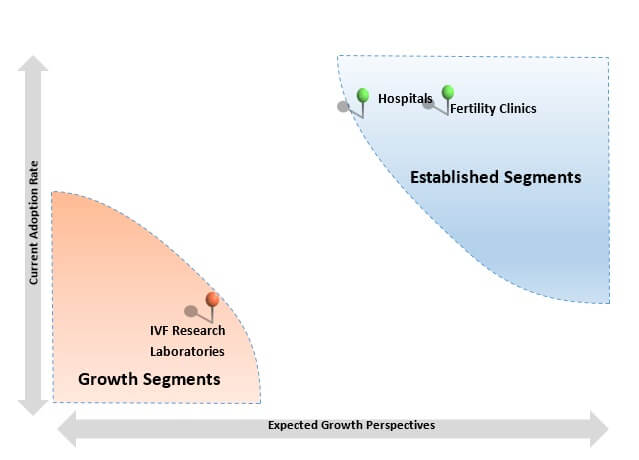 Factors Driving the IVF Workstations Market
Increased rate of infertility due to blocked or damaged fallopian tubes, decreased sperm count, ovulation disorders in women, and genetic disorders, among others, are some of the factors increasing the demand for IVF procedures. The researchers are focusing on health problems related to women and men, so that new and advanced assisted procedures are developed with high success rate. Technological advancement in devices with improved sensitivity, growth in the median age of first-time motherhood, growing public awareness about infertility and assisted procedure and the available treatment options, and rising out-of-pocket healthcare expenditure are some of the factors driving the demand for IVF procedures that require IVF workstation to ensure proper system operation for maximum sample protection. Changing lifestyles has led to increasing cases of gynaecological disorders such as fibroids, uterine polyps, polycystic ovarian disease, endometriosis, and unexplained infertility that lead to difficulties in conceiving. These are the factors expected to boost the growth of the IVF workstations market.
IVF Workstations: Success of IVF Procedure
In vitro fertilization workstation provide sample protection due to its controlled work environment, minimize microbial contamination, ensure operator comfort and enhance productivity with user-friendly control system. From the last 18–20 years, the IVF procedure is advancing and various IVF procedure devices are in the market and these devices are specifically designed for embryo manipulation. IVF workstations are economical and show better results to perform IVF procedure with high performance and greater efficiency.
Regional Outlook
North America leads in the global IVF workstation market due to sedentary lifestyle, increasing cases of stress-related diseases and disorders, which lead to rise in infertility, and new product innovations. Europe is the second leading market for intrauterine insemination treatment due to development activities and large research base. The Asia Pacific market is also expected to grow at a higher rate owing to changing lifestyle, large target patient pool, rapid population growth, adoption of western lifestyle, rise in awareness level about IVF procedure and growth in research and development.
Competition Outlook
Examples of some of the players identified in the global IVF Workstation market are MidAtlantic Diagnostics, Esco Technologies, Inc., CooperSurgical Fertility Company, Live Cell Instrument, HUNTER SCIENTIFIC LIMITED, MTG Medical Technology, RESCHOLAR EQUIPMENT, Gelman Singapore, Leica Microsystems (Danaher Corporation), etc. Increase in infertility cases, rise in IVF procedure and increases awareness about the assisted reproductive technology with no ethical issues are some of the factors offering global opportunity to its manufacturers to develop high-grade IVF workstations.
Small-Scale Manufacturers/Providers

Medium-Scale Manufacturers/Providers

Large-Scale Manufacturers/Providers

Live Cell Instrument

MTG Medical Technology

RESCHOLAR EQUIPMENT

Gelman Singapore

MidAtlantic Diagnostics

CooperSurgical Fertility Company

Esco Technologies, Inc.

HUNTER SCIENTIFIC LIMITED

Leica Microsystems (Danaher Corporation)
Research Methodology
The market sizing of IVF workstation will be done by the adoption data triangulation approach. Demand-side approach will be followed to assess the actual market size of IVF workstation. Secondary research will be used at the initial phase to identify the feasibility of the target products/technology categories and its respective segments, product and service offerings, equipment installed base in end-use facilities, adoption rate and future impact of new technologies. Additionally, per capita consumption of kits, reagents and consumables among end users will be tracked at a granular level to obtain the most accurate information. Each piece of information will be eventually analyzed during the entire research project, which helps build a strong base for the primary research information.
Primary research participants include demand-side respondents such as laboratory managers, procurement managers, research supervisors at academic and research institutes, as well as key opinion leaders in addition to supply-side respondents such as equipment and reagent manufacturers, custom solution and service providers who provide valuable insights on trends, research application of products and technologies, purchasing patterns, services offered and associated pricing.
Key Data Points Covered in Report
The report covers exhaustive analysis on:
IVF Workstation Market by product Type, end user and region
Regional level market analysis of North America, Latin America, Europe, Asia Pacific Excluding Japan, Japan, Middle East & Africa by test type, end use segments and country
IVF Workstation Market Dynamics & Opportunity Assessment
Historical Actual Market Size, 2013 - 2017
IVF Workstation Market Size & Forecast 2018 - 2028
IVF Workstation Agents Current Trends/Issues/Challenges
Competition & Companies involved
Unique Requirements? Customize this Report
Customize by Region, Country, Application, Product, & other segments
Integrate our Insights with your Existing Data
Determine the scope of the study to suit your requirements
Gain Insights on Key Ivf Workstation Market Impacting Forces
Know the Winning Strategies of Market Leaders
Get Deep-Dive Analysis on Each Segment
Identify the Sources that will Drive Top-Line Revenue
Market Segmentation
By Product Type
Single IVF Workstations
Dual IVF Workstations
By End user
Hospitals
Fertility Clnics
IVF Research Laboratories
Others
By Region
North America
Latin America
Europe
Asia Pacific Excluding Japan
Japan
Middle East & Africa
Report Highlights:
Shifting industry dynamics
In-depth market segmentation
Historical, current and projected industry size, recent industry trends
Key competition landscape, market structure, regulatory scenario
Epidemiology outlook for diseases
Economical spending, regional healthcare outlook, consumer healthcare expenditure
Availability of testing, cost of test, specificity and sensitivity of test kits
Strategies for key players and product offerings, channel strategies, regional foot print, channel footprint
Potential and niche segments/regions exhibiting promising growth
A neutral perspective towards market performance in terms of value and volume
Frequently Asked Questions
---
Why choose FMI?
With a global presence and a trusted partner to several Fortune 500 firms, FMI covers 1 billion+ data points to build a diversified portfolio for market benchmarking
Market Reports researched and peer reviewed by industry experts from across the globe
We follow a multi-dimensional method of analysis monitoring a three-layer data validation process
In addition to demand-side market assessment, our data triangulation methodology involves supply-side research
Primary research includes mandatory field interviews with stakeholders involved
Customizing reports according to client specification is also our forte
What will you discover from Ivf Workstation Market report?
The current and future market size, covering each aspect and nuanced trends across key national and geographic markets
An overview of the market report, providing an imperative visual of the varied market subdivisions and overall forecast statistics in terms of value and volume
Extensive database and key dynamics elevating the market with varied verticals associated
Underlying Ivf Workstation Market forces that are compelling consumers or businesses to purchase the product
How novel technologies and consumer-centric innovations will create new value-adding opportunities for companies active in the Ivf Workstation Market
What will be environment and regulatory impacts on the market over the next decade
Which framework has been used to develop the Ivf Workstation Market report?
Investment Feasibility Matrix - It shows returns on investment, level of competition, success rate of investment, and potential risks associated with the market. The analysis shows that the competition is high in the established market, while the returns for short-term investment are also taken into consideration
Relative Maturity Mapping – The relative maturity is measured according to three growth phases (growth, maturity, decline)
Relative PLC (Product Life Cycle) – Analysis of the emergence of prominent players and competitive test prices which are driving factors behind every market. (expected market behavior, observed market behavior, expected market performance, observed market performance)