Centrifugal Pumps Market Snapshot
[294 Pages Report] The Centrifugal Pumps Market is expected to register positive growth through 2021, with the overall valuation forecast to surpass US$ 29 Bn in 2021. Future Market Insights (FMI) projects centrifugal pumps market sales to increase at 4.6% CAGR between 2021 and 2031.
While industrial applications are expected to register maximum demand, growth exhibited by the agricultural segment will be at a higher pace. FMI has forecast the centrifugal pumps demand to rise at 4.7% between 2021 and 2031 in the agricultural segment.
Key Points Covered in Centrifugal Pumps Market Study
Market estimates and forecast 2016-2031
Key drivers and restraints impacting market growth
Segment-wise, Country-wise, and Region-wise Analysis
Competition Mapping and Benchmarking
Brand share and Market Share Analysis
Key Product Innovations and Regulatory Climate
COVID-19 Impact on XYZ and How to Navigate
Recommendation on Key Winning Strategies
2016-2020 Centrifugal Pumps Market Outlook Compared to 2021-2031 Forecast
Demand for centrifugal pumps in the industrial segment increased 4.2% between 2020 and 2021, giving the combined centrifugal pumps markets a year-over-year growth of 4.1% in 2021, according to the Future Market Insights report.
Increasing requirement in the oil and gas and chemical industries will drive the centrifugal pumps market to rise at 4.6% CAGR between 2021 and 2031 in comparison to the 2.3% CAGR registered during 2016-2020.
Centrifugal pumps are used to transfer fluids in inter-and-intra facilities. Over the years the market gained from various advancements in material used for manufacturing these pumps. Companies introduced variants that can withstand high pressure, thanks to research and development in the material sciences sector.
The food and beverage industry requires food grade pumps. Consequently, companies introduced advanced pumps that will adhere to regulations provided by the bureau of food standards.
The chemical Industry on the other hand uses centrifugal pumps to transfer and store fluids, which are prone to reactions. Industrial processes involved in chemical manufacturing are complex and intricate.
Given a myriad of transferring operations, it's imperative to source the most versatile, reliable, and efficient pumping technology. Centrifugal pumps can move higher viscosity fluids with ease, from medium to high viscosity fluids, liquefied gases, and water-like fluids. The technology has proven effective in the chemical plant environment, with installation costs resulting in lower total costs over the lifespan of the pump.
The industry is also making a shift towards incorporating Internet of Things, which will enable the pump operators to monitor velocity, flow rate, and more from remote locations. Smart assistant tools are being developed for insights into possible fault conditions, reporting, runtime, and detailed operational data visualization.
The technology will be able to provide real-time control of all pump parameters, including speed, flow rate, and dispensing volume. Push notifications will provide alerts for operating conditions and error messages.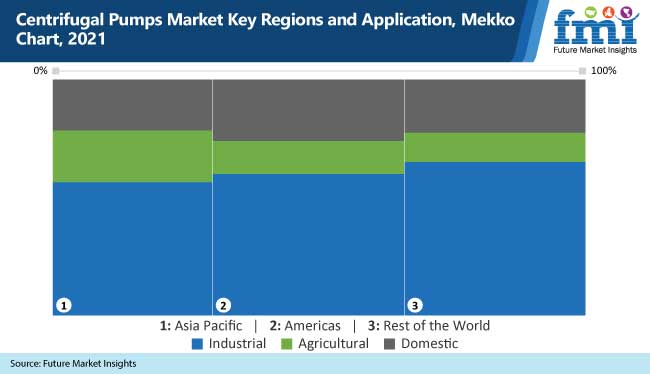 Will Technological Advancements Hold Key to Centrifugal Pumps Market Sales in Future?
The domestic segment of the centrifugal pumps market has considerably expanded in the recent past owing to the implementation of modern technology in manufacturing and monitoring operations.
Electronics and computers have infiltrated every aspect of our lives, and variable speed drives (VSDs), SCADA systems, and condition monitoring equipment have inevitably entered the pumps industry.
In-line pumping units with integral VSDs now dominate the domestic market. Pump selection software has sped up the process of selections while also expanding marketing opportunities. CAD and CFD have reached new heights for communications.
Energy costs usually outweigh other operational costs. System improvements frequently result in significant cost savings. However, enacting appropriate legislation is nearly impossible.
Despite the fact that pump efficiency improvements yield relatively small returns for large investments, South Korea and China have set up legislation to improve efficiency. The European Commission has set a goal to improve the efficiency of water pumps as part of its Energy Using Products Directive including methods for identifying and eliminating poor performers.
Centrifugal pumps are most suitable for low viscosity fluids, since the pumping action generates high liquid shear. As viscosity increases, pump performance diminishes due to friction loss. Most pumps are self-primed, which adds up to its benefits.
What is the Impact of the COVID-19 Crisis on the Centrifugal Pumps Market?
Owing to the ongoing COVID-19 crisis, production and supply chain activities witnessed a slump in 2020. However, consumption will improve with economic recovery in the post-pandemic period. The COVID-19 outbreak had a positive impact on demand for centrifugal pumps Market owing to WHO requirements to minimize virus transmission through sewage water.
These guidelines encourage the use of biological wastewater treatment systems, generating demand from the water and wastewater industry in the near future.
As supply and distribution networks recover, company operations have started to expand steadily. In light of this, the pandemic is unlikely to have a long-term effect on the demand for centrifugal pumps Market.
Country-wise Insights
Is India a Lucrative Markets for Centrifugal Pumps?
India is predicted to remain one of the most attractive markets during the forecast period. According to the study, India is expected to account for over 30% of the South Asia and Pacific market through 2031.
There are many small to medium enterprises in the country which manufacture pumps for varied applications. Industries such as chemical, water, and wastewater in India create significant demand for these pumps.
The water and wastewater segment of the market has seen strong demand in the historical period driven by the Swatch Bharat Abhiyan initiated by the Hon' Prime Minister Mr. Narendra Modi in 2014.
Thereafter sales rose in various parts of the nation. The country is amongst the largest manufacturing regions of the continent after China. India is responsible of exporting much of its goods to nations like Oman, Kuwait, Bhutan, Thailand, U.S., and Netherlands.
What's the Outlook in Canada for Centrifugal Pumps Market?
Demand in the Canada Centrifugal Pumps is expected to rise at nearly 4% CAGR over the forecast period. The Canadian market is backed by well-developed oil and gas and food and beverage industries with notable investments by the government.
The country is also one of the biggest importers of centrifugal pumps owing to the large-scale oil and gas operations in the country. Canada's petroleum industry is a significant contributor to the North American economy. Canada has the world's third-largest oil reserves and is also the world's fourth-largest oil producer and exporter.
There are numerous oil rigs and crude oil sources in the country which account for the demand. The chemical industry is another field of application which generates high figures of income in the centrifugal pumps market of Canada.
What's Driving Centrifugal Pumps Market Sales in Germany?
Germany accounts for nearly 18% of the market share in Europe 2021. The country is responsible mainly for centrifugal pump applications in the pharmaceutical, chemical, and food processing sector.
Manufacturers in Germany have grown and emerged as world leaders. The transition from a local to a global marketplace has probably been the most significant change in this industry.
GCC Countries Offer Lucrative Sales Prospects for Centrifugal Pumps Market
In 2021, GCC countries will account for over 44% sales in Middle East and Africa. Major imports for centrifugal pumps were observed in the year prior to the pandemic in UAE, Iraq, Kuwait, Oman, Bahrain, and Qatar. The region has numerous oil reserves and refineries which accounts for the requirement of the centrifugal pumps.Market
The region has also seen steady growth in investment and implementation of new projects to boost upstream production and downstream processing. According to the U.S. Energy Information Administration (EIA), the Middle East held about 49% of estimated oil reserves and 40% of known gas reserves worldwide. Saudi Arabia has the largest oil reserves of any country (16.2 percent). Iran, on the other hand, has the most gas deposits (17.3 percent).
What's the Outlook of the China Centrifugal Pumps Market?
China in the East Asia region is the largest manufacturer and exporter of centrifugal pumps Market. The country is anticipated to show a CAGR over 6% during the upcoming decade. Here, pump manufacturers have increased their interaction with end users and process consultants, informing them of the recent technological developments and global best practices.
The presence of a large number of players offering low-priced centrifugal pumps acts as a restraint to most regional and global players offering centrifugal pump offerings. Increasing price pressure from these players is influencing key suppliers to offer high-quality, reliable, efficient and technologically-advanced centrifugal pumps at competitive prices.
China being the manufacturing hub of the continent accounts for highest sales figure in the region. There are numerous end use industries in China including oil and gas, food and beverage, pharmaceutical, and power to name a few.
Category-wise Insights
Which Application Drives the Demand for Centrifugal Pumps?
Based on applications, industrial sector accounts for nearly 60% of the market in 2021. The simplicity of design, ease of repair, maintenance, and operations drives demand. The water and waste water industrial segment are projected to hold greatest market share throughout the forecast period.
Waste water management is more important than ever before, thanks to drastic global climate change and widespread droughts. In commercial and residential complexes, as well as industrial zones, wastewater treatment has become critical.
Wastewater treatment plants are required in industries such as chemical, food processing, manufacturing, and pharmaceuticals, to comply with government regulations and rules.
Which Product Type Will Hold Prominent Market Share?
Considering demand-side trends, large market players are increasingly opting for multi stage centrifugal pumps. Most low pressure, high-capacity pumping applications involving low viscosity fluids such as water, solvents, chemicals, and light oils which can be pumped with centrifugal pump designs.
Multistage centrifugal pumps are available in a variety of sizes, depending on budget, application, and volume. A smaller pump would be sufficient for heating plants, water supply piping, firefighting operations, irrigation, agriculture, autoclaves, boiler feed, hydrocarbons, and the handling of lightly contaminated liquids.
This pump is frequently used in power plant applications, such as a boiler feed pumps and in industrial applications requiring high pressures. Water supply and circulation, irrigation, and chemical transfer in petrochemical plants are examples of typical applications. The market for multi stage pump will account for more than 55% in 2031.
Competitive Landscape
Companies operating in centrifugal pumps market are aiming at launching new products and entering into strategic partnerships with other manufacturers to expand their product portfolios to address the demand of global end users.
In, November 2020, WILO USA's new headquarters were inaugurated in Cedarburg, Wisconsin.
In April 2021, Xylem Inc., forged a partnership with Esri, the global leader in location intelligence. The two companies serve utilities around the world. Working together, the two companies will pursue joint technical road mapping, solution development, joint marketing and collaborative selling.
In June 2021, Kirloskar Brothers Limited announced the launch of a new manufacturing division -Advanced Technology Product Division for nuclear end use applications including specialized pumps.
Scope of Report
Attribute

Details

Forecast Period

2021-2031

Historical Data Available for

2016-2020

Market Analysis

USD Million for Value

Key Countries Covered

US, Canada, Germany, U.K., France, Italy, Spain, Russia, China, Japan, South Korea, India, Thailand, Malaysia, Indonesia, Australia, New Zealand, GCC Countries, Turkey, Northern Africa, and South Africa

Key Segments Covered

Product type, Application and Region

Key Companies Profiled

Sulzer AG
Grundfos
Wier Group
KSB Group
Shakti Pump
Kirloskar Brothers Ltd.
WILO SE
Tsurumi Manufacturing Co., Ltd.
DESMI A/S
WPIL Limited
HERMETIC-Pumpen GmbH
Klaus Union GmbH & Co. KG
Ruhrpumpen Group
HOMA Pumpenfabrik GmbH
CP Pumpen AG
Toyo Denki Industrial Co. Ltd.
Speck Pumpen Walter Speck GmbH & Co. KG

Report Coverage

Market Forecast, Company Share Analysis, Competition Intelligence, DROT Analysis, Market Dynamics and Challenges, and Strategic Growth Initiatives

Customization & Pricing

Available upon Request
Key Questions Answered in the Report
How much is the centrifugal pumps market worth?

The global centrifugal pumps market has been valued at US$ 30.3 Bn in 2021.

What is the sales forecast of centrifugal pumps Market?

The sales forecast is expected to remain positive, as the demand for centrifugal pumps is expected to rise at a steady rate of over 4% CAGR through 2031.

What was the centrifugal pumps market CAGR for the last 5 years?

The CAGR for the historical period (2016-2020) has been estimated at 2.6%.

Who are the leading players in the centrifugal pumps market and what is there total share?

The top 5 players including Flowserve Corporation, KSB AG, Sulzer AG, Ebara Corporation, and Grundfos Holding A/S is said to constitute 16% of the overall market.

What are the top 5 countries driving centrifugal pumps demand?

The top 5 countries driving demand for centrifugal pumps include China, South Korea, Russia, South Africa, and India.

What is the North America centrifugal pumps market outlook?

North America market growth is expected display an upward trajectory accounting for 15.4% in 2021, with Canada projected as high growth market. Water and wastewater treatment applications will emerge as key contributors.

At what rate are centrifugal pumps going to register growth in Europe?

Europe is estimated to grow at an average annual rate of 3.7% in the forecast period.

Which countries are key producers of centrifugal pumps?

Germany, Japan, China, India, and the U.S. are the leading producers for centrifugal pumps.

What is driving demand for centrifugal pumps?

Increasing exploration activities for new sources of water and dosing applications in commercial as well as industrial processes are expected to be key demand drivers for centrifugal pumps.

What are the key trends of the centrifugal pumps market?

Leading manufacturers are pursuing online sales for mass-based configurations of centrifugal pumps. Value added engineering and service provisions for high end configurations by OEMs are trends that find traction in the industry.
Centrifugal Pumps Market by Category
By Product Type:
Single Stage Pump
Multi Stage Pump
Axial & Mixed Flow Pump
Submersible Pump
Seal Less & Circular Pump
By Application Type:
Industrial Centrifugal Pumps

Oil & Gas
Chemical
Water & Wastewater
Food & Beverage
Pharmaceutical
Power
Others

Agricultural Centrifugal Pumps
Domestic Centrifugal Pumps
By Region:
North America
Latin America
Europe
East Asia
South Asia & Pacific
Middle East and Africa (MEA)
Need specific information?
Talk Show:
The Rise of Intelligent Packaging
Personalized, Connected and Sustainable
November 18, 2021
11:00-11:45 AM PST (USA & Canada)
This is a LIVE session