Mud Pump Market Outlook & Key Findings
The mud pumps market is expected to grow at a CAGR of 6.8% by 2030
Triplex mud pumps are slated to account for a significant value share
90% increase in shale sales from the year 2018, coupled with large number of investments in oil and gas will uphold demand
Onshore applications of mud pumps are anticipated to be high growth with 75% of global energy demand being met by hydrocarbons in the foreseeable future
Mud Pumps Market Analysis - On-shore Pumping Reaches Fruition with 7500-psi Mud Pumps
Studies undertaken in the pumps sector indicate that manufacturers can leverage the immense potential of mud pumps by innovating on energy efficient pumps.
The pump design, along with an array of other factors such as pipes, panel boards and power impact the performance of mud pumps. Thus manufacturers are keenly focusing on improvements in the overall pumping system for maximum efficiency.
In offshore drilling systems, mud pumps are gaining the attention on the innovation front. For instance, 7500-psi mud pump systems are gaining prominence in on-shore drilling.
One of the most important drivers for this is the high demand for drilling that is multi-directional.
Till now, offshore rigs were witnessing high uptake of 7,500-psi mud pump systems. However, onshore rigs have been using conventional, less robust 5,000-psi mud pump systems. With the need for versatility in rig operations, rigs are now being equipped with 7,500-psi mud pump systems for efficiency gains, pressure capabilities and a greater operating range.
Mud Pumps Push Full Steam Ahead in Onshore Drilling Applications
Onshore drilling applications of mud pumps are projected to generate significant opportunities for market players. The segment is anticipated to grow 1.4x through 2030 and will capture ~80% of the market share by mid-term.
Mud pumps having 7500-psi are witnessing high demand as they have a huge impact on a rig's depth as well as efficiency in drilling.
Mud pumps are helping reach greater depths every hour saving the rig operator time and money. Oil and gas equipment manufacturers for on-shore applications have seen a shifting focus to 7500-psi mud pump systems and these pumps are expected to become the new standard for the oil and gas industry.
Within on-shore drilling applications, gear-driven triplex mud pumps are seeing high adoption. With ranges between 1600-2400 hp, their top mounted configuration and compact structure makes them highly suitable for high pressure drilling operations.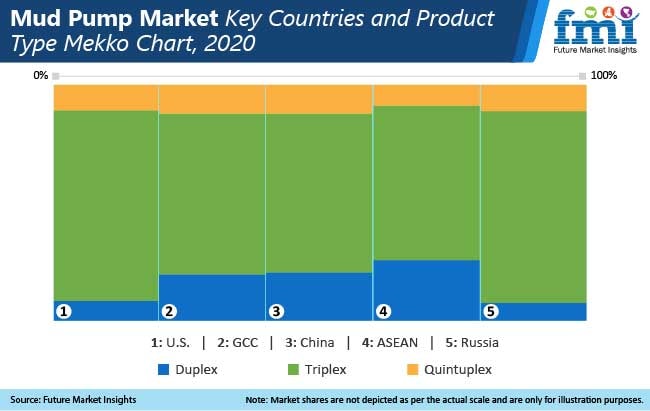 Globally, these pumps accounted for a significant market share in 2020 in countries such as the US and Russia.
Mud Pumps Market Trends – Zirconia Lined Mud Pumps offer Greater Serviceability
Zirconia ceramic mud pump liners offer a plethora of advantages such as cost savings and, longer serviceability and safer operability than sleeves made of conventional iron or alumina. Here are some of the key findings:
When zirconia liners are correctly honed to a finishing that is equivalent to 4RMS, piston wear and tear can see a reduction up to 75%. Studies opine that pistons having iron liners are replaced more frequently, two times a month over three years at a cost anywhere between $9,000- $11,000 whereas pistons with zirconia liners have to be replaced at a miniscule cost of US$ 1500 with a replacement rate of only 12 times in 3 years. In one instance, a drilling contractor reported increased serviceability
These costs do not include the extensive labor costs incurred during replacement. Conventional linings using iron or aluminum takes anywhere between 2-3 hours of skilled labor to remove and re-place the liner and re-assemble the pump. On a drilling platform that runs anywhere between 2-4 triplex pumps, the process proves very costly. Larger, more extensive fleets can incur costs that run into thousands of dollars
Most drilling rigs utilize a large quantity of water to reduce the heat build-up in mud pumps that can potentially burn the pistons causing irreparable bore wear and tear. However, the use of a zirconia liner does not require the need to use water or tamper with the driller's prevalent lubrication system. The use of inefficient water supply systems for conventional liners might require an overhaul or re-design of the water system that can lead to expenses worth thousands of dollars
Zirconia liners for mud pumps also enhance worker safety as workers spend significantly lesser time on overhaul and maintenance in places on the rig which are severely cramped in terms of space
Mud Pumps Regional Analysis – High Demand Growth for Mud Pumps in Middle East & China
With high focus on petrochemicals, demand for oil and drilling and subsequently higher uptake of mud pumps will come from the Middle East and China.
These two markets will see lucrative growth with prolific sales of mud pumps. As per our estimates, one-third gains in terms of demand for oil will be seen through 2030. Another half of the demand will come solely from petrochemicals by the year 2050.
Sales of mud pumps in countries such as China are also set to soar with the discovery of new oil reservoirs in Western China.
The exploration of shale gas has increased in countries such as US, Canada, China and Argentina which will drive demand for oil rigs and subsequently mud pumps.
Operators in countries such as the US are also moving to remote sites in Alaska which is driving the adoption of oil rigs, equipment and mud pumps.
Many governments have also mandated replacement of old pumps and this trend has seen a steady rise among oil and gas production companies in Europe and US.
In the US, rentals for drilling rigs and drilling equipment such a mud pumps registered an uptick of ~5% in 2018 over the year 2017 and this trend is not likely to abate anytime soon.
Mud Pumps Manufacturers Sustain Growth through Tech Acumen
A staggering 54% of the overall market share by top 10 players indicates a consolidated market structure of mud pumps.
National Oilwell Varco, Inc headquartered in the US is a global behemoth operating in more than 70 countries. With expertise in rig technology, the company has firmly entrenched itself in MEA with its joint venture with Dubai based Saudi Aramco in the manufacture of onshore rig equipment and mud pumps.
Weatherford International plc, headquartered out of Baar, Switzerland is a European land drilling rigs giant operating across 90 countries. Its range of compact, mud-base microimagers helps deliver high-definition images of pump machinery in oil rigs to facilitate analytics.
Framo, a Norway based pump manufacturing company has provided an innovative pump system to Andfjord Salmon for its salmon farming facility. This facility will encompass a series of two flow-through pumps, one drainage pump and four mud pumps. The system is not only patented but also would provide the farming facility with a stable water current at lower operating costs and very low energy consumption.
Drillmec an international leader in designs and manufacturing of premium performance triplex mud pumps for both on-shore and off-shore drilling applications. Its range of triplex mud pumps come in both formats of 5000 psi and 7000 psi in both diesel and electric variants. These can also be customized as per the client's need or trailerized as deemed fit.
Future Outlook - Optimizing Mud Pumps for Higher Profitability
A common pitfall observed in older mud pumps designs is the absolute lack of correct piping size and structural necessities to handle pressures up to 7500 psi that are foreseen for drilling rigs in the year 2019 and beyond.
Significant shortcomings observed in older designs include decreased performance, safety and reduced overall efficiency. Thus older systems need to undergo extensive modification to meet the drilling challenges of horizontal and directional drilling plans.
Here is our take on how prevailing mud systems can be greatly modified and optimized to obviate key performance and efficiency challenges
Placing Individual Supply lines – In conventional rigs, single supply lines usually exist for two different mud pumps. This often leads to less fluid inflow to the second pump. This paves the way for higher flow requirements for the secondary pump. The solution to this is to feed each mud pump with an individual fluid supply line to reduce cavitation. Flow problems can often lead to significant wear and tear of the mud pump, causing unnecessary repairs and significant downtime
Diameter changes to supply pipes - Piping design fluctuations cause a host of problems such as insufficient piping size leading to mud pumps being unable to handle GPMs without cavitation. This problem can be obviated through a supply line pipe that is a couple of times larger than the connection existing at the pump's suction. Efforts should also be made to keep supply line pipes short
Proximity to mud pump - Pumped media can undergo a lot of turbulence when there are too many ball valves, flow tees and 90 degree turns. This leads to frictional loss. The problem can be overcome by making the supply line close to the mud pump thus resulting in enhanced performance. At times this entails extensive overhaul and remodeling of the prevalent piping systems to achieve superlative efficiency
Key Segment
The global mud pump market is segmented in detail to cover every aspect of the market and present complete market intelligence to the reader.
Product Type
Duplex
Triplex
Quintuplex
Driven System
Application
Region
North America
Latin America
Europe
South Asia & Pacific
East Asia
Middle East & Africa
Need specific information?