Pumps and Trigger Spray Market By Product Type (Trigger Sprays, Pumps), Material Type (Plastic, Metal, Glass), Application (Body Lotions, Hand Care Lotions, Reagents, Pesticides/ Fertilizers), Sales Channel & Region - Forecast to 2020-2030
Global Industry Analysis and Review: Pumps and Trigger Spray Market - Analysis, Outlook, Growth, Trends, Forecasts
December 2020

REP-GB-12832

300 pages
About the Report
Pumps and trigger spray market will continue exhibiting high growth despite ongoing COVID-19 crisis. The rising demand for personal hygiene products since pandemic's onset has been spurring growth prospects. Future Market Insights (FMI) offers a comprehensive overview of the market in a new study. It uncovers hidden opportunities and offers insights into potential threats.
Market Overview
Amid the COVID-19 pandemic, the global pumps and trigger sprays market is expected to reach new heights, primarily driven by extensive uptake across the personal care, homecare, and pharmaceutical industries respectively. Demand is also increasing across automotive manufacturing to ensure safety of operations during aerosol spraying.
As technological advancements continue penetrating the global packaging landscape, manufacturers are increasingly developing novel solutions and innovations to design state-of-the-art and highly sophisticated pumps and trigger sprays. The market is poised to expand at a CAGR of 6.5% between 2020 and 2030, reaching US$ 11 Bn by the end of 2030.
Growing Preference for Nanotechnology
Nanotechnology has played a pivotal role in determining the effective of consumer products packaging in recent years. Incorporating nanomaterials have enabled manufacturers achieve economies of scale by incurring significant cost savings by making packaging materials highly durable and resistant to external shocks.
In the pumps and trigger spray market, the introduction of mini trigger spray bottles has yielded considerable gains for prominent manufacturers and end users. For instance, in 2019, Raepack Ltd. introduced its miniature metallized dispensing pumps for storing lotions with a sleek and modern design.
Previously, in 2018, the company also launched a series of 100% recyclable plastic dispensing pumps in line with the global commitment to achieve sustainability and thus reduce the negative impact of plastic disposal in landfills. Such developments will enable the market to chart a positive trajectory in the forthcoming decade.
High Emphasis on Customization Trigger Pumps
As convenience acquire precedence, manufacturers are concentrating on developing DIY trigger spray dispensers and bottles. This trend is especially evident across the pharmaceutical industry, where efficient drug delivery to patients is prompting healthcare providers to invest in efficient dispensing solutions and thus offer better care.
In February 2019, Raepack unveiled its build your own customizable trigger pumps with four options. These include the normal trigger, long trigger, three finger trigger and two finger trigger respectively. These varying lengths allow for interchangeable design options. Additionally, the solution allows users to choose between four nozzles.
Likewise, Coster Group manufactures customizable spray pumps for metered dispensing of products in spray form from non-pressurized containers. These are utilized across various domains such as cosmetics, perfumery, personal care and pharmaceuticals. The sprays come in crimp on, snap on and threaded formats respectively.
Technological Advancements Yield Immense Benefits
The global packaging industry is interspersed with numerous technological advancements- ranging from robotics to 3D printing and incorporation of nanomaterials. Such advancements have helped usher in efficiency and greater protection while transporting goods across different regions.
In August 2018, Amazon developed the Ultimate-E (commerce) trigger sprayer in collaboration with Rieke Packaging which prevents leaks of liquids shipped in small parcel environments. This solution is equipped with a closure of size 28/400 with a 0.9 millimeter dose.
Likewise, Manjushree Tecknopack Limited manufactures trigger sprays with patented designs, which include 0.7 cc triggers with a distinctive appeal, XL sprayers in dual tone for improved aesthetics and miniaturized sprays for smaller sized packaging.
Key Challenges
While trigger sprayers offer a host of benefits to the user, there are numerous challenges which may impede growth of the market in future. One such impediment is the high installation costs for manufacturing these sprays in bulk. Significant expenditure is required in building production and research facilities which could reduce revenue margins.
Furthermore, high pressure pumps and trigger sprays have limited applications. As the nozzle hole is small, the maximum space available for the liquid to flow measures only a few millimeters. Furthermore, the liquid pipe needs to be made of stainless steel, which is an expensive process. Also, they may not be suitable for high viscosity materials as they are hard to atomize.
Pumps and Trigger Spray Market- Region-wise Analysis
North America Pumps and Trigger Spray Market
The pumps and trigger spray market across North America is projected to expand at a CAGR of 5.7% through 2030. Maximum uptake is being witnessed across the perfumes & deodorants segment.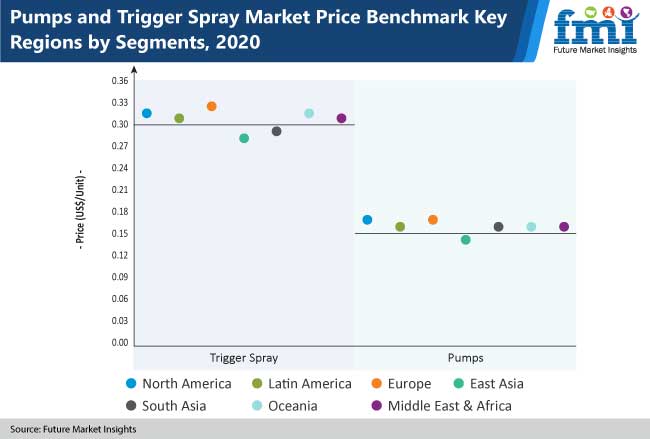 Since the COVID-19 pandemic's outbreak, consumers have been inclining towards fragrance rich products, with purchase of diffusers, scented candles and body sprays experiencing a notable upsurge. Hence, demand for appropriate packaging solutions is also surging.
The U.S Food and Drug Administration (FDA) has established stringent regulations regarding the packaging and transportation of cosmetic products. Besides this, numerous other provisions exist. For instance, the Consumer Protection Safety Act (CPSA) requires cosmetics and fragrances to contain child-resistant packaging to avoid contact with harmful substances.
Request a sample specific to the North America market.
Europe Pumps and Trigger Spray Market
Europe is expected to be the largest market for pumps and trigger sprays, generating over a quarter of the global revenue share by 2021. Growth is spearheaded by a booming cosmetics industry. Since 2015, the European cosmetics market has surged impressively.
In 2018, L'Oréal emerged as the global leader in the cosmetics industry, registering a growth of over 5% and an estimated sales of over € 200 billion. This growth was largely attributed to a continuous increase in online beauty spending, peaking interest in new products and expansion of social networks.
France, UK and Germany are expected to emerge as the frontrunners in the global cosmetics industry, with numerous manufacturers seeking to establish base in these regions. Such trends are also generating white spaces for the entry of pumps and trigger spray providers to provide effective packaging solutions to cosmetic manufacturers.
Request a sample specific to the European market.
South Asia Pumps and Trigger Sprays Market
South Asia is likely to emerge as the fastest growing pumps and trigger sprays market, owing to widespread application across a range of prominent industries. The market surpassed US$ 1 Bn in 2019.
India represents a promising destination for pumps and trigger spray manufacturers, especially due to widening sales of several consumer products such as fragrances, cosmetics, automotive and household cleaning solutions and hand sanitizers.
Recently, in 2019, Manjushree Technopack acquired National Plastics in India, with the objective of expanding its product offerings to clients through addition of adjacent categories such as sprayers and dispensers. The company expects to experience a 4-5% revenue increase until 2024.
Request a sample specific to the South Asian market.
Category-wise Insights
Trigger Sprays to Remain Lucrative
By product type, trigger sprays are expected to capture the lion's share, generating over half of the global revenue by 2020-end. Demand is particularly increasing due to high consumption of hand sanitizers, surface level disinfectants and hygiene products to counter the COVID-19 pandemic.
However, pumps are expected to capture an equally impressive market share, owing to increasing sales of household and automotive cleaning products. These pumps are capable of storing copious amounts of solutions, rendering them an ideal choice for packaging various consumer goods.
HDPE to Remain Preferred Material
By material, high density polyethylene (HDPE) plastic is poised to remain the most extensively used packaging material, reaching nearly US$ 700 Mn by 2020-end. This is attributed to their recyclability, lightweight, convenience, resilience and sustainability.
In recent years, metal containers are garnering significant attention and are most likely to retain their popularity in the upcoming assessment period. Amongst all metals, stainless steel is the most popular, attributed to its environmental friendly nature, easy-to-clean property and greater longevity.
Extensive Uptake across Body Lotion Packaging
In terms of application, the body lotion segment registered a historical CAGR exceeding 10% until 2019. Increasing demand for personal care, beauty care and skincare products has aggrandized demand for different body lotion formulations, creating new revenue spaces.
Hand care lotions are generating lucrative opportunities as well, expanding at over 5% Y-o-Y growth rate by 2020-end. As the pandemic crisis tightens its grip, consumers are increasingly investing in basic hygiene products, thereby bolstering demand for hand care lotions and their packaging solutions.
Cosmetics & Personal Care Key End-User
Cosmetics & personal care products manufacturers are making extensive usage of pumps and trigger sprays for packaging and storing their products. Almost two out of five cosmetics manufacturers are expected to utilize trigger sprays in the upcoming forecast period.
Growth in the cosmetics segment is being driven by a rising demand for skincare products such as perfumes, deodorants and skin care creams. Moreover, cosmetic manufacturers are experimenting with various formulations which require proper packaging solutions, thus paving the way for pumps and trigger sprays.
COVID-19 Renders the Market Highly Opportunistic
The COVID-19 pandemic has only served to strengthen growth prospects of the global pumps and trigger sprays market. Growth is especially profound across the pharmaceutical and homecare segments respectively. Collectively, both segments are expected to generate over US$ 2 billion in revenue by 2020-end.
Since the pandemic's onset, demand for personal hygiene products such as hand sanitizers and home cleaning fluids have witnessed a credible increase. This is in response to the frequent need for surface disinfection to destroy any viruses present. In February 2020, for instance, U.S hand sanitizer sales expanded 300% as opposed to 2019.
A similar peak was observed across all countries during the same time period, and sales have continued aggrandizing, thus generating a massive demand for pumps and trigger sprays in the ensuing time period. Initial production crunches due to government imposed lockdowns resulted in a minor trough, which was ultimately offset.
In April 2020, Starco Brands launched a series of hand sanitizer spray technology containing a 75% alcohol solution through its Breathe consumer brand. The sanitizers are based on a continuous spray technology which enables users to sanitize more people in a limited timeframe with minimum human contact.
Pumps and Trigger Sprays Market- Competition Analysis
Based on the number of players operating within the landscape, the market appears highly competitive. A combination of domestic and international level players renders the market highly fragmented. Therefore, a series of consolidation strategies are relied upon by the aforementioned players.
A major focus of these players is on product innovation. Guala Dispensing GmbH, for instance, concentrates on product development partnership, which includes optimization of transformation technology, develop high-performance polymeric compounds and enhance environmental sustainability. Recent product launches include the TS6 Pre-Compressed Full Plastic Trigger Sprayer in 2018.
Acquisitions are yet another approach adopted by some players. In June 2020, Silgan Dispensing Systems Corporation acquired Albéa Group's business in the same domain which includes the latter's Metal and Brazil industrial clusters. The acquisition has provided Silgan an opportunity to expand its fragrance and lotion pumps for the beauty industry.
Future Market Insights has profiled the following pumps and trigger spray market players in its extensive study:
Guala Dispensing S.p.A.
Silgan Dispensing Systems Corporation
Afa Dispensing
Bramlage Division GmbH & Co.KG
MJS Packaging
The Packaging Company
Kläger Plastik GmbH
Plastopack Industries
Demareis GmbH
Bürkle GmbH
Rieke Packaging
CLC & Sengcze
AptarGroup, Inc.
Yoshino
Frapak Packaging
Canyon Europe Ltd.
Berry Plastics
Taplast S.p.A.
*This list is indicative- full details about the pumps and trigger spray players are available upon request.
Pumps and Trigger Sprays Market- Report Scope
| | |
| --- | --- |
| Attribute | Details |
| Forecast Period | 2020-2030 |
| Historical Data Available for | 2015-2019 |
| Market Analysis | USD Million for Value & Units for Volume |
| Key Regions Covered | North America, Latin America, Europe, East Asia, South Asia, Oceania and Middle East & Africa |
| Key Countries Covered | US, Canada, Brazil, Mexico, Argentina, Germany, U.K., France, Italy, Spain, BENELUX, Russia, China, Japan, South Korea, India, Thailand, Malaysia, Indonesia, Australia, New Zealand, GCC Countries, Turkey, Northern Africa and South Africa |
| Key Segments Covered | Product Type, Material Type, Application & End Use |
| Key Companies Profiled | Guala Dispensing S.p.A., Silgan Dispensing SYSTEMS Corporation, Afa Dispensing, Bramlage Division GmbH & Co.KG, MJS Packaging, The Packaging Company, Kläger Plastik GmbH, Plastopack Industries, Demareis GmbH, Bürkle GmbH, Rieke Packaging, CLC & Sengcze, AptarGroup, Inc., Yoshino, Frapak Packaging, Canyon Europe Ltd., Berry Plastics, and Taplast S.p.A. |
| Report Coverage | Market Overview, Key Market Trends, COVID-19's Impact, Demand Analysis, Market Background, Segmental Analysis, Regional Profiling, Market Structure Analysis and Competition Analysis |
| Customization & Pricing | |
World's Most Profilic Intelligence Engine
Get Access To The World's Largest Market Research Database.
Sign Up Now
Key Segments
Product Type
Material Type
Plastic

Polyethylene (PE)

High - Density Polyethylene (HDPE)
Low - Density Polyethylene (LDPE)

Polyethylene Terephthalate (PET)
Polyvinyl Chloride (PVC)
Polypropylene (PP)
Others

Metal
Glass
Application
Body Lotions
Hand Care Lotions
Reagents
Pesticides/ Fertilizers
Perfumes & Deodorants
Liquid Soaps
Shampoos & Conditioners
Chemicals
Others
Sales Channel
Cosmetics & Personal Care
Homecare
Pharmaceutical
Chemicals & Fertilizers
Laboratories
Automotive
Agriculture
Others
Region
North America (U.S. & Canada)
Latin America (Mexico, Brazil, Argentina & Rest of LATAM)
Europe (Germany, U.K., France, Italy, Spain, BENELUX, Russia & Rest of Europe)
Middle East and Africa (GCC Countries, Turkey, Northern Africa, South Africa & Rest of MEA)
East Asia (China, Japan & South Korea)
South Asia (India, Thailand, Malaysia, Indonesia & Rest of South Asia)
Oceania (Australia & New Zealand)
Key Questions Answered in the Report
How will the pumps and trigger spray market expand through 2030?
According to Future Market Insights (FMI), the global pumps and trigger spray market is likely to receive stimulus from an ever expanding cosmetics and personal care industry, reaching US$ 11 Bn by 2030 and expanding at a value CAGR exceeding 6%
Which is the dominant pumps and trigger sprays market?
Europe is anticipated to be the market hegemon for pumps and trigger sprays, generating over 25% of the global revenue share by 2020-end. Growth in this region is largely attributed to growing preference for personal care cosmetics
How is COVID-19 impacting the pumps and trigger spray growth projections?
The COVID-19 pandemic has elevated the pumps and trigger spray growth prospects, with consumers increasingly purchasing personal care and hygiene products ranging from hand sanitizers and surface disinfectants to personal skincare products. The pharmaceutical industry in particular is an exhaustive user due to the need to ensure patient safety
Which are the prominent pumps and trigger spray market players?
Prominent pumps and trigger spray market players include
Need specific information?
Our Clients